Some might be skeptical about discussing the future of an emerging space such as employee advocacy. How can you really comment on where the industry is headed when it's still so young?
I have my own thoughts on how employee advocacy will evolve, but I thought it would be interesting to involve other 'big thinkers' and have them weigh in on the future of employee advocacy.
If you're scratching your head and wondering what on earth does she mean by employee advocacy, then I suggest you give this article a quick glance before reading on.
The Expert's Perspective
Jörgen Sundberg is the Founder and CEO of Link Humans, a London-based social and digital marketing agency. They happen to have a fantastic blog, and I've been a faithful reader of Jörgen's content since entering the digital marketing space.
I contacted Jörgen to see if he could spare some time to chat, and he graciously obliged. A few failed Skype calls later, we decided to connect over the phone, with only 5,709 kilometres between us.
As we got talking about employee advocacy and what it might look like in the future, I noticed clusters of themes taking shape in our conversation. I thought it would be interesting to position these themes as the root drivers behind employee advocacy's future.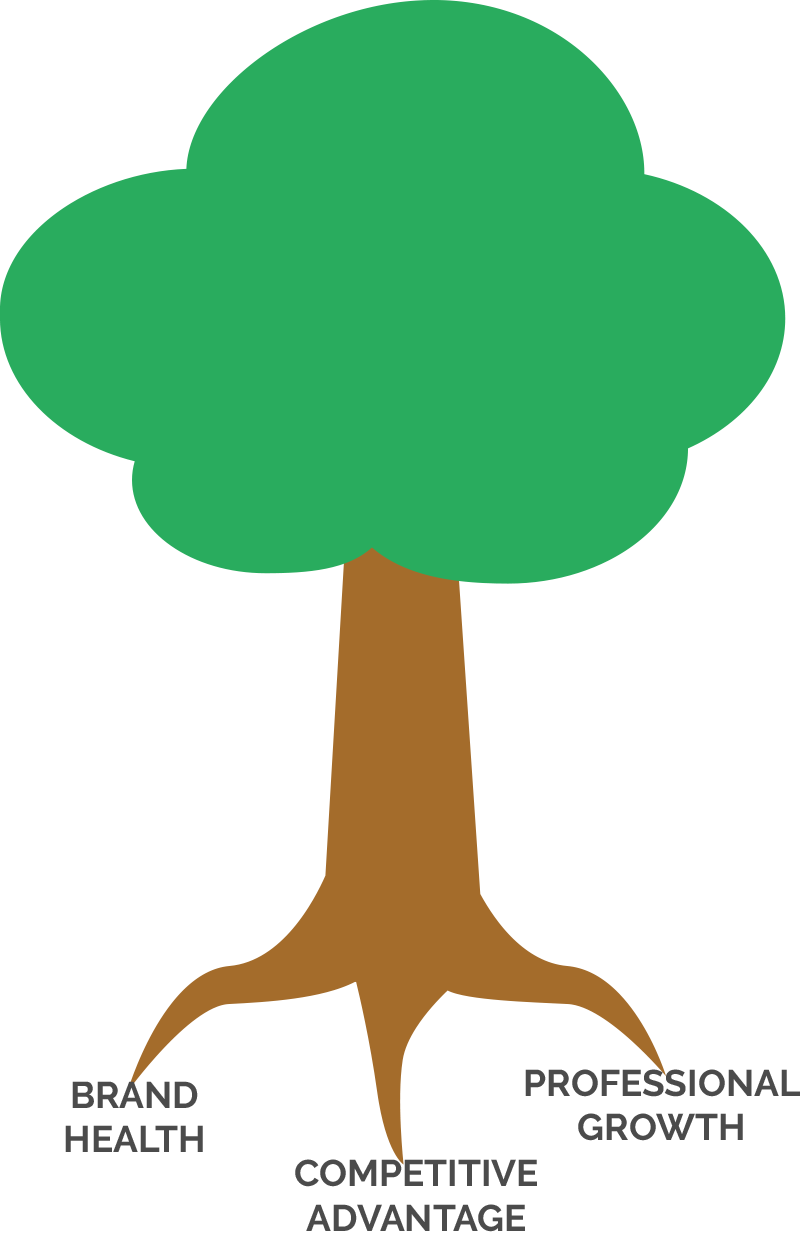 As more and more companies invest in and implement their own employee advocacy programs, some interesting observations have surfaced about how and where this space will grow in the future.
Differentiation: The Key To Creating Competitive Advantage
Jörgen had wonderful advice regarding how employee advocacy relates to a competitive advantage. He told me:
With all of the companies out there, the different products, services and pricing, the question is how do you differentiate? Well, perhaps it's the people behind it.
As I've learned, this 'emotional connection' has been hailed as an incredibly effective tool in creating a competitive advantage for companies. "I could buy Widget Y OR Widget X, but if Widget Y is connected to someone I know or respect, there's that emotional connection." Humanize your brand, build relationships with your target clientele and reap the results.
This type of strategy lends itself to the rise of social selling. Each day, companies are finding new and creative ways to reach their audiences and differentiate themselves in an increasingly competitive market.
Social selling examples are endless. For instance, Jörgen spoke about the weekly podcast he leads through Link Humans: "People get a lot out of value out of it, and the company receives recognition on a personal level."
Just the other week, my colleague, Dan Hebert, left a comment on a Hubspot article capturing 11 of the Best Infographic Designs of 2015.

Three days later, Hubspot re-published PostBeyond's infographic that Dan linked to in his comment. How amazing is that?
Another personal favourite of mine is Staples. Yes, they may be fondly known as your neighbourhood office supplier, but they also have a fantastic presence on social.
Is the force strong with you? Who's your favorite #StarWars character? #MoreThisHoliday pic.twitter.com/JwVtKKCV7s

— Staples US (@Staples) December 21, 2015
All of the above are terrific (and different) examples of social selling. Staples makes stationery fun by connecting popular trends to their products. Dan caught Hubspot's eye by interacting with one of their articles and linking back to our blog. Jörgen reaches new audiences each week through his podcasts on Link Humans' blog.
And the one thing they all have in common? Relationships.
In each case, the strategic intent is to engage with a certain audience or individual through a common interest. I don't know about you, but Staples had me at the Star Wars reference.
Social selling helps create a competitive advantage for companies, but what helps propel social selling in the first place? A recent study by The Hinge Research Institute and Social Media Today found that 64% of advocates participating in a formal employee advocacy program saw their sales cycle shorten and experienced significant gains in new business development.
It makes sense if you think about it. A brand message is not only amplified when employees share across their own social media channels, but it's also likely to receive more engagement (8x more engagement, in fact) because it is coming from a trusted source: a human. This all ties back to Jörgen's original point on the power of emotional connections between the consumer and the brand.
Growing Your Professional Depth And Breadth
Another big theme that arose from our conversation was the role employee advocacy can play in developing a personal brand. We know how an employee advocate can hugely benefit the company, but what does advocacy do for the employee?
My answer would be the opportunity to demonstrate and build thought leadership. Many of my peers are avid social media users, but the ones I enjoy interacting with the most are those who share thought-provoking content.
In a workplace context, thought leadership is just as valuable and earns the same type of respect. As Jörgen poignantly put it:
Thought leadership is about highlighting the most important assets that a company has – its employees. It's no longer just three thought leaders dominating the space, but in some cases three hundred! There are many levels of amplification here that otherwise wouldn't be possible.
Well-designed employee advocacy programs empower employees to share content, which can in turn reveal interests, skills and talent that might otherwise go unnoticed. And this represents a direct benefit to the employee: 86% percent of advocates in a formal program perceived their involvement in social media as having positive impact on their career.
This type of professional development is a great way for employees to set themselves apart and showcase their value, whether they're in an entry-level position or a top executive. "This is the world we live in," said Jörgen, "Much more transparent, where employees want to be seen."
In response to this, some companies have launched blogs that are run by employees from an array of departments, building a wider net of content creators. Jörgen cited Booking.com as a good example, a travel company that hosts three blogs on their site around tech, design and all other functions. Here, employees are granted the creative freedom to author unique pieces of content that expand on topics that still relate to the company (but may not revolve around the product itself) such as the importance of gender equality in the office.
As more of these opportunities arise for employees to exercise their thought leadership – whether through sharing, writing or word of mouth – both sides will benefit. When companies invest in personal branding programs, employees are 40% more likely to believe that their company is competitive. On the flip side, brand messages achieve 561% more reach when shared by an employee on social media. Let employees share your company's message, they'll impress you in more ways than one.
Brand Health Matters
One other theme I noticed during our conversation revolved around how advocates contribute to building the employer brand and company culture.
Jörgen referenced IBM, a long-time leader on the employee engagement front. "IBM are experts in this space, their departments are designed to attract only the best, and it's been that way for the last 20 or 30 years."
Fancy yourself an IBM-wannabe? Attention to detail is incredibly important, noted Jörgen. "Right down to the voice, terminology, even the colour scheme. It should be ingrained in all communications, from everything you create, comment on or curate. That's what it takes to form a cohesive corporate culture."
And many other companies are following suit as they realize and harness the incredible sharing power of their employees. Brand health can improve by leaps and bounds when employees voluntarily share company-related content across their networks – it reflects well on the enterprise.
Sharing content isn't the only indicator of employer brand health. Jörgen referenced the popular hashtags #LifeAt[CompanyName] and #[CompanyName]Life, as "A simple and fun way for employees to represent who they work for and creates a nice sense of community." For instance, the #LifeAtKohls hashtag on Twitter is impressively active, showcasing a strong company culture. Their employees are proud to represent who they work for.
I LOVE my job. The managers are amazing and always treat the employees with respect which is rare in a department store! #LifeAtKohls

— Simply Preppy (@SimplyPreppy_) December 29, 2015
And the same can be said for us here at PostBeyond!
Nothing says team building like whipping axes alongside one another ⚒ #LifeAtPB @postbeyond @meaghanhalloran pic.twitter.com/noDBTgtWk1

— Hannah Kovacs (@hkovs) November 13, 2015
Uniting a workforce around the company mission and values can be made much easier when employees take ownership over how the message is delivered.
In many cases, content that's organically created and shared by employees can be more valuable than content generated by the company itself.
This is how strong company cultures are built. Trusting your employees to relay the brand message on social is a major component of a powerful employer brand.
Looking Ahead
Although employee advocacy is still very much in the early stages of development, Jörgen made a good point in saying, "It's not brand new anymore, many companies are adopting programs with varying levels of strategies and maturity."
Which means there is a need for constant innovation. Brand health, professional growth and competitive advantage may be driving growth, but that can't happen without the buy-in from employees themselves. A lot of that is tied to the UX side of the table, noted Jörgen. "The program and tools need to keep users engaged, and give them a reason to check in on a daily basis."
Statistics alone prove the efficacy of having brand advocates among your employees. Both Jörgen and I agreed that the world of work is changing fast, and sometimes it feels like a race to stay caught up.
But we have a good feeling about where it's headed. More and more companies are investing in their employees, and in turn, employees seek meaning and connection to the work they do. At PostBeyond, we've had the privilege of witnessing this first-hand among our clients. The joy we see on their faces when they see upward trends in engagement is a testament to the platform's ability to make the most out of those three driving factors Jörgen and I identified.
I did find it surprising that 83% of respondents have in fact not launched a formal employee advocacy program, according to the study conducted by the Hinge Research Institute and Social Media Today. Perhaps it's a matter of painting a clearer picture of the mounting value this space will provide to companies in the future. And we're up for that. The question is, are you?

What are your thoughts on the future of employee advocacy?