Do you remember seeing your first Facebook sponsored post?
Scrolling through your feed when suddenly, a post appears from a brand that you haven't "liked," or maybe haven't even heard of. But the brand seems kind of interesting, so you might visit their page and see what they're about.
Those were the good days for brands. Competition in the news feed was slim, and chances of engagement were quite a bit higher.
But as we know, those days are gone. Now we marketers face ever-increasing competition from other brands online, ad blocking, and frankly, an audience of consumers who are tired of scrolling through endless ads when they only want to see updates from their friends.
So with this new landscape on social media, and with new channels popping up overnight – where do brands dedicate their efforts?
Amber Naslund, SVP of Marketing at Sysomos, led a wonderful chat at Social Media Week in Toronto on this very subject. We decided to share some of our favourite points from her session.
The gist of it is: you won't get recognition for being on social media anymore. And you certainly won't get recognition for generating impressions or views. Sorry.
But that doesn't mean that all hope is lost for brands. We just need to reposition how we actually think about social media. It's an imperative for the whole business – not just marketing.
Social Media is NOT a Strategy
So now that we're all past the point of being on social media for the sake of engagement alone, we need to stop looking at it as its own strategy.
It's a vehicle to serve your larger business needs. Whether that's customer service or marketing goals, social media should have an impact on those KPI's. Social KPI's (like likes/shares/views) on their own mean virtually nothing. Actually, I'll quote Amber on that one:
It's cool to have a million views on your video, but is that driving sales? If not, then guess who DOESN'T care? Your CEO.
We need to stop thinking of social media as a standalone strategy. It isn't enough to just manage social media for the sake of keeping up appearances.
Let's say you're using social as a means to meet customer service goals. Your KPI's should therefore be reduced response time for customer complaints, overall customer satisfaction, etc. Social can be a contributor to these KPI's, but likes and shares alone won't tell you how your customer service efforts are improving.
As marketers, we need to be asking the hard questions. We shouldn't be shying away from real business metrics.
The Future of Enterprise Social Media
You might be a savvy marketer who already knows this – which is great. One of the biggest challenges now, according to Amber, is sharing these business insights with the rest of the organization.
We have a tendency to keep the successes and failures of social media within its home department. We may do our weekly/monthly reporting, share with some executives, and call it a day.
…But that won't really help the rest of your company understand why social is so important. We need to work on making social media an imperative for all aspects of the business.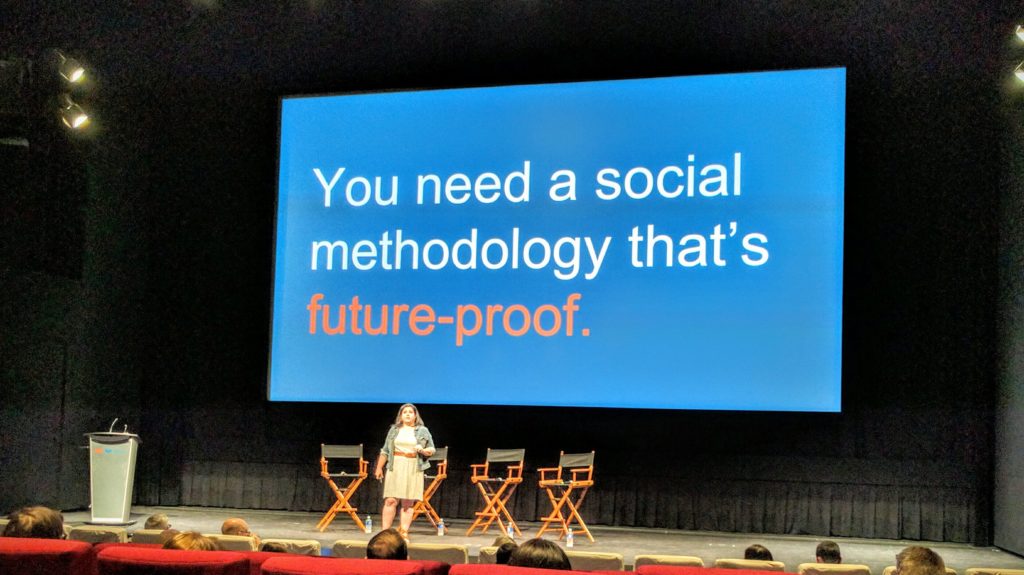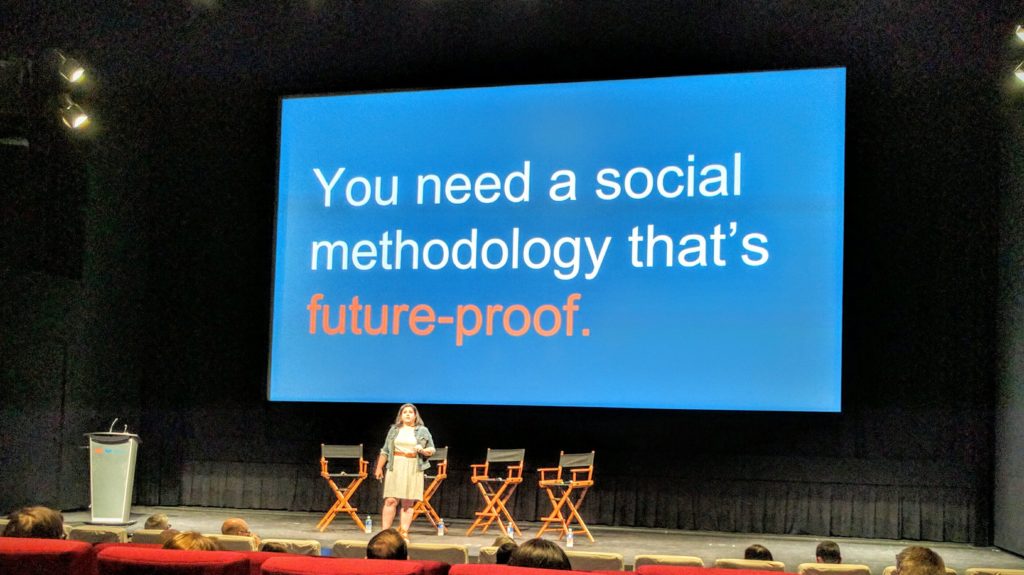 Amber helped frame this using an awesome analogy:
There was a time where if you were quick with a keyboard and could transcribe with a high level of accuracy, you could be hired as a typist. There were people whose sole responsibility was to type any and all documents that the company needed.
In 2016, it seems kind of redundant to tell job applicants that typing skills are required – it's a given.
Social is headed in that direction, too. Most people have some experience with social media on a personal level, but nonetheless, it's still regarded as a job for those who have specialized training for it.
This won't be the case forever. Social media has become so pervasive in the business world that it's no longer a job on its own. Everyone will have social media skills to some degree, so there's no reason for social media to be siloed under one department. Instead, it will be spread throughout the enterprise in a more democratized manner.
Amber said it best: today, social media is a job. Tomorrow it will be a skill.
What's Next for Social Media Marketers?
So how do we prepare for this shift? I think that it all goes back to realizing that social media isn't a shiny new toy that only marketing grads can understand. And even further, that social channels will come and go with time. After all – MySpace used to be the heavyweight in social networks.
We need to adopt an agile mentality and acknowledge that while social media is here to stay, the channels and tactics themselves may not be. If we begin to think of social in a more holistic way, that's when we'll see meaningful results. And as always, these results should demonstrate actual business value for your organization.
If you didn't catch Amber's chat at SMWiTO, I recommend checking out her presentation here:
Hey #SMWiTO, if you want the ebook from my presentation yesterday, you can download it here: https://t.co/pxVUJSkzNz

— Amber Naslund (@AmberCadabra) June 8, 2016
How do you see enterprise social media changing in the next few years? Let me know in the comments, or tweet at me @meaghanhalloran.