There's no denying that social media has become a significant part of marketing over the years. Earlier reports by eMarketer estimated that companies would spend close to $24 Billion in social network advertising globally in 2015, and increase to nearly $30 Billion in 2016.
That doesn't even include the investment in training, content, and other brand activities that get supported by social media every day.
A B2B Marketing Benchmark report by Content Marketing Institute and MarketingProfs states that:
88% of B2B companies use content marketing
32% have a documented content marketing strategy
76% will produce more content in 2016
28% of total marketing budgets (not including staff salaries) will go to content marketing.
Wow.
We all know that investing in content and social media literacy at your enterprise can create huge upside-potential.
But one of the biggest challenges with getting your employees active with content and social is executive buy-in.
A program that spans across several functions and geographies requires strategic alliance and investment. Unsurprisingly, the C-Suite wants to see some indication of an ROI before investing.
We created this helpful Employee Advocacy ROI Calculator to help you show value to your executives before they invest.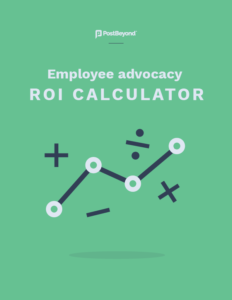 With this calculator, you can:
Use your own metrics and data to get a comparative cost of marketing spend
Calculate cost savings of using technology to create social media habits compared to conventional training
Get a total value savings based on program scale
This is just a starting point to a conversation with your C-Suite. The calculator doesn't account for some of the softer metrics of employee advocacy, like:
Efficiency in internal and external communications
Knowledge transfer and consumption
Visibility in enterprise data
Implementation of modern systems and technologies
And much more…
So go ahead and download the ROI Calculator. You might just find out how much value an Employee Advocacy program can bring to your enterprise.
How do you calculate the ROI of your Employee Advocacy program? How do you show value to your executives before investing? Please leave a comment below and share with your colleagues!