One of the roadblocks stopping companies from adopting an employee advocacy platform is the uncertainty that often fogs a major spend. You might ask, "When will I reach profitability?" or "Is it really possible for me to attribute my marketing gains to this?" and so on.
These are important questions, especially as we enter an uncertain economic period that could lead us to a recession. You might be under the pressure of not meeting an earlier forecast, and your department's at risk of missing its KPIs. Or, you're running out of resources, so the idea of adding a new martech suite forces you to ask, "Is it worth it?"
"Is it worth it?"
To answer this question, we commissioned Forrester Consulting to carry out its Total Economic Impact™ (TEI) survey on one of our customers.
We wanted to see how long it'd take for an organization adopting PostBeyond to both recoup their costs, drive ROI, and generate profit.
Forrester used our customer's results to build a risk-adjusted, 3-year forecast to project how soon a company like yours could also drive positive results using PostBeyond.
What they found was that investing in PostBeyond was more than just "safe." In fact, PostBeyond could be the solution for tuning your marketing to force business growth in a down economy.
Today's audiences – i.e, your prospects, customers, potential hires, etc – trust what they hear from other people the most. Your employees carry a level of credibility and social proof that you can't quickly build through ads or branded channels.
Leveraging an employee advocacy platform is about doubling down on your employees' reach and driving results through their social media activities.
The idea makes sense. But does it play out that way in the real world? Forrester's TEI report clearly answers that question: Yes!
The Results of Adopting PostBeyond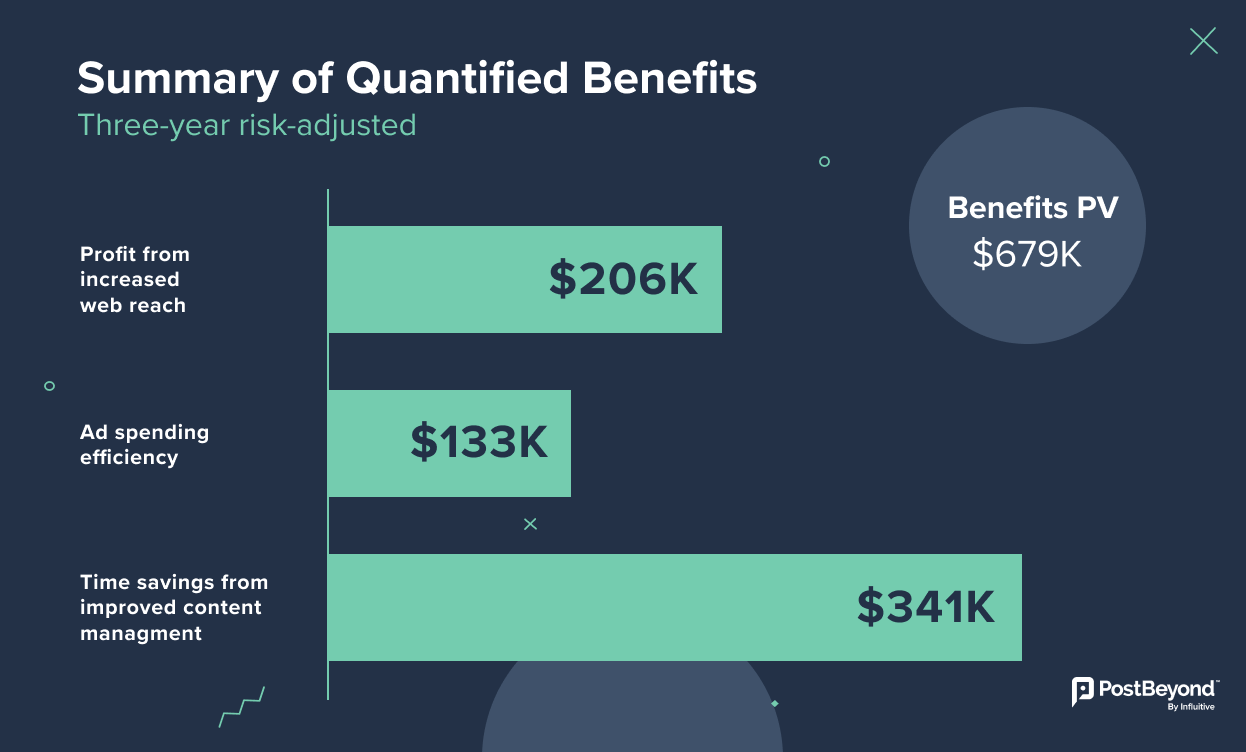 Forrester interviewed a decision-maker at a large B2B software organization headquartered in the United States. This company has several thousand employees. It generates approximately $1BN in revenue each year.
Using the information from our customer, Forrester built a three-year, risk-adjusted forecast to project the potential returns of a new PostBeyond customer. You can download the full report (with the methodology and data) here.
Based on Forrester's modeling, our customer's present-value (PV) benefits are:
$2M in revenue from increased web reach. Over 3 years, PostBeyond would add over 40,000 website visitors and, in turn, over $200,000 in profit.
Increased the efficiency of paid ad spend by 3%. By seeing how content performs on social and other metrics, our customer could optimize its ad spend to drive more results. In a 3-year period, they'd build over $130,000 in gains.
Saved 687 hours annually through streamlined content management and efficient internal communications. PostBeyond equipped our customer to reduce the time its teams spent creating content and distributing it to employees. This resulted in over $340,000 in time saved in a 3-year period.
Analysis of Benefits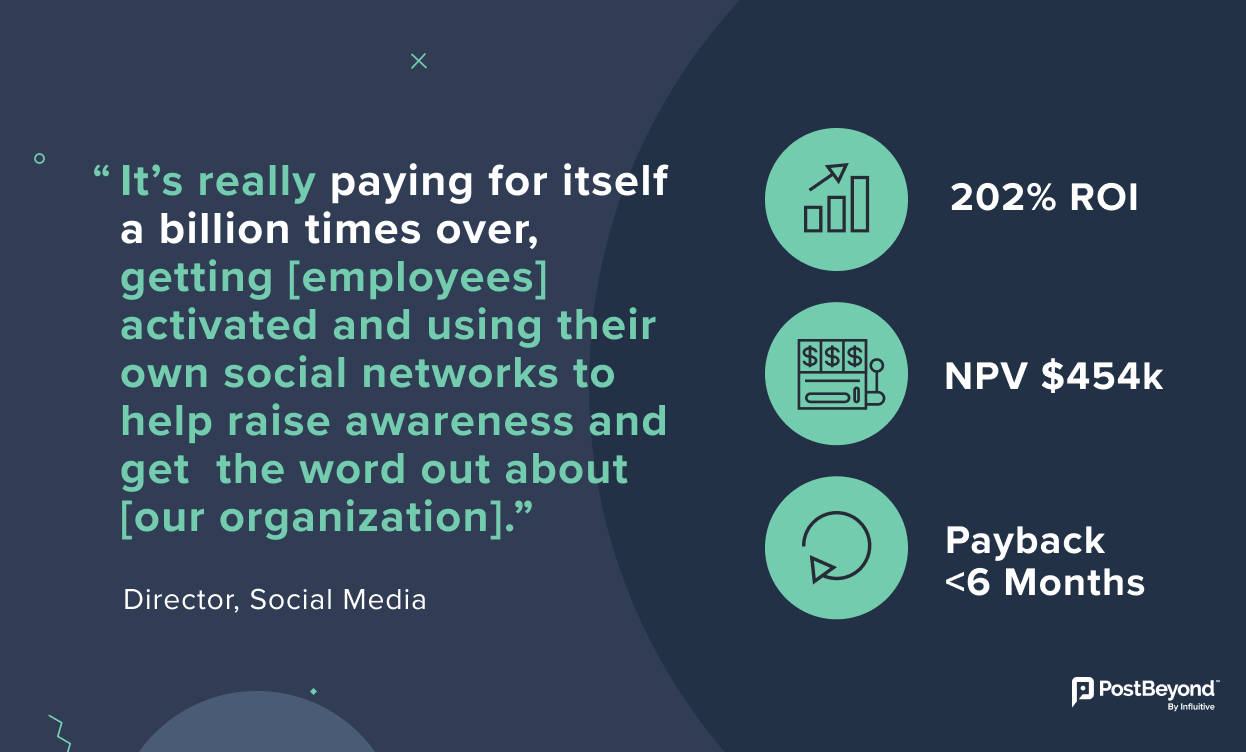 Using Forrester's model, our customer can expect an ROI of 202% and net-present value (NPV) of $454,000 over 3 years. Not only that, but our customer reached a profitable state in only 6 months. So, where can you expect to see these benefits materialize?
Quantified Benefits
Driving Profit via Increased Web Reach
Using PostBeyond, our customer's employees began sharing more brand content, such as blogs, to their own networks. Our customer's content reached new audiences that weren't accessible to the company's branded accounts. This led to net-new visitors to the website.
Our customer integrated PostBeyond with their Google Analytics (GA). They also added UTM tags to all of their content on PostBeyond to generate reports.
These reports showed how the content was faring in terms of engagement (likes, comments, click-throughs, chares, etc), traffic volume and traffic source, time spent on site, and direct interactions (e.g., sign-ups).
The sales team also reported additional conversions through employee advocacy-based sharing and interactions via PostBeyond.
Forrester's model projected a PV (with a downward risk-adjustment of 10%) of $205,537 over a period of 3 years.
Making Ad Spend More Efficient
Our customer used PostBeyond's analytics suite to uncover earned media value (EMV) from the social engagement actions of the shared content. The EMV was about $1.5M per month.
This is the value of the reach and engagement the employees generated through their advocacy if our customer had paid for it through ads.
Second, our customer used the data to hone in on its high-performing content. In turn, it got its paid ads team to direct spending to those specific assets so they could build on the early gains.
Third, the customer used these insights to optimize the lengths, formats, and styles of future content so as to drive more impactful assets.
Forrester's model forecasted a PV (with a downward risk-adjustment of 20%) of $132,658.
Saving Time with Content Management
The customer used PostBeyond to automate content distribution and streamline the content creation process. Prior to PostBeyond, employees needed help drafting and sharing content, which required lots of back-and-forth between them and the social media director.
With PostBeyond, the social media team housed the content as pre-built posts (i.e., with the link to the asset, images, tagging, hashtags, etc) in one location accessible to the employees. And it was an easy process for employees to open, edit and share the content to their networks.
PostBeyond also simplified company-wide publicity pushes.
So, whenever the customer had a major PR push, it was easy to distribute the shareable assets through PostBeyond. Moreover, the customer used PostBeyond's Slack/Teams integration and email newsletter feature to also alert employees.
Finally, even busy employees could actively participate using PostBeyond. Those with a small window to be on social could go into PostBeyond and, in turn, select the content they want to share and pre-schedule it. PostBeyond will post that content automatically.
Forrester's model projected a PV (with a downward risk-adjustment of 20%) of $340,839 through the time savings and other efficiencies over 3 years.
Unquantified Benefits
Our customer reported unlocking a slate of valuable benefits that, while not quantifiable, can greatly support other gains across marketing, talent acquisition, and sales.
Supporting Talent Acquisition
The human resources/people ops team used PostBeyond as a hub to share job postings. Not only did the employees re-share those posts, but they connected the customer to new talent pools that they didn't previously access.
Driving Higher Quality Content
PostBeyond's GA integration and metric-tracking helped the content creation team to fine-tune their future content. However, employees also suggested content to the social media team via PostBeyond. So, not only did the customer create stronger content, but they were pushing the content the employees were most interested in engaging.
Improving Employee Engagement
PostBeyond made it easier for employees to participate in company-wide PR pushes and to engage on social media. Our customer's program admins also used PostBeyond's attribution feature to show individual employees how their actions helped amplify an asset piece. In turn, the employees gained a real sense of involvement and shared value with the company.
Achieving Flexibility for Future Initiatives
Finally, our customer says that they're growing their capacity to expand thought leadership with more mediums, such as video. Moreover, they're finding that their employees are growing in their social media skills that benefits both the company and the individual.
These shifts give our customer a greater sense of confidence to drive more ambitious ideas on social media. This is a good sign because it means their employee advocacy work will continue to evolve and, in turn, drive more positive results.
PostBeyond is a Smart Way to Counter a Recession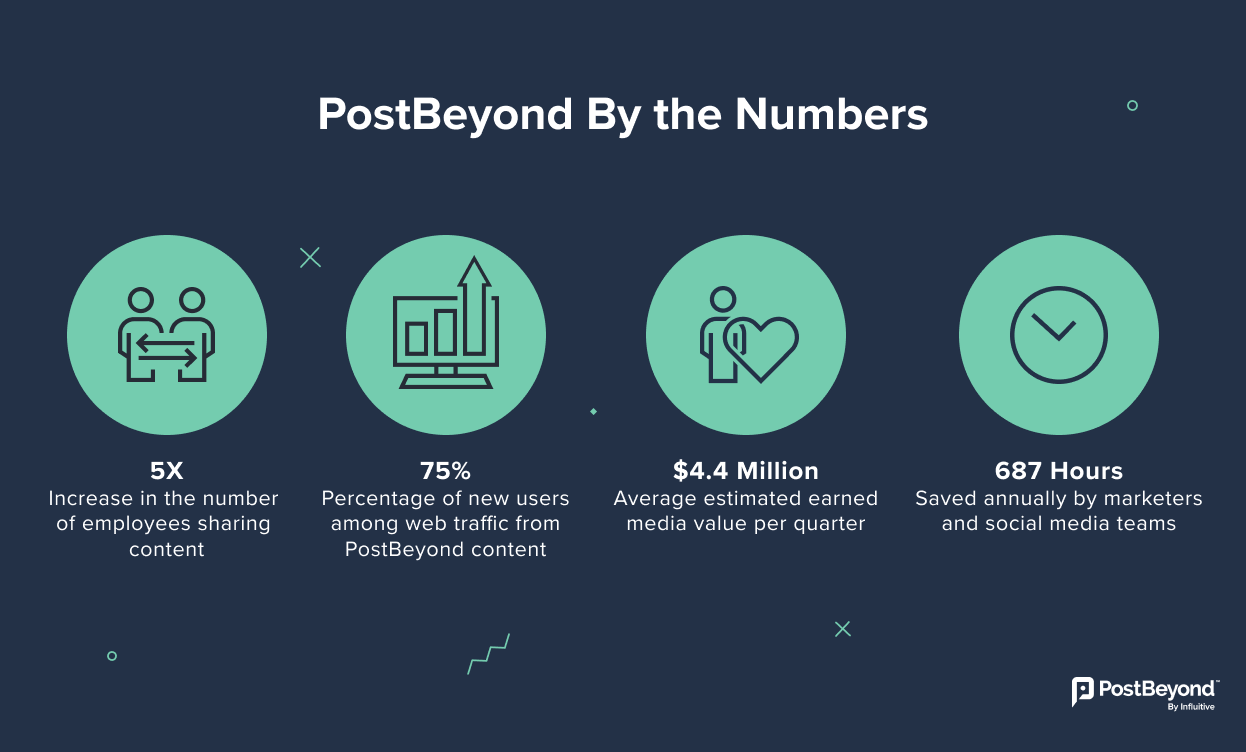 When we look at the results, it's clear that brand advocacy via employees is a smart and potent way of countering an economic downturn.
Your prospects are more discerning now than ever, and they want to hear from other people the most. Your employees carry the authority and reach to thrive with today's audiences.
In fact, the clout your employees have is very difficult and expensive for you to build with only ads and other conventional investments. So, why not mobilize the assets you already have in your employees and counter a down economic period with uplifting growth results.
Sign up to get the full report emailed directly to you.