Everyone knows thought leadership content matters, but nowhere near as many brands and organizations roll it out effectively.
The mistake many brands make with thought leadership marketing and content is that they don't focus on creating separation between themselves and "the average." It's easy to match the answers others offer, but it's difficult to deliver deeper insights.
However, to get audiences to start listening to you instead of a competitor, you need to create quite a bit of separation in originality, insights and value.
It sounds daunting, but here's the good news: you're already sitting on everything you need to create best-in-class thought leadership content.
We'll show you to leverage those assets.
What is Thought Leadership Content?
Thought leadership content is a strategy brands use to cement themselves as experts or authoritative sources on information their audiences consider valuable.
Thought leadership is a way of creating differentiation across social media, search, and other channels by delivering value to audiences. It builds a case for audiences to become leads or customers by showing them that the brand is invested in its trade. Audiences can see that the brand invests in deeply understanding the industry and the product/service.
How to Write Thought Leadership Articles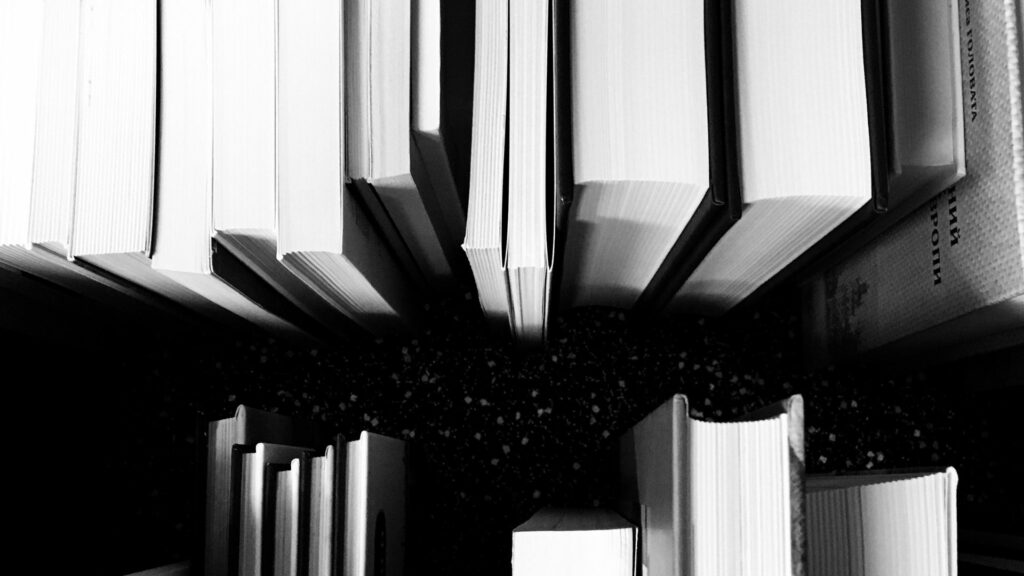 You write thought leadership content by leveraging what you know to answer a real-world business problem. Here are the keys to delivering the strongest content:
Focus on things you know better than others. To attract audiences you'll want to stand out from the average. Investing in research, data and other original insights will create that separation.
Solve a real-world problem. Provide strong answers to the challenges your target audiences are facing. The key here is maintaining relevance between what you offer and what people want.
Demonstrate depth. The deeper you dig into an issue the better. Invest as much time and resources as possible in research, data mining, graphs, charts and proofs.
Use storytelling. This is an effective way to deliver information to people. For example, if you're addressing a problem, spend time breaking out that issue is a problem. Focus on things like how businesses lose revenue, fall behind their competitors, etc.
Be succinct. You can have long-form content, but only if your research requires it. Your audiences have limited time to consume content, so you'll want to make the most of it by making every point useful.
Marketers know that they can't demonstrate thought leadership alone. You'll definitely need to rely on subject matter experts. The amazing thing about companies is that they're all sitting on a wealth of great thought leaders – their employees! You should leverage those resources.

Moreover, don't limit yourself to only writing articles. You can deliver thought leadership in a big variety of other ways that can captivate more audiences.
How to Create Thought Leadership Content Using…
Videos
Be it webinars, interviews, podcasts, or featurettes, leveraging subject matter experts (SME) is absolutely critical. They're the reason why audiences will tune-in to your videos. You'll find a lot of great thought leaders from among your employees, executives, channel partners and customers.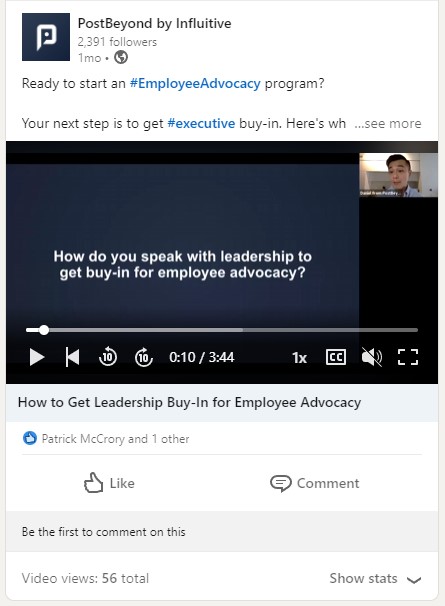 But don't stop with full-length videos. In fact, you can re-use your long-form content by cutting them into short clips and narrations for other videos. One neat thing you can do is look at the conversations happening on social and prep a clip to enter that discussion via a hashtag.
Visuals
The benefit of investing in original research and data is that you can use it for both reports plus an ecosystem of visuals. You can turn the data into charts, infographics and more. You should also rework guides and ebooks into digestible one-pagers and cheat-sheets.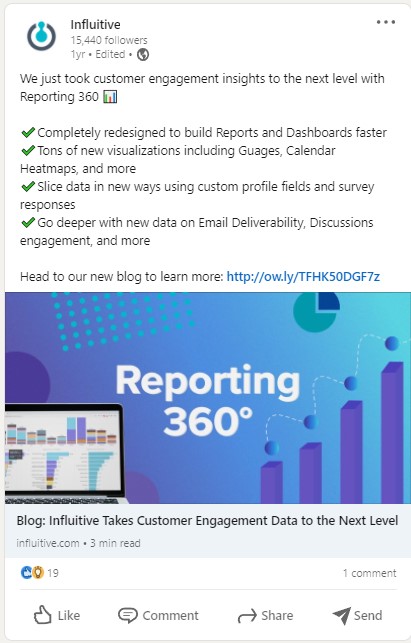 Social Media
Don't limit thought leadership content to long-form assets like ebooks or blogs. Many times, a digestible social media post can deliver as much – if not more – impact.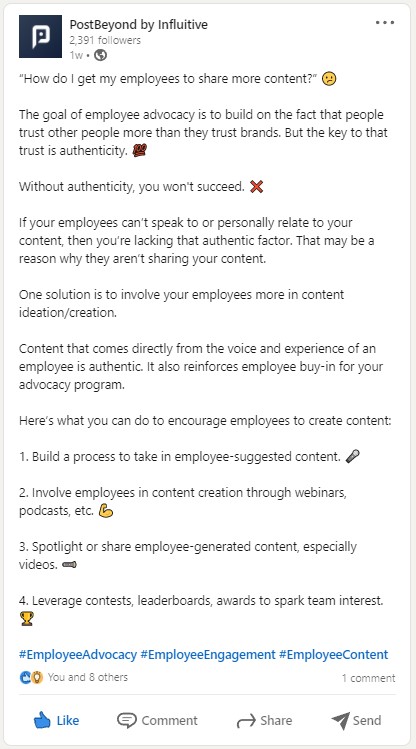 Use social listening to find the topics people are discussing on LinkedIn, Twitter, Facebook and other platforms. Insert yourself into those conversations with your input. You can involve SMEs in your company by encouraging them to create their own content for those discussions.
How to Build a Thought Leadership Content Strategy
Step 1 – Define Your Goals
As with any plan, start by identifying the goals of your thought leadership content strategy. Are you focusing on: Social selling? Social recruiting? Demand generation? You can (and should) have multiple goals in mind, but each of those could require its own strategy.
Step 2 – Get Your Employees On Board
The keys to delivering the strongest thought leadership content are originality, value, and demonstrated expertise. You can't do it alone.
Leverage the experts working at your company, such as the executives, engineers, specialists, managers and so on. These are the people your company relies on to drive revenue – so they definitely bring something to the table. Not only that, but others want their expertise!
Your job as a marketer is to make employee thought leadership shine. Get them onboard with your content creation efforts. The more you involve them, the more thought leadership content you'll generate. In fact, aim for expertise in a variety of areas.
That said, you don't have to always feature them. You can get their input in the background for branded content such as guides, cheat sheets and other assets.
Step 3 – Create Processes for Thought Leadership Content Creation
Once the experts are onboard, you need to build processes to lift their knowledge and forge into thought leadership content. Think about how you'll kickstart the effort, build momentum, sustain your efforts and improve upon it.
Here are a few go-to starter tactics:
Content Calendar
Build a content calendar to schedule and coordinate your output. Get forward visibility for at least 3 months in advance. Ensure you're getting a top-level view of the following things:
Distribution channels (e.g., LinkedIn, Twitter, Facebook, YouTube, your blog, partner blogs, etc)
Type of content (e.g., blog article, ebook, report, webinar, podcast etc)
The featured expert
Dependencies (e.g., video editing, graphic design, writing, etc)
Don't limit your focus to only branded content. Encourage your experts to create their own content (i.e., employee-generated content or EGC) too. It can be stuff as simple as LinkedIn posts with their views on a certain topic or a self-made video.
Get Resources
Your thought leadership should cut across many different content types. So you'll want to ensure you have enough resources to execute your calendar. You can expect investing in various tools (like a content sharing platform) as well as writers, video editors, podcast editors and graphic designers.
Step 4 – Identify Your Content Distribution Channels
Blogs have generally been the go-to home for company thought leadership content – and for good reason. With an effective SEO strategy, you can attract organic search traffic, which is a sustainable way of building audience growth.
But SEO isn't your only option for building your audience organically.
Social is an excellent (and often underused) channel for building an organic audience across multiple goals, including sales, talent acquisition and demand generation.
To grow an audience on social, you need to understand what your target audience is talking about on each platform. Build visibility through social media monitoring (e.g., tracking brand mentions, hashtags, competitor mentions, etc). Get a feel of how your audience is thinking through social listening. Use the insights to pave your runway into those conversations.
Just as you leaned your employees to create thought leadership content, work with them to grow your reach on social. Your employees can be a powerful asset on social media. This is because audiences trust people more than official brand accounts.
Engage your employees in the content ideation and creation process. This way, you fuel their buy-in from the start and encourage them to promote your content. But to fully unlock the real reach of your employees on social media, you need a full-out employee advocacy strategy.
Step 5 – Monitor & Improve
Use analytics suites (like Google Analytics, HootSuite, etc) to see how your thought leadership content is performing in each of your channels. Identify the assets generating the most reach or engagement among both your target audience and your employees.
You should also monitor your competitors. Their websites and social media accounts will give you visibility on the topics you can cover. You could also benchmark against their content as a way to make sure you're delivering a better answer to your market.
How to Generate Thought Leadership Ideas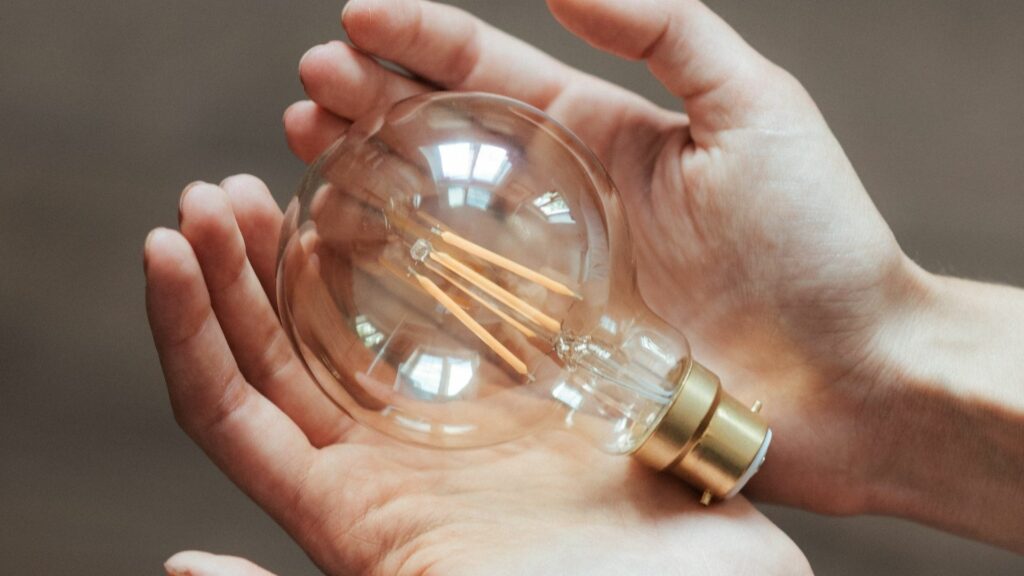 The best thought leadership ideas are in response to real-world problems. The real challenge here is discovering what those problems actually are! But the funny thing is, your company is already sitting on a treasure trove of market intelligence.
1. Listen to Sales Calls
Start by listening to sales calls. You'll easily build pages upon pages of real-world problems relevant to your audience from just a few calls. In fact, you'll also understand your market's major pain points, organizational goals, personal aspirations and so much more.
2. Use Social Listening
Social listening goes beyond just tracking hashtags and brand mentions. Take a direct look at what people are saying about your company, industry, competitors, etc. See what the 'mood' is and how people are feeling about certain topics and issues.
3. Leverage Your Product Analytics
Look at the user data of your product. You'll find a lot of original insights that no one else can possibly make on their own. This data is unique to your company. So it's a massive asset for reports, one-pagers, infographics and much more.
4. Survey Customers & Partners
You can also engage your customers and partners to understand how they view certain issues or trends. Use surveys and leverage the resulting data for reports, infographics, etc.
5. Check Your Competitors
Don't limit yourself to just emulating what your competitors are doing. The key to thought leadership content is separation. Look at what your rivals are saying and see if you can offer a better answer than them.
7 Thought Leadership Content Examples
1 – Semrush
This Semrush post is a great example of an informative one-pager. It might not appear like a thought leadership content piece, but it is. Useful assets like this help people (often Semrush's target market) learn how to do things relevant to their jobs and careers. This dynamic pushes people to view Semrush as the authority on subjects like this.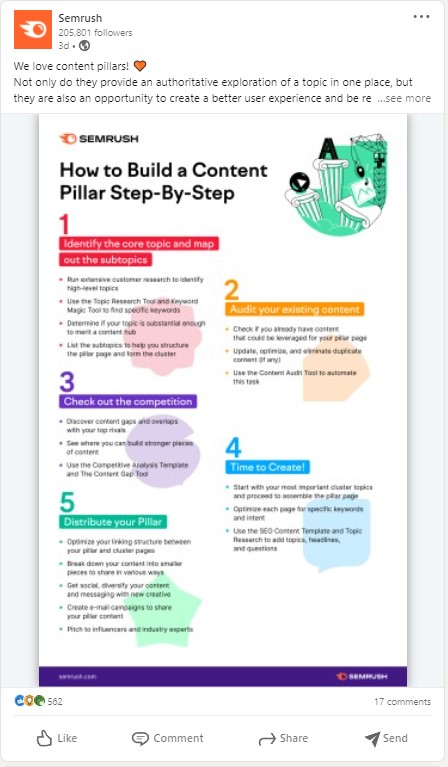 2 – Gong
Gong leveraged its user data to come up with the social media post. The neat thing about this post is that it teases only one data point, but does so with an attention-grabbing headline. As a result, Gong generated a lot of reach and engagement.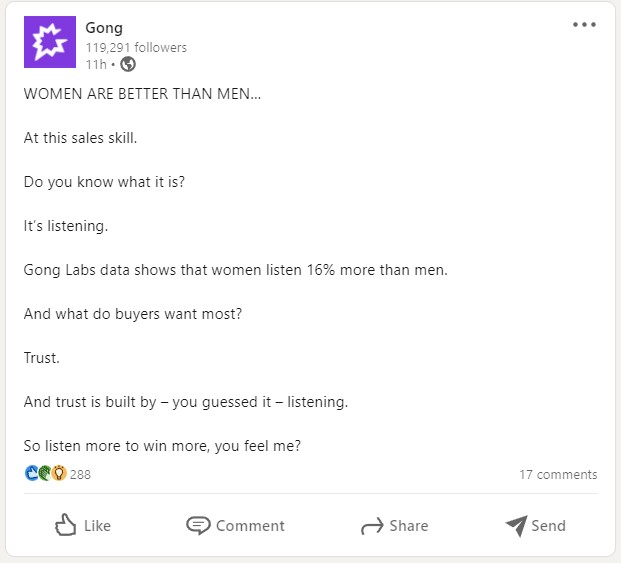 3 – Drift
In this example, Drift is using both in-house experts and its user data in a webinar. This is a neat way to showcase your company's expertise. Webinars give your audiences a vehicle to engage with your experts directly. By answering questions, you can demonstrate expertise in real-time.
4 – Grammarly
Grammarly surveyed its customers and partners to produce a state of the industry report. It's not the newest style, but it's a tried-and-true method that works.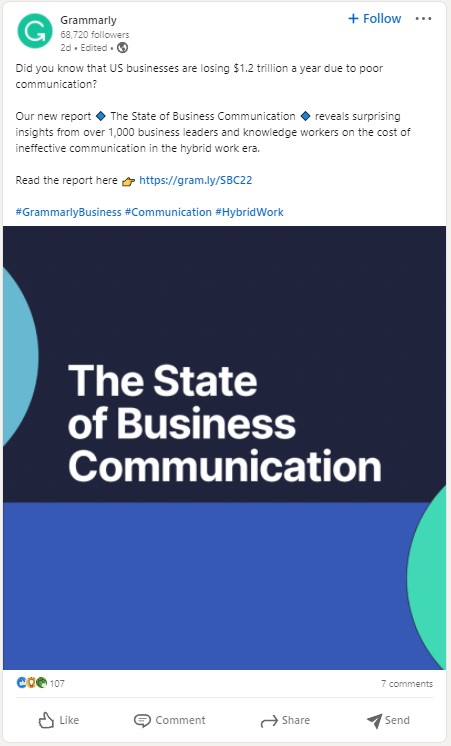 5 – Asana
Asana got one of its experts to join another organization's podcast. This is a good way to bridge the gap while you're getting your thought leadership strategy off the ground. You'll create some exposure for your employees/experts via an already established audience base.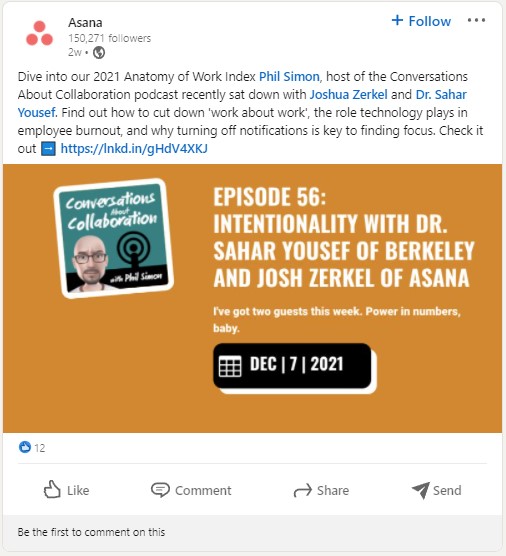 6 – Stripe
Stripe is giving its users and potential customers an opportunity to engage with its experts in a live Q&A. This is a great way to leverage your internal expertise while directly giving something of value to your target market.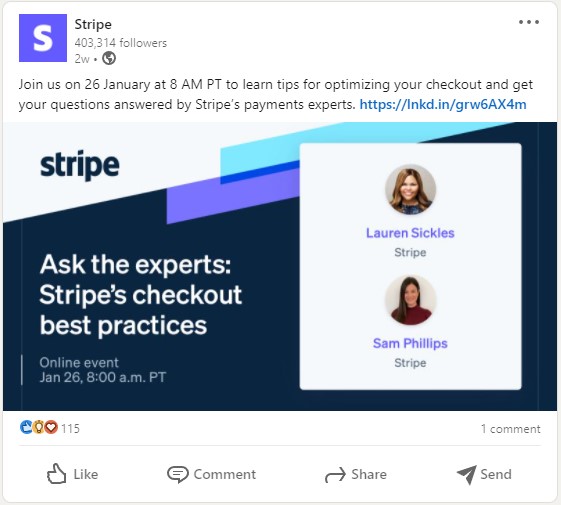 7 – Candu
Candu is demonstrating thought leadership through actionable walkthroughs. Content like this gives readers step-by-step advice on achieving specific outcomes. This is the type of content that makes readers feel like they're getting value from just consuming your content.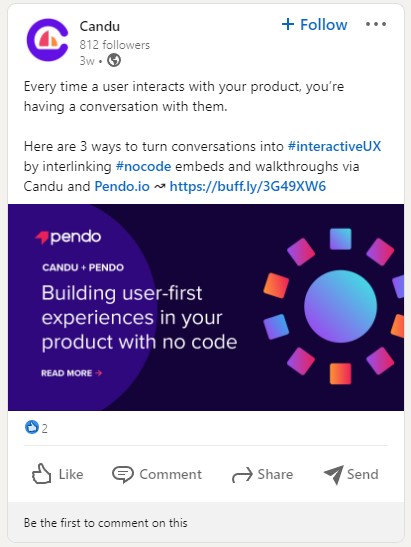 Next Steps
Your thought leadership content efforts should tie into your employer branding goals. The two efforts should energize each other. Our ebook will give you a roadmap of how to establish and grow a strong employer brand.
For More on Thought Leadership Content: