Thought leadership content could be a significant way to differentiate your brand — at least when done correctly.
Looping thought leadership into your content strategy can help cut through your competitive landscape. This is especially important if you're in a niche or highly competitive market.
But thought leadership is more than just opinions because opinions are a dime a dozen. Let's dive into the basics of thought leadership marketing and answer questions like
What is thought leadership?
Does thought leadership work?
What are the best thought leadership examples to learn from?
What is Thought Leadership — and Why Does it Matter?
The Thought Leadership Lab defines thought leaders as "the informed opinion leaders and the go-to people in their field of expertise." This definition emphasizes that these individuals are truly informed and that their knowledge is specific to one field of expertise.
The Lab goes on to explain that these thought leaders "become the trusted sources who move and inspire people with innovative ideas; turn ideas into reality, and know and show how to replicate their success."
Thought leadership is the process that enables these individuals into industry leaders and trusted voices. It includes the work of staying informed, knowing your mind, and genuinely building rapport with an audience.
The process is about making ideas—especially new or important ones—accessible to others. If you're passionate about a topic, then you want to share it. Thought leadership allows you to do so and helps your audience in the process.
At the same time, this trust-based relationship allows for opportunities to demonstrate to your audience how your product or service fits into their life or work. Selling about your product should never be the goal of thought leadership. Although, it can be a benefit if you do your job well.
What are the Guiding Principles of Thought Leadership Marketing?
Not all content will make you an expert or a leader in your industry. Plenty of brands and individuals are producing content, but not all are maintaining a consistently loyal and trusting audience.
Thought leadership marketing is done best when content is original, specific, and consistent.
Be Original
According to Grist's Value of B2B Thought Leadership Survey, 58% of C-Suite executives choose not to read content that lacks original insight or ideas. It's a waste of time for decision-makers to read articles that say what every other report says.
For those looking to become thought leaders, their content must have a unique perspective. Or at the very least, positioned in a special or thought-provoking manner. After all, what is thought leadership but the opportunity to lead your audience to and through new ways of thinking?
Be Specific
Of those same C-suite executives, 63% say that they avoid content that's too generic. If you aren't providing content specific to your audience's needs, your industry, and your niche within that space, you may as well not share content at all.
Be Consistent
James Blake, founder and CEO of Vindicta Digital, writes that consistency is key to carving out your space within the world of thought leadership:
"I mean being on every online channel that fits your business goals, with a consistent style and message. People should see you and instantly know who you are and what you're about. To this end, your content must be delivered frequently and consistently."
What Are The Benefits of Thought Leadership
SurveyMonkey partnered with Andy Crestodina from Orbit Media and Michele Linn of Mantis Research to uncover the definitions of thought leadership and key finds of the topic. According to the data, two-thirds of marketers (66%) consider thought leadership a "top priority" for their marketing organization.
There are a handful of benefits regardless of an organization's level of success with thought leadership. Respondents saw numerous different benefits from their thought leadership programs. This ranged from brand awareness to lead generation including website traffic, media mentions, email subscribers, and more.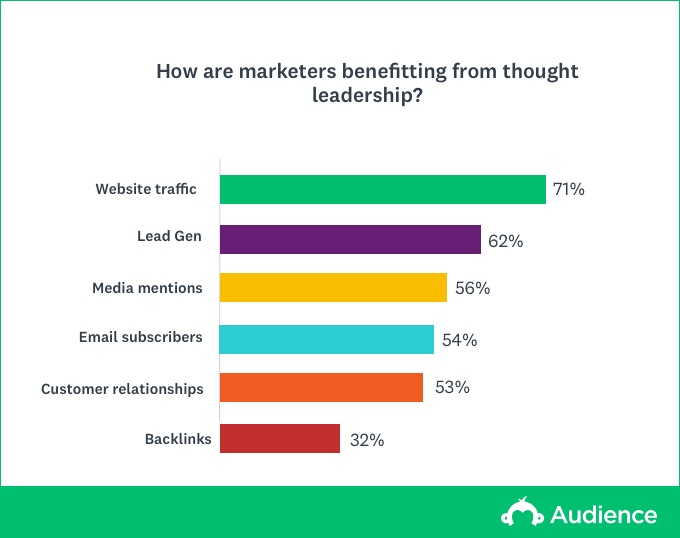 That's a lot of traction in both brand building and revenue although most respondents rated their program as moderately successful.
Can Social Media be Used for Thought Leadership?
Social media can — and should — be a part of any thought leadership marketing strategy.
Original, specific, and consistent content means nothing if no one can access it. Social media is one effortless and essential way to reach your audience.
In 2017, 55% of B2B buyers said they depended on social media to make purchasing decisions. Other players in the marketing game are there too, and presenting your content on these platforms makes it accessible to all of them at the click of a button.
Even if you're completing research studies, social media can bring light to these other media and connect potential audience members with the content.
What Role Can Employee Advocacy Play in Thought Leadership Marketing?
When done well, employee advocacy can strengthen your brand's thought leadership by lending multiple more credible voices to the ideas and expertise being presented. 42% of people mistrust brands, but most people do trust other people. Your employees can be the link that puts a face to the corporation and vouches for its expertise.
Having subject matter experts speaking up insight and enthusiastic contributions speaks to a corporate culture that seeks out and supports the brightest in the field. Employee advocacy demonstrates a brand's transparency and authenticity, making employees one of the key factors in gaining your audience's trust.
What are the Best Thought Leadership Examples?
Whether you're primarily interested in thought leadership on LinkedIn, Twitter, or other media, there are plenty of thought leadership examples to learn from. Some of our favorites are included here.
Hays Company
Thought leadership on LinkedIn can be tricky, but Hays Company makes good use of social media to make their other content more accessible. Their trade journal and individual guides are available in full from the brand's posts, ensuring that the publication stays relevant even as audience members are stuck at home during the pandemic.
While this particular post is from the brand page, the type of content the brand shares means it can be shared organically by company leaders and employees.
Julia Campbell
Julia Campbell (@JuliaCSocial) has made a space for herself as a nonprofit thought leader on Twitter, combining the shorter-form text space with highly visible graphics and numerous links to more information or further learning opportunities.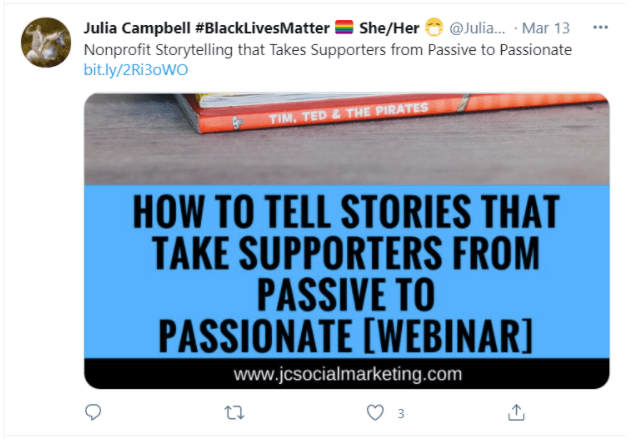 Simon Sinek
Another strong example of thought leadership on LinkedIn is Simon Sinek, who sees significant engagement from his followers. This could be due to his consistency in posting and the accessibility of his posts. Most of his content are short, easy to read, and easy to follow to more related material on his website or elsewhere.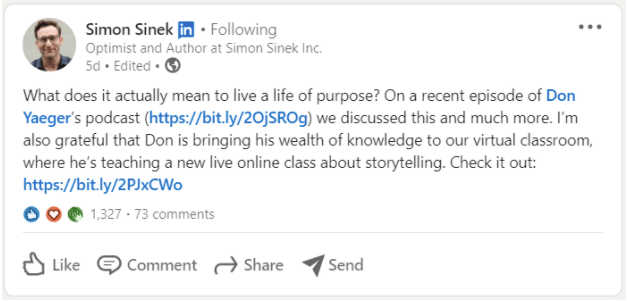 How Can I Utilize Thought Leadership?
The thought leadership examples above are some of many individuals who use their originality, passion, and knowledge to become thought leaders in their respective industries.
Thought leadership on LinkedIn, Twitter, and other social media platforms are constantly evolving as thought leaders look for ways to be accessible and consistent in a world where many brands and individuals are trying to be heard.
Thought leadership isn't just about creating insightful, educational and perception-changing content. It's also the mechanism to help you get your ideas out into the wild to start conversations. It sounds simple, but it takes work to do well.
Are you ready to jump in?