Today, there's no doubt that LinkedIn is the place to generate leads.
According to LinkedIn, 4 out of 5 of its members "drive business decisions."
So, what does that mean?
Well, about 80% of LinkedIn users are key stakeholders when it comes to purchase decisions. They could be the decision-maker, a key influencer, or some other type of mover and shaker that's relevant to your business goals.
With the right LinkedIn marketing strategy, you can engage every type of stakeholder. That's the reason why we marketers work across different stages of the funnel.
But how do we get our target audience into our funnel? How do we get leads on LinkedIn?
In this post, we're going to give you the inside look at how we generate leads on LinkedIn.
Jacob Downey, the Senior Demand Gen Manager at Influitive, will give you a glimpse into his own playbook for paid advertising. I'll let you in on how we approach social media marketing and social selling to get organic leads.
Why LinkedIn Lead Generation Matters
In all likelihood, your sales, marketing, and even talent sourcing strategies position LinkedIn in a very central way – and for good reason. According to LinkedIn:
Over 65 million decision makers are on LinkedIn.
40% of B2B marketers say that LinkedIn is the most effective source for lead generation.
Audiences are 6X more likely to convert if they see brand messages on LinkedIn
While there are new reservoirs of audiences and leads constantly cropping up for marketers to consider, LinkedIn is still a vital social media platform. You'll always want to keep an open mind by exploring new and other social networks, but you can't skip LinkedIn.
How to Get Leads on LinkedIn in 2022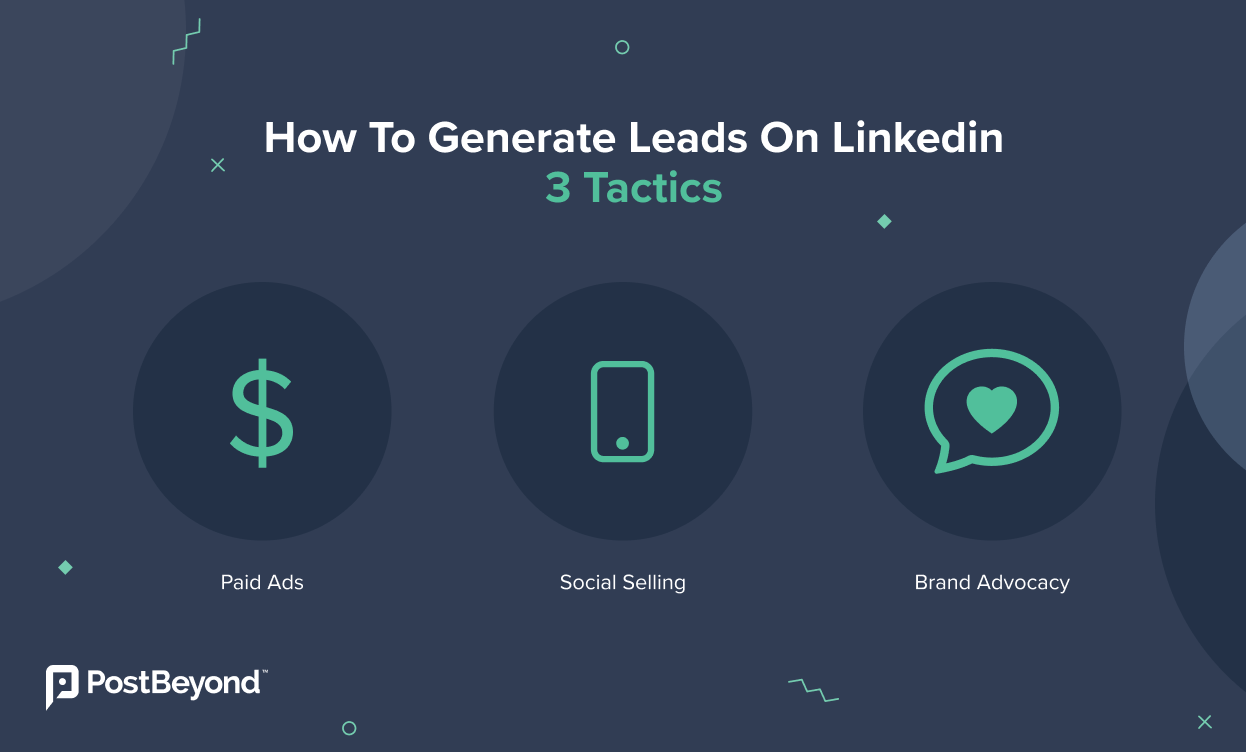 As of 2022, we're dealing with a lot more competition and more discerning audiences. This may not be a LinkedIn-only problem, but it's definitely a factor to tackle in your strategy. Basically, the supply of brands reaching out to people has gone up, but the willingness (or ability) of people to freely look at that content has gone down.
So, the cost per lead (CPL) on LinkedIn has gone up. You'll see this shift in the next section where we talk about paid advertising on LinkedIn. But even from an organic point of view, we'll need to recognize that it takes resources to generate strong outcomes.
Paid Advertising
When discussing how to best leverage paid ads on LinkedIn, Jacob told us that most will notice that LinkedIn is "consistently the most expensive social network for CPA (cost-per-acquisition)."
As with any strategy for generating quality leads, you need a multi-faceted plan. Jacob added, "gone are the days where you could use the default targeting information on the platform and get good results."
According to Jacob, when designing a paid ads strategy on LinkedIn, you'll need to combine first-party and third-party data. Using this strategy, you may see an uplift in click-through-rates (CTR) and conversions.
However, even when implementing this strategy, the CPA will still be higher than other social media platforms. Therefore, you have to complement this strategy with organic methods, like social selling and brand advocacy, for example.
Social Selling
Social selling is the approach of using social media to reach out to potential customers and to deliver value to them. The idea is to engage in conversations, provide resources and reinforce relationships. In turn, you want to leverage those gains into creating sales opportunities.
When it comes to LinkedIn, practically speaking, you can look at mobilizing your sales team to connect with people, join LinkedIn groups, and post on their LinkedIn profiles.
However, to successfully execute across all those areas, you'll need to invest in a few areas.
First, you need relevant content. You need to talk to your sales team to understand exactly what their prospects are looking for. The key here is to equip your sales team with resources that can help them earn the trust of their prospects.
Basically, you don't want sales prospects to feel as if they're sales prospects. Rather, you want prospects to feel like they're getting something from your salespeople, even though they're not customers. This 'give first' type of strategy helps set up a positive impression of your brand and your salespeople before the prospect initiates their purchasing process.
Second, you should build a mobilization strategy. Social selling isn't technology. It isn't even the act of creating content for your salespeople to share. Rather, you need processes that spell out the steps and best practices you need your salespeople to take.
At Influitive, we ask our salespeople to strategically use tagging or mentions. For example, if the sales team is sharing a thought leadership piece, we ask them to tag the source on LinkedIn.
It's a purposeful strategy that helps generate more visibility to their post and push them on the radars of their target prospects. We don't lean on a passive approach of leaving content for our team. Rather, we provide a playbook to the team to use that content on LinkedIn to generate the results they want to see.
Brand Advocacy
In our experience, we found that you can expand the groundwork from social selling into a very potent lead gen engine on social media.
The core idea behind brand advocacy is to mobilize people – especially your employees and your customers – to speak for your brand.
We mentioned earlier how audiences are more selective with who they engage with and what content they consume. What will it take to break through to them?
Well, today's audiences value trust and authenticity – and by a lot! For example, 83% of people say they trust the recommendations of their family and friends. Moreover, people are three times more likely to trust family and friends compared to official brand messaging.
When you establish trust, it'll be easier to move to the next step – i.e. generating a lead.
From a practical standpoint, this can happen when audiences find an asset (e.g. webinar, blog, etc.) through your employee. It could be that in the lead up to becoming your lead, the prospect was familiar with your employee and sees them as a thought leader.
Trust and authenticity are valued, and relatability takes it a step further.
The great thing about every company is that they already have people who can advocate for them – their employees. You have people who are actual experts in their work, are role models, and much more. That's why your company hired them in the first place!
Like social selling, the key is to mobilize your employees to drive thought leadership, promote your company culture, and give audiences an inside look of your brand.
79% of companies with a formalized employee advocacy strategy reported more online visibility, while 65% said they saw increased brand recognition (learn more here).
Next Steps
If you're interested in upgrading your LinkedIn lead gen engine through employee advocacy, use our guide to design and launch your program.
Learn How We Grasped LinkedIn for Lead Generation