Note: We updated our blog on what to post on LinkedIn with new examples and ideas for 2023.
While LinkedIn is a social network for professionals, it's evolved into a platform for social selling, talent acquisition, brand reach and much more. But as we marketers know, our success on this platform depends a lot on the content we post on LinkedIn. If you're not sure of what to post on LinkedIn, we have 23 LinkedIn content ideas you can start out with in 2023.
What to Post on LinkedIn to Get Noticed
LinkedIn is a powerful avenue to build an audience and grow your network. When you combine the two, you can unlock a lot of great opportunities to generate leads, advance your career, and amplify your brand. But all of that rests on getting noticed on LinkedIn.
You can take a variety of angles to get noticed on LinkedIn.
Great LinkedIn posts will leave readers with knowledge, tips, ideas, and information they can put to use right away. If a reader finds your post tangibly useful, they'll share it for other people to see. Then those people will see your LinkedIn post and, in turn, share with their networks.
In addition, you can also delve into your more personal side. People resonate with authenticity, so they'll respect seeing emotion from time to time. You don't want to make getting noticed the point of such posts though (that defeats the authenticity). But if it comes out naturally, then it'll help your LinkedIn posts get noticed.
Finally, great conversations can give your LinkedIn posts lots of visibility too. In a way, every individual LinkedIn post is a community in itself. If that community is alive with insightful and interesting comments, it'll draw more people to follow your post and re-share it.
Examples: The Best Content for LinkedIn in 2023
Below, you'll find some of the best LinkedIn posts showing what to share to get noticed by your network and wider audiences. Try using a mix in the types of LinkedIn posts so that you engage with audiences in different ways.
Things to Post on LinkedIn to Drive Comments and Reactions
Connecting With Your Audience's Concerns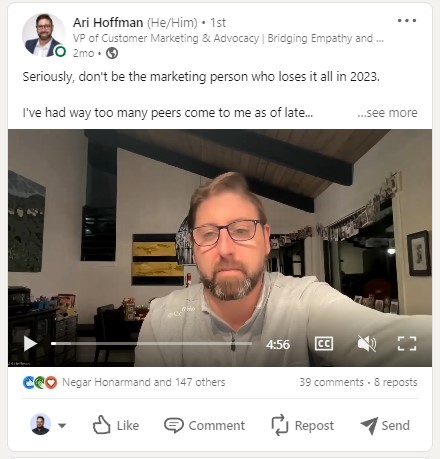 Today, we're in a recession, and many professionals are worried about their careers. In this LinkedIn post, our very own Ari Hoffman (VP of Customer Marketing and Advocacy) spoke to this issue. He also brought lots of unique ideas and tips to help readers navigate through the tough times and continue thriving.
Sharing Your Success
People on LinkedIn love seeing their friends and colleagues succeed. So, when you join a new workplace, get a promotion, or win an award, then post it!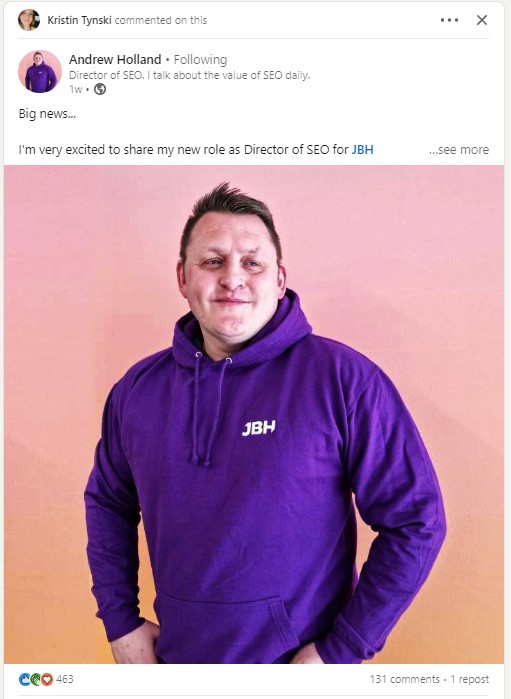 Helping Your Peers
Increasingly, LinkedIn has become more of a tight community between professionals. Even when we may not know someone directly, we want to help out where we can.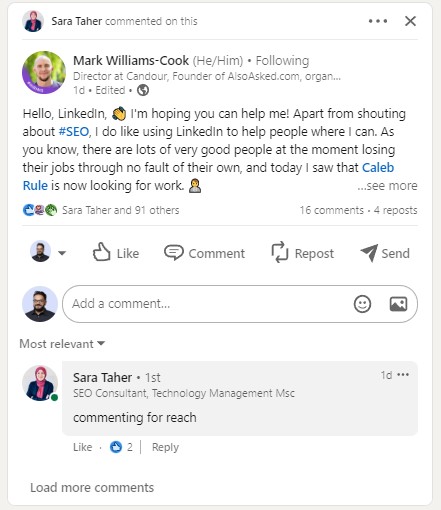 So, when your colleague wants to interview experts, re-share their post and get more eyes on the request. If your peer's available for work, amplify their profile to your networks to see if they can connect with new opportunities.
People will resonate with your effort and help you out with Reactions, Comments, and Sharing.
19 More LinkedIn Content Ideas in 2023
The following LinkedIn posts examples and styles will help you build an amazing mix for your LinkedIn profile.
1. Create Original, Long-Form Content
One general rule of thumb with driving LinkedIn reach and engagement is to offer people on the platform something valuable. So, long-form content wouldn't be your goal in of itself, but a way to create value for your audience.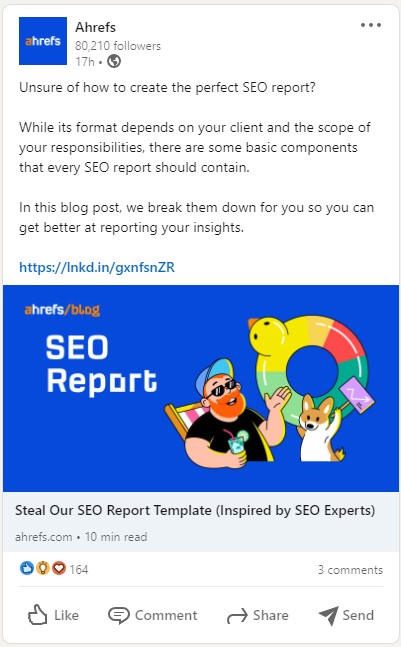 LinkedIn Long-Form Content Ideas
Long-form content is a great delivery vehicle for detailed whitepapers, how-to guides, research reports, case studies and much more. Don't worry about the length of the article. The key is to make sure that every word interests the reader.
2. Write LinkedIn Articles
LinkedIn offers a feature where you can write articles natively into the LinkedIn platform. You get 110,000 characters, which is much more than the 3,000 characters you get with a status update.
You also get more features, like headlines, linking and image support. LinkedIn's articles feature is very similar to a microblogging platform.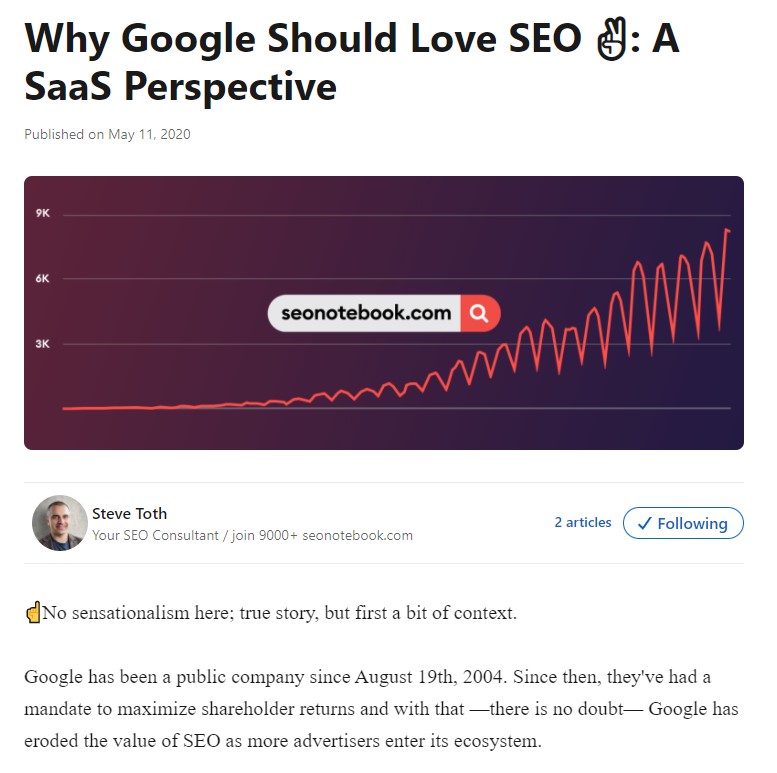 LinkedIn articles are a good way to deliver your personal thought leadership, especially in your own capacity. However, like long-form content, you want to make sure that your content delivers some kind of value or benefit to the reader.
3. Try 'Adjacent-Industry' Content
Let's say you're in the retail space. While it's a great idea to center your content on issues that directly relate to retail, look at other, but related, industry content too. For example, trends in the supply chain or logistics industry relates to retail too. You can share how transportation costs are affecting retail. You can create content on how to leverage supply chain advances to cut costs in retail or come up with more competitive pricing.
In this example, Retalon – which provides an analytics platform for retailers – is talking about the effects of an inefficient supply chain.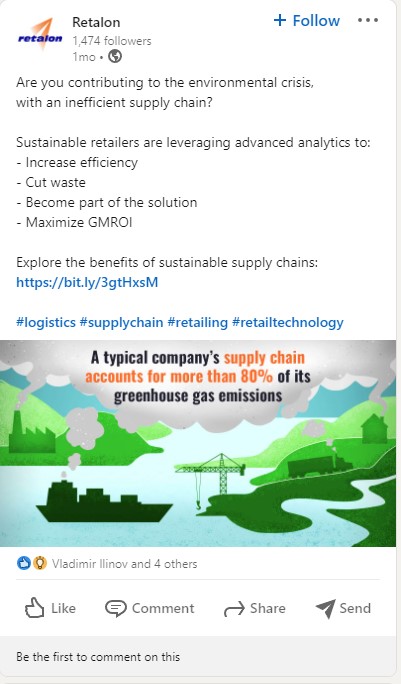 Sharing adjacent-industry content is a good way to diversify your content mix. Talking about one thing over and over again might be boring for your audience (and maybe even you!). Moreover, knowing more about your space from different angles and perspectives is a great way to boost your thought leadership too.
4. Produce Original Data
If there's one thing you can't have "too much" of, it's data. There's always room for more data.
Invest in research that creates original data. Not only does this help with thought leadership, but it gives others a reason to use and share your content. This type of research work also positions you and your brand as a credible authority on the subject.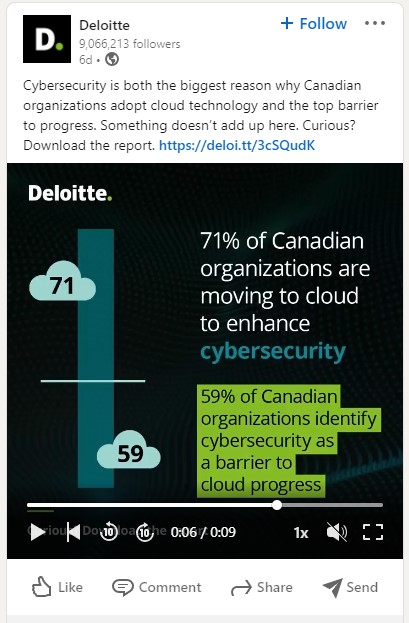 Yes, research and data cost money, but even now, there are always far fewer people offering it compared to more qualitative content. Moreover, you can get a lot of mileage out of one report. For example, you can create different LinkedIn posts that focus on different insights. One data set or report could support your LinkedIn content strategy for weeks or months.
5. Celebrate Achievements
Don't shy away from celebrating company-wide or even individual employee achievements.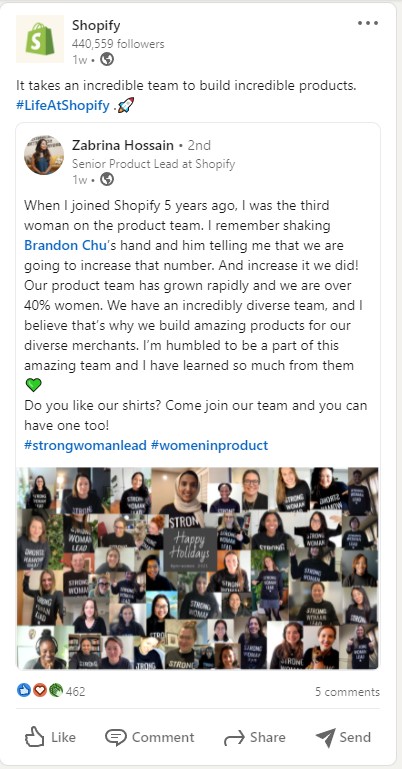 Things like industry awards, company growth, and even anniversaries or personal milestones give people a great window into your company. The benefit of this type of LinkedIn content is that it makes you and your company more authentic to people.
6. Offer Tips, Hacks & How-To's
This is about zeroing in on providing value to the reader. You can make this as simple as a post or status update that uncovers a neat new way of using a popular tool. Or, you can build a very comprehensive guide on how to use complex software without any prior knowledge.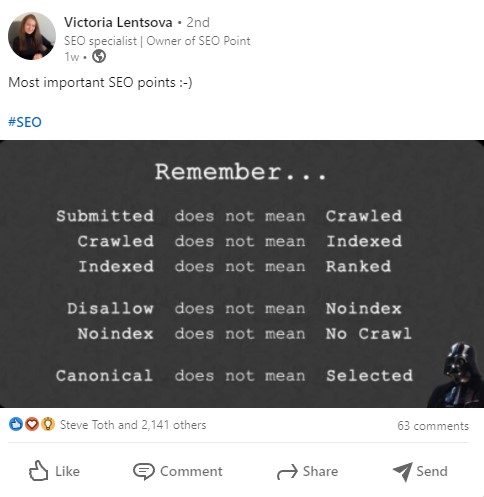 In any case, the benefit of this type of content is that it delivers tangible value to the reader. It gives something they can use to succeed in their work. This puts you in their best graces and you can reasonably expect them to keep following and engaging your LinkedIn content.
7. Post Short Clips of Webinars
Interestingly, you can get a lot of mileage out of webinars. You don't need to rely on posting the whole thing as one content piece. You can extract clips that laser-in on specific points/ideas and post those on LinkedIn.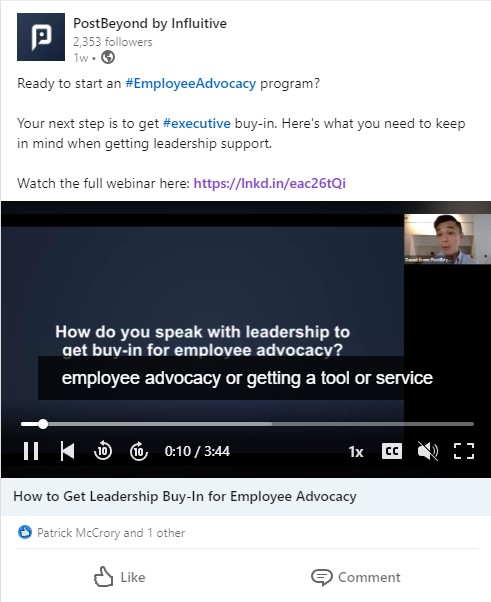 Make sure to also add subtitles so people can view them without the audio. This way, they can start getting the gist of the video clip as soon as they scroll to it.
8. Leverage User-Generated Content (UGC)
Look at ways to get your employees and/or customers to create content for you. This can be stuff as simple as testimonials, reviews, their personal thought leadership and more.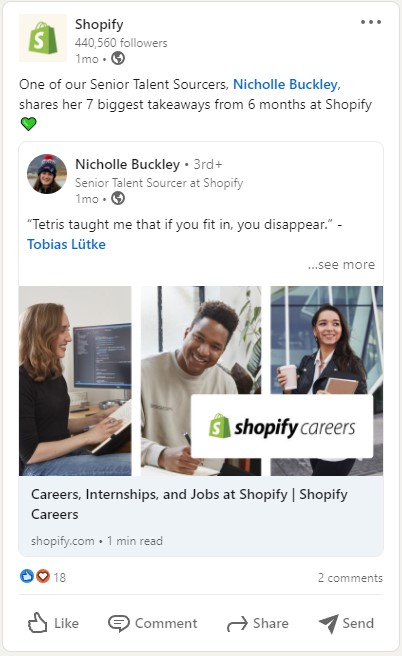 The advantage of UGC – and employee-generated content (EGC) – is that it augments your own LinkedIn content efforts. Quantitatively, it gives you more to work with to fill your content pipeline. Because you're drawing on lots of different people, you'll find that the content is also diverse and varied. EGC is also a good way to engage employees.
Finally, because the content comes from the voice of customers or employees, it also carries more authenticity than branded content.
9. Spotlight Your Team
Give outsiders a window into your company by focusing on your people. You can have content that showcases what your employees are up to in the company (e.g. "day in the life of" posts). This gives potential job candidates and even customers an idea of who they'd be working with should they engage with your company.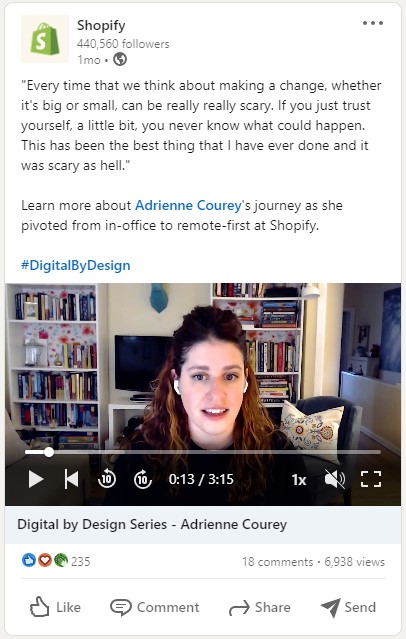 You should also promote the achievements and activities of your employees. So, for example, if they've been invited to speak at an event or webinar of another company, promote that. Not only does it show people that your team is valued across the industry, but it also helps people within your company know that their employer values their strengths and achievements.
10. Enter Discussions
Time to time, you'll find conversations involving multiple people on LinkedIn. These discussions offer a great opportunity to cast the light onto yourself. But you'll want to make sure you're fully informed about the subject matter and, as importantly, your input offers real value.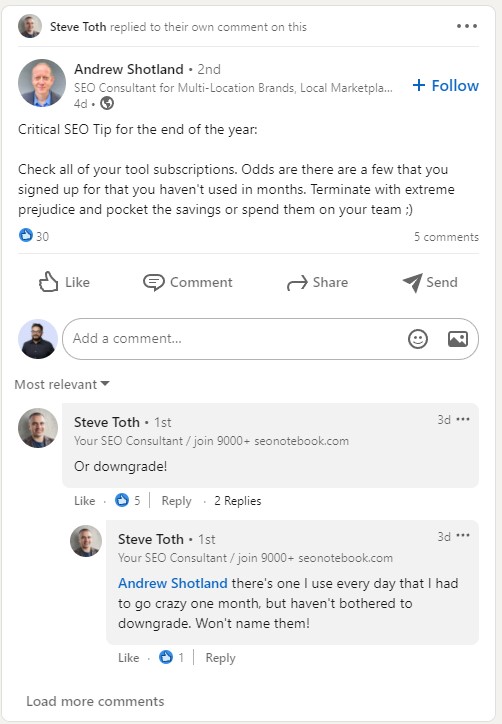 If successful, you'll find people wanting to connect with you and/or follow your official pages.
11. Spotlight Your Customers
Look at spotlighting the users of your products and services. You can create testimonial posts and videos that have them talk about their experience with your company. You can also build case studies that showcase how your customers excelled at something using your offerings.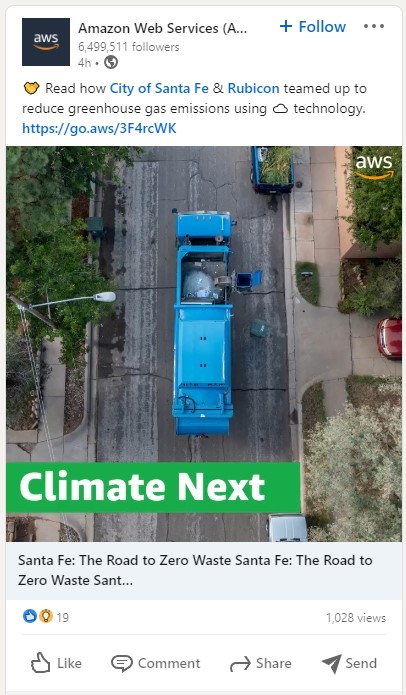 Look at even celebrate customer achievements. So, if a customer reaches a growth milestone or acquires key customers of their own, look at promoting it. This gives your audience the idea that you're invested in your customers' success.
LinkedIn Post Ideas from the Experts
We felt it was a good idea to speak to influencers and thought leaders who are thriving on LinkedIn. If you want your LinkedIn content to go far, here's what the experts recommend:
12. Chop Your Long Posts into 3+ Smaller Ones
You may have a lot to say, but it's not always a good idea to force it into one super long post.
It might work in some rare cases, especially when you have really valuable information. But even in those situations, you're better off breaking that one long post into three or more small ones.
Why?
As Laura Erdem (with 12K+ LinkedIn followers) on Dreamdata says, people will read your smaller posts much faster. It's more digestible for the reader and that can help improve the chances of them engaging your content.


13. Leverage the "Golden Hour" of LinkedIn by Reposting
Posting on LinkedIn to get noticed isn't easy. There are very specific times on LinkedIn where your post will get the most attention.
In some cases, it'd be a good idea to repost content every few days within LinkedIn's 'golden hours' or high-traffic windows.
Of course, you don't want to spam content. When reposting, try thinking of a different angle or spin to the original post. If you're reposting a blog post, for example, use a different excerpt.
14. Engage the Thought Leaders
Another way to get LinkedIn posts to get noticed is to engage other LinkedIn users.
Try speaking to experts, thought leaders, customers, employees and others. Use their insights as part of your content and share that to your channels.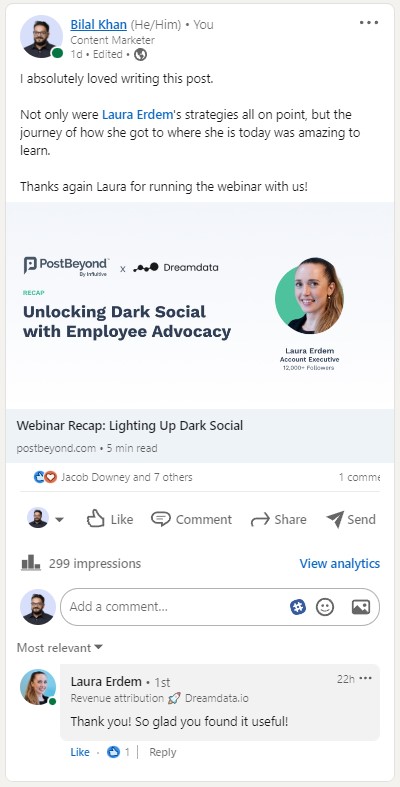 Not only does this give your content more credibility, but it gives you a natural way to tag or mention others. So, for example, if you interview someone, tag their LinkedIn profile to your post. This could give your LinkedIn post more reach and engagement.
15. Try TikTok-Style Video Clips
One key to producing successful content on LinkedIn is to keep trying new things.
Dreamdata's Laura Erdem recommends creating video clips along the style of TikTok, but for your LinkedIn posts!
Here's how to do it:
16. People Respond to Your Vulnerability
Once in a while, you may post a personal story. When done right, this gives your readers a chance to see the "real you."

Laura Erdem found that people resonate the most when you're vulnerable. There's a level of authenticity and relatability there that people appreciate.
17. Aim for the "See More"
According to Laura Erdem, people tapping on "see more" is worth more than a Like when it comes to getting more LinkedIn post visibility.
Of course, you don't want to write for the algorithm. Rather, you want to write for people. But in that vein, think about captivating the reader in the first line of your post. If that draws them in, they'll click on "see more" and help your LinkedIn post drive more reach.
18. Make Your LinkedIn Posts Skimmable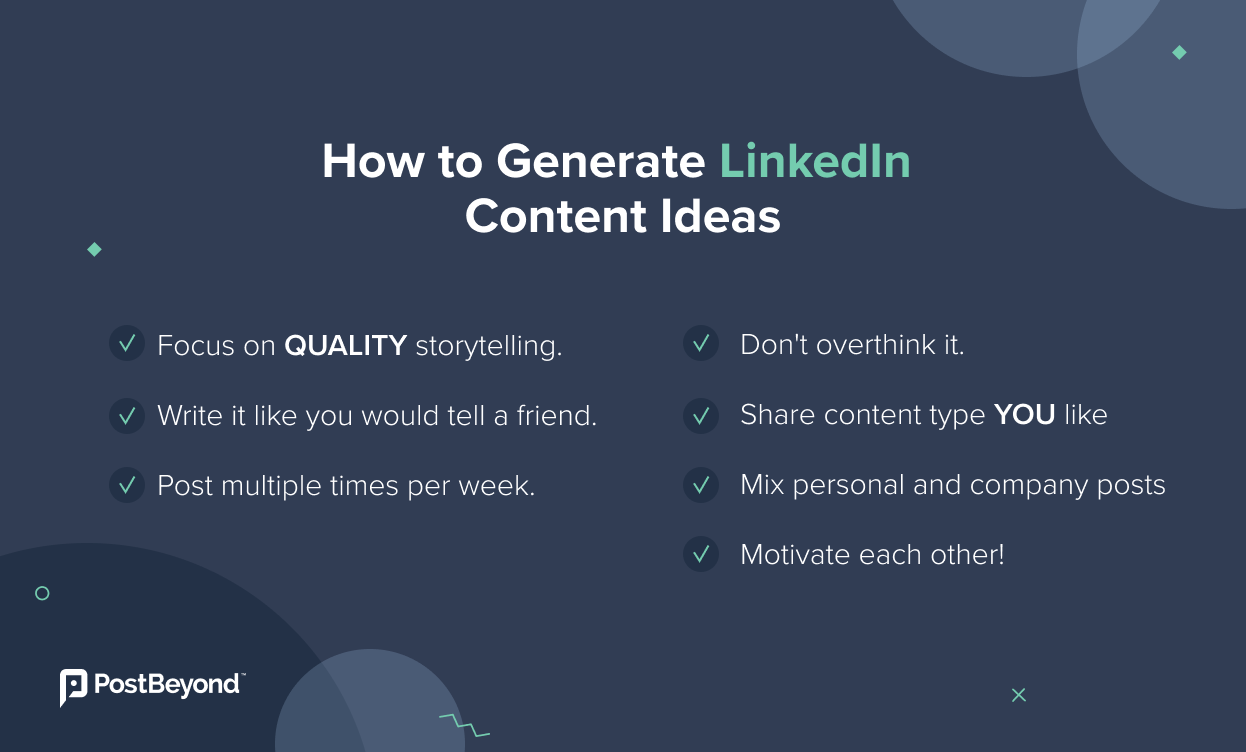 When it comes to LinkedIn text posts, avoid giant walls of words.
Instead, structure your LinkedIn post so that it's easy to skim. Use headers, emojis and other elements to break the text so that it's easy to follow.
We'll add another tip too. In the blogging world, we often use headers and subheaders to sort of tell a 'story within a story.' So, whenever someone scans a blog, they'll know what it's about right away without delving much deeper.
Try structuring your LinkedIn posts the same way. So, even if someone scans it, they may get a good gist of what you're saying and scroll back up to read in more detail!
19. Add Subtitles to Your Videos
Subtitles are important for both accessibility and convenience.
In other words, they matter to everyone on LinkedIn depending on their situation when they're viewing your video.
For example, Laura Erdem found that her video audiences were watching her stuff while on the bus. They couldn't turn up the volume. So, they asked Laura to provide subtitles.
These days, it's really easy to generate and embed subtitles to your video. But it makes a big difference for your audience. Video is already 'thumb-stopping' content, but when it's easy to digest through subtitles, it gets people to stick to your page.
What to Post on LinkedIn Company Page
The challenge with LinkedIn company or business pages is that they don't generate as much reach as people, especially your customers and employees.
That's why you should try coordinating with your employees and customers. With employee advocacy and other brand advocacy strategies, you can drive a lot of reach on LinkedIn.
However, there are some types of LinkedIn posts that tend to attract readers to your page and drive people to Comment, React, and Share.
Here are some examples of LinkedIn post ideas for businesses:
Original Research
Posting original research or data to your LinkedIn business page is always a good start. This is something unique to your brand – people won't find that exact data anywhere else. So, research creates a reason for people to engage your branded LinkedIn page.
Source: Gong LinkedIn Page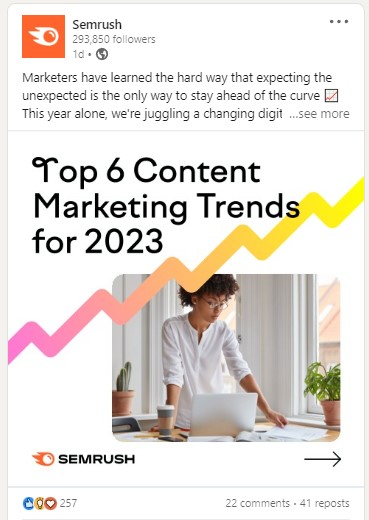 Source: Semrush
Spotlight and Celebrate Your Customers
Don't make your LinkedIn company page about your brand. Audiences don't care about what brands say. Rather, lean on the success stories of your customers. Not only do people want to see what their peers are doing, but it's a great way to recognize the users of your offerings.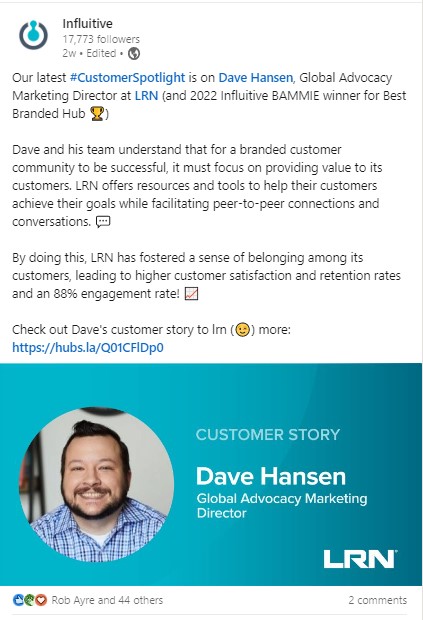 Source: Influitive
What is the Best Time to Post on LinkedIn?
The best time to post on LinkedIn depends on your industry and your audiences' habits.
That said, LinkedIn users tend to spend more time during standard work periods, namely Monday through Friday at around 9:00 AM to 5:00 PM.
That said, there are windows where you can get more attention, namely Tuesday and Thursday between 8:00 AM to 2:00 PM.
What to Post On LinkedIn in 2023
The big theme gluing our examples together is delivering value.
At the end of the day, we all have finite time available to us. It's no secret that more and more people and brands are putting up LinkedIn content every hour, if not every minute.
The only way to rise above the crowd and amplify your voice so it cuts through the noise is to give a tangible benefit to the reader. This could be providing a clear way of upskilling, proofs or original insights, a window into how your team and company works and more. There's actually no shortage of ways to deliver value, but just keep this in mind when posting on LinkedIn.
For More on How to Successfully Use LinkedIn as a Business