In terms of how to get more views on LinkedIn posts, you have two options:
Option 1: Boost your posts.
If you have a brand or company page, you can use LinkedIn's paid functionality to get your content in front of more people.
The benefit of this approach is that you both amplify your message and reach an audience based on your target requirements (like job seniority, industry, etc).
Option 2: Organically.
This approach is more challenging in the short-term, but the long-term payoff is that you get reach without paying for ads.
This blog post focuses on organic growth.
(Note: from this point on we're assuming that you've invested in strong content. We recommend reading about these social media content ideas if you're on this stage).
How to Get More Views on LinkedIn Posts – 5 Secrets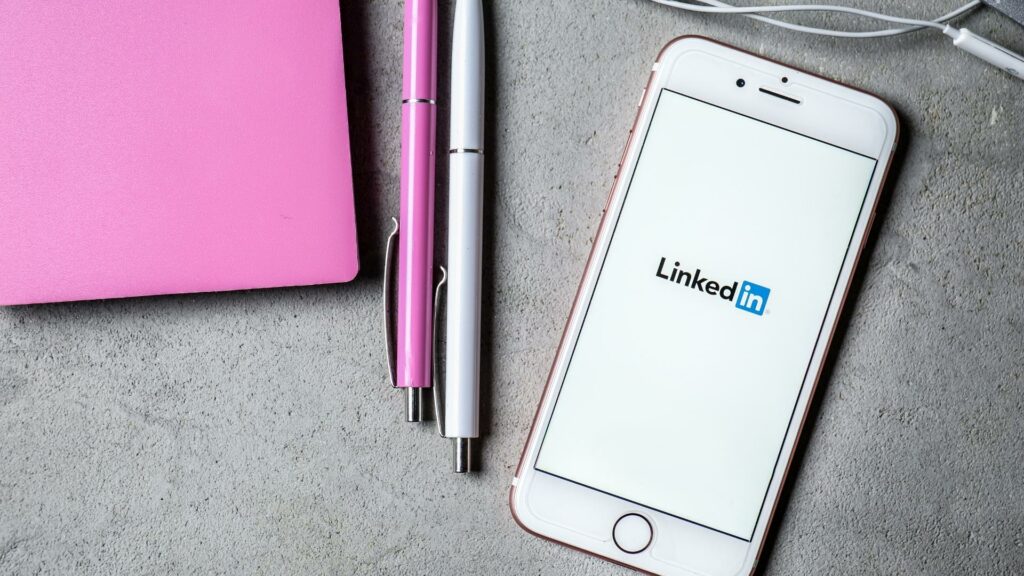 Secret 1 – Get More People to Share
It might be unfair to call this a "secret" since it's obvious. However, this isn't just a 'truth' that we accept. There is a data-backed reason why content shared by people gets more traction than posts from official brand pages.
Nielsen found that 92% of consumers trust recommendations from friends and family. Trust is arguably the most valuable currency for buying social reach.
If you can get people like your followers, fans, customers and employees to share content, you'll generate more reach. These people have networks that you're not directly connected to. On top of that, because those people are trusted by their networks, they'll fuel more engagement.
Secret 2 – Use Tags and Hashtags
Tagging people and using relevant hashtags helps drive attention to your post. However, it's all about meriting attention. You need strong content that invites discussion and re-shares.
However, when people engage your posts, their networks will see that engagement on their own feeds. The people Liking or Commenting don't even have to Share those posts to extend your reach.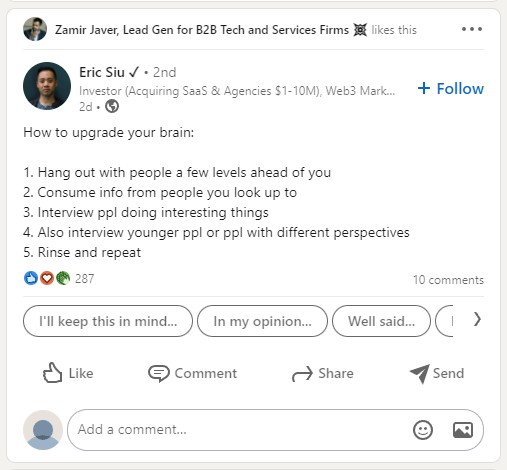 Secret 3 – Republish Content
The third secret is to republish content (like a blog post) multiple times.
This sounds counterintuitive because you'd think the LinkedIn algorithm dislikes spamming. But we're not advocating for spamming. It's more about leveraging how people use LinkedIn.
According to Pew Research, not as many people visit LinkedIn multiple times a day compared to say Facebook, Snapchat or Instagram. If you post only once on your network, then chances are most of your network contacts aren't even going to come across it.
Emeric Ernoult found that republishing the same post (separated by about 10 days each) was an effective way to generate more reach and engagement.
The key is to deliver value when you republish. This tactic works really well when you have a research report, for example, with dense stats. You can bring up a different stat and provide an original insight for it. In a way, each post is unique, though it leverages the same content.
You can see Hootsuite do this really well. Their LinkedIn page is republishing their 2022 Social Media Trends report, but with a unique angle on each post. In this case, Hootsuite is highlighting each key trend.
November 2021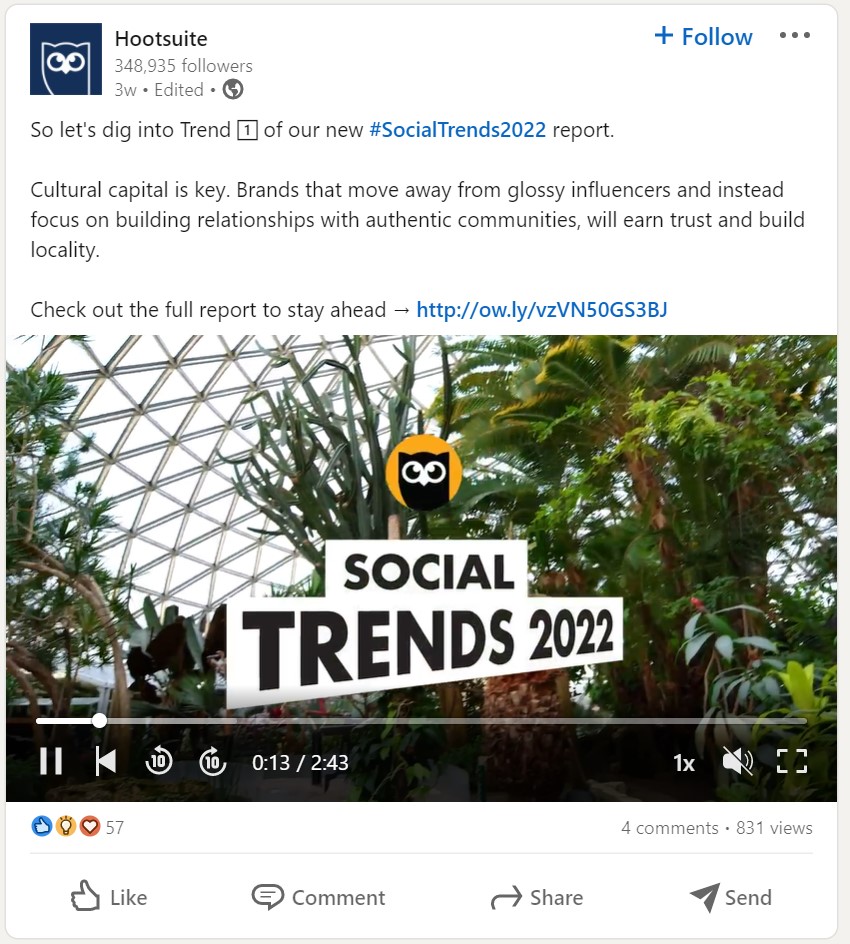 December 2021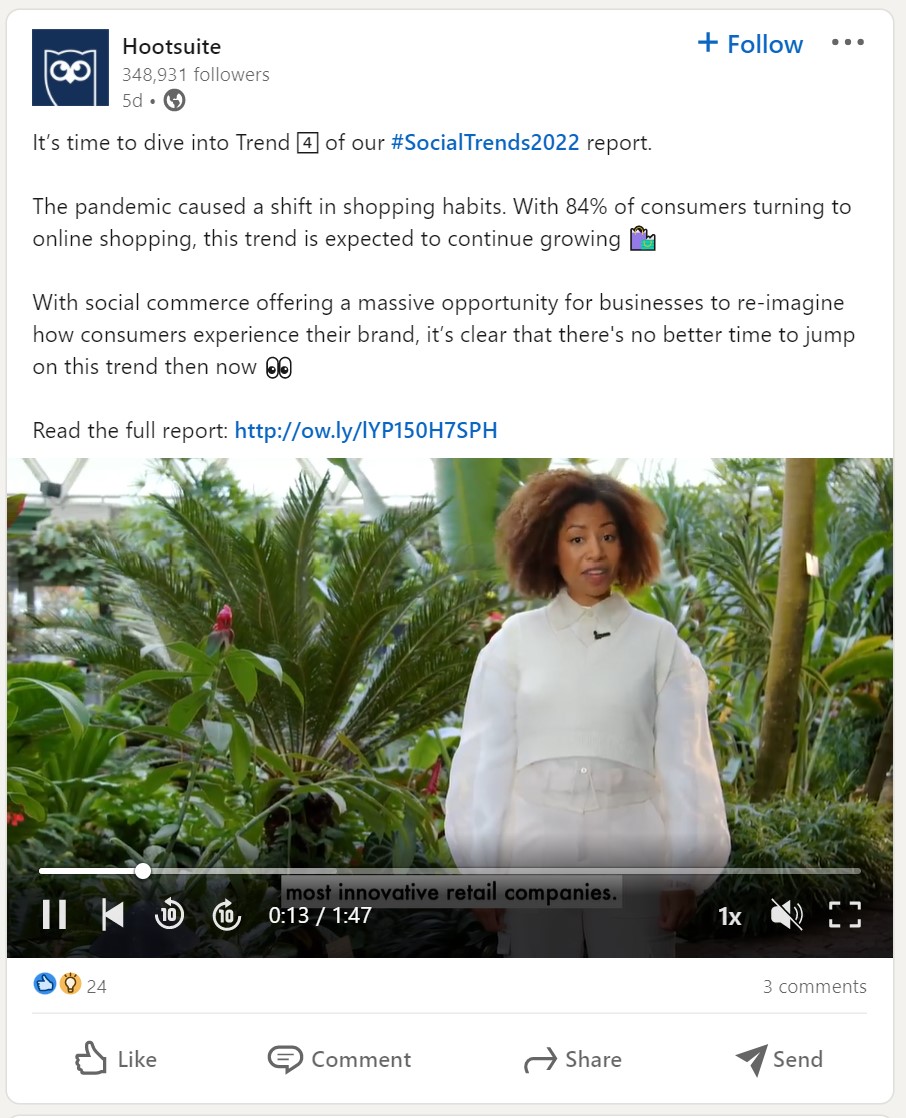 You should also schedule your posts out. There's no hard and fast rule as to what day works or what's "too frequent" or "too sparse." For now, it depends on your network. Emeric said the prospect of your LinkedIn post firing up was "very, very random." That said, marketers find that between Tuesday and Thursday from 8:00 AM to 2:00 PM works really well. In fact, you can see Hootsuite spread its posts across several weeks.
We can speculate that the reason boils down to when the people on your network are likely to visit LinkedIn. If you're posting at a time when those people congregate online, you're likely to get in front of them and generate engagement.
Secret 4 – Respond to Comments
It's a good idea to respond to comments to your posts. If someone's looking at your feed, your responses will 'push' your content post back up to the top. This is a good strategy if you want to generate attention to one specific post.
However, engaging with other people is also a good way to merit their attention in the future. So, when you post again, those same people may engage with your new content.
Secret 5 – Build a Strategy
When we look at the four secrets above, we can see the power of advocacy in play.
Emeric's findings show the random nature of going viral on LinkedIn. But we know reach and frequency do matter.
Fortunately, every company has the innate power to increase LinkedIn views organically relatively quickly. How? Through their employees and/or customers.
Through employee advocacy, for example, you can mobilize dozens or hundreds of people to share your content. They could each do it at different times and to different regions, people, industries and other audiences. They generate the frequency and coverage without requiring you to necessarily republish manually to get the same benefit.
Besides generating reach, employees fuel engagement thanks to the trust they have from their networks. Remember, people trust other people more than brands. That authentic reach could extend into additional shares and, in turn, exponential growth in LinkedIn views.
Next Steps to Getting More LinkedIn Post Views
You have an idea now of how to get more views on LinkedIn posts. The next step is combining these three secrets into a scalable social media strategy.