Note: We updated this post with additional and more detailed tips on how to get more views on LinkedIn posts.
You don't have to rely on paid ads or sponsored posts to increase LinkedIn views. In fact, with the right strategies and tools, you can get more views on LinkedIn posts organically. We'll run you through 11 tactics and processes we used to get more LinkedIn post views.
Getting more views on LinkedIn through organic methods is more difficult in the short-run. But the long-term payoff is huge because you can generate a lot of reach without paying a dime for ads. This approach will make your LinkedIn strategy more scalable and sustainable.
How to Get More Views on LinkedIn Posts – 11 Tips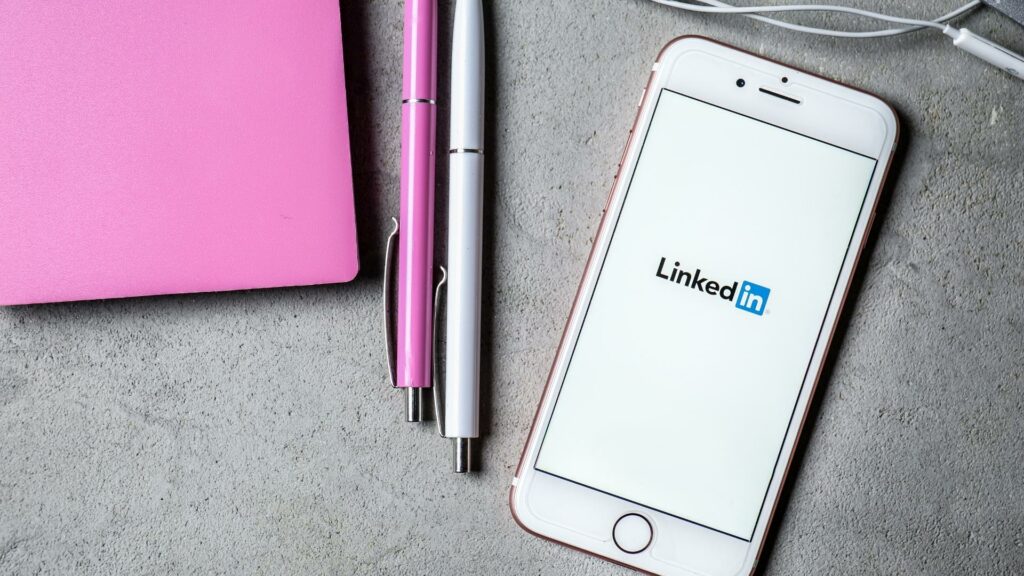 1. Create Valuable Content
The starting point is to produce pieces of content that resonate with your target audience.
Granted, it's easier said than done – but it's definitely doable.
Begin by identifying who you want to target. Build persona documents outlining who your target readers are and their key traits, like their goals, fears, interests, and so on.
From there, think about the types of content that they would find valuable. Look for ideas that deliver tangible benefit, immediate results, fascination, and so on.
As Laura Erdem from Dreamdata put it, "no one cares about you. No one cares about your company." To stay on the right track, don't make your content about "you," but instead, keep a strict focus on what your readers want.
Once you've ideated the content, work on a variety of delivery vehicles. Build a healthy mix by leveraging text-only posts, infographics, gifs, videos, and so on.
Finally, when writing posts, focus on how your reader will see it. Think about what will make your LinkedIn posts readable and worth going through beyond the first line.
Try these tips:
Write short sentences. Avoid long paragraphs and walls of text.
Use line spacing between lines/paragraphs to make reading easier.
Add emojis. This is especially useful when conveying emotion.
Use storytelling to walk your reader through a journey.
Break instructions, timelines, lists, etc, into bullet-style points
Use captions to make videos more accessible or easier to consume (e.g., for those who can't use audio because they're in a bus or elevator).
Post only when you have something valuable, useful, or fascinating to share.
Use humor (e.g., jokes, memes, etc).
Start delivering value from the very first line of your post and, from that point on, only choose points that will keep engaging the reader.
Consider breaking long-form text posts into multiple smaller ones.
For some proven content examples, check out our earlier blog on LinkedIn content ideas.
2. Complete Your Profile
Frankly, an incomplete LinkedIn profile is akin to leaving money on the table. LinkedIn members with profile photos get 21X more views and 9X more connection requests.
So, at this point, there's no excuse to not ignore your LinkedIn profile.
Start by focusing on these areas:
Get a nice header image, this will help you stand out.
Go by the name you use in professional circles.
Invest in a professional profile photo or headshot.
Write a summary outlining your talent and skills.
Ensure your work experience section is up-to-date.
Include all of your degrees, certifications, and specializations in the education section.
Grow your network to at least 500 connections.
Make your endorsements, recommendations, and projects/awards sections visible.
Check out our post on how to optimize LinkedIn profiles for more tips and advice.
3. Tag People and Pages
Tagging people is an effective way to drive attention to your post. But don't be reckless with it!
You want to merit attention from other people. So, you need to ensure that your content is up to the mark and delivers value.
However, when you do it right, tagging can definitely generate lots of visibility to your posts. In fact, not only does it attract the tagged member's attention, but if they engage, it can also make you visible to their networks.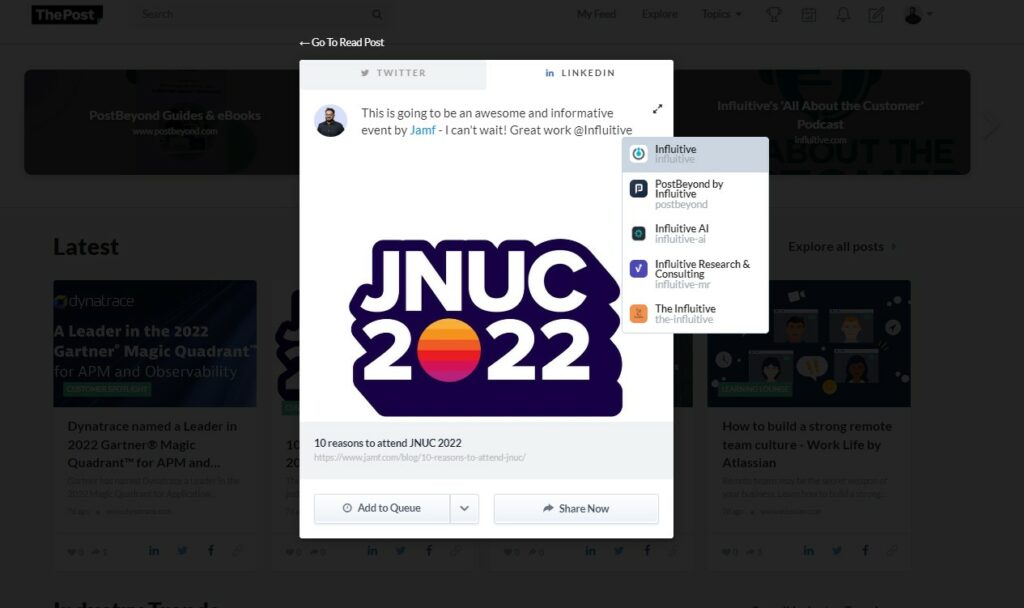 You could also incorporate tagging as part of a company-wide or team-wide strategy. So, for example, you can ask people across your team to tag your company page when they share a post. This can help you drive visibility towards your official accounts.
Besides getting the tagged person/page's attention, tagging can also help you get on the radar of other people. So, for example, if the tagged person comments or even likes your post, you may show up on the LinkedIn feeds of their network.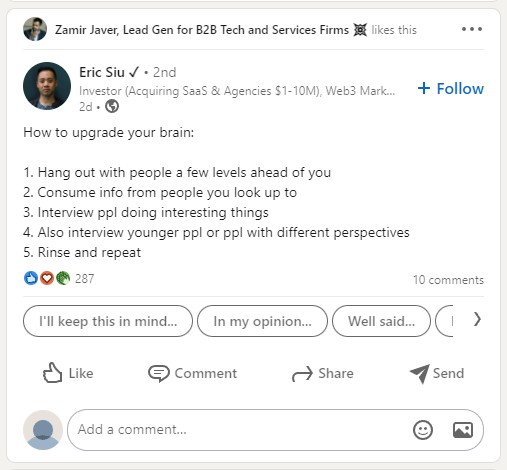 4. Use Hashtags
Like tagging, LinkedIn hashtags are also a good way to drive visibility to your posts. You'll want to look for relevant hashtags that get lots of searches.
In terms of how many hashtags your post should have, the LinkedIn algorithm tends to vary with its preferences. Try keeping to at most 5 hashtags in each LinkedIn post.
5. Republish Content
The next tip is to republish content (like a blog post) multiple times.
This sounds counterintuitive because you'd think the LinkedIn algorithm dislikes spamming. But we're not advocating for spamming. It's more about leveraging how people use LinkedIn.
According to Pew Research, not as many people visit LinkedIn multiple times a day compared to say Facebook, Snapchat or Instagram. If you post only once on your network, then chances are most of your network contacts aren't even going to come across it.
Emeric Ernoult found that republishing the same post (separated by about 10 days each) was an effective way to generate more reach and engagement.
The key is to deliver value when you republish. This tactic works really well when you have a research report, for example, with dense stats. You can bring up a different stat and provide an original insight for it. In a way, each post is unique, though it leverages the same content.
You can see Hootsuite do this really well. Their LinkedIn page is republishing their 2022 Social Media Trends report, but with a unique angle on each post. In this case, Hootsuite is highlighting each key trend.
November 2021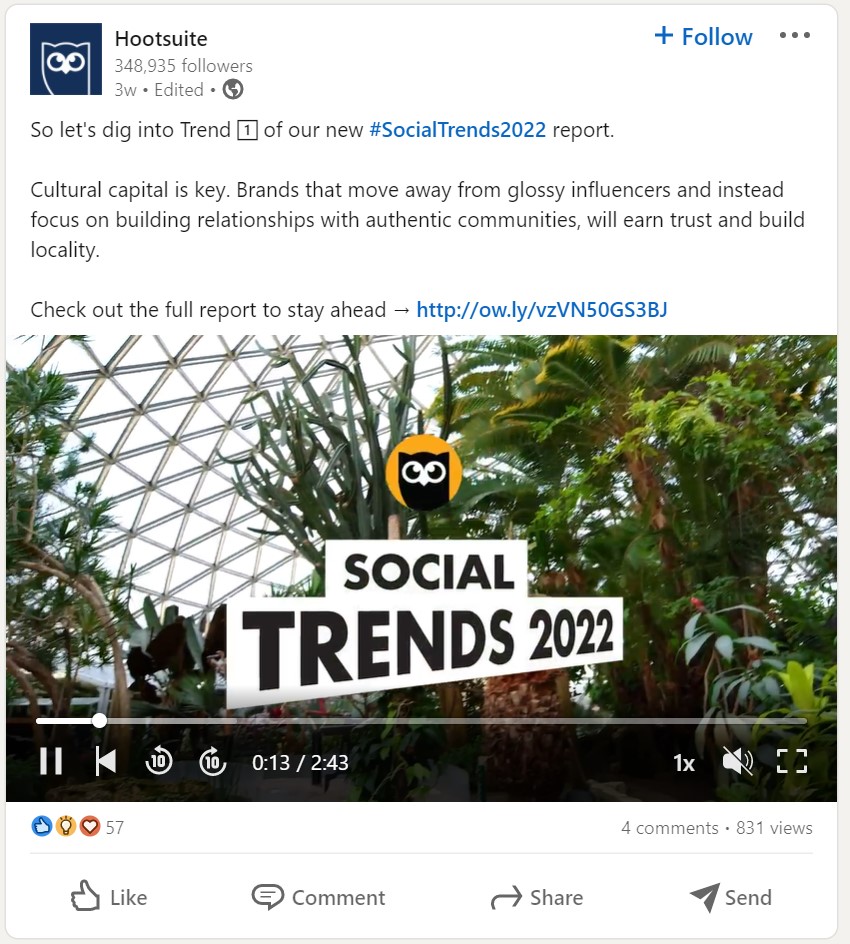 December 2021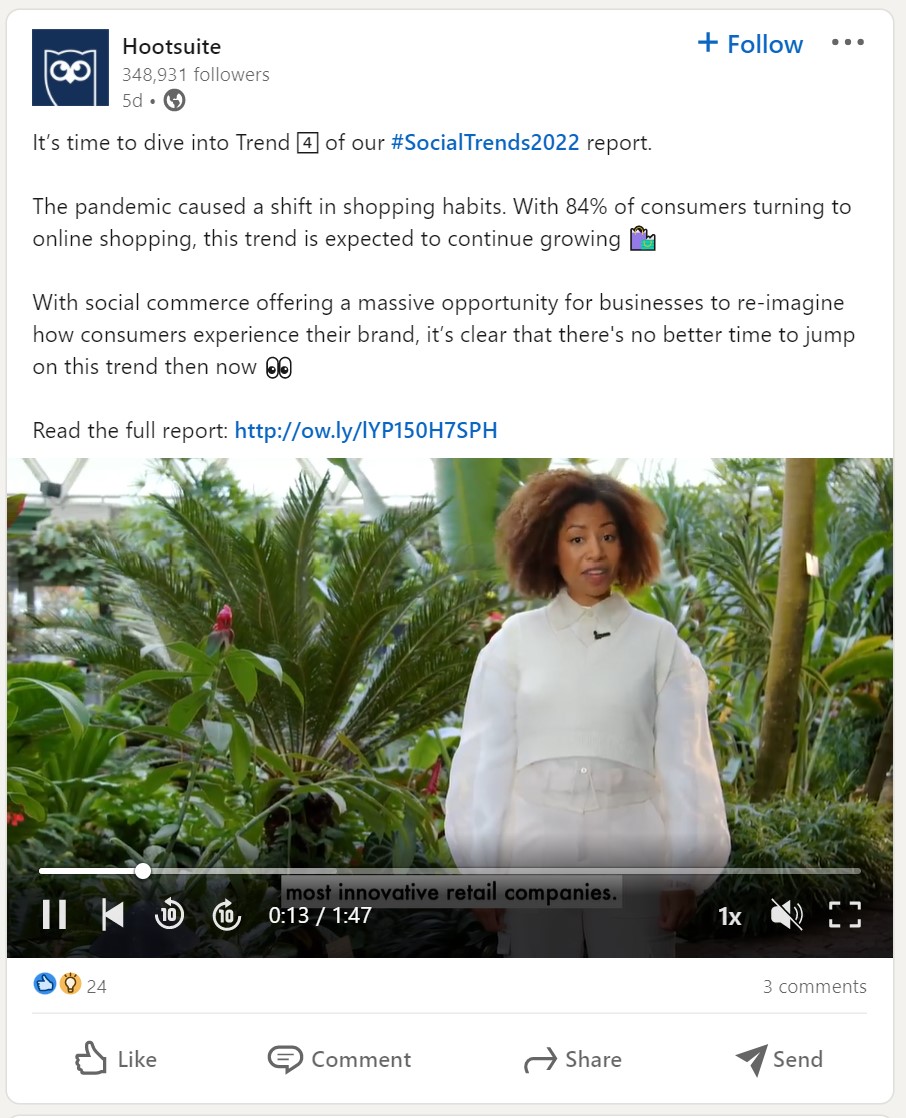 You should also schedule your posts out. There's no hard and fast rule as to what day works or what's "too frequent" or "too sparse." For now, it depends on your network. Emeric said the prospect of your LinkedIn post firing up was "very, very random." That said, marketers find that between Tuesday and Thursday from 8:00 AM to 2:00 PM works really well. In fact, you can see Hootsuite spread its posts across several weeks.
We can speculate that the reason boils down to when the people on your network are likely to visit LinkedIn. If you're posting at a time when those people congregate online, you're likely to get in front of them and generate engagement.
6. Respond to Comments
It's a good idea to respond to comments to your posts. If someone's looking at your feed, your responses will 'push' your content post back up to the top. This is a good strategy if you want to generate attention to one specific post.
However, engaging with other people is also a good way to merit their attention in the future. So, when you post again, those same people may engage with your new content.
7. Re-Share Other People's Content
This may sound counterintuitive. You might ask, "wait, how does engaging on someone else's profile help mine?" Well, re-sharing another LinkedIn member's content puts you on their radar and, potentially, makes you visible to their network.
In fact, re-sharing a post can be an act of original content creation. For example, you can build on someone else's tips with your own advice. You could even start a conversation with people by resharing their content with your own unique insights.
This is a good way of reinforcing your thought leadership and in growing your network. Those you engage with may connect with you and, in turn, grow your network.
8. Get Your Employees to Engage and Share
This is where employee advocacy can play a huge role. Compared to company posts shared through official accounts, employee posts can reach over 5X further.
By building processes that encourage employees to get active on social media, you can create a great environment for company-wide content sharing.
So, for example, you can notify your company whenever an employee creates content.
You can also use an employee advocacy platform to get employee-generated content (EGC) in front of the whole team. This way, sharing content and driving visibility to each of your key team members on social media can be a lot easier.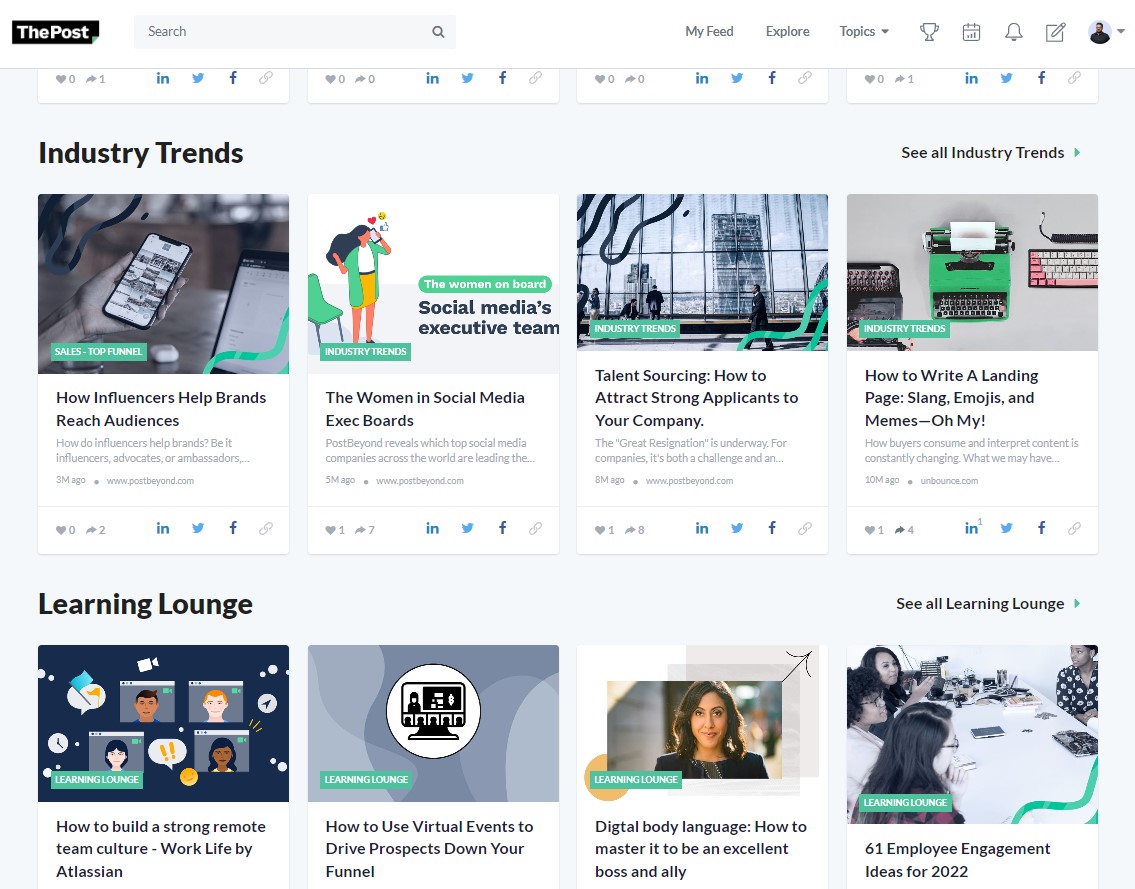 9. Get Your Executives Involved
This builds on the previous strategy. Your executives are leaders in their own right, and they can drive visibility. However, executives are also strapped for time. So, look for ways to simplify and automate the process of getting them active on social.
For example, what we do with our program is that we use PostBeyond's "Auto-Queue" feature.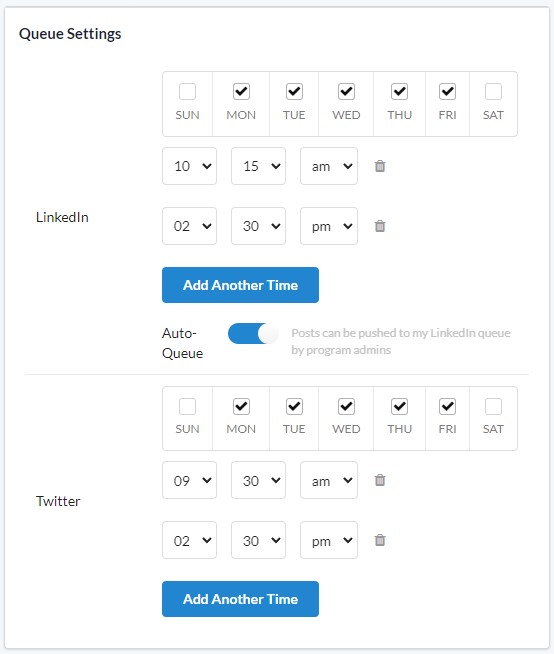 Our executives voluntarily opt into it. We then push content into a 'queue' that will publish at a predetermined day and time. In fact, our executives can even review and modify our LinkedIn posts before it goes live on their profiles.
10. Try Native LinkedIn Videos
Videos are a valuable content source. However, to succeed on LinkedIn, you should leverage native LinkedIn videos instead of embedded links to third-party players.
This gives the reader a better user experience, which means the LinkedIn algorithm may prefer it over third-party links. You should also use captions for accessibility and convenience.
If you're aiming to get more of your employees and/or executives to share videos, then it may be more difficult to share native videos at scale.
11. Post Regularly
Finally, ensure that you're posting updates to your LinkedIn profile on a regular and consistent basis. HubSpot recommends posting at least 2 or 3 times a week (but up to a maximum of 5 times a week).
As for the best days and times to post, you'll need to do some testing to see where the LinkedIn algorithm lands. However, many marketers find that posting between Tuesday and Thursday from 8:00 AM to 2:00 PM is an optimal sweetspot.
For some employees and executives, posting regularly may be difficult. This is where using a dedicated platform to schedule posts in advance, or even have a program admin curate and provide content would help.
Next Steps to Getting More LinkedIn Post Views
You have an idea now of how to get more views on LinkedIn posts. The next step is combining these three secrets into a scalable social media strategy.
Need More Tips on Thriving on LinkedIn? Check Out: