Love it or hate it, LinkedIn is an important tool in any B2B marketer's toolbelt.
But like any social media platform, it can seem fickle in its benefits, wavering between a highly successful lead generator and a dull chore with little visible payoff.
Knowing how the LinkedIn algorithm works in 2021 can help ensure that your social media marketing efforts pay off. While we can't know how the algorithm works for sure, we can analyze some of the basics that seem to work for others—using their success as a starting point for our own utilization of the platform.
How does the LinkedIn algorithm work?
Social media platforms don't often release guides to their algorithms, so most are a secret. LinkedIn's algorithm is no different, but we know some key tips to make sure that your content has the chance to reach the largest possible audience and have the greatest possible impact.
The following tips are based on research, observation, and a lot of trial and error. The LinkedIn algorithm doesn't have to be an obstacle and can instead serve as a ladder to climb to the top of others' homepages.
Here are the basics of how the LinkedIn algorithm works:
FAQs about the 2021 LinkedIn algorithm
Do you still have questions about LinkedIn and how the LinkedIn algorithm works? We've got answers.
Why do I see certain posts and not others?
The LinkedIn algorithm decides which posts to place at the top of your feed based on your interests and prior interactions. This means that sometimes you see older or more popular posts rather than the most recent ones.
You can't change this on mobile, but if you sign in to LinkedIn from a desktop browser, you can select the "Sort By" menu at the top of your feed and change your option to "Recent." This will revert to "Top" posts each time you leave the site and come back, or if your feed sits undisturbed for four hours or more, so you may need to make this change each time you log in.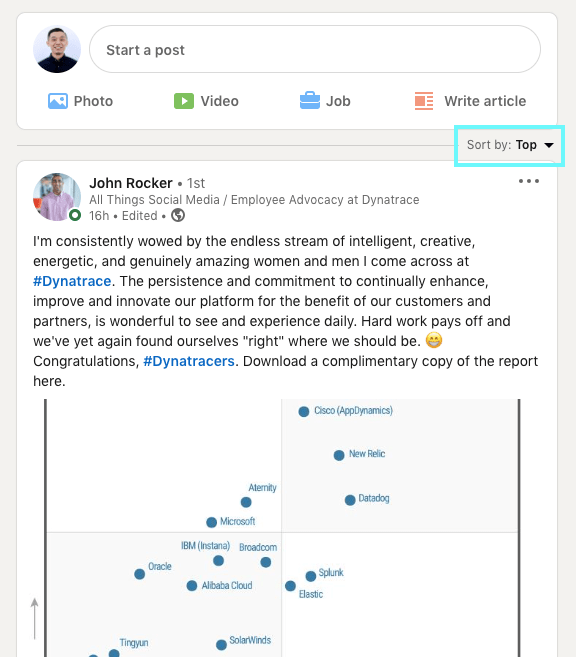 If multiple people share the same content on LinkedIn, does it stack?
If someone you follow shares content from another person or page, they can add their own commentary, tags, or hashtags. However, you'll see the original commentary as well. It won't show up twice on your newsfeed, but you will see what each user-contributed.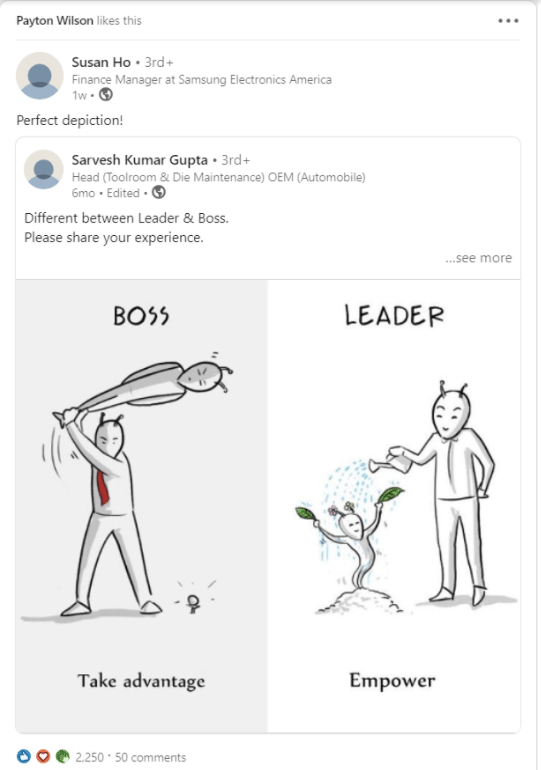 What's considered the best practice to get content in front of the right people on LinkedIn?
The best way to get your content in front of the right people is to share high-quality content that your employees and followers want to share. Using the right number of applicable hashtags can also help.
Ensuring that your profile is complete and all fields are filled out accurately can also help you find the right audience, and including images in posts makes them more shareable. Learn more below in our question about SSIs.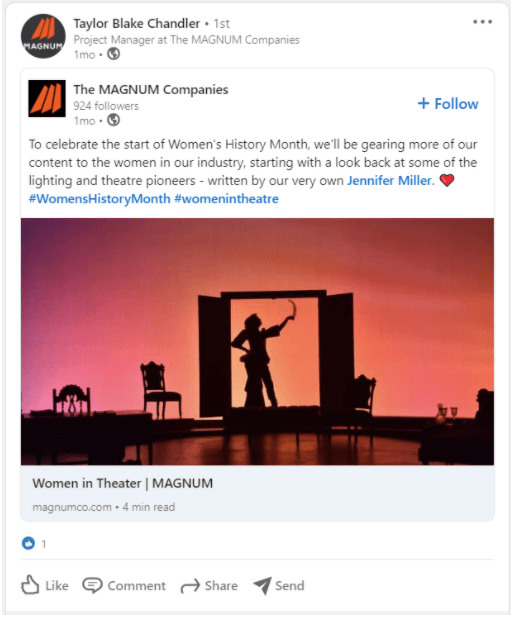 How does tagging someone in a post affect the algorithm?
Tagging someone in a LinkedIn post increases the post's reach. Not only does the tagged person see the post in their feed, but all of that person's followers will see it, too. You don't want to overdo it—you may get blocked if your posting habits come across as spam—but tagging people who will find your content interesting or insightful can further help get your content in front of the right eyes.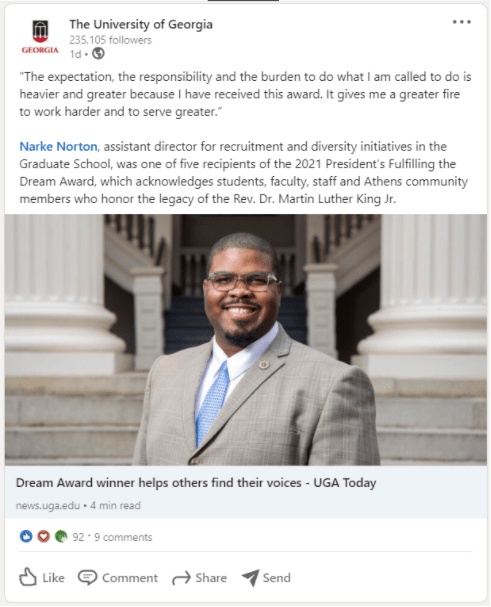 What's the best time of day to post on LinkedIn?
The best time of day to post on LinkedIn will change depending on your industry and your followers' social media habits. In general, users spend time on LinkedIn during the workday, so from 9:00 A.M. to 5:00 P.M. from Monday through Friday.
Many marketers have found the most success between Tuesday and Thursday, from 8:00 A.M. to 2:00 P.M., catching their audience even if they'd taken a three-day weekend.
What is SSI on LinkedIn and why does it matter?
SSI, or Social Selling Index, is a big deal on LinkedIn. The score measures how successful you are at using your LinkedIn account and engaging with others. It's constantly changing—if you post daily, then your SSI changes daily.
You can easily find out your SSI and check in regularly to see how you're doing. Find it here.
A higher SSI will boost your posts closer to the top of your followers' feeds.
Putting your LinkedIn algorithm knowledge to good use
Knowing all you can about the LinkedIn algorithm is one thing, but putting that knowledge to good use is another.
If you're responsible for your company's marketing department or employee advocacy program, ensure that you communicate these guidelines to others so that your brand's LinkedIn content is consistently high quality.