Let's unpack how the LinkedIn algorithm works in 2023. If you want to see how things changed from 2021 and 2022, skip here to the section below.
Love it or hate it, LinkedIn is an important tool in any B2B marketer's toolbelt.
It started out as a social network to connect with other professionals and showcase your work and education experience. But today, LinkedIn's a full out social media platform that is home to insightful content, rich discussions, and opportunity.
But like any social media platform, it can seem fickle in its benefits, wavering between a highly successful lead generator and a dull chore with little visible payoff.
Knowing how the LinkedIn algorithm works in 2023 can help ensure that your social media marketing (and wider marketing strategy) efforts pay off.
While we can't know how the LinkedIn algorithm works for sure, we can analyze some of the basics that seem to work for us and others—using the collective success as a starting point for our own utilization of the platform.
What is the LinkedIn Algorithm?
The LinkedIn algorithm decides what posts the user sees on their feed, be it from other people, companies and brands, or topics of interest.
LinkedIn's algorithm combs through billions of posts every day. It presents the reader, like yourself, a feed that shows both the topics and the people you like.
In fact, we'll go a step further and say that the LinkedIn algorithm is trying to nurture small or micro-communities through LinkedIn posts and the comments within each of them. LinkedIn's algorithm is trying to surface all of the micro-communities that matter to you. And while doing that, the LinkedIn algorithm will also work to keep irrelevant discussions away.
How you leverage these tips will vary a bit depending on your goal. In this guide, we'll walk you through how to navigate the LinkedIn algorithm to build your personal brand and your company or organizational brand.
How Does the LinkedIn Algorithm Work?
Okay, so we all know that social media platforms don't often reveal how their algorithms work, right? Ultimately, most of these algorithms are a guarded secret.
The LinkedIn algorithm is no different.
But we tried unpacking it anyway. Combining our collective, team-wide efforts, we generated hundreds of hours worth research, observation, and trial and error. We also spoke with today's top influencers on LinkedIn to see what they experienced over years (especially in 2022).
In the end, we reached a few key LinkedIn tips that can give your content a real shot to reach the largest possible audience and have the greatest possible impact.
Here's what we got:
Let's Unpack the LinkedIn Algorithm for 2023
The LinkedIn algorithm wants to bury spam and only surface relevant, high-quality content.
Basically, every single time you post on LinkedIn, the algorithm will check a few things about your content to see if it's worth extending to your audience.
Here's what the LinkedIn algorithm doesn't want to see:
Spammy content: This is anything that's poorly written (e.g., bad grammar), full of outbound links, or just seems too 'bot-y.' You'll also want to avoid prescriptive hashtags, e.g., #like and #follow.
Low-quality content: This content isn't spam, but the LinkedIn algorithm doesn't think it's of any use to your audience either.
So, what does LinkedIn's algorithm want to see?
Here's how the LinkedIn algorithm evaluates posts in 2023:
1. Does Your Post Follow Best Practices?
The best-performing written LinkedIn posts have a technical formula. It looks like this:
Make it easy to read.
Avoid giant walls of text. Keep each of your points precise, but simple to digest. Try building a natural flow from one idea to the next (e.g., use bullets, a list, break your message down to a numbered or lettered-style structure). And keep your paragraphs short, especially on mobile.
Use around 3 hashtags.
We saw some variance with this one. Some suggested you keep your hashtags limited to 3, others said you can go up to 5 or 10.
From what we've seen work, having around 3 or 4 hashtags is optimal. However, you should mix these up both highly-searched hashtags, and more niche ones.
Don't include outbound links.
LinkedIn's algorithm wants to keep readers on the platform as much as possible. So, it's not surprising that it'll discourage outbound links in the opening post. In fact, there's a very strong emphasis to keep prized thought leadership and discussions on LinkedIn.
However, you can add an outbound link in the comments section. Currently, doing so doesn't seem to affect the impact of the original post (provided it follows LinkedIn's best practices).
Leverage relevant keywords.
This is more of a sign of knowing your niche and area than anything else.
For example, if you're writing a post about architectural planning, you'll want to use words from that niche in a logical and natural way. This tells the LinkedIn algorithm that the post is relevant to architects or architecture-adjacent professionals.
2. Do Your Posts Get Early User Engagement?
Writing your LinkedIn post the right way is only one-half of the equation. From there, LinkedIn's algorithm will check if it's of interest to your audience.
Basically, what happens is that the LinkedIn algorithm will push your new post to a few people in your network. If they respond positively with Likes, Shares, and Comments, LinkedIn's algorithm will push that post to more people.
However, if your post doesn't get a response (or, worse, a negative response like a spam flag or 'please hide'), then LinkedIn will stop right there.
There are a few tactics you can use to drive early engagement:
Post when your network reads LinkedIn: You're aiming for visibility here by posting at around the time your followers will check their feeds.
Have a consistent cadence: Set a regular cadence – like once or twice a day, and at a specific time. Those who like following your content will know when to check LinkedIn to get your fresh wisdom nuggets.
Respond to comments/questions: We said it earlier, but think of each LinkedIn post as a 'micro-community.' When someone asks a question or gives a comment, it'd be a good idea to respond (both to encourage them and to send a signal to the LinkedIn algorithm).
Overall, you'll notice something with these tips. They're all predicated on having strong content as a starting point. Think about it, why would anyone in your network engage with your content if they don't find it interesting, insightful, or useful? (Check our guide on writing LinkedIn posts for helpful tips from some top LinkedIn influencers).
3. Is Your Content Relevant to Your Contacts (and Their Networks)?
Once your post gets early engagement, the LinkedIn algorithm will start checking whether it should push it to more people.
This is how the LinkedIn algorithm extends your reach:
Your immediate network
LinkedIn starts by showing your posts to those closest to you in your network. These are the people who work with you in the same organization, or those who've worked with you in the past. It also includes those who you interact with through post comments.
Topical relevance
Next, the LinkedIn algorithm will surface content on your network/audience's feeds based on their interests. So, it'll look for the niches they're into, their favorite thought leaders (hopefully that includes you!), relevant hashtags, and so on.
The more authority you build in a specific vertical or niche, the more exposure you'll get via the LinkedIn algorithm.
It's a bit of a self-fulfilling prophecy. If you're a thought leader in a niche and, because of that content, you grow your network with people who comment on or engage your posts, then yes, LinkedIn will surface more of your stuff to them.
Engagement probability
One key here is to create content that will drive engagement, especially comments. So, you'll want to produce content that resonates with your network.
Focus on things that provide them value and draw their interest. When you do that, you'll increase the probability of audience or network engagement.
In turn, the LinkedIn algorithm will use the past engagement to assume that your new content will get similar engagement. It'll then surface that new content to your network. What's cool is that if more of your immediate network engages your post, then their networks may see it as well. If they join those conversations, the LinkedIn algorithm will give you more reach.
How the LinkedIn Algorithm Works Today
We've updated this LinkedIn algorithm guide several times. With each annual iteration, we also keep tabs on the LinkedIn algorithms from 2022, 2021 and past years that still matter.
Your Feed Shows Relevant Posts from Your Network
At the top of your feed, you'll see posts by people you engage with often and posts by anyone you follow or are connected with who posts consistently (ideally at least weekly).
Videos Aren't Prioritized
Videos are no longer prioritized over text-only or photo-based posts. This is a newer change; as the platform first introduced video capabilities, videos would go straight to the top, but this is no longer true.
DWELL Time
The amount of time that someone spends looking at the content of your post is important—this is called DWELL time. A cursory glance tells the algorithm that your post isn't important; several minutes spent watching a video or reading a document helps boost it to the top.
Comments Matter the Most
Comments are more important than reactions, and reactions are more important than shares (at least as far as the LinkedIn algorithm is concerned). Shared content doesn't show up twice for others; it's seen as redundant.
You Just Need Around 3 Hashtags
The 2019 LinkedIn algorithm gave preference to posts with exactly three hashtags. Now, the magic number seems to be more than three but less than 10. Some of these should be specific, while others should be highly searched.
Short Native Videos Work Best
Short, succinct video clips are better than long ones. Videos should be native and no longer than three minutes long. Subtitles make them particularly accessible and attractive to viewers. Users are also 20% more likely to share videos than other content types.
LinkedIn Algorithm FAQs
Do you still have questions about LinkedIn and how the LinkedIn algorithm works? We've got answers.
"Why do I see certain posts and not others?"
The LinkedIn algorithm decides which posts to place at the top of your feed based on your interests and prior interactions. This means that sometimes you see older or more popular posts rather than the most recent ones.
You can't change this on mobile, but if you sign in to LinkedIn from a desktop browser, you can select the "Sort By" menu at the top of your feed and change your option to "Recent." This will revert to "Top" posts each time you leave the site and come back, or if your feed sits undisturbed for four hours or more, so you may need to make this change each time you log in.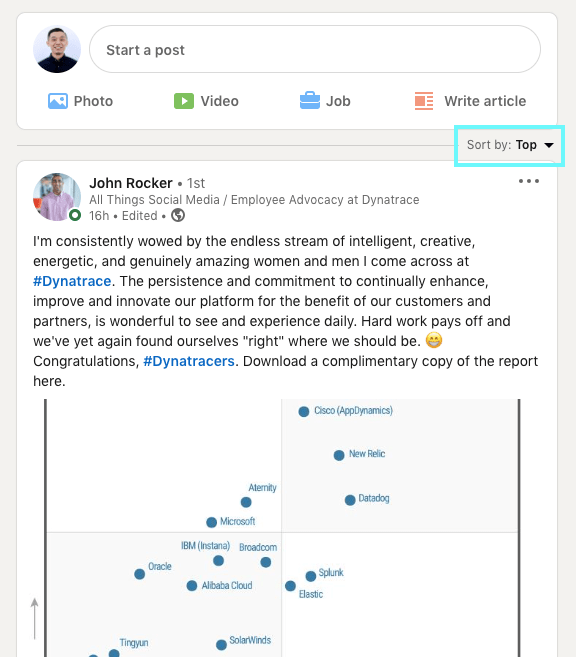 "If multiple people share the same content on LinkedIn, does it stack?"
If someone you follow shares content from another person or page, they can add their own commentary, tags, or hashtags. However, you'll see the original commentary as well. It won't show up twice on your newsfeed, but you will see what each user-contributed.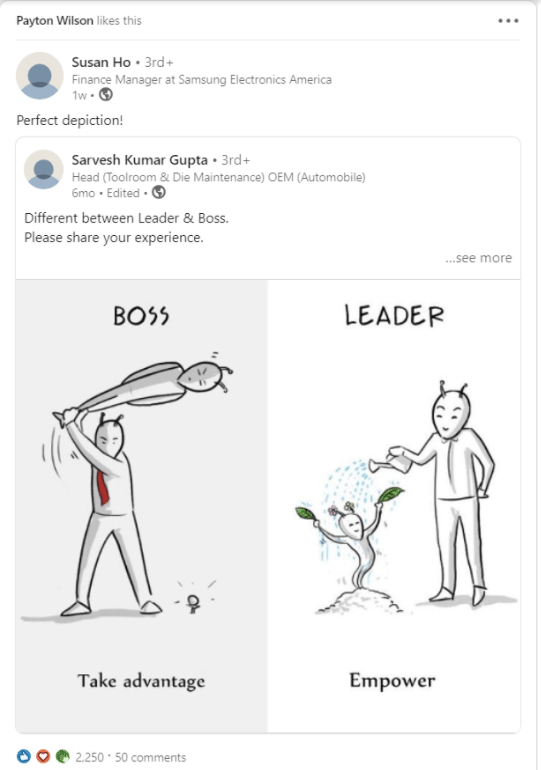 "What's considered the best practice to get content in front of the right people on LinkedIn?"
The best way to get your content in front of the right people is to share high-quality content that your employees and followers want to share. Using the right number of applicable hashtags can also help.
Ensuring that your profile is complete and all fields are filled out accurately can also help you find the right audience, and including images in posts makes them more shareable. Learn more below in our question about SSIs.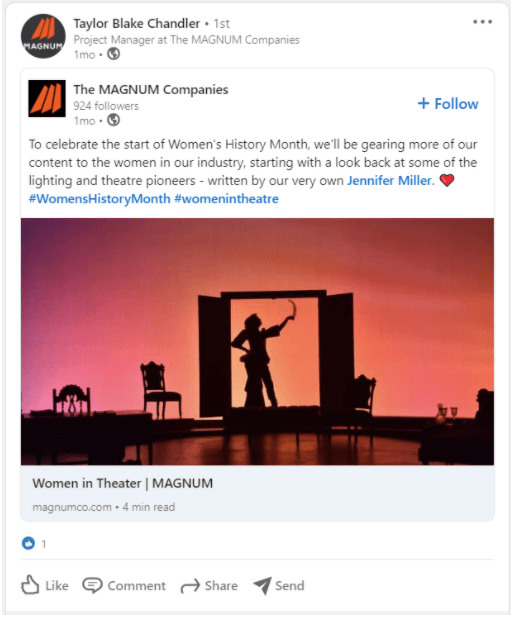 "How does tagging someone in a post affect the algorithm?"
Tagging someone in a LinkedIn post increases the post's reach. Not only does the tagged person see the post in their feed, but all of that person's followers will see it, too. You don't want to overdo it—you may get blocked if your posting habits come across as spam—but tagging people who will find your content interesting or insightful can further help get your content in front of the right eyes.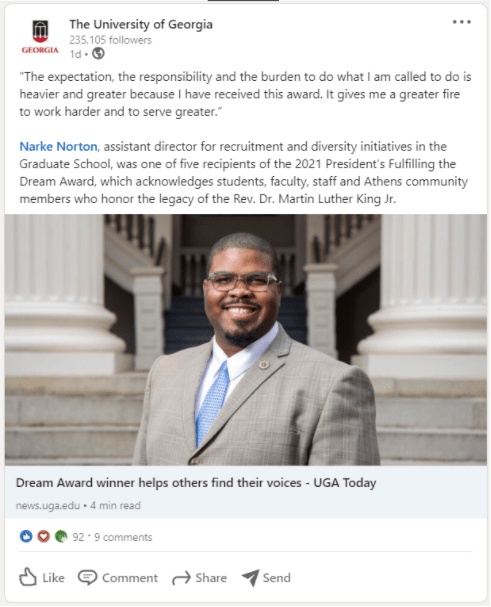 "What's the best time of day to post on LinkedIn?"
The best time of day to post on LinkedIn will change depending on your industry and your followers' social media habits. In general, users spend time on LinkedIn during the workday, so from 9:00 A.M. to 5:00 P.M. from Monday through Friday.
Many marketers have found the most success between Tuesday and Thursday, from 8:00 A.M. to 2:00 P.M., catching their audience even if they'd taken a three-day weekend.
"What is SSI on LinkedIn and why does it matter?"
SSI, or Social Selling Index, is a big deal on LinkedIn. The score measures how successful you are at using your LinkedIn account and engaging with others. It's constantly changing—if you post daily, then your SSI changes daily.
You can easily find out your SSI and check in regularly to see how you're doing. Find it here.
A higher SSI will boost your posts closer to the top of your followers' feeds.
"Putting your LinkedIn algorithm knowledge to good use"
Knowing all you can about the LinkedIn algorithm is one thing, but putting that knowledge to good use is another.
If you're responsible for your company's marketing department or employee advocacy program, ensure that you communicate these guidelines to others so that your brand's LinkedIn content is consistently high quality.