Teams that have a social selling strategy close 40-50% more new deals than those that don't.
If you can leverage social selling in your business, you'll be able to grow your brand awareness and generate warm leads on autopilot.
However, it's hard to do it manually. There are multiple different platforms to juggle, each with their own best practices.
Luckily, more and more social selling software tools are coming out that can help your team get results with social selling.
In this guide, I'll show you some of the best options that can help you level up your sales process. 
What are Social Selling Tools?
Social selling tools help you leverage your online presence to build brand awareness, bring new leads into your sales pipeline, and ultimately, acquire new customers.
These tools can help with tasks like:
Social listening for brand mentions or buying signals

Audience refinement to improve your targeting

Lead generation and outreach to start conversations with ideal buyers
With decision-makers in every industry turning to social platforms to gather information and guide buying decisions, there's never been a better time to start your social selling process.
However, it's hard to do social selling without the right tools. A common mistake is trying to run the process manually, but this is time-consuming for your time as well as being ineffective.
If you're ready to see results through social selling, it's worth checking out the tools we'll look at below.
5 Best Social Selling Tools to Connect with More Leads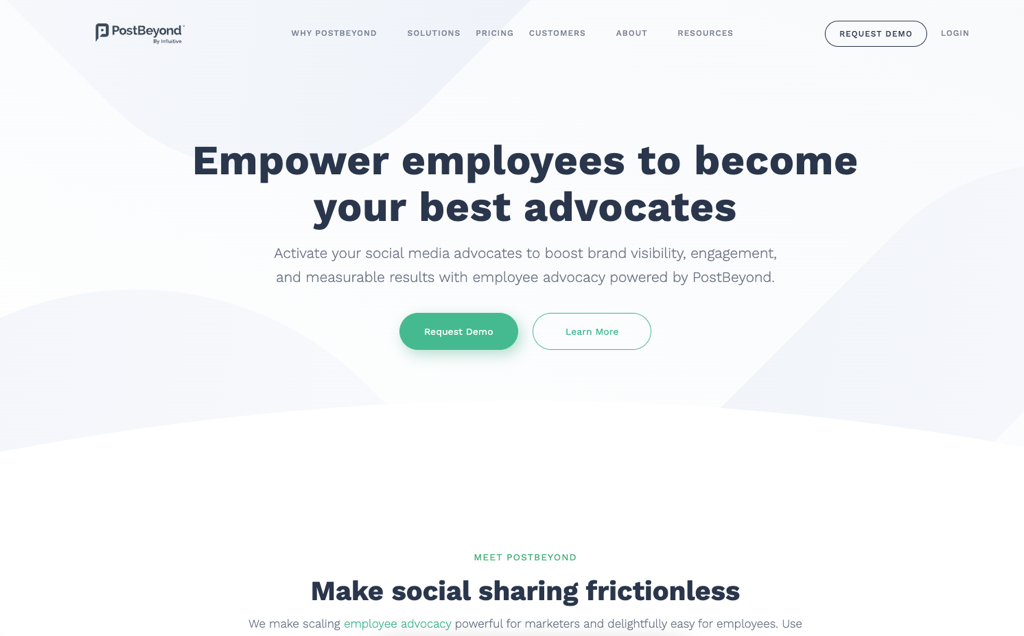 PostBeyond is an employee advocacy and social selling tool that makes it easy for you to amplify your company's content.
Your marketing team can upload all of your pre-approved content to the platform, including creatives, copy, hashtags, and guidelines for ensuring the post matches your brand guidelines. 
Your team can then quickly take the content and share it on their social media accounts. It's a powerful way to amplify your branded content because your employees are your best advocates.
Once your team has shared your content, you can track the results thanks to in-depth reports and analytics dashboards. 
You can identify which employees and content are delivering the best results, and use that information to improve your social selling strategy moving forwards.
Pricing: From $16.50 user/month
Key features:
Build a database of pre-vetted content for your employees to share

Identify high-performing content and see which employees get the most engagement

Automated recommendation engine suggests content for your team to share

Track the top sharers on your team to incentivize the activity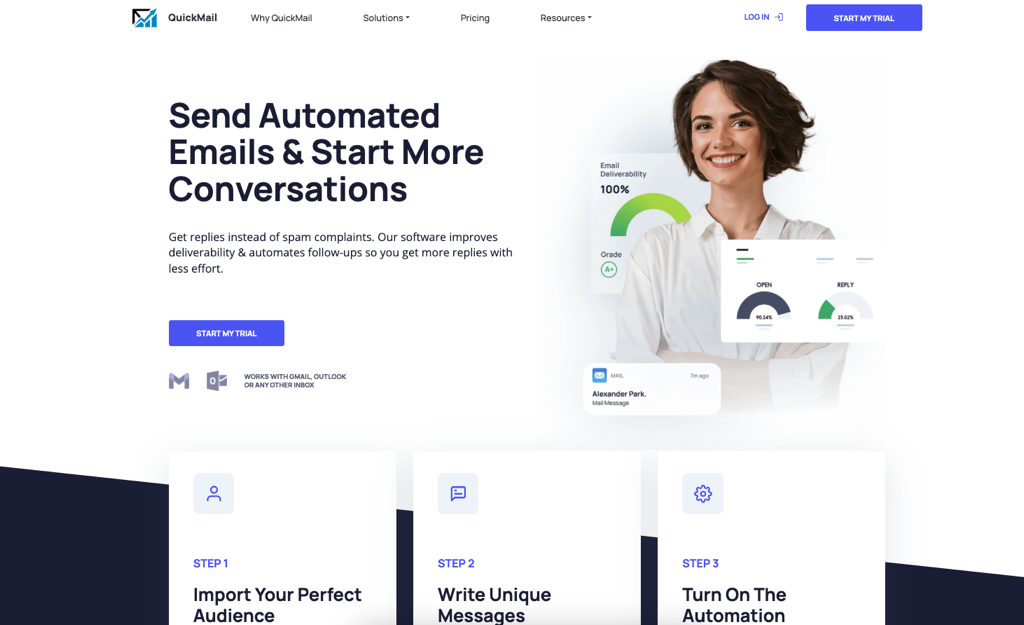 The use of cold email is one of the most effective ways to generate leads. You can reach out with a highly personalized email and start an organic conversation with any decision-maker in the world.
QuickMail is a mail merge tool that allows you to upload a list of prospects, verify their emails, write fully personalized email templates, and send your email campaign out on autopilot. If someone doesn't respond, the platform will automatically follow up with a personalized reminder email.
Once the conversation has started, you can keep track of replies in a shared team inbox, so everyone on your sales team can see which leads need to be responded to.
You'll also have access to detailed analytics to track your open rate, reply rate, click rate, and more.
Pricing: Starts at $49 per month, 14-day free trial available
Key features:
Write personalized email templates for every recipient and send them automatically

Conversation management tools to help your team keep track of every response

Add as many team members to your account and send campaigns from multiple inboxes

Email analytics help you track reply rates and judge success

Inbox rotation feature for

agency sites

and sales teams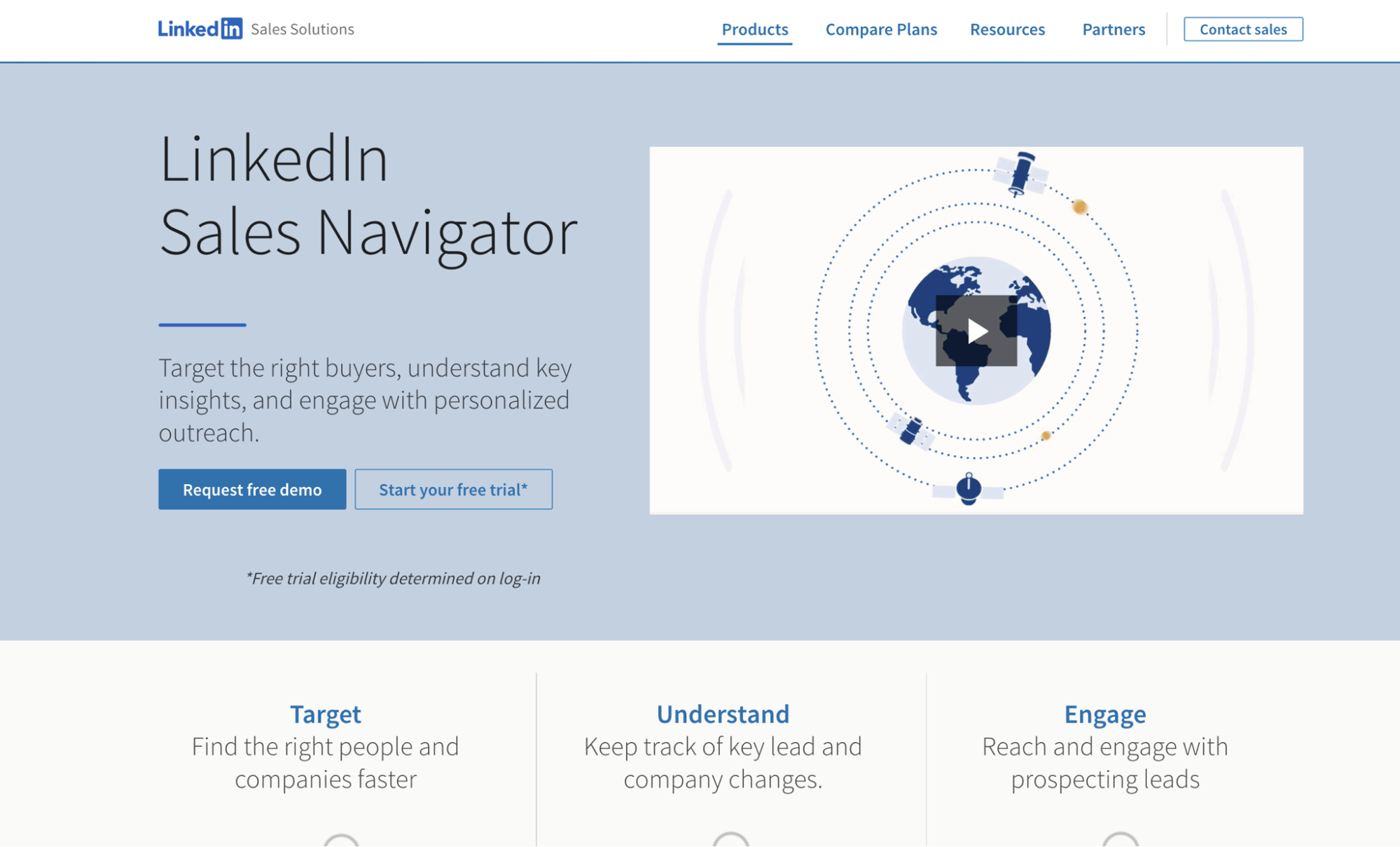 LinkedIn is a key platform for any B2B marketing initiative. B2B decision-makers use it to network, guide their purchasing decisions, and consume content.
You can use LinkedIn for multiple social selling and prospecting purposes, but to get the most out of it, you'll need a Sales Navigator subscription.
It opens up possibilities such as having more search filters to identify good-fit leads, the ability to save people to lists, and even set up real-time alerts for when companies you're targeting make changes or hire new team members.
On top of that, you'll also get extra InMail credits, which you can use to send targeted messages to your prospects and start conversations on the platform.
Pricing: From $79.99 per user per month
Key features:
Use advanced search filters to identify individuals and companies who match your ideal customer profile

Set alerts on key target accounts and be notified if there are changes

Save leads to specific lists to reach out to

Use InMail to ensure your messages land at the top of your prospects' LinkedIn inboxes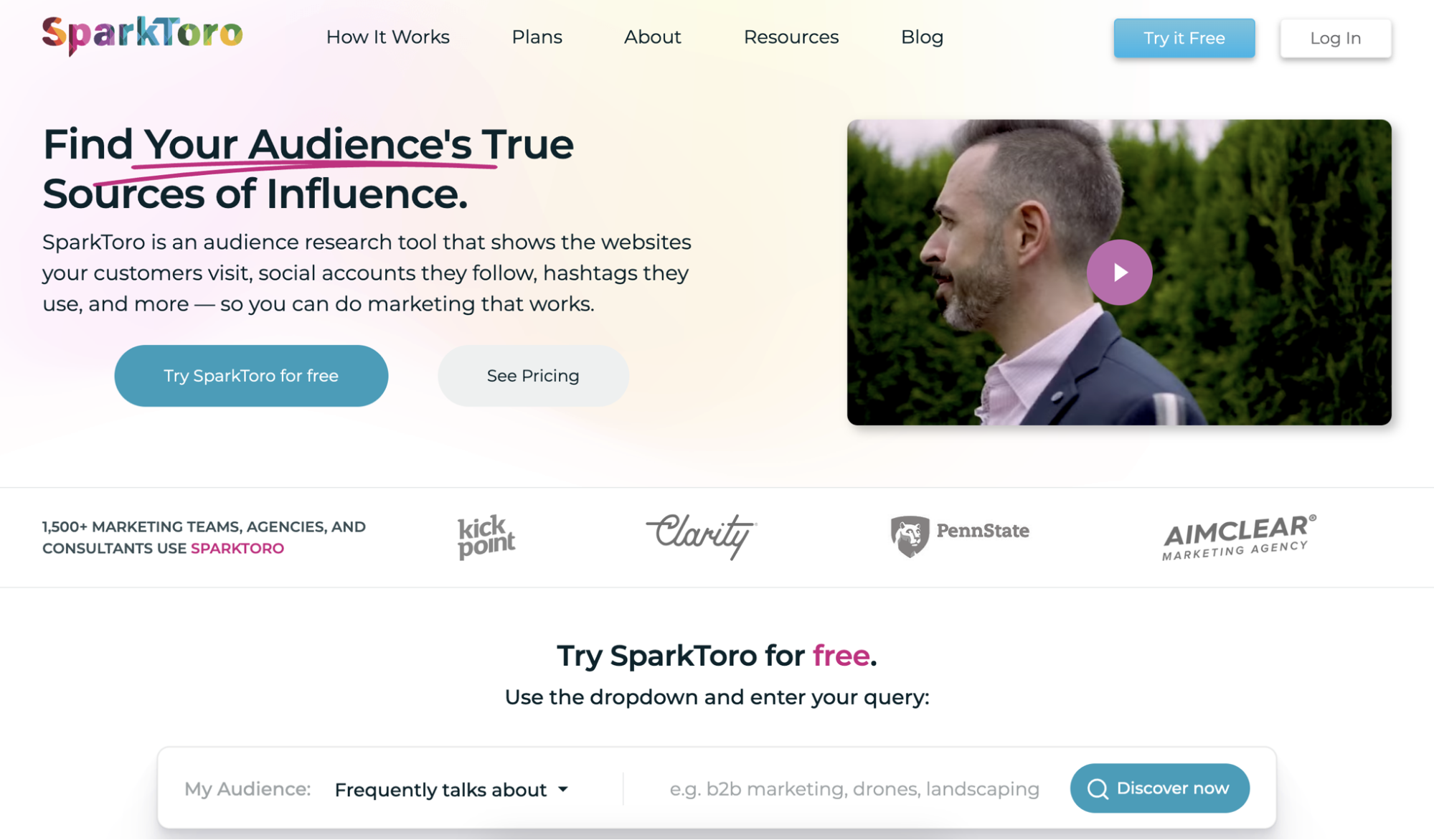 SparkToro is an audience research platform that's ideal for anyone who wants to improve their social selling strategy.
You can search for terms related to your industry, and SparkToro will suggest websites, influencers, newsletters, or other content types that people matching your ideal audience use to stay updated on their industry.
You can use this knowledge to join communities, run targeted advertising campaigns on specific platforms, and improve the hashtags you use on social media. 
Once you've identified relevant audiences, you can use a built-in email extraction tool to source contact details for decision-makers at companies matching your criteria.
Pricing: Free plan available, paid plans from $45 per month
Key features:
Identify the criteria shared by audiences interested in your product or service

Learn which types of content your audience is consuming

Discover what hashtags are being used by your audience to inform your own content strategy

Export email addresses for decision-makers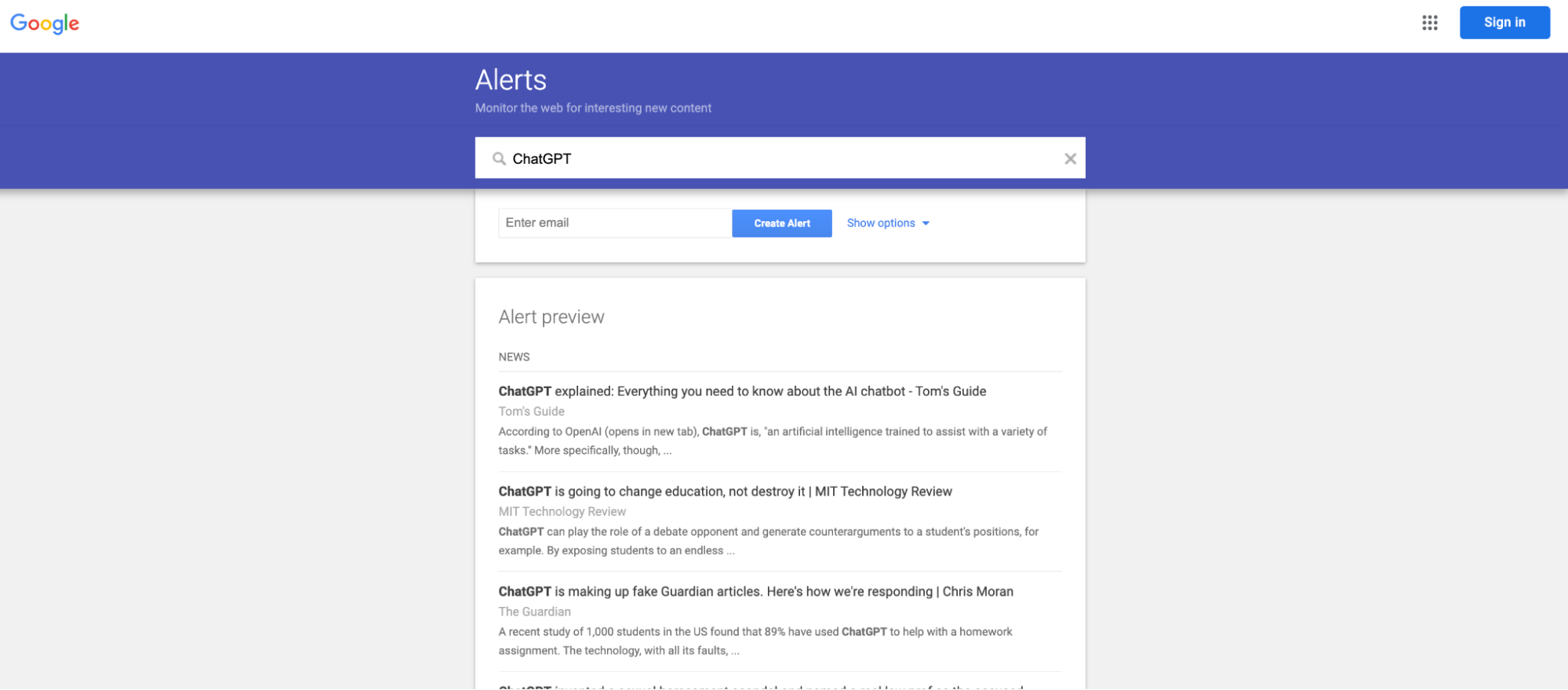 Google Alerts is a completely free tool that every marketing team should be using.
You can set up keyword alerts to send you an email when a new blog post or web page goes live mentioning a term you care about.
For example, you could add your company name as the alert keyword, and anytime your company is mentioned, you can see what context it was in and then decide if you want to amplify the content or reach out to the person who published it.
One of the reasons this tool is so effective is the simplicity. It's completely free, and very lightweight. All you need to do is add your keywords, and wait for the email notifications to come in. You won't need buy-in from upper management and it's a good way to start seeing if your brand is being talked about in the way you hope.
Pricing: Free to use
Key features:
Set up keyword lists for terms you want to monitor

Receive email notifications when any keyword is mentioned

Choose your notification schedule to avoid inbox overload

Completely free to use and no technical skills needed
Wrapping Up
These social selling tools will help you hit your sales targets and generate more leads for your business.
Each one has different benefits. For example, you can use PostBeyond to boost your employee advocacy program and find out which content gets the best results for your company. You can use Sales Navigator to identify qualified leads on LinkedIn. You can use QuickMail to send personalized cold emails to any decision-maker.
When you're ready to start growing your business with social selling, make sure to get your demo of PostBeyond and see how it can fit into your sales process.
---
About the Author
Jeremy is the founder of QuickMail.io, a SaaS company that enables personal one-to-one conversations at scale through automation – for outbound outreach, inbound leads, trial/onboarding, customer communication, and more. Before founding QuickMail, he worked for more than 15 years as a developer in the video game industry and in finance.