We're excited to announce PostBeyond's newest feature: Native Video!
In today's social media landscape, the struggle to get audience attention is more challenging than ever. But for many brands and marketers, video is proving to be a game-changing tactic for fueling engagement and amplifying reach on social.
For example:
86% of video marketers said that videos boosted traffic to their websites.
Tweets with video got 10X more engagement than Tweets without video.
LinkedIn users are 20X likelier to share a video than any other type of post.
Our customers told us that video was "scroll-stopping" content that got new audiences to pay attention to them. They also said videos empower their brands to craft more personable and memorable stories, resulting in more authentic relationships with their customers and employees.
And social media algorithms agree. Videos deliver more dynamic experiences and users prefer them over other content types. In turn, social media platforms prioritize video content to their audiences.
To harness these big shifts, we're excited to introduce Native Video. This functionality lets users share videos that natively play on their social profiles in just two clicks.
Push Native Video Without Trade-Offs
Marketers know video works. They also know that algorithms favor native videos as it gives users a better experience and keeps them on the platform.
However, integrating native video into employee advocacy isn't easy.
Normally, admins would have to share a video file. In turn, they lean on employees to download the file and then re-upload the file on each of their accounts.
It's a taxing process that forces admins to choose from making video sharing easy or following best practices at the cost of hassling employees.
PostBeyond eliminates this trade-off.
Native Video on PostBeyond removes the manual work involved in sharing native videos at scale. Program admins just need to upload videos once and create posts for your users to share. It's just like creating any other type of post on our platform.
In turn, all your employees need to do is press the "Share" button. That's it!
You don't need to worry about sending video files or asking employees to go out of their way to download and re-upload files on each account. You can even make it totally hands-free for your users by adding Native Video posts to Auto Queue to schedule content on their behalf.
For employees who like to be more 'hands on' with content, PostBeyond lets them preview videos from within the app/platform. They can even edit the posts with their own commentary before sharing.
Use Cases
Videos will help you build an authentic brand, create differentiation, and compel audiences to engage with your content. Here are just a few use cases where you can leverage videos.
Thought Leadership
Videos are a versatile delivery vehicle for thought leadership. You can showcase webinar clips, interviews, conference recordings, information videos. Q&As and much more.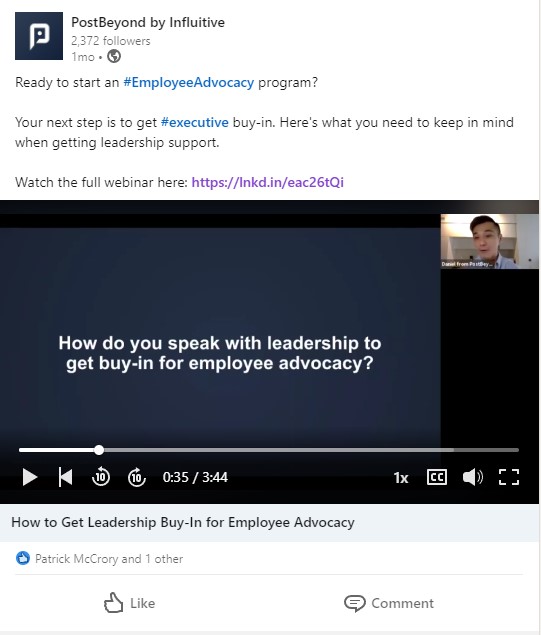 Company Updates
You could engage employees, customers and other audiences at a more authentic level through videos. For example, an executive announcing a company milestone can show excitement and other emotions to draw audiences into the message.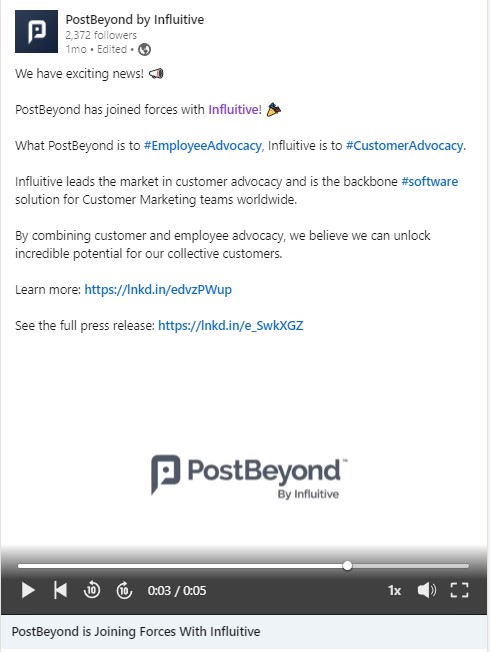 Product Announcements
You can use videos to show new products and features instead of only talking about them. You can deliver a dynamic experience that shows customers how your product actually works.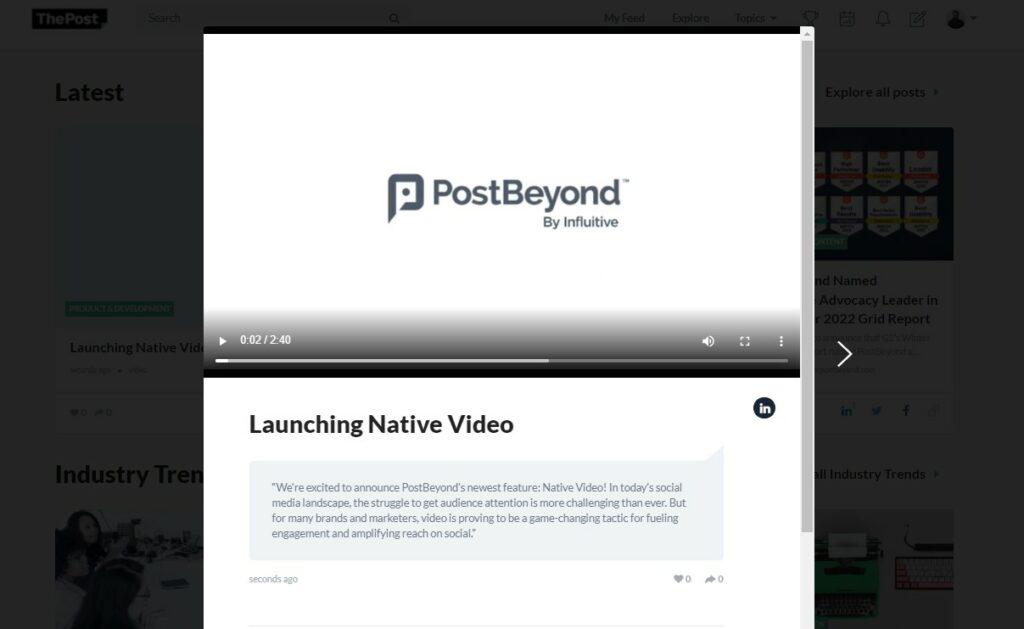 How Native Video Works
Users
Can share video posts that play natively on LinkedIn, Twitter and Facebook Pages.
Can watch the video play prior to sharing it on their feeds.
Can edit posts with their own comments before sharing.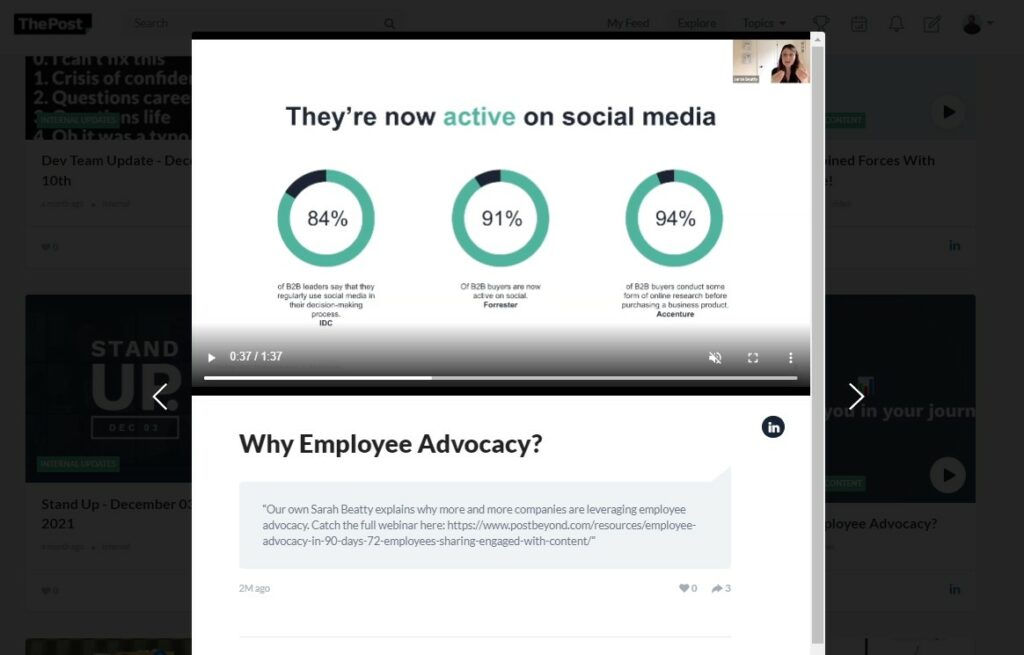 Program Admins
You have the ability to upload video content to the PostBeyond Video Library on the web (which has a maximum capacity of 100 GB).
Select your preferred thumbnail for videos on Twitter and Facebook.
Create separate posts for LinkedIn, Twitter and Facebook Pages on both web and mobile. You can also attach a video that they've uploaded to the PostBeyond Video Library.
Receive out of platform reports on the performance of the video shared (includes clicks and views)
You can use with Auto-Queue to schedule and publish posts on behalf of specific employees.
Get Started with Native Video
PostBeyond customers can scale-up their video strategy with Native Video today. But if you're looking for an employee advocacy platform that supports company-wide content sharing using videos and more, see how PostBeyond can help.