As marketers, one of the toughest challenges we face is hitting a creative block (okay, that and attribution).
It can make it harder to think creatively about fresh social media content and campaign ideas when you have the constant pressure of hitting deadlines. If you're in a rut, it might be time to step outside of your day-to-day and draw inspiration from your industry peers.
Here's a list of 7 social media content ideas and examples that you can draw inspiration from. This comprehensive list of examples will help jumpstart your creativity and make way for your next big idea.
1. HubSpot
Social media post ideas from HubSpot are simple and effective because they've done the groundwork of connecting with people. The company is interested in building a community and not just an audience. Hubspot's social media team publishes posts that are short, approachable and questions meant to engage their followers.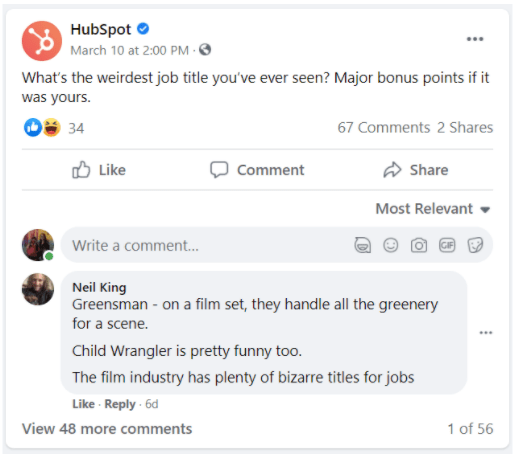 They take on a casual tone—and even throw in the occasional emoji—which can be a refreshing break for audience members used to reading jargon-heavy posts that are dense with information. They overlap between platforms and post content unique to each platform's audience and post guidelines.

Top Tip: social media should facilitate 2-way conversations. Please communicate with your audience, not at them.
2. Drift
Drift's dedication to collaboration provides a wealth of social media content ideas. If your organization is willing to share knowledge with and bounce ideas off of other industry experts then take inspiration from Drift.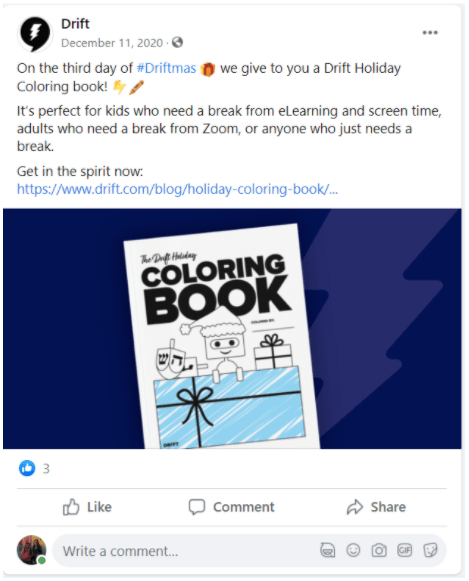 They also make ample use of multiple media types, spicing up their feed with video clips, graphics, text-only posts, and links to various other fun documents that are often humorous or reference current events.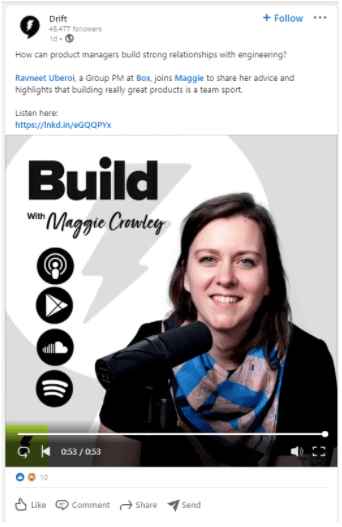 Top Tip: Mix it up! Don't be afraid to try new content types and share posts and expertise from other experts in your field.
3. Gong.io
Gong.io isn't afraid to stand and speak out while supporting their assertions with data. But rather than sharing facts and leaving it at that, the Gong team is ready with social media post ideas that solicit input, share expertise, and create meaningful conversations about their industry.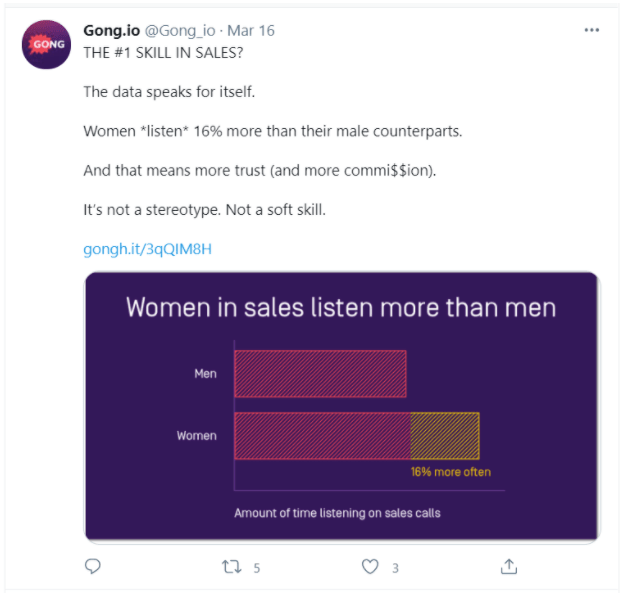 Gong's content isn't just limited to their eye-catching and data-driven graphics. The brand also throws in the occasional fun post such as sharing their top victory song to celebrate a sale and asking their followers to chime in. This leads to plenty of variety on their feed and keeps their audiences from getting bored.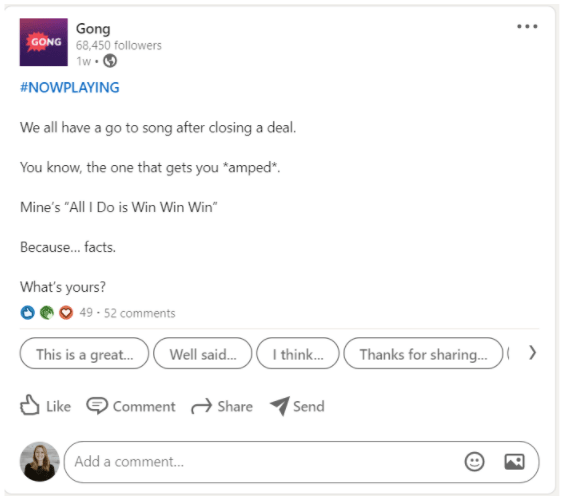 Top Tip: Take a stance. It's okay to have opinions on serious topics and the silly ones and share them side by side.
4. Cisco
Working within the B2B space doesn't mean that everything must be framed from an organizational standpoint. On the contrary, Cisco's posts nearly always feature faces of individuals—employees, partners, or even employees' families.
Highlighting individual employees like this is a great way to build trust with an audience generally wary of corporations and make good use of employee advocacy by giving your employees fun content to share on their personal pages.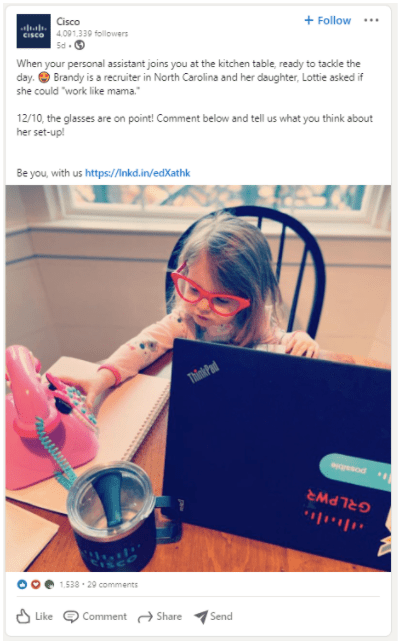 Top Tip: Gives your company a face—or more. Your employees are a valuable part of what you do, which should shine through in your posts.
5. Kokoro Marketing
Cindy Zuelsdorf and Kokoro Marketing make their expertise clear in their social media content ideas. They post consistently, and they post knowledgeably, positioning themselves as teachers and leaders.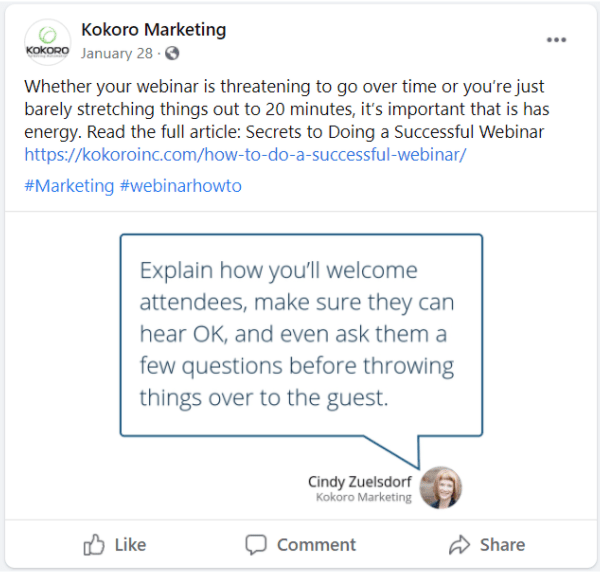 It matters less that their content ranges from foundational building blocks to specific tips and tricks and much more that there's something to be gained from each post. Every B2B company should have something to share, whether specific to their product, industry, or workplace. Sharing relevant and helpful content with your audience makes you a valuable source of information.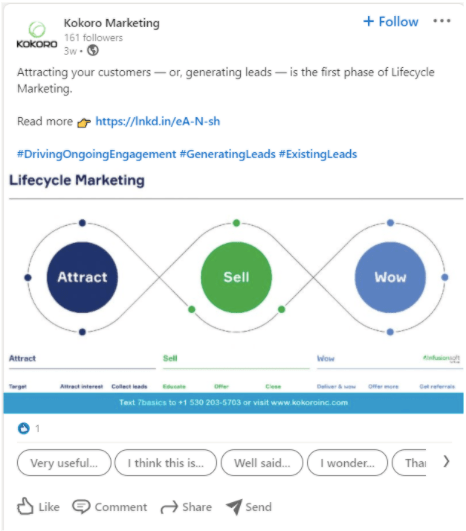 Top Tip: Share your expertise. By providing information, you're not just filling space on a screen meaninglessly but meeting a need (even if your audience doesn't know they need your expertise yet).
6. SMPTE
SMPTE, or the Society of Motion Picture and Television Engineers, creates posts that jump off the page. Each one is colorful and creatively designed (which makes sense within such a visual industry).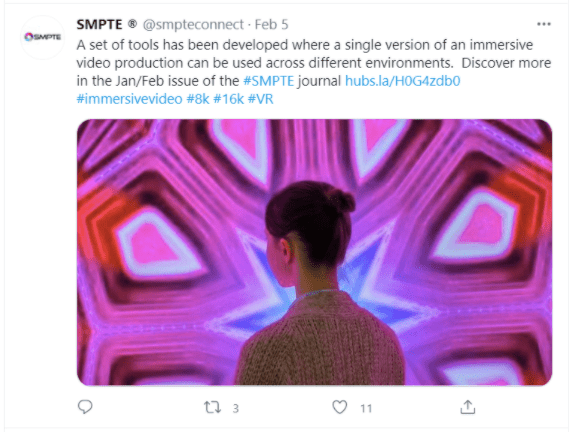 The group also links from their social media content to their more established publications, like their trade journal. This allows new followers to make their way down the pipeline quickly and streamlines the steps to that content for readers who have been around for a while.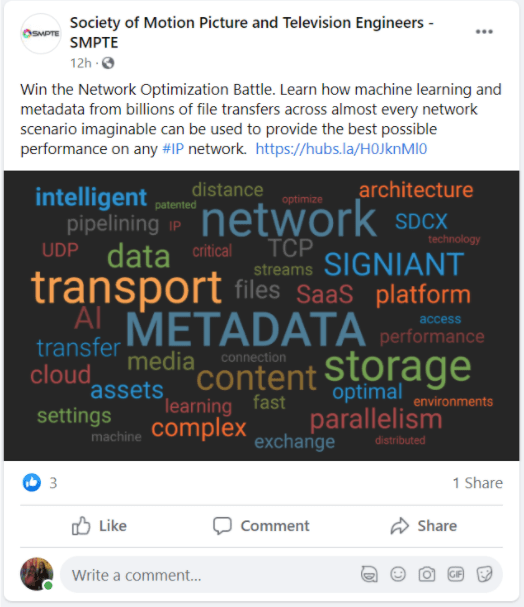 Top Tip: Show, don't just tell your audience what it is that you do. Showing your product or ideas in action—and catching your followers' attention in the process—makes you stand out in the barrage of posts on your audience's social media feed.
7. Dell Technologies
Dell is another company that engages followers by asking questions. However, rather than asking their audience to comment or reply, they post numerous polls. As far as social media post ideas go, this one is pretty simple. Most platforms support them, and everyone has some multiple-choice question they can ask, whether it's a trivia tidbit or a way to gather opinions.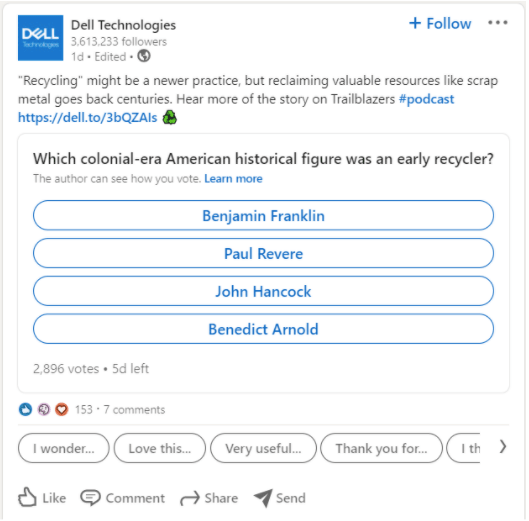 The simplicity of polls means that even those who aren't inclined to comment may have the time to respond to a question, and the response data can be used in future campaigns.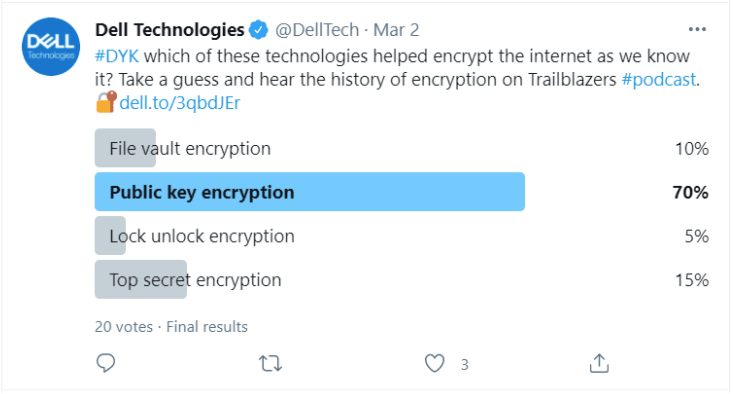 Top Tip: Make it easy for audience members to give feedback by utilizing polls and surveys. By doing so, you encourage feedback and your followers have the opportunity to give feedback and share their opinions and knowledge.
Now — ready to do it yourself?
The internet is chock-full of B2B social media content ideas used to educate, encourage, and engage followers. Not every tip is right for every company. If you're stuck in a creative rut then these social media post ideas will get the wheels turning. Offering expertise, soliciting feedback, and making your accounts topically and visually appealing are all ways to showcase what you have to offer and stay relevant on your audience members' feeds.