Job adverts are difficult to navigate for potential employers. If you're not careful you can put off candidates, with even simple wording proving to be a red flag in some cases.
It has been found that 41% of the global workforce are considering changing their job role within the next year. With many looking for new employment opportunities, finding a company that aligns with your values is more important than ever. But what are the key things to look out for when applying for a new role?
Job Advert Red Flags
We wanted to take a deeper look at some of the common red flags people look out for when applying to jobs, and how many times these words really show up in job adverts.
One of the most common factors that rings alarm bells for many when looking for a job is the lack of salary in job descriptions. Vague and unclear salary bands can cause many to shy away from applying for roles. Despite this, we found that only 36% of jobs in marketing disclose salary [1].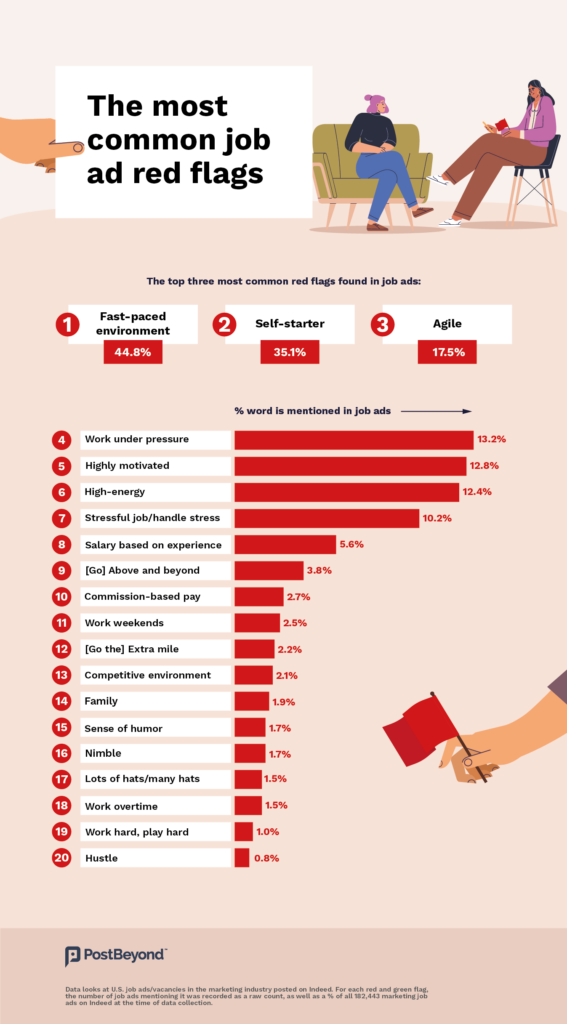 The most common red flag was fast-paced environment, with the term being mentioned in 44.8% (or 81,707) of marketing job ads. The term 'fast-paced environment' has been highlighted as a workplace red flag with many interpreting this as a way organizations describe workplaces that are expecting employees to work in an understaffed and potentially toxic environment.
Similarly, self-starter, the second highest ranking term, (35.1%) supposedly indicates potential candidates will be given little to no support within their role and expected to do things on their own.
A shocking 10.2% of roles use the terms stressful job / handle stress within job ads, something that would make many potential candidates reconsider applying.
Job Advert Green Flags
Whilst it's important to know what to avoid when looking for a potential new role, it's just as important to discover what to look for in your next employer and the perks and attributes many consider to be the largest green flags.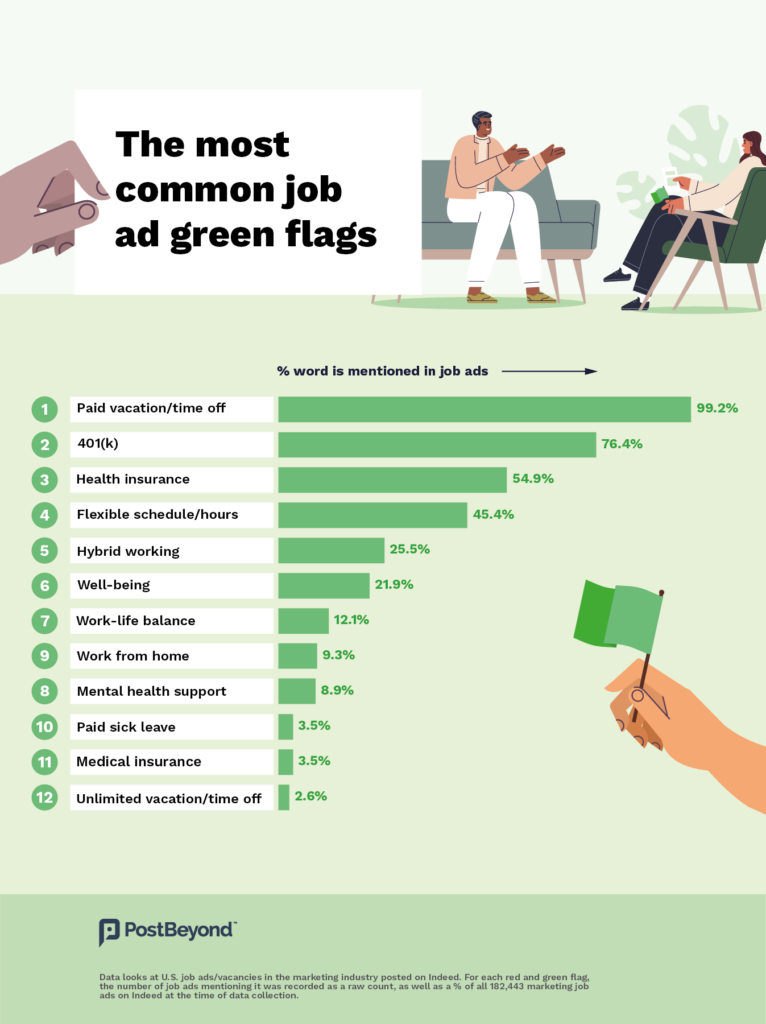 The most common green flag within job adverts was found to be paid vacation / time-off, which was mentioned within an impressive 99.2% of ads. This is followed by 401(k), (76.4%) and health insurance (54.9%).
Over half (53%) of employees are more likely to prioritize health and wellbeing over work than before the pandemic. This in turn means that both wellbeing (21.9%) and mental health support (8.9%) are more important than ever in the workplace. With the rising number of people prioritizing wellness, it's great to see both the terms mentioned rank within the top 10 green flags.
Flexible working also ranks fairly high amongst the most mentioned words with flexible schedule / flexible hours mentioned in almost half (45.4%) of jobs. It's been found that 73% of workers want flexible or remote working to continue, with the pandemic changing the way many of us work. It's great to see employers are taking this into consideration when posting job adverts.
The least common 'green flag' was found to be 'unlimited vacation / time off' at just 2.6%. Whilst there are a small number of job roles promoting this perk, for many roles this green flag is simply too good to be true.
---
Need Help With Employee Engagement?
---
Job Advert Amber Flags
Whilst many of these job advert common terms can be easily categorized into good or bad, there are some that are left open to interpretation.
For example, the terms agile and highly motivated featured as red flags in our analysis. Our research showed these terms are often associated with employers looking for candidates that are willing to work unreasonable hours with no support.
However, these terms could also be interpreted as things that are workplace essentials for the right candidate. Depending on the level of role you are applying for, some of the key terms might be less of a red flag for you, for example a CEO would not consider working independently as an issue, however an intern may.
Whilst it's impossible to predict if workplaces that don't use 'red flag' buzz words really are better to work for, this could be a great way to whittle down your job search and find companies that meet your expectations and will offer a better work environment.
Our employee engagement statistics highlight the importance of creating an engaged workforce within your organization, improving employee retention and happiness.
---
Methodology
[1] Based on the sample of 40,000 marketing job ads posted on Indeed for marketing roles in every U.S. state, only 36% contain an explicit, non-estimated salary figure or range, while the remaining 64% either have a salary as estimated by Indeed or don't list the salary altogether.
Red flags (things to watch out for) and green flags (things to look for) in a job ad were collected from various articles about job hunting and job interviews in Forbes, BuzzFeed, FlexJobs, and Business Insider.
Each red and green flag was then entered into Indeed.com search engine, restricting the search to job vacancies in marketing in the United States. For each red and green flag, the number of job ads mentioning it was recorded as a raw count, as well as a % of all 182,443 marketing job ads on Indeed at the time of data collection.
Data was collected in September 2022. Full data set available upon request.
For More Employee Engagement Insights, See: