Engaged employees unlock new avenues for growth. Not only are engaged employees happier and more productive at work, but they can amplify your brand.
However, how do you engage your employees?
As you'll see from the employee engagement statistics below, improving employee engagement is a lot easier said than done.
Why Does Employee Engagement Matter?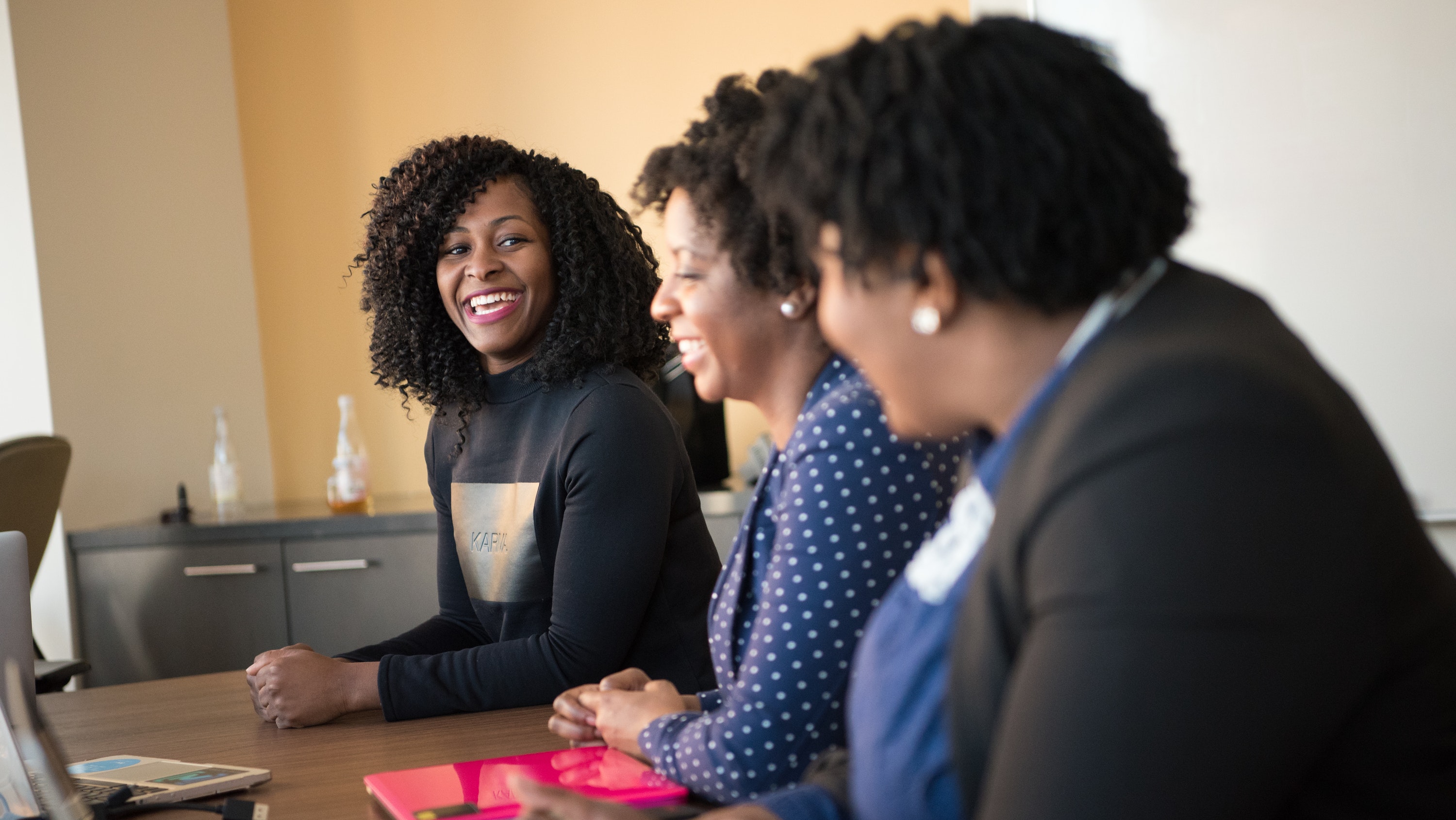 Motivating your employees is essential because it helps you:
Increase your customer base and open new markets
Develop a competitive edge in the marketplace
Enhance brand loyalty amongst your audience
Deliver an exceptional customer experience
Even as the statistics on employee engagement rose in the last decade, the recent pandemic has stabilized the numbers.
Though the overall level of employee enthusiasm and involvement at work has not taken a deep dive, it has shifted enough for companies to take notice.
Key Employee Engagement Statistics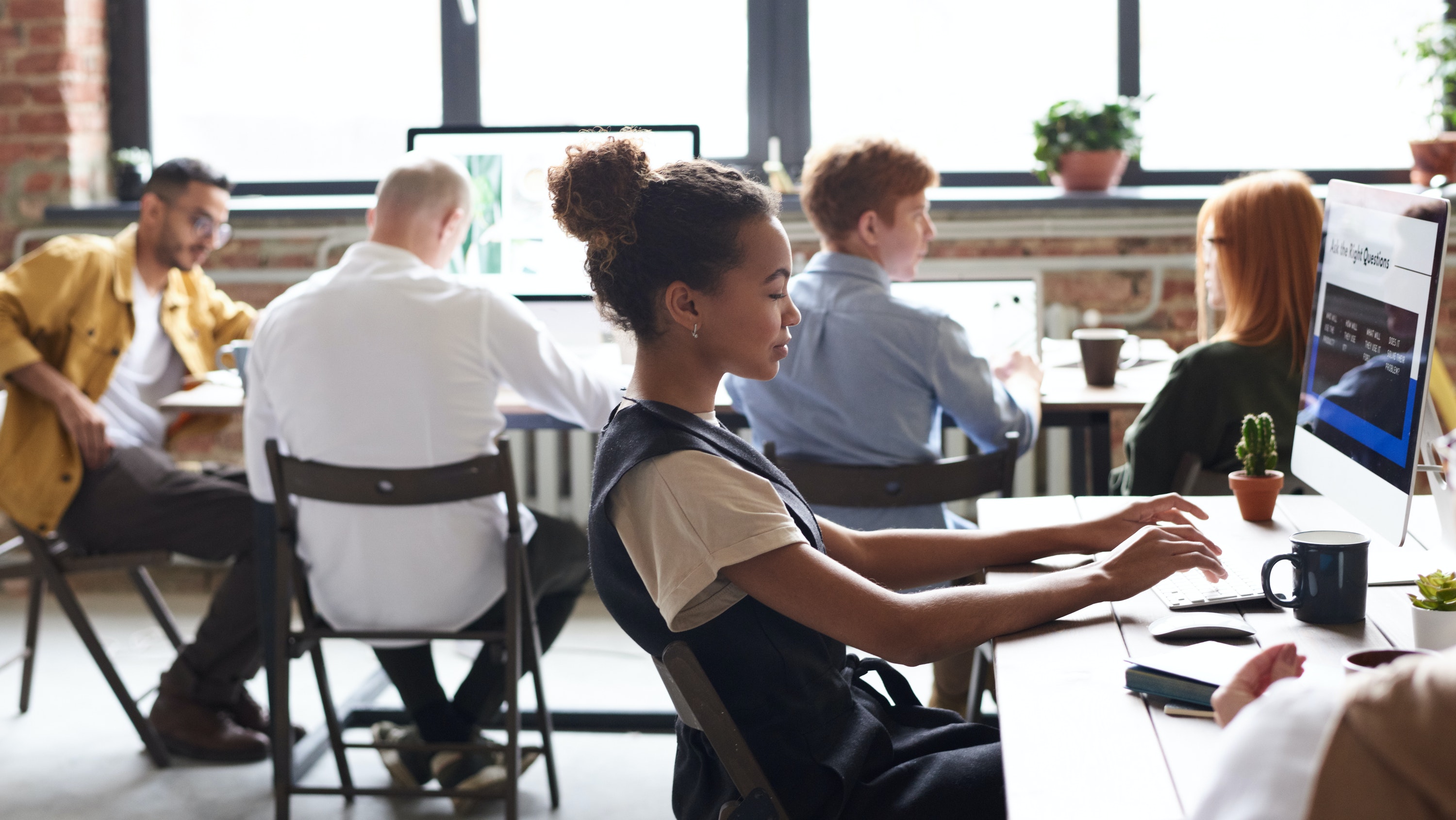 No company wants employees that aren't invested in the mission, culture, and future path. But the role employees play in organizations is crucial.
They take all the key decisions, organize resources, and drive the business goals forward. So, how can companies foster happy employees at work?
Gallup would have an answer to that.
They have been conducting employee engagement research for more than 75+ years. In the next section, we have reviewed employee engagement data from Gallup and other research organizations to come up with the numbers that you should be aware of.
To help your company thrive, consider these trending employee engagement stats in 2022.
1. Disengaged employees cost the US economy a staggering $350 billion each year.
Collectively, the cost of employee disengagement at work is staggering. For US companies alone, this collective cost is about $350billion for a single year.
Deloitte research found that a single disengaged employee costs the company up to 34% of their salary.
2. Only 32% of US employees are engaged at work.
After being on the upswing for a decade, US numbers continue to slide. Employee engagement shows an annual decline of 2% points from the last year.
While the number of engaged employees was 36% in 2020, it went down to 34% in 2021 and now rests at 32%.
3. 46% of the global workforce is planning to make a major career transition
According to Microsoft's Work Trend Index, 46% of the global workforce is planning to shift to a new career. So, this transition goes beyond simply changing companies. Rather, employees are critically evaluating their situation for the long-term.
4. 3 in every 4 Americans are planning to quit.
Three-fourths of the 25K+ respondents in the Joblist 2021 survey have quit or will do so in 2022. Many of them confirmed that they will quit even without a job lined up.
5. Companies with engaged employees are 21% more profitable than companies that aren't.
Engaged employees significantly impact the bottom line.
The Gallup report also states that engaged employees are less likely to quit the organization and are instrumental in driving a healthier work environment.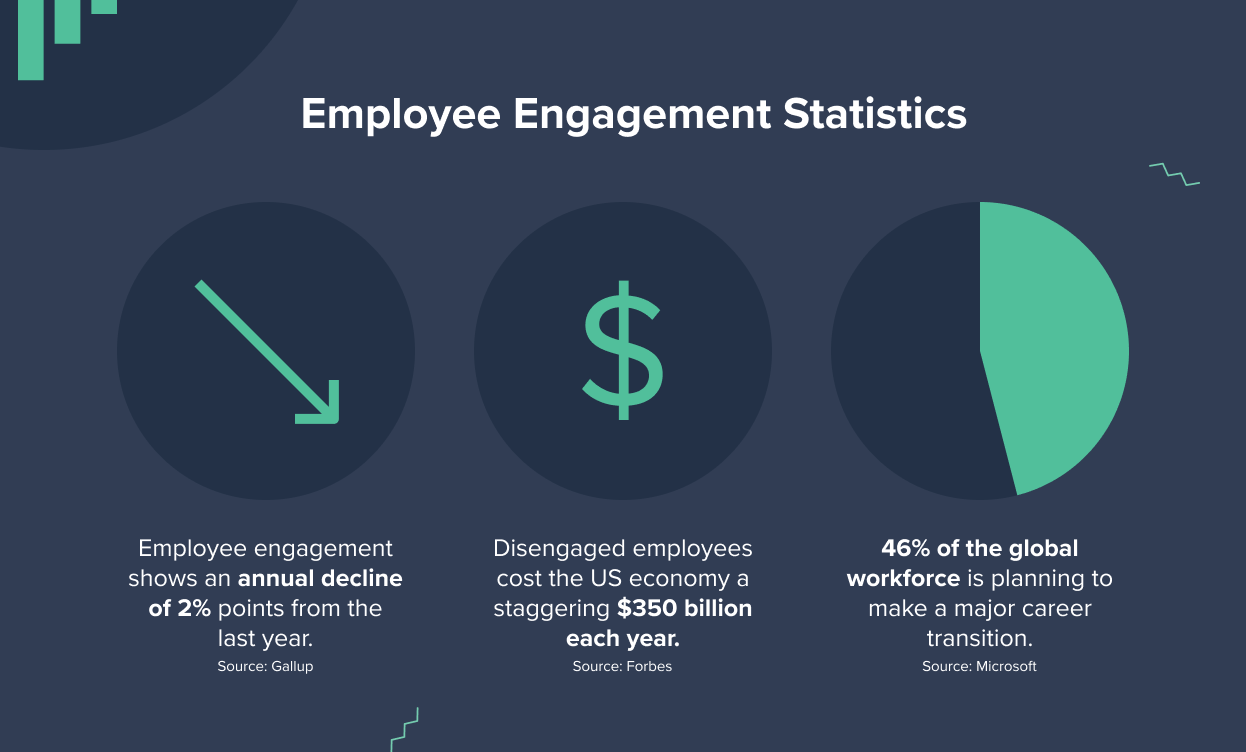 6. 71% of top executives rank employee engagement as the key to business success.
Engagement in the workplace is a crucial indicator of business success.
550+ senior company executives polled in a Harvard Business Review report consider engaged employees as a competitive advantage. The evidence supports this. Engaged employees experience lesser burnout, perform better, and tend to stay longer in companies.
7. High-turnover companies experience 59% less turnover if they have engaged employees.
According to Gallup, highly engaged employees are less likely to leave an organization that values them and encourages their contribution.
Low-turnover companies with engaged employees experience 24% less turnover.
8. The number of actively disengaged employees is on the decline.
The number of actively disengaged employees fell to a decade-low of 13% in 2019.
But what are actively disengaged employees?
Actively disengaged employees are staff who have unhappy work experiences. They are likely to spread their discontentment around and pass it on to their peers too.
9. Older employees tend to be more engaged.
When the Sloan Center for Work & Aging report studied the impact of age on employee engagement, they found a curious correlation.
The study found that older employees were more engaged than their younger counterparts.
10. 52% of workers under the age of 41 are thinking of switching jobs
Microsoft's 2022 Work Trend Index study found that 52% of Gen Z and Millennials are looking to change employers. This was an increase of 3 percentage points from last year's report.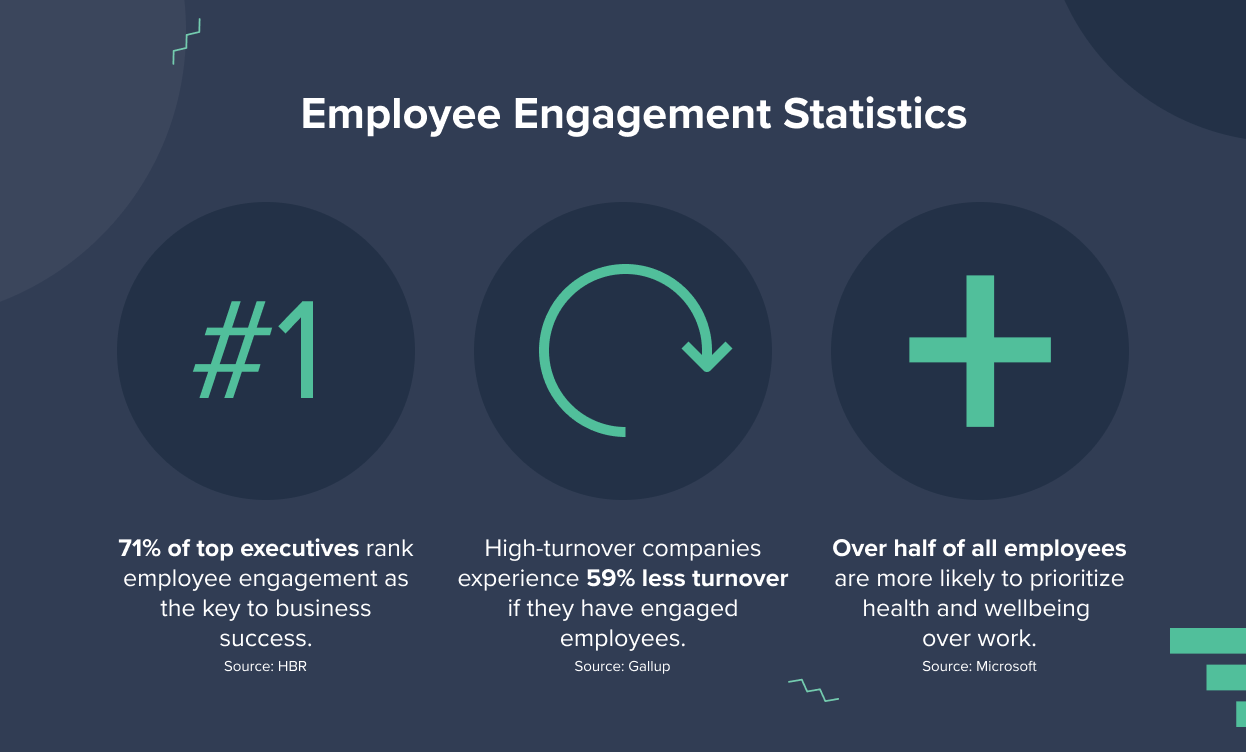 11. Staff engagement has a positive correlation to business ROI.
Companies with engaged employees impact businesses positively in all areas.
They tend to:
Deliver 17% more productivity
Obtain 10% better customer ratings
Secure 20% more sales
Experience 41% lower absenteeism
12. Over half of all employees are more likely to prioritize health and wellbeing over work
According to Microsoft's Work Trend Index study for 2022, over half of employees from all generations will prioritize health and wellbeing over work.
Next Steps
A robust and engaged workforce is essential for business growth.
Employees can be your company's best advocates if they are happy, engaged, and fulfilled at work.
By helping employees develop a shared sense of purpose, companies empower them to be the best version of themselves.
When you have happier and more engaged teams, they become instrumental in leading your organization towards its goals.
Dive Deeper into Employee Engagement: