One of the most common occurrences we encounter when we're speaking with prospects is that they don't know how to get employee advocacy buy-in from executives. And you know what? It's completely justified. It can be a bit daunting bringing a completely new concept to the table and feeling unprepared to answer the tough questions. Scratch that – it's totally daunting.
But rather than go back and forth with a vendor for answers, we think it's best to help our change leaders by giving them a bit of an employee advocacy primer.
So, this one's for you, future program managers – we've got you covered.
We recently compiled a Buyer's Guide with a list of the top questions around implementing an employee advocacy solution from Executives, Marketing, Sales, Legal, IT, and HR. It outlines what they care about, and the most common questions we receive from them. It will walk you through how any solution of this nature should work, and how to get employee advocacy buy-in at your company!
Lead Employee Advocacy Buy-In At Your Enterprise
We know that implementing a program of this kind isn't as simple as "we need it – let's go." There's usually quite a bit of internal selling that needs to happen between our program managers and their peers. Rightfully so – there needs to be collaboration across departments for a program this transformative to work.
More often than not, it's one person who's on top of emerging workplace trends that is the first to consider employee advocacy at their enterprise. Although some of our program managers (like Ryan Peña of MentorMate) have a savvy team who are already familiar with employee advocacy, there are still some champions who take on all aspects of the program by themselves.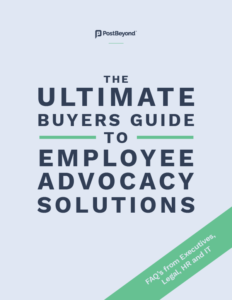 But, even for the most savvy of marketing teams, IT, Legal, or HR related questions might still be a bit tricky to answer. Our Buyer's Guide has answers to these questions and suggestions of what materials to prepare when getting employee advocacy buy-in from each department.
Read over the guide and familiarize yourself with the questions that apply to your organization. Some concerns may be more pertinent than others, or there may be some concerns that you hadn't anticipated at all. But even by recognizing these concerns before speaking to that team, you're staying a few steps ahead.
BONUS: Check out our most recent stats post. It's a compilation of the most compelling research around employer brand, employee advocacy, and sales enablement. Some of this research wasn't included in our Buyer's Guide, so be sure to check it out if you want more concrete statistics on a specific topic.
And of course, we're always here to help if you have any further questions. Get in touch with us via email, Twitter, snail mail, or carrier pigeon if you'd like to know more. Otherwise, download the guide here and get started!
What are some of the toughest questions your enterprise has about employee advocacy?