How to Activate Executives & Employees for Advocacy
B2B influencers, thought leaders and subject matter experts have more power than brands but executives on social media can have the most significant impact on the bottom line.
Employee advocacy and executive activation are mutually beneficial. Executives can actively get involved in social media while fuelling new content for employees to share. When both are aligned, they can position their expertise and "breakthrough" to their intended audience.
With proven examples from enterprise organizations, this guide will inform you of the importance of social activation and how activating both executives and employees is beneficial for empowering advocacy.
How Social Media Influences Buying Decisions
Influence is in the hands of the individual. In most cases, it's through word-of-mouth from a peer or person you're connected with.
This is because it's more authentic and trustworthy. It's between person and person, and a lot of that influence is happening on social, whether it's a one-to-many basis or a one-to-one basis, as well.
Today's buyer prefers a two-way dialogue.
This is relevant to social media because informed buyers are driving the decision making process today with or without you. Buyers are active on social media, and the numbers speak for themselves.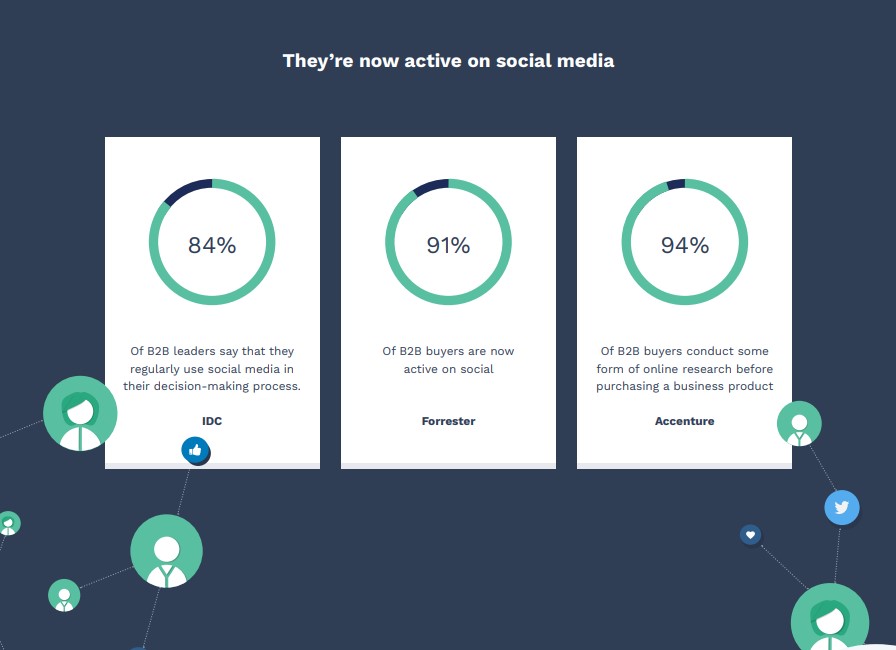 Buyers are information-seeking and self-educating along their journey in particular when purchasing new technology or services for their organization. Online research has become fundamental, whether it's on social media, thought leadership or customer stories.
The Role of The Social Executive
The social executive can make a massive impact on their company's reputation in a positive light. Engaged executives on social media are:
• Getting news out there and sharing company information
• Providing a personality and a human face to the company.
• Enhancing the credibility of the market.
• Showing that their company's innovative and forward-thinking.
• Helping attract new customers and driving growth.
Weber Shandwick's research on the Social CEO found increasing interest in measuring CEOs' usage of social media. In partnership with KRC Research, Weber Shandwick surveyed 630 executives in 10 markets about the social participation of CEOs.
The research found CEO social involvement has progressed from corporate websites to social networks. Executives are engaging socially and employees want their CEO to be social as well.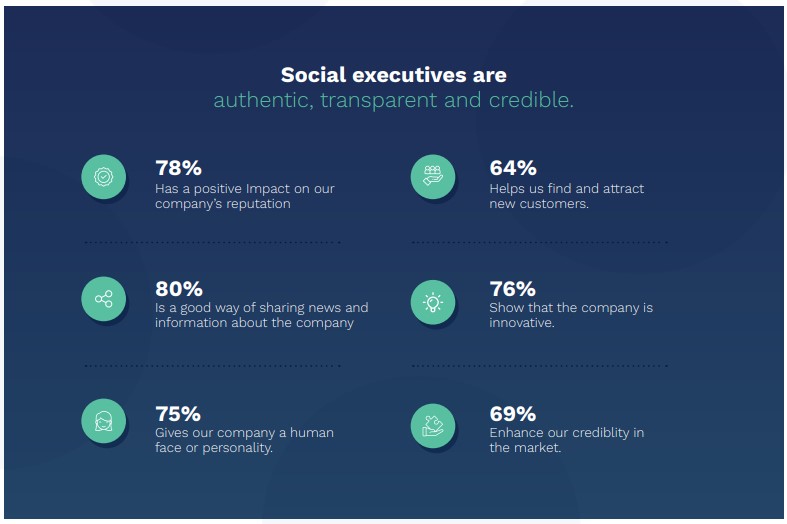 Despite the benefits, executives face many barriers and even angst towards social media. There may be a cloud of thought, concern or anxiety that an executive has about social media.
Marketing departments are meticulous about protecting the brand image of the executive, and for the brand overall. This approach then often completely ignores the online aspect of the executive's reputation.
Marketing must prioritize executive social activation to ensure their leaders are at the forefront of social media. Casey Hall defines executive social activation as "the process of using social media to position executives as visible and knowledgeable leaders in their industries."
Executives are familiar with public communication, and most are good at subject matters where they feel comfortable.
What happens, though, is they get into this area where they don't feel comfortable, such as social media, and that's where they need guidance.
Having an executive, either the CEO or someone who is a subject matter expert as the official spokesperson or brand advocate is a huge advantage for companies. One of the most notable benefits is installing a sense of trust for their organization, both internally and externally.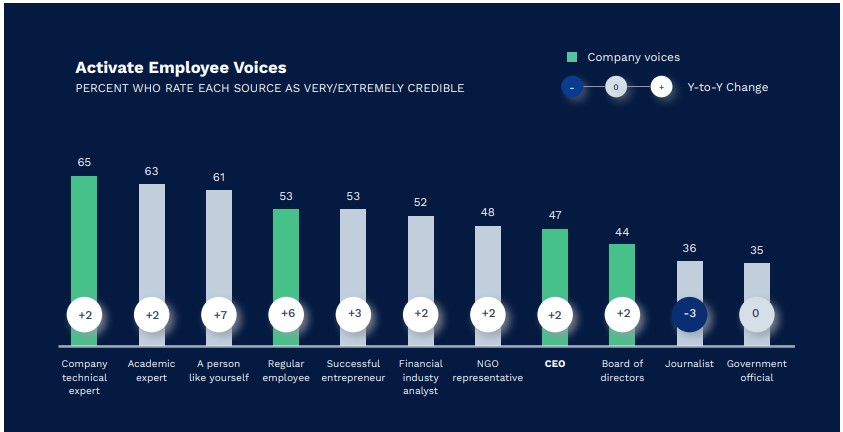 Source: 2019 Edelman Trust Barometer
The Edelman Trust Barometer 2019 has noted, "The growth of social media platforms fully shifted people's trust from a top-down orientation to a horizontal one in favor of peers or experts."
Buyers are less likely to engage with company-branded marketing messages. Instead, buyers look to subject matter experts for relevant information. It's also important to note "employees and prospective employees want CEOs to act beyond reproach when it comes to speaking the truth.
Candor, honesty and transparency are all-powerful trust-building elements, together with high expectations (74 percent) that CEOs will embody the values and mission of the organization they lead."
Executives have a tremendous opportunity to be the transparent voice of their organization impacting both employees internally and their intended audience externally.
Proactive executives should seek opportunities to engage in social media by positioning themselves to reflect the company values and to and engage on a one-to-one level.
The Barriers to Executive Social Activation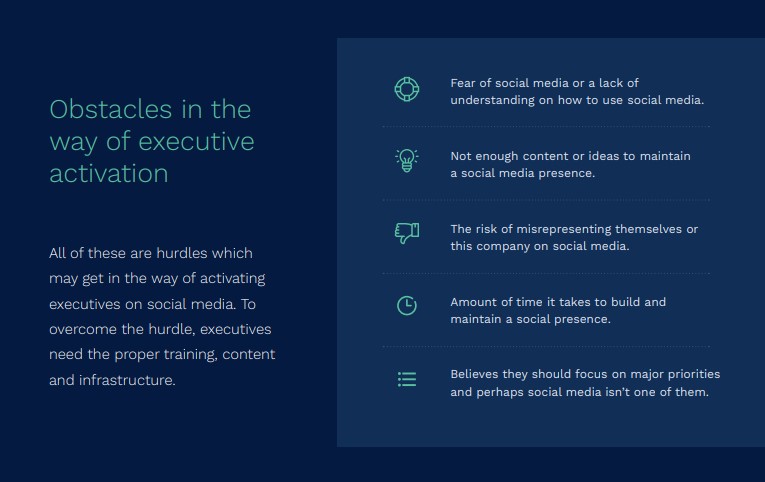 Social media can create fear for executives which is caused by a lack of understanding.
They're aware of social networks such as Facebook or Twitter but a common roadblock is not knowing how to get started, what to do, or a belief that social is irrelevant to them.
Executives may not be sure what it is that they really have to say. They feel like there's a lot of expectation on them as the leader of a company, but they're unsure what content they should share. They're also not used to being the company's face on a completely new channel.
They may have a voice in it but they have a lot of people whose job it is to ensure that they're not misrepresenting themselves or the company in the media. With social media, there's a sense of uncertainty for executives.
Crawl, Walk, Run Approach for Social Media
Building a social presence for an executive is about bringing their personality out and using their personality, their position as an individual, to help spread the good word about the company.
A recommended approach to get started is to crawl before running. There are some beneficial starting points executives can do early before they start publishing such as liking posts from their company, liking posts from their customers, resharing posts from subject matter experts in their respective industry. This gradually eases them into social media without having to always feel like a daunting responsibility to create content.
What Does This Mean?
Start slow with select social networks and engagement cadence.
Build-up activity and involve executives in some way.
Figure out what social networks are beneficial for the executive as well as the company.
Pick the right social networks for your executives
For example, the most effective and active social network for Siemens Digital Industries Software is LinkedIn. It is also the network they chose to start with Tony Hemmelgarn, President and CEO, and Bob Jones, Head of Sales. LinkedIn was the first choice because the organization was already active and both executives had a growing presence.
With their focus on LinkedIn, the Global Communications team set up tools for the executive to start using LinkedIn by engaging with content and building their social networks. Once they were comfortable with the development and the process, they then built a presence on Twitter and then Facebook.
Pick The Right Social Networks
For most B2B executives, the priority lies in LinkedIn as number one. Twitter as number two. Facebook is number three because it's more personal.
LinkedIn
Typically for more professional use. Think of it as a platform to manage your professional identity. Great place to connect and build your professional network.
Things to post here:
Thought leadership pieces
Articles about your industry
Work you've done
Pictures from conferences or professional events
Twitter
Moves quickly. Great place to build relationships and join online conversations with prospects, clients, influences and friends.
Things to post here:
Pictures from team events
Fun & entertaining content
Snackable content
Questions
Thoughts & opinions
Blog articles
Facebook
More casual and personal. Most friends or followers are personal connections either friends, colleagues or close customers.
Things to post here:
Pictures from team events
Job postings
Events
Fun & entertaining content
Instagram
Highly visual and great place to deepen relationships with your network.
Things to post here:
Photos from events
Hobbies & things you do outside of work hours
Brand awareness
Within the context of B2B, Instagram is a relatively unexplored platform. And so, if executives have the tenacity for social media, a good eye and can take good photos, then Instagram may be the most optimal.
How do you make sure both employees and executives add value to their social posts?
Marketing Communications should empower executives and employees to focus on showing expertise and educating people, both for the network they build up and through the content that they share.
This is their opportunity, not just to share a piece of content but to demonstrate their expertise and figure out what is the arena they play in, whether it's that's what their job is about, or that's what their degree is in, and then try and always add some sort of value to the people who are going to be consuming that by following them or otherwise engaging with that content.
Noah says, "When I teach people and really try and empower the rest of the organization to do it, my focus is on showing their expertise and really trying to teach people, both in terms of the network that they build-up, but also the content that they share, that this is their opportunity not just to share a piece of content or to amplify it, but really to show their expertise and figure out what is the arena."
Noah Cole Director Of Global Communications, Siemens Digital Industries Software
Casey Hall says that "there a lot of regulated companies who have always had a policy regarding zero social media interaction. Sometimes having an employee advocacy program in place allows for it to be done in the proper way, make sure that everything is recorded and reviewed. It's actually a smaller risk than just telling everybody "no," but knowing that there's going to be maybe 5% of people who are going to go out and do it on their own without any guidance."
Casey Hall President and Founder, Lumberjack Social Industries Software
Get Buy-in for Employee Advocacy
Find people, whether they're socially active or they're very visible in the company, who will lead by example, who will be active and show the rest of the organization why it's valuable.
Educate employees on the importance of building up their personal brand for long-term career success or to engage potential customers.
Start a Grassroots Employee Advocacy Program
Employee advocacy programs that start at the grassroots level often begins with a simple consensus from a group of employees.
Whether it's from Marketing or Sales, the groundswell starts with a conversation about the opportunity to engage with potential customers on social media.
Although they may not have an idea what the rules are or what we're supposed to do, this is a great starting point for employee advocacy.
A grassroots level program is a valuable experience that gives you a strong sense of what you need in technology and all the value that a tool can provide.
Final Thoughts
Crawl, Walk and then Run
Getting started with social media doesn't require a "sprint" mindset. Instead, start slow with select social networks. Not every social network will be relevant for your executives so select specific channels that are ideal for the executive's tone and content, and for the organization.
Eventually your executive can build-up their activity and get more involved on social media.
Address the 'Whats in it for Me?' Factor
Frame an employee advocacy program, or even, to some degree, an executive program, as something that is going to help that individual employer or executive—if it's an executive, it's building a personal brand, connecting with other executives.
For employees, that professional development, putting that in front, before the idea of how many more clicks we're going to get to our website, is going to lead to a more successful program.
Don't Be Afraid to Start
You can start small.
There are tools available and they're relatively easy for you and for your executives. Pick a channel and make an achievable goal. If you haven't been asked by your CEO to do this, and your CEO is not online already, you will win some points by being proactive about it.
Or get the ball started, so that when they come to you and ask you, you've already started to make it happen. But it really doesn't have to be hard. It doesn't have to be intimidating for you or for them, so I would really encourage everyone to spend some time and kick this off.