Communication. Trust. Growth.
Over the years, we've seen countless organizations jump aboard the social media bandwagon, and we've seen leaders take the leap without even knowing what they were getting into. There was simply a widespread sense that social media was growing and nobody could afford to get left behind.
That trajectory continued to the point where now nearly every organization has a social media presence.
It has been a meaningful journey. Now we're entering the next phase – the era of the "Social Customer."
The Next Phase of Social Media
In today's marketplace, having a social media presence is one thing, but staying competitive means harnessing all of your assets on a strategy that's a cut above.
By now, successful organizations know that their brand credibility and strength is all about relationships. And relationships are built with people, not with organizations. To be ahead of the curve, organizations need to build relationships with your greatest asset – your people – and have them emerge as spokespeople for your company.
It can't be achieved by speaking with a single corporate voice. Your employees represent an authentic voice that cuts through the noise and establishes credibility and trust with your audience.
The 1-9-90 formula
The 1-9-90 formula helps us understand the factors that drive the way content is created, shared and read. You should read "1-9-90" as:
"1" is the percentage of individuals who create social content.
"9" is the percentage of individuals who share social content.
"90" is the percentage of individuals who only view the social content.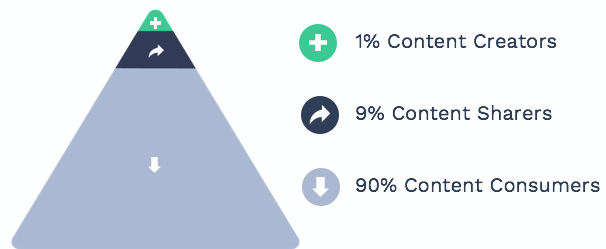 There's a strong potential for influence: 10 percent of social media users – the 1 percent creators plus the 9 percent sharers – can quickly get your content in front of the other 90 percent.
It's a winning strategy: companies with an Employee Advocacy program immediately see the exponential scope that comes with employee engagement. It surpasses corporate reach swiftly.
People Trust People 
The 1-9-90 formula is built on bonds of trust. People trust people. Within social networks, they absolutely trust communications from the people they know. Such a connecting bond of trust that exists between the 1 percent and the 9 percent is the key to getting your content shared with a broader, more engaged audience. It expands your reach beyond what any corporate voice can achieve.
Looking across the landscape, we can see the emergence of "social customers" or "social buyers."
Today, 57 percent of the purchase journey occurs even before the customer expresses their desire to buy, and more than 80 percent of individuals are likely to buy based on colleague recommendations.
It is critical to reach these social customers early through a trusted network.
Embracing the Social Customer
The era of the Social Customer is the new reality for growing enterprises.
In the future, high-performing organizations must strive to increase their social media reach through a focused strategy, which can be built on a few key pillars:
Developing Employee Advocates focused on creating authentic content
Investing in your 1 percent – the content creators – empowering them to champion your company's content
Expanding the reach – exponentially – by building greater trust relationships among your 10 percent champions, your 1 percent creators, and the 9 percent sharers
Leveraging a platform that provides a centralized content library, seamless workflow, and powerful analytics.
How is your organization empowering employees to move from content consumers to sharers, or even creators? How is your brand building trust and authenticity? Let me know in the comments, or connect with me on LinkedIn.