Employee advocacy is continually gaining traction as part of most marketers' social media strategy. Collectively, your employees have a greater number of connections and organic reach than company-branded social accounts. Also, according to the Edelman Trust Barometer, the content they share will have, on average, 8x more engagement than if it was shared through branded channels.
By harnessing the collective power of your employees, you can increase the reach and engagement of branded content and generate better quality leads. Although the benefits of employee advocacy are widely known, one concern many marketers face is around attribution. PostBeyond customers often have questions on how to actually attribute employee advocacy to marketing KPIs and sales funnel metrics.
This blog provides a step-by-step guide to setting up your tech stack to track attribution for your employee advocacy program.
Pick the Right Technology Stack
First, you need branded posts that redirect back to content on your website.
Second, you need an employee advocacy platform that allows you to track and attribute traffic from these posts to your employee advocacy program.
UTM codes are customizable pieces of information that allow analytics software, such as Google Analytics, to track website traffic sources. In the example below, the UTM code specifies the website traffic source was from an email sent by the marketing department for the campaign called 'webinar2018Apr26.'

For PostBeyond, every piece of shared content is automatically tagged with the following UTM codes, with a choice of Version 1 or Version 2.

Using these UTM codes, Google Analytics will allow you to attribute any website traffic that was derived from your employee advocacy program.
Lastly, you will need a Marketing Automation Platform (MAP) like Pardot, Marketo or HubSpot to capture website conversions and a Customer Relationship Management (CRM) tool such as Salesforce to track sales activity.
Use Case #1: Content Engagement and Brand Awareness Attribution
To understand how employee advocacy contributes to overall content engagement and brand awareness, you need to set up an employee advocacy segment in Google Analytics. PostBeyond automatically tags all content with the utm_Campaign as 'PostBeyond.' All traffic derived by PostBeyond can be easily separated out by creating a segment.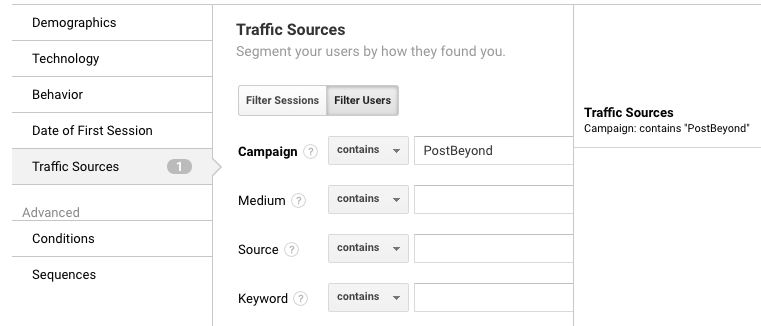 Next, create a customized dashboard to display the content marketing metrics you want to measure, such as the number of Blog visits, most popular content pieces, source/medium of all traffic that visited the content pages, etc.
On the Google Analytics dashboard choose the newly created PostBeyond Campaign segment to only show traffic exclusively derived from your employee advocacy program. Once set up, this dashboard will easily measure the amount of traffic and engagement your employee advocacy program is contributing to your overall marketing metrics.
Furthermore, you can see which pieces of content performs well and which social network are most effective.
Use Case #2: Lead Generation or Talent Acquisition Attribution
The essential step to tracking lead generation or talent acquisition derived from employee advocacy is to correctly set up goals in Google Analytics.
Webinar registrations, eBook downloads, demo requests are common examples of lead generation. For talent acquisition, the goal is often a completed submission form on a job application page. To set up these goals in Google Analytics, there should be a Thank You page for each successful conversion. The Thank You page's URL becomes the destination. We also suggest you enter additional goals that assisted in conversions, such as video views, or visits to a product page.

Once all the goals are set up correctly, you can then track the effectiveness of your employee advocacy program for lead generation or talent acquisition by clicking on campaigns under the Acquisition tab and then selecting all campaigns.
With PostBeyond as your employee advocacy platform, all traffic derived from your employee advocacy program will be grouped under PostBeyond. The image below showcases how you can easily compare the effectiveness of your employee advocacy program to other campaigns – such as Google Adwords – using the Goal Conversion Rate and the number of Goal Completion.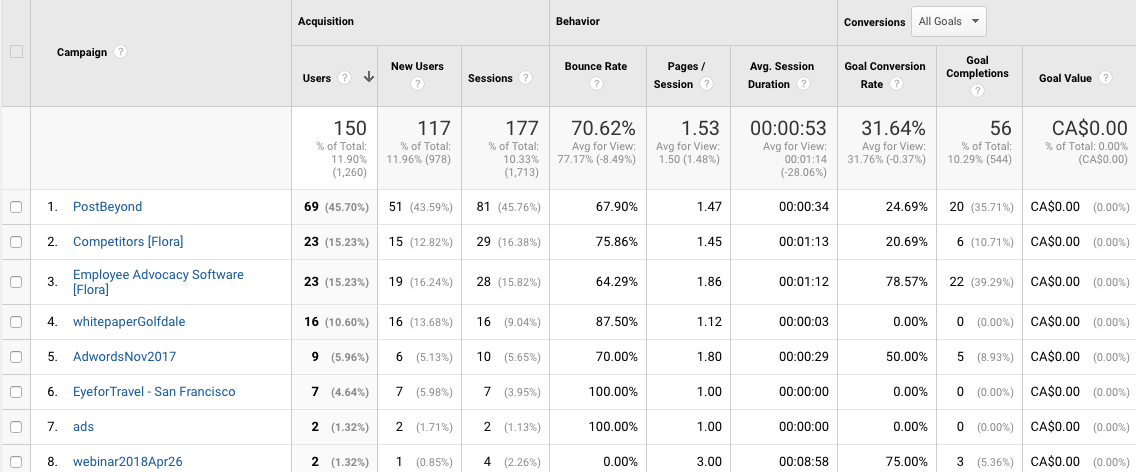 In the same view, you can also segment out website traffic to only the traffic sourced from your employee advocacy program by using the 'keyword' as your primary dimension. From there, you can also go deeper and even determine which employee drove the most traffic and/or conversions as every PostBeyond user will be given a number ID.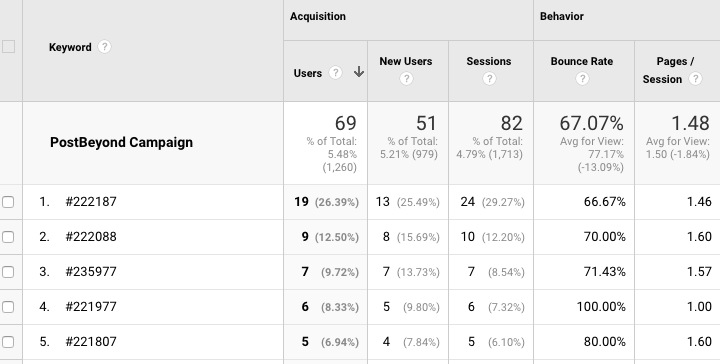 You can also measure the effectiveness of an employee advocacy program by going to the goals overview section under the Conversions tab. Choose both 'all users' and the 'employee advocacy segment' to provide a comparative view of your employee advocacy program vs your overall marketing performance.
Most companies have a marketing automation platform to capture leads; at PostBeyond, we use Pardot. In Pardot, the UTM information from the link that drove the conversion is recorded. Because of this, you can then create a list in Pardot that will pull all prospects that converted from a PostBeyond shared post. Furthermore, you can also create another list with extra criteria such as prospects that are associated with an opportunity or a closed-won opportunity.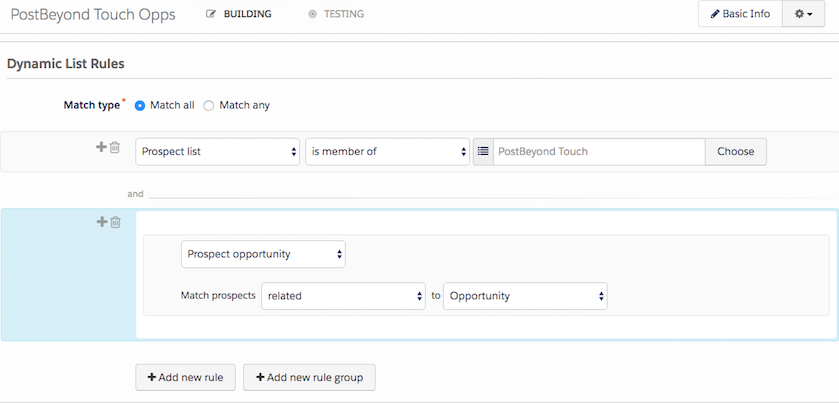 With these lists, you'll know all the prospects that converted through the PostBeyond employee advocacy program or any closed-won opportunities originated through employee advocacy.
Afterward, you can use an automation rule in Pardot to assign these prospects to a campaign in Salesforce called PostBeyond Touch. With this information and by using campaign influence reports, you will be able to track all opportunities that were influenced by employee advocacy.
To summarize, here are the essential technologies you'll need to properly set up and track employee advocacy attribution:
An employee advocacy platform that automatically tags all content using UTM codes
Content – on the company website – that is shared through the employee advocacy program
Google Analytics with segments and goals set up correctly
A Marketing Automation Platform that can create lists based on UTM codes and setup campaigns in Salesforce
Learn more about employee advocacy and the PostBeyond platform.