As of January 2018, 70% of the US population with internet access also has an active social media account. Social media has proliferated our world, but its value still varies dramatically based on which generation you ask. The time period in which you were first exposed to social media greatly colors your perception and adoption.
Baby Boomers and Gen X (those born before the 1980s) did not have access to social media until they were already entrenched in the workforce. While social media adoption rates are growing within these generations, there is a still a reluctance to fully embrace social as a way to connect and network both personally and professionally.
Millennials (anyone born after 1980) are digital natives, having access to social media while still in school. They are the first cohort to adopt and experiment with new social platforms. Social media flows through every facet of both their personal and professional lives.
Key Generational Differences
Here is an infographic (by Nextopia) depicting the main generational differences and online habits between Baby Boomers and Millennials.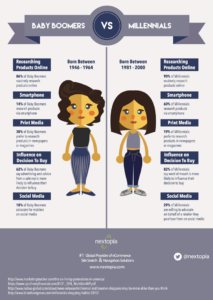 Only 21% of Baby Boomers have an Instagram account vs 40% of Millennials. While there is greater all-around adoption on Facebook, with 75% of Baby Boomers now having an active account, only 20% of those Baby Boomers are willing to share content related to their profession or employer. There is still a generational divide on what content is being shared on social in regards to personal and professional.
The idea of employee advocacy has been around for decades, but the idea of social advocacy is more recent. Social advocacy uses an Employee's social media as a channel to promote company branded messages allowing the employee to be a brand advocate. With over 211 million Americans currently active on social, it has become a key medium to attract, engage and retain customers.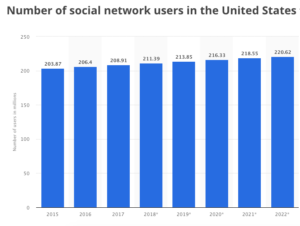 Employee advocacy takes social media marketing one step further. On average, a branded message will have 8x more engagement when shared from an employee's social account vs a branded channel. It will also garner automatic trust and credibility as 70% will implicitly trust the social media messages coming from their friends and family.
Employee Advocacy for Millennials
With Millennials, there is less friction to the idea of employee advocacy. As digital natives, millennials feel comfortable on social and are more willing to share company messages and jump into social conversations. They engage with both their network and customers in an authentic way. However, they do not have the same career tenure as previous generations nor are they used to carefully moderating their social posts. While social media platforms come naturally to millennials, social media for business does not. With millennials, it is important to adopt a social media policy and train this generation on best practices in regards to sharing, privacy and brand voice.
Employee Advocacy for Digital Laggards
Both Baby Boomers and Gen X did not grow up with social. There are still many that do not have social media profiles or are not very active. For the ones that do use social media, there is often a phobia of social for business. There is more resistance to mixing their social media profiles with their business persona as many still regard these in two separate silos. Unlike Millennials, these generations are tenured in their career; they already know how to network professionally and build brand influence, but they are not avid users of social media. Both Gen X and Baby Boomers need social media training to build their comfort level and skill sets on each of the different platforms.
Two Sides of the Same Coin
Employee advocacy has proven results, but in order for it to be successful there needs to be Baby Boomer adoption and Millennial brand compliance. Adopting an employee advocacy platform addresses both issues simultaneously. It will simplify the process and make social advocacy more accessible for every generation. It takes the guesswork out of what content and messages should be posted, simplifies the sharing process and mitigates potential breaches of information. Administrators have the ability to choose content, create messaging and monitor engagement. With a platform like PostBeyond, users have one content library and easy one-click social sharing.
Help employees of every generation with our easy social media cheat sheet: