With 2020 right around the corner, you may be considering employee advocacy as an initiative in the new year.
We like the way you think! But marketers need to know both how to start employee advocacy and why they're doing it in the first place before dabbling in new programs. A premature launch for employee advocacy means wasted resources, budget and time.
There's a lot to gain from a successfully implemented program. Take a look at these numbers from the 2019 Edelman Trust Barometer that speak to the true value of employee advocacy:
47% of respondents see CEOs as credible, 53% see regular employees as credible, and 65% see a company technical expert as credible.
78% say how a company treats its employees is one of the best indicators of its level of trustworthiness
67% agree that a good reputation may get me to try a product, but unless I come to trust the company behind the product, I will soon stop buying it.
But many companies aren't taking advantage: less than a third have an employee advocacy program, and only around 20% of those with a program have had it in place for at least a year.
Worse yet, the strategy isn't fully implemented — just 35% of SocialMediaToday respondents said their employees are adequately educated on how to find and share content.
Recognizing the benefit of employee advocacy is one thing. Understanding how to start employee advocacy programs is another.
"Employee advocacy can be everything from sending internal company e-newsletters, with social share links, to a full formalized program with goals, metrics, and specified software. As with most marketing campaigns, the more effort, and strategy that goes into a program the better the results."
Why not be sure you're ready for employee advocacy from the start?
Is your organization ready for employee advocacy?
Everyone knows planning comes before execution. But what comes before planning?
At the very least, have a conversation internally about what you need to move forward. Consider these 5 key signs before diving into employee advocacy head first.
1. You have trust with your employees
The Edelman Trust Barometer shows that employees are twice as likely to engage in advocacy if they trust their employer. 78% of employees that trust their employer engage in employee advocacy; 39% of those that do not trust their employer engage. You are twice as likely to see adoption if you build a foundation of trust first.
2. You have a foundation in social media marketing
It's difficult to start employee advocacy completely from scratch if you don't have a social media presence to begin with. Employee advocacy can go much further when it is designed to amplify a brand's voice, not serve as its only voice. If you're a B2B organization, are you prioritizing LinkedIn or Twitter posts, shares and engagement? If you're a consumer brand, how are you utilizing Twitter, Facebook, or Instagram to reach your intended audience?
There is a large amount of data that can come from the result of any marketing initiative and employee advocacy is no different. Measurement is an important aspect of an employee advocacy program. The phrase, "if you can't measure it you can't improve it." That said, choosing the right metrics to help you understand your performance will help you modify and optimize over time.
We have a few questions to move you forward on this front:
Do you have the tools in place for your baseline?
Do you know your engagement on social media?
Do you know how much website traffic your social media presence drives?
How does website traffic translate into revenue?
4. You have the content to support the strategy
Employee advocacy thrives with compelling content, and most employees aren't natural wordsmiths. Take your time developing content that your team will want to share and engage with, let alone your audience. Shareable and insightful content can be the most powerful component you give your employees to become advocates on social media. You also recognize the importance of third-party content such as known industry publications and the importance of perspectives outside of your organization.
5. You understand the metrics tied to ROI
You can answer 'why', in other words. Adoption rate is a determining factor for success in employee advocacy, however, there are an array of metrics to measure as well. For some, the share rate, meaning the percentage of employees sharing content is also a metric to watch out for. Of course, these two are both leading indicators oriented towards success and can be influenced.
While metrics such as website traffic, total interactions and engagement are lagging indicators and are output-oriented. Similarly, earned media value (EMV) can quantify the brand engagement and recognition earned on social media without spending on paid advertising.
Check out our post on the metrics essential to employee advocacy for more detailed guidance.
You're not the only one doing this — why not learn by example?
These are a handful of model employee advocacy examples we can all learn from.
Cisco, a technology company focused on B2B Information Technology. With a B2B audience, the brand amplifies its thought leadership with social posts from both employees and executive leadership. Cisco also has a separate Twitter account, WeAreCisco, focused on sharing employee stories and perspectives.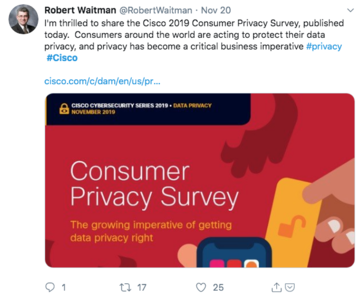 On the other end of the spectrum is Target, the company leans hard on the idea that the retailer represents home, routine and family to many people. The brand is very active on Twitter, replying to mentions and focusing a good amount of its tweets on its employees and community. Target is also clearly doing something right with employee advocacy, as this tweet from one sales rep highlights.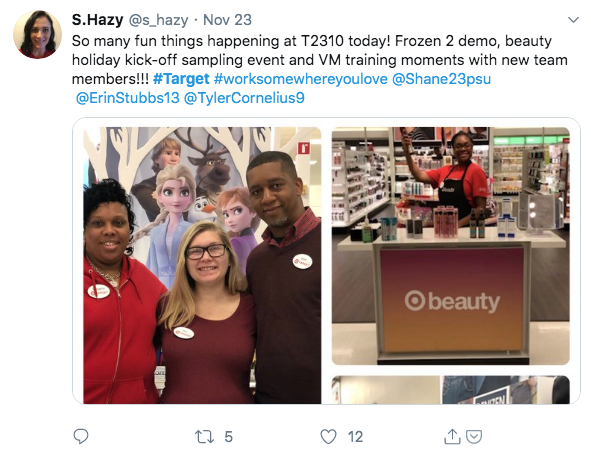 Finally, the global coffee brand that everyone recognizes, Starbucks. The Starbucks Partners Twitter account has over 50,000 followers. The corporate account covers all things Starbucks news and promotions, but the partners account focuses on community, posting playful surveys and feel-good stories.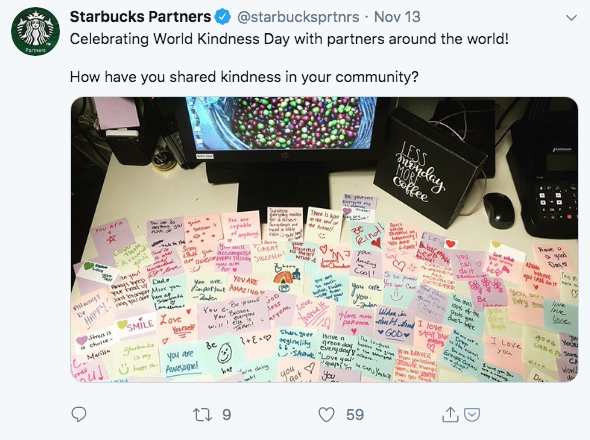 Feeling inspired? Do you meet the five critical signs that your organization is ready for employee advocacy?
It's time to get started
Like any project, a successful employee advocacy program can't be launched overnight. Companies will have large ambitions for employee advocacy, however, we recommend you start crawling before sprinting.
Consider taking a handful of action steps in the planning stage.
Identify best practices. Employee advocacy shouldn't be a stab in the dark. While you're at it, be sure you avoid common employee advocacy mistakes.
Consider starting with sales. Take a look at your sales team as you plan out your employee advocacy program. This can enhance any social selling initiatives that are active within your sales team. Planning the best time is key. Launching a program during a sales kickoff can give an initial boost to your adoption. A sales kickoff can also add buzz and excitement for sales reps with new technology.
Define your goals and KPIs. Before you publish a single post, you should have a clear plan for how you will measure success. Adoption rate, for example, will give you a good picture of how successful the employee advocacy program is internally.
Get buy-in. Employee advocacy is the exact opposite of a one-woman show. Start by getting buy-in from your executive leadership team (executive-led programs are almost always better), and align with your employees as well. Employee advocacy programs can stall or hit a roadblock without the necessary support from executives. Social executive leaders can position themselves as thought leaders which can positively impact the company.
Develop a content plan. A great employee advocacy program rests on great content. Tweak your content calendar and topic ideation with employee advocacy in mind. What will your team want to share?
With the buzz surrounding user-generated content, employee advocacy can thrive off of employee-generated content (EGC). Provide employees with the ability to recommend relevant content. This encourages employees to be more active in participating in an advocacy program. And for the program admin, EGC can lighten the time spent sourcing new content. Employees know best what type of content they will engage with.
Decide on a launch plan. Start with a pilot program or scaling across the organization? Align with a company event, sales kick-off or rebranding efforts? They're all viable options, you just need to decide what's the best structure and timing for your employee advocacy program.
Ready to get started? Or not sure where to begin? We have you covered with our guide, 11 Steps to Enterprise Social Media Advocacy. This guide will help you design, plan, and implement an employee social media advocacy strategy for your enterprise.