Managing an enterprise employee advocacy program requires important capabilities, especially for large and complex organizations.
Program admins who have the goal of scaling across multiple geographies and business units require three ingredients – scalability, measurability, and flexibility.
Often times, program admins work with a handful of content creators who actively manage employees and social posts. However, they need easier and simpler ways to manage large groups of different users in subsets of the overall program. This is especially the case with programs that span across a complex organizational structure.
Scaling an employee advocacy program becomes a challenge when there are hundreds to thousands of employees across multiple regions and business units. Each region has its respective differences in content, measurement and business units. A one-size-fits-all approach to employee advocacy limits scalability. It also limits the ability for employees to access the most relevant content for them.
In this article, we explore the common challenges with enterprise employee advocacy programs. We then explore how to design an employee advocacy program and several key considerations for program admins to scale.
Design an employee advocacy program for different geographies and business units
The foundation of an enterprise employee advocacy program design is one that allows you to succinctly define the structure for your program. This includes both employee groups, measurement and content topics.
For example, a program can be set up with different groups for the Americas, EMEA, and APAC. Program admin, content creators, and employees can be assigned to each of those groups. For the program admin assigned to the Americas group, their scope of control will be the social posts and employees associated with the Americas group and any groups beneath the Americas group.
Group Hierarchy
An often-overlooked element for an enterprise employee advocacy program is the ability to have hierarchical groups. If you have one group that is directly above another group in the hierarchy then the first group is referred to as the master group and the second group is referred to as the parent group. If you have two groups that have the same parent then those two groups are referred to as sibling groups.
For example, a master group would be the total enterprise user base of your employee advocacy program. While different geographies such as the Americas, EMEA, APAC would be parent groups. To dig a layer deeper, a subset of employees or sibling groups would be departments or business units. As an example, Business Development, Channel Partners, Sales or Marketing.
Hierarchical groups allow employee advocacy programs the scalability to reflect their overall organizational structure. The group taxonomy then impacts how employees, content, leaderboards, email updates, and analytics.
Importantly as you scale, different program admins and content creators can now be assigned to manage multiple groups, delegate content creation, and report on data that's under their scope.
Below is an example of a group hierarchy: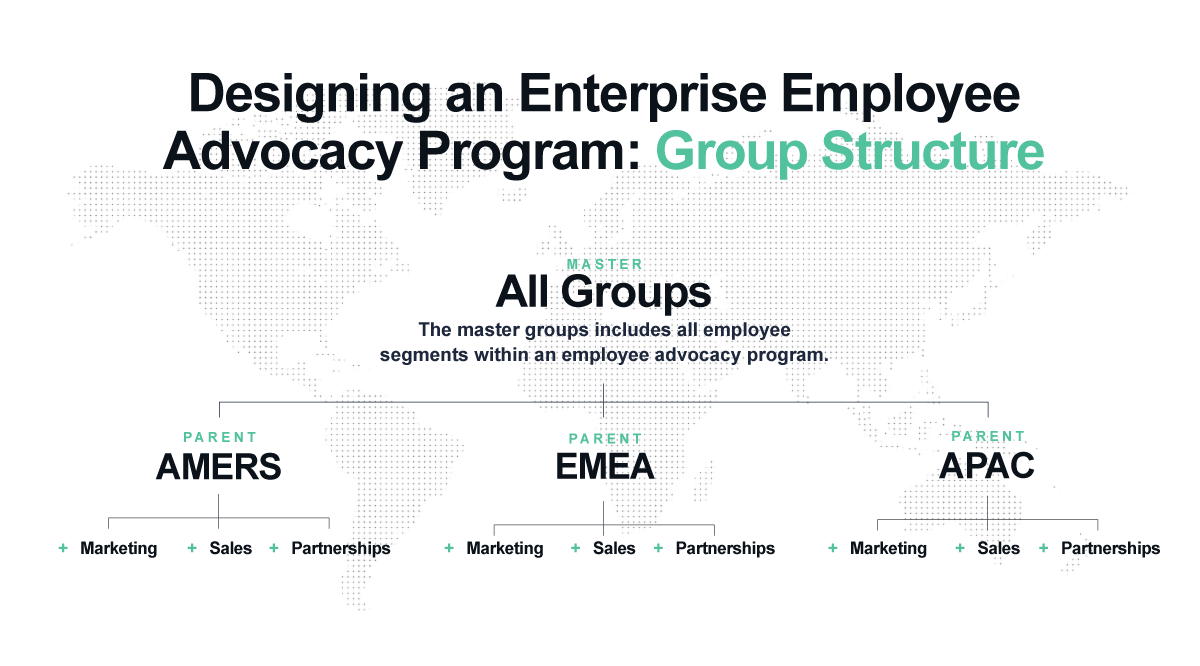 Content Topics
Employee groups aligned with the right content topics can provide flexibility in showing the most relevant content to the intended employee groups. Content topics are defined at the highest level of the group hierarchy and do not vary by employee group.
Reporting and Analytics
Detailed reporting and analytics should follow suit – especially with the ability to segment data. Robust analytics should allow program admins and content creators to segment the data by groups followed by employees.
Program admins should be able to choose to see all data in their scope of the program. Also, they should see data for a single group, or data from multiple groups. The groups available for selection are restricted to the groups within their scope of control.
This measurement should apply to reporting:
Social Post Analytics: When you can see posts shared by one or multiple groups then reporting should update to show only data respective of the selected groups(s).
Content Analytics: When you can see a report on content analytics, reporting should only show data on the content within the selected group(s).
User Analytics: When you can see a report on how individual employees are performing, reporting should only show data on specific users in the selected group(s).
Some of the key reports in your platform should allow a Program Admins and Content Creator to segment reporting to show just a subset of the overall program.
Personalized content experience for every single employee
A one-size-fits-all content experience can overwhelm employees with a vast amount of content and an inability for them to discover content that is truly personalized to them. By relieving employees of this disjointed experience, employees can find content that is catered to them and deepen social media engagement.
With the flexibility to segment employees into different groups, everyone should have their own personalized content feed.
In a world so focused on personalization, employees should be able to customize their content viewing experience. They should have access to content and specific topics that are relevant to their individual needs. All of which enable employees to be advocates in a simpler yet more effective manner.
Enterprise employee advocacy shouldn't be complex
Program admins shouldn't compromise the success of their employee advocacy program because of insufficient ways to scale. Large organizations deserve an enterprise program that's designed with employees in mind. Solutions that combine flexibility and ease-of-use will make it easier to drive success and measure results.
There's a balance between power and ease-of-use that's needed for program admins. And solutions needs to steadily grow to meet the demands of scaling employee advocacy programs. Scalability, flexibility, and measurability are fundamental to the next level for employee advocacy.