Think of all of the ads you see on social media when scrolling through your feed. Sometimes they're relevant, sometimes they aren't (lookin' at you, ads I keep seeing for out-of-my-price-range mattresses.)
We've all been there. But how different is it when you see a connection share a genuine suggestion for a product or service? You're way more likely to trust that recommendation. 83% more than you trust an advertisement, in fact.
Typically, when a connection shares a piece of content, they're communicating with a trusted voice – someone who is coming from a real experience, and who wants to share that experience with their network.
And when you as a customer want opinions on products or services, where do you go? If you call up different salespeople to learn more about their product offerings, well, you're pretty rare. A salesperson's dream…but rare.
It's widely known that social media has fundamentally changed how brands reach customers (and vice versa.) Social has allowed consumers to take a self-directed journey that's tailored to their needs as a customer, which means the most efficient way for you to reach them is by offering information on social when and where they're looking for it.
Social selling is an intelligent way to reach customers throughout the buyer journey. Not only will you add a human touch to the experience, you'll be more effective at reaching customers with the right message at the right time.
But social selling isn't just limited to salespeople. Your employees (especially frontline staff) play a key role in how the brand is perceived online, so why not train them to engage with customers on social media too?
The Biggest Hurdles to Social Selling
Even though social media itself isn't that new anymore, there are tons of folks out there who are still using it like it's 2010. Social selling can be a game-changer for your organization, but that's not to say you won't face some pushback.
Social selling expert Robert Knop has identified 3 major obstacles that companies face when getting started. Here's what we suggest for each hurdle.
1. Traditional Thinking
"We don't need social media for sales," or "we're just in a bit of a lull – social media won't improve that" are perhaps the most common objections when it comes to social selling.  But your customer is already on social looking for products or services similar to yours on social – in fact, the average person spends 2 hours a day on social networks. 
Picking up calls from unknown phone numbers – heck, even clicking on display ads – is becoming less common for consumers. In fact, 40% of internet users are now using an Ad-blocker.
New customer habits call for new channels of engagement, so encourage your staff to meet future customers where they're actually hanging out: on social.
The biggest challenge I hear comes from legal and compliance. They'll say "we can't have our people using social for sales or recruiting. They might say something that puts the company at risk."

Well, they already are.

These folks already use social media, they're already talking about your company. Why not give them those guardrails to tell them what they can say, and empower them to speak on behalf of the organization.

– Robert Knop
2. Lack of Training
A lot of us know how to use social media for personal purposes, but social selling can be a completely different game. There are some people who assume that "social selling" means applying marketing principles (like unpersonalized blast emails) to social networks from a personal account.
Or alternatively, there are folks who don't want to embrace social media at all because they don't know how. The key here is training
It's up to you to provide the proper social media training for your staff and ensure that they know how to use channels effectively, how to engage customers, and what they can/can't say about your company.
3. Outdated Tools
Outdated tech is huge obstacle – especially for large, complex organizations. Even though these companies might understand the value of adopting a new approach, outdated systems prevent that from actually happening. There are still some financial services firms who operate on IE9!
And of course, there are reasons for this (like cost or security), but it still remains a challenge when trying to reach customers. If you're using outdated tech to reach the new customer, you're probably wasting effort somewhere along the line.
The advice here is to think like a startup: where are your customers now? Where will they be in a few years' time? Are the tools we're using intelligently getting the job done? If not, then it's time to consider what will help you reach customers online and give you the data to make informed decisions.
Get Started with Social Selling
If you want to know more about how you can get started with this at your organization, I recommend checking out our webinar with social selling expert Robert Knop.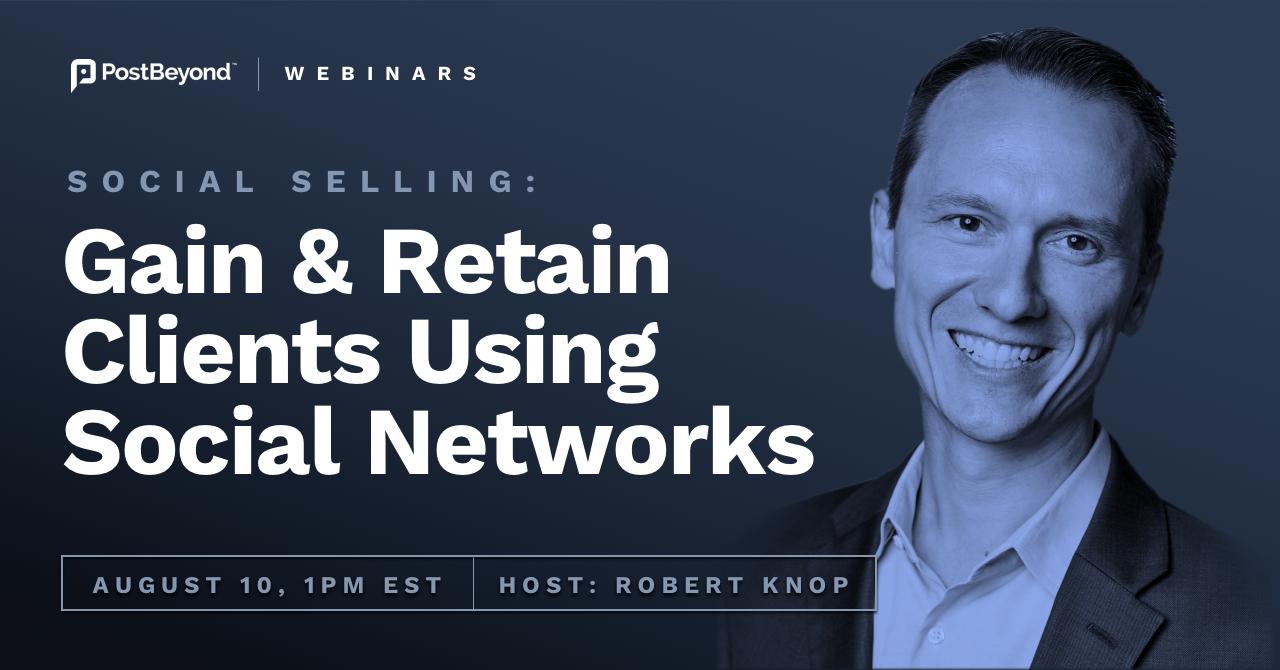 Robert is the Founder and CEO of Assist You Today, focusing on helping firms gain and retain clients using innovative strategies and tactics.
He has led marketing, sales and social media for B2B and B2C companies from both the corporate and agency sides. In his 20+ years of experience, he's had the privilege of working with a wide array of clients, ranging from Fortune 100 companies to fledgling startups.
Today, Robert is helping change the way the world sells using digital strategy, sales enablement, social media, and most importantly, by adding value to end-clients.
In this webinar, Robert shares…
Why traditional sales tactics are no longer effective
How to get started with social selling at your organization, and how you can break through the noise online
A live demonstration to optimize your profiles for social selling
Check out the webinar here.
Questions about social selling? Connect with Robert on LinkedIn, or leave your thoughts with us in the comments!