In the busy workplace of today, there are a number of priorities competing for the attention of your employees – project deadlines, updated policies, reviews, new tools, and even putting out the occasional fire.
The list can go on forever.
It's no surprise that even the most motivated and engaged employees can lose sight of important initiatives. We see it in the employee advocacy programs as well. When we are launching a program for the first time, users are excited about this brand new platform and log in to check it out. They may or may not share some content out, and then they slowly drop off in usage. It's especially frustrating when you see power users emerge in the first month and then lose steam because they haven't built strong enough habits and competing priorities take over.
This is why using different strategies to engage or re-engage your employees is so important. Gamification can be one of the most powerful tools in your trusted gadget belt.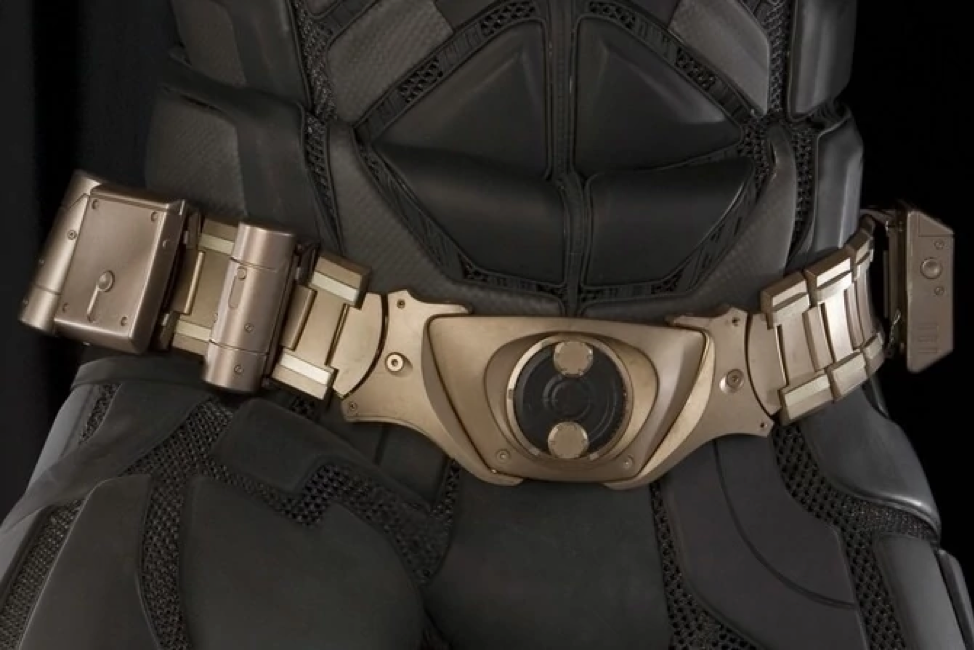 Large, mature organizations adopt gamification into their processes to incentivize their users and drive certain behaviors. You can see some examples below:
One reason this is important to you? Adoption. Of the programs that launched in 2018, PostBeyond has found that when users share within the first week of launch, users share [100% / 2x] more and [84% / 1.8x] more frequently than those that did not. This is even stronger for users that shared within the first month of launch – users share [259% / 3x] more and [131% / 2.3x] more frequently than those that did not. Leveraging gamification to drive this early habit and behavior can lead to payback in the form of adoption and users sharing for your employee advocacy program.
So whether you are launching, re-launching or trying to re-engage users in your PostBeyond program, gamification can be the trump card by sparking excitement amongst your users and spreading word of mouth about contests (and in turn, the program).
There are eight key stages for gamification and you can remember them with the acronym G.A.T.O.R.A.D.E. (because what's a competition without a healthy cooler full of Gatorade?). This stands for Goals, Awards, Timing, Offline & Online Promotion, Reveal, Advise & Advertise, Development & Training, Ending.
Goals
Goal setting is the first and most important step of the process. If you don't know where you're going or what you're trying to accomplish, gamification will not be successful. Think about when you're setting New Year's Resolutions, do you simply write that you want to be "healthier" or do you have more specific goals in mind? You usually set more actionable, achievable, and measurable goals; for example, you might set goals for going to the gym three times a week, or cooking healthy lunches every week, or completing your first 10k (or 5-mile) run. In the same vein, we don't want to set our goal for gamification to be "improve the program" or "launch the program."
When goal setting, consider working with your Customer Success Manager (CSM) because they've completed a number of competitions and contests in the past and have experience with what works and what doesn't. The key objective for this stage is to identify what your goals and metrics are; if you don't tie incentives to behaviors that drive you towards achieving your goals, you won't see the results you're hoping for.
Do you want to reward the hardest workers? Reward the top three users on the Leaderboard. Do you want to encourage middling users to improve and use the platform more? Maybe try rewarding the most improved. Do you want to drive new users onto the platform and increase adoption? Reward each new user sharing content in the period. Then consider if this is scalable or if you need to have just one grand prize that only new users can be entered in to win. The key to remember here is what are the behaviors you are trying to drive and how to attain this while remaining in budget?
This stage is also important in laying down the rules and regulations of the contest. If you have a reward that is geared towards the most shares, there may be users that share every post available on all their channels – while this may seem like a good thing at first, it can be more harmful than helpful when your employees look like advertising boards rather than genuine advocates. It will be important to determine the cutoff points for prizes and rewards before you announce the contest.
If the behaviors you want to reward are tied to actions in the platform, use the Leaderboard to your advantage. Adjust the Leaderboard weights to highlight and reward a particular behavior. For example, if you wanted to reward users that suggest the most content, change the weighting of Suggestions to be higher than the other categories on your Leaderboard. Research supports the impact of levels, points, leaderboards, streaking and visual storytelling to improve participation in crowdsourced assessments. Results were significant with an increase of 347% of participants returning for recurrent participation.
Awards
Once you're clear on your program, prioritize it and determine the appropriate payouts. If you want to increase the number of new users sharing, you should allocate a larger part of your budget to award these users. For example, you can award all new users sharing a small amount of money (ex. $5 Starbucks gift card), or you can have a grand prize draw for all new users sharing (ex. $100 gift card).
No budget? Fret not! Here are some ideas for alternatives to cash prizes that we've seen perform smashingly well:
Extra vacation day
Working in the CEO's office for a day
Company swag (ex. shirts, hats, bottles, etc.)
Standing ovation
Relaxed dress code
A trophy or championship belt (PostBeyond has a monthly Employee Advocacy Champ)
Lunch with the CEO
Lottery tickets

Timing
The next stage is to determine the timing of this contest. Note: this is not only the time frame of the contest but also the frequency of awards. You want to make sure the behavior is causing a long-term change, so the timeframe is important in order to give you the best shot at changing user behavior and forming long-term habits.
As enticing as awards may be, it can be easy to lose sight of contests when the payouts are far in the future. It is important that the timing between awarding users is not too long (for adoption purposes) or too short (for budgetary purposes).
We recommend at least six weeks for any contest period and you should be awarding people on a bi-weekly or monthly basis.
If you want to reset the Leaderboard after each payout, you can ask your CSM or the PostBeyond Support Team to reset the Leaderboard for you. If you know the cadence that you'd like to have the Leaderboard reset, you can ask them to complete this on a regular basis.
Online & Offline Promotion
The next stage is to promote the contest. Kick things off at a company-wide meeting, through an email, and through offline promotion (ex. bulletin boards, lunch & learn). You need to get as many eyeballs and ears to see and hear your message so the key is to promote it as much as possible.
Think of this contest like The Avengers. Did Disney promote the movie a week before the launch? Did Disney promote the movie only through internet ads? No, they promoted it well in advance in as many places as possible to get as much excitement and traction for the movie as possible. You want to do the same with your contest if you want the contest to have as big of an impact as possible!
Reveal
Once your setup has been completed, it's finally time to reveal the contest! Try to launch in a public forum that will get the most amount of ears and eyeballs. An effective way to launch the contest is to host a Lunch & Learn where the team talks about the importance of employee advocacy, walks through a brief refresher or training on how to use the platform, and announces the launch of the contest. If you need building this framework or these assets, you can lean on your CSM to guide you or help you to create the different items.
Once you've launched the contest, it is imperative that you follow up with employees. For those that attended, it serves as a reminder, and for those that were unable to attend, they still have the resources required to participate. Inclusion is key! Not only is this important for accessibility but with more participants, there is also more competition and more word-of-mouth promoting your contest and the program.
The follow-up should include a brief summary on the importance of employee advocacy, where employees can find training resources, the main bullet points of the contest (timeframe, rules, prizes) and/or a link to the contest details, and your team's information if they require more details.
Pro Tip: Create a post in your content library that is enabled for Reader with the information on the contest, training resources, and the team administering the platform.
Advise & Advertise
During the contest, it is important to be constantly communicating with your users. Update them on the progress of the contest and be prompt with announcing the winners. You can take advantage of our Email Updates to send out these update emails and attach content cards for users to share and increase their chances of winning.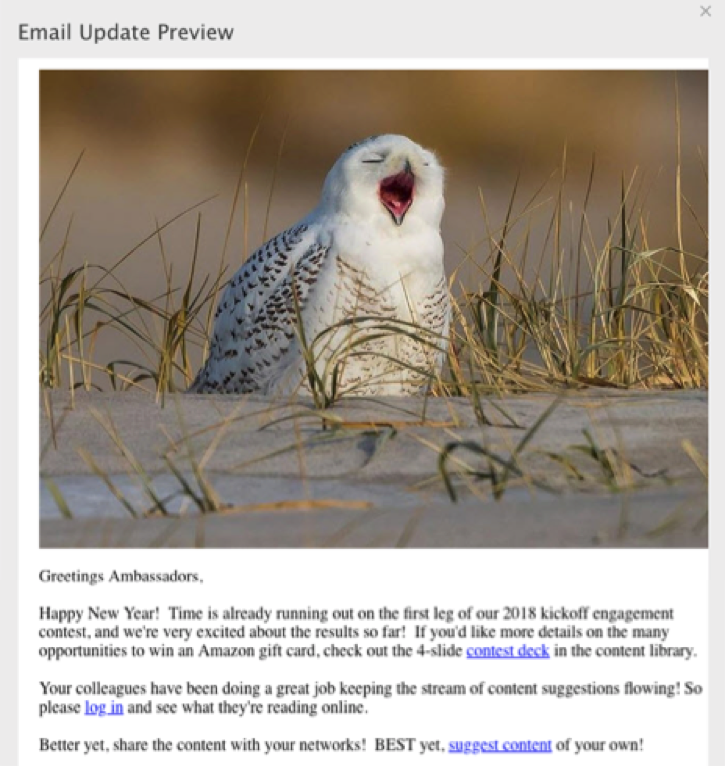 In these Email Updates, you can share tips on how to perform better in the contest and you can announce the winners! For some extra attention, you can give kudos to those users that are working the hardest (ex. the second most improved, users that have been steadily sharing) to share the love.
Development & Training
An important aspect of the contest is to provide training and resources to users where possible. It can be frustrating for employees to hear about the contest and not be able to participate because they don't know how to use the program or they don't know who to contact to get access.
You can work with your CSM to develop training assets (one-pagers, pamphlets, videos), host and conduct training or refresher sessions, and to have office hours for those interested in improving their social media profiles and participating in the contest. You can continue hosting these sessions and office hours on a regular basis throughout the duration of the contest.
Ending
The contest is over! Your goals have been met! Everything is wonderful!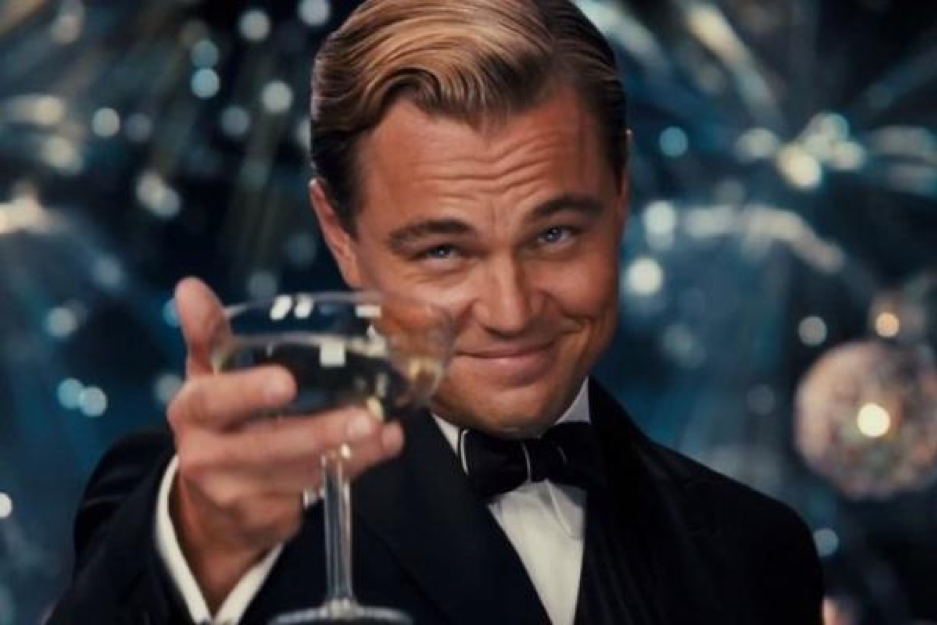 It's time to wrap up the contest by finalizing the final round of winners and/or the grand prize winners. What can be impactful for this final wrap-up is to present the metrics before and during the contest – talk about the traffic, leads, or engagement you saw from the platform from all of your employees banding together as advocates for your organization. If you saw an impact on other important metrics, this can also be used as data to ask for additional budget for additional or continued gamification. You can collect this information yourself, but you can always work with your CSM for additional support.
Once this contest period is over, it is important to keep the momentum going – continue sending communications to team members about new things to share, give kudos to team members that are performing well, and share success stories and insights with your advocates. This will continue to reinforce the habit of browsing the content library and sharing out content. Your CSM can help you monitor and measure the adoption and sharing from the program following the contest to analyze its stickiness and effectiveness.
Now that you have the GATORADE to fuel your contest, you're ready for gamification! Already a customer of ours? Reach out to your Customer Success Manager to get started. Looking for an employee advocacy platform? Request a demo or learn more about our Customer Success team here.