LinkedIn is one of the most misunderstood social media platforms. When LinkedIn first started, it might've seemed like the place to upload your resume and look for work. Now it's much more than that.
It's a platform to connect with other professionals, learn, and build your personal brand. If you're a leader of a company, it's likely the most effective place to encourage employees to share company news or branded content.
But to build your personal brand or to kickstart a solid employee advocacy plan, you have to understand LinkedIn etiquette.
Basic LinkedIn Profile Etiquette
1. Have a profile photo
This isn't surprising, but your profile picture is what makes you stand out and what makes you, you. Other LinkedIn users want to connect with real people—especially in the era of remote work. Afterall, B2B marketing and sales is personal, just as it is professional. Research from Merkle's new B2B report said that one of the "superpowers" of selling to B2B buyers was a brand's marketing ability to offer business and personal value to the buyer.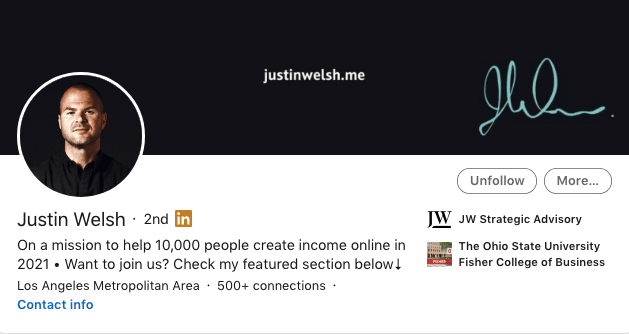 Here are some tips on making your profile professional and personal:
Dress your best: In the photo, wear what you'd like to wear to work. This is your first impression with your audience, so make it count. Stay away from wedding photos or any photo where you know you're cutting someone out.
Be friendly: A genuine smile makes your audience want to get to know you. You don't want to be perceived as someone who is hard to work with or who'd rather be on the beach. Save that for Instagram.
Distance: A good two to three feet back from your happy face should be perfect.
Also, don't forget your banner image. Your banner image can be a branded image provided by your employer or a self-designed one using tools like Canva, PicMonkey, or Adobe Spark. Not only should it be eye-catching and simple, but it should have your company's logo or essential information.
2. Spark interest with your headline
This may be harder than you'd think. The headline, or descriptor under your name, shouldn't just be your job title or company name. Think about what makes you different and how you serve your target audience.
Capture attention by getting straight to how you can benefit other professionals and how you can connect with them as a human. It can be something as simple as adding emojis to your headline or that you love avocados.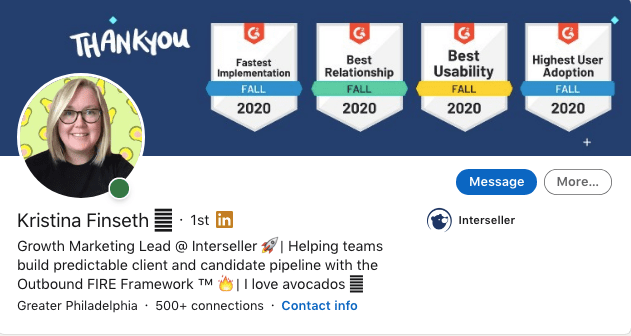 Yes, include your title and employer, but add a touch of personality.
3. Have a great profile summary
Your profile summary is one of the first things other users will read when they view your page.
Just like any great piece of content, it should be interesting, well written, and should capture what your brand is all about. If you're a sales rep, it should focus on what problems you can solve for your customers and what value you provide.
4. Add more than your job description
In the "About" section, it's essential to describe your role and capabilities, but beyond that, you'll want to add your personal story and details that make you unique. This is where you can tell how you ended up in your role, what you're passionate about (in and outside of the personal world), and how to contact you. Make sure to update it from time to time, adding specific goals or new ways you seek to serve clients.
5. List your recommendations and skills
When filling out your profile, you'll have the opportunity to list your experience and skills. Plus, you can ask others to endorse and recommend you.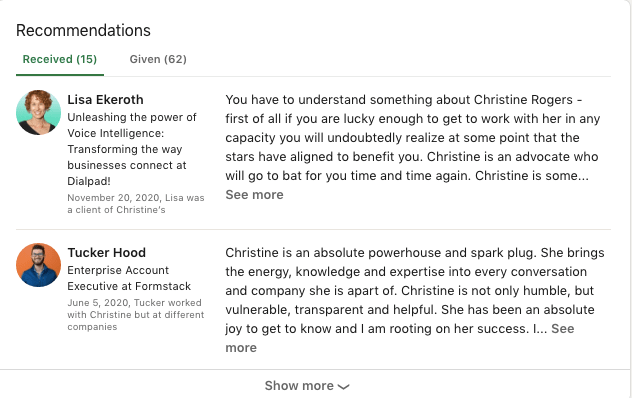 You can ask connections to recommend you by either going to their profile, clicking the "More" icon at the top of the page, and clicking "Request a Recommendation." Then, you fill out the box and add a personalized note.
Alternatively, you can send requests from your own profile page. Scroll down to the bottom of your page to the recommendations section and click "Ask to be Recommended."
Active LinkedIn Etiquette
6. Send personalized connection invitations (but not too many, too fast!)
When inviting people to connect with you, there are two approaches:
Send an invite with no message.
Send a connection invite with a personalized note.
People may accept your invite with no message, but they won't know anything about you or why you want to connect with them. Consider why you truly are connecting with them in the first place. Is it to build your connection count? What good does that do for you in the long run?
Remember, if you try to connect with too many people at one time, you'll be put in "LinkedIn Jail." This means that you'll not be allowed to send invites for a few days and your content visibility may be penalized.
Instead, consider the quality of connections over quantity.
Your request is much more likely to get accepted if you send a note on how you found the person, what you think you might have in common, why you want to connect, or if you found their content valuable.
A request with a note like, "Hi [Name], I found your post about social media trends really valuable. I would love to learn more and connect," will be received much better than a request with no context added.
7. Post high-value content regularly
LinkedIn is a great place to build your audience with organic content. When you post original content or share content you found valuable, you build authority and sparking conversation among your peers. Whether you have a blog, newsletter, or podcast (or not), you're creating awareness of yourself and your company.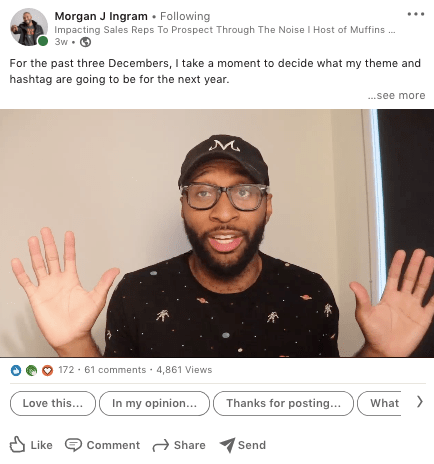 You don't have to come up with your own material every day, but if you borrow ideas or questions from someone else, it's proper LinkedIn etiquette to tag the person and/or share the original link in the comments. (The LinkedIn algorithm is set up to prioritize original posts and conversations, so don't just share the link as your post).
8. Engage with other people's content
On LinkedIn, you get what you give. Building relationships takes time and action. And this often happens by engaging with other people's posts. Suppose a prospect makes a post, like and leave a thoughtful comment. It's common LinkedIn etiquette for that person to reply to your comment (and, likewise, for you to reply to anybody who leaves a thoughtful comment on your posts).
By engaging with other leaders' content, you're building your relationships, which lead to opportunities, whether that be a collaboration, sales, or future jobs.
9. Consistently network and meet people on LinkedIn
Once you connect and engage with other people on LinkedIn, don't be afraid to send direct messages to your connections. Ask to set up a call, but be respectful of their time. Let them know why you want to connect.
Who knows? Some of the people you meet on LinkedIn can become connections in real life, podcast co-hosts, or co-founders.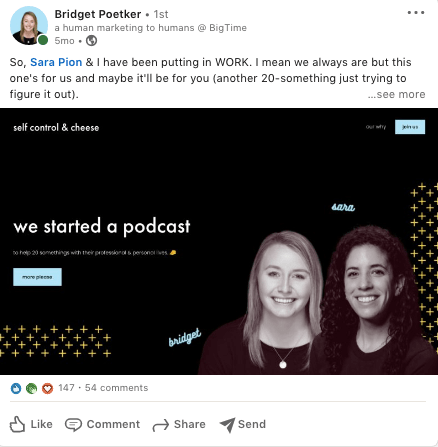 If you want to connect with people outside of your network, you can set up a LinkedIn Premium account. With this paid version, you can send InMail messages to anyone.
10. Don't spam your network
Nobody likes spam and the LinkedIn algorithm is good at identifying low-quality content. But if you think you can get your content out there using tricky tactics, don't.
LinkedIn prides itself on being the most trusted social media platform, according to Business Insider. Plus, LinkedIn users are intelligent, limited on time, and hyper-aware of spam. They can smell cryptocurrency pitches, franchiser messages, and pyramid schemes a mile away.
Stay Up-To-Date With LinkedIn
Just as other social media platforms and the use of them keeps evolving, so does LinkedIn. LinkedIn etiquette will change over time as trends come and go. It takes time to stay disciplined and truly learn what makes your activity successful.