Social media is constantly evolving—and it can be difficult for brands to keep up with the latest trends and practices.
You may have many questions:
Which platforms should I use in 2020?
What content should I create?
What are the best practices if I don't want to pay for ads?
There are countless ways to improve social media reach, and it can be done organically if you're willing to train your employees on the latest best practices. Here we share six essentials to expanding your social reach.
Why reaching your audience through social media matters
Your brand needs to be where your customers are at—and most customers are on social media. More than half of the world's population uses social media, and the average consumer uses almost nine different platforms.
Over the last several years, there has been a trend for social media platforms to encourage paid advertisements from brands to get views and engagement; however, there are plenty of ways to get in front of eyeballs organically. But you have to pay attention to the latest trends.
Right now, LinkedIn is having a major moment as professionals work from home, job seekers looking to expand their network, and many people are gaining new skills through its online courses. Slack is also being used, not quite as a social network, but as a place where micro-communities form. This is resulting in an emerging form of social media.
Reaching your audience through social media matters because people enjoy engaging with interesting and valuable content instead of interruptive ads. It's also more cost-effective for your company. And lastly, if you don't engage with your audience on social, your competitors will.
Here are some ways to boost your social media engagement.
6 ways to expand your social media reach
1. Curate engaging content and conversations
To start, you'll need content that is helpful and entertaining to your audience. You'll need to develop your brand's voice and ensure that your style is consistent across accounts.
Some brands use more conversational and snappy language, whereas others go for a more formal tone.
Your posts shouldn't always be about your company or brand. Traditional suggestions for posting content that isn't branded include the 4-1-1 rule or the 80/20 rule. Essentially, a portion of your content should consist of outside content or information that your audience finds valuable.
Sometimes the best content is a simple question or thread.

David Cancel, CEO of Drift, has almost 47,000 followers on LinkedIn and over 66,000 on Twitter. With a simple tweet like the one above, he received thousands of likes, retweets and responses.
Creating content is one thing—but creating conversations is what matters. It's the engagement that will get your posts momentum with platform algorithms, but more importantly, with your audience. The more your followers like and comment on your posts, the more attention your brand will receive.
Whether you share memes or original data, share something that will spark interesting responses.
2. Scale your content across multiple platforms
Each social media platform has its own way users interact with the content, brands and other users.
It depends entirely on your audience and the resources your team has to get the message out there. Organic content is "free" but takes a lot of writing, creativity, planning, organizing, and management to get it to a place where your audience is regularly engaging with it.
You can multiply your social media reach by using the same starting piece of content and sharing the content's thesis across platforms.
The more platforms you and your team are sharing content on, the more influence you will have.
Here is a quick snapshot of each of the platforms
Twitter: This platform is for microblogging and getting your point across quickly. Here, you'll find a mix of personal and professional.
LinkedIn: This platform is heavily used by executives, marketers and salespeople, especially in the B2B space.
Youtube: Youtube is the most visited website globally and is great for any company or influencer to post video content.
Facebook: Facebook groups can be a great place to build professional communities. However, this platform tends to be for personal connections. For brands to receive attention, it is best to place ads.
Instagram: Instagram is heavily image-based and a place where people can earn fame for their creative posts. Though it previously was used by B2C, B2B companies and sales influencers use the platform.
You shouldn't post the same statement across each platform. Your posts must be native to that platform. For example, rather than sharing a link to a blog post, it is more effective to publish articles natively on LinkedIn.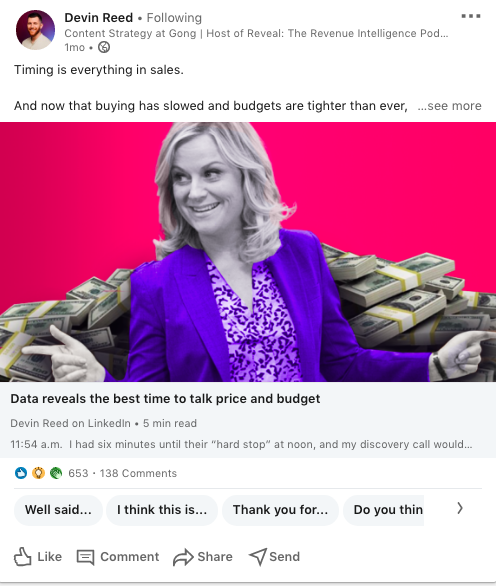 While you should change the details to fit the platform natively, there are ways to quickly repurpose your content.
3. Choose multiple content formats: especially video and audio
People watch over one billion hours of video on YouTube daily. It's an easy to consume format that draws viewers in and can be a big boost to your brand awareness.
Another popular format is a quick loop of audio over an image. Typically, this is a highlight from a webinar or podcast.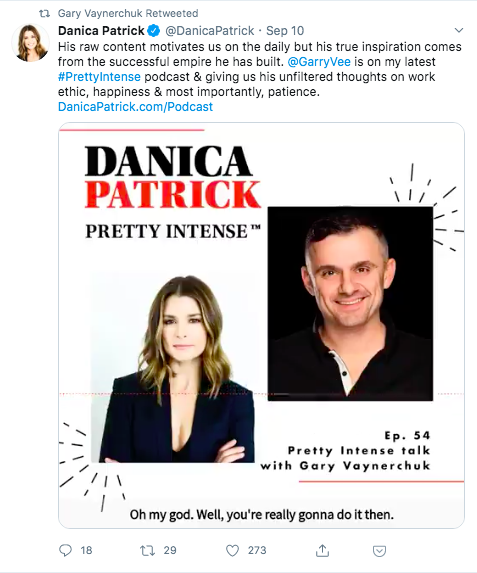 Video and audio can be some of the quickest content you produce. Recording a 10-minute video of yourself—depending on if you can forgo editing or not—takes about 10 minutes with your phone. Writing a blog post can take hours (if not days).
4. Build virtual friendships with executives and influencers in your field
It has become easier to connect with people in similar roles during the pandemic through social media and Slack communities.
When you become friends and collaborate with people in similar positions, you can learn from each other, share your brand and have fun. Your engagement on their posts will benefit both of you.
On LinkedIn, it's common for professionals to post insights they learned from others by tagging them. Engagement like this, plus comments, builds morale and drives more attention to you and your brand. This may lead to future guest posts, backlinks or sales.
A fun way to do this is to participate in challenges when you get the chance: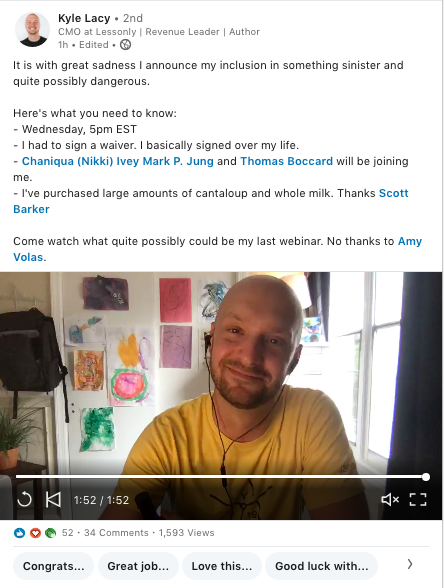 Dooly's Fire Talks for Sales are informal sales conversations while attempting to endure insanely hot salsa. More now than ever, people want to connect with other humans and make work fun. Participating in these events is a great way to show off what you know and that you're up for a dare.
5. Be consistent and post frequently
Alex Lieberman, CEO of Morning Brew, produces a short podcast called The Founder's Journal every day to reflect on his life as a founder. He also regularly goes on LinkedIn Live.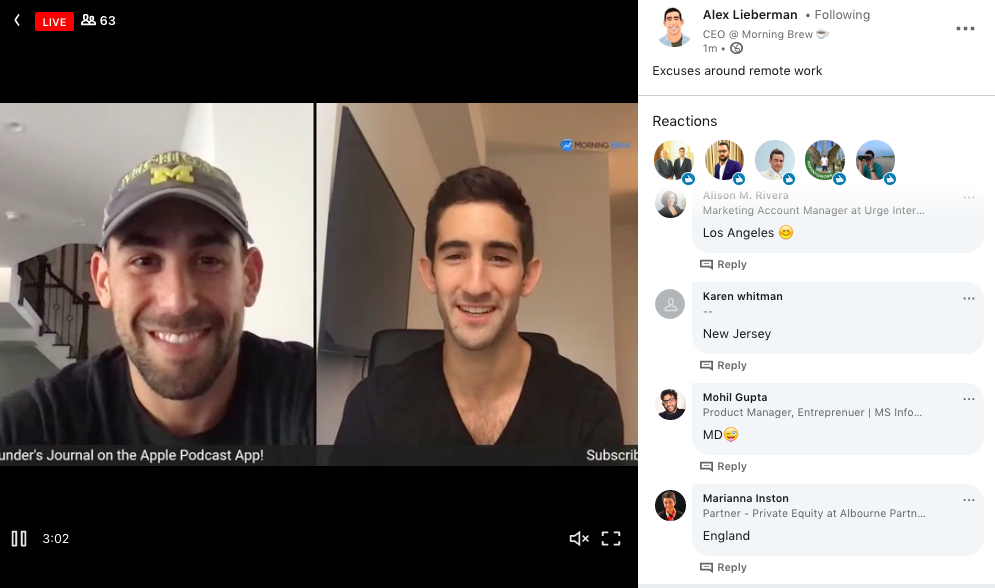 The more frequent and consistent your content is, the more likely your audience will tune in.
6. Choose the right management and support tools
Brands represent themselves on multiple platforms—which means they have plenty of content, planning and communication to stay on top of. A social media tool can help you organize all the details.
Most organic social media engagement happens when people interact with other people—not company pages or ads.
You'll want a social media platform that doesn't just schedule and distribute content. It is essential to have a platform that will ensure your employees are posting compliant media and are equipped to reach your audience.
Your employees represent your brand, meaning that it will be essential to train your staff on expectations for content, comments they leave on other people's posts and even the content they like.
For more guidance on equipping your employees to drive your social reach, read our blog or additional resources.