The first #SalesTO of 2017 was definitely one for the books. The PostBeyond team was out in full force to see our fearless VP of Global Sales,use Chad McCaffrey, share some insight into one of our favourite trends – Social Selling.
The panel, hosted by Kenny Goldman of Helpful.com, was chock-full of advice for 175 sales professionals looking to improve their social game. And out of those 175, 75% said it was their first ever SalesTO event! It seems that social selling is a hot topic.
Great questions were asked, cat gifs were shared on the live feed on screen, and interesting insights were uncovered. I'd love to share some of the key takeaways from the panel with you, and some memorable tweets. After all, what would a panel about social selling be without, you know, social media?
Panel:

1. First impressions matter. Build your personal brand online.
We arrive at our first impression of someone within 90 seconds. If your social profiles are your first digital impression, make sure that you're giving a good one. Salespeople need to think of themselves as mini-marketers, so share content that's relevant and about others, not just yourself or your company.
One helpful tip: set Google Alerts for key topics you want to base your brand on, that way you can keep a finger on the pulse of your industry. When someone takes action, that's your trigger event to act.
#SalesTO | Spend 30min to 1hr a day, meaningfully *listening* to relevant and targeted social feeds. Read the pulse. Diagnose the needs.

— Ian Gerald King (@IanGeraldKing) January 18, 2017
It's important to dedicate time to engaging with your networks. Although there are automation tools to make sure you have content being shared regularly (like PostBeyond!), there's no shortcut for authentic conversation. Share content regularly, but make sure your first impression is human – not automated.
2. Selling is human. Personalize every touchpoint!
Social listening builds context into every interaction you have with prospects. Twitter is a great place to learn more about your prospects and connect on a human level. Create private lists of your prospects and keywords that are mentioned to. It's important to know who your buyer is and know who your end-user is and engage with both. Use every social network under the sun to understand your prospects needs, and learn how you can help them.
57% of buyer's journey is done online. Don't let this prevent you from being proactive #socialselling #SalesTO

— Natalie Koay (@natkoay) January 18, 2017
Even though the majority of the buyer journey is completed before interacting with a sales rep, do not let this stop you from being proactive on social media.
Here's an interesting question: is it appropriate to engage a prospect on Facebook? The panel had mixed feelings: it can be invasive, but there are some opportunities where it might make sense (ex: in a group that you're both members of). I'd love to hear your thoughts on this in the comments!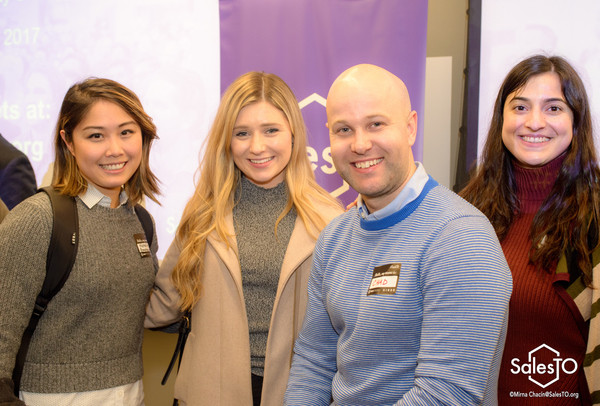 3. Be intentional and track your social selling activities.
More and more companies are looking for positive ROI, whether it's putting an ad in a magazine, or convincing people to attend a conference. Companies want to know what works and how well – social selling should be no different.
Since social media and internet activities can be a black hole, it's important to be intentional with your activities. This means allocating specific time for social selling and tracking every interaction (we use Outreach.io for this.) Not only will you be able to track what got you the sale, but now you have a roadmap for repeated success.
It's 7pm at #SalesTO. Do you know what your SSI score is? pic.twitter.com/C10YM7FapA

— Sam Laliberte (@slaliberteee) January 18, 2017
Other ways to track activities: your Linkedin Social Selling Index (SSI) is a good indicator if you're doing enough activities on Linkedin. UTM attribution codes track how well your content is doing on social. Last but not least, you can use PostBeyond as your tool to enable social selling for your team.
Armed with the right content, your sales team can better prepare themselves for conversations with prospects.
Marketing is content. Sales is context. Partnership between the two is ideal #salesTO

— Michelle Slater (@MichelleSlater) January 18, 2017
---
The common philosophy between all three panelists was that social selling is very much alive and well. It can complement traditional selling processes and is the key difference between a RockStar account executive and someone who just hits their number.
How do you think the world of social selling is changing? Any tactics you've found successful? Let me know in the comments, or tweet at me!