How to Build a Social Media Policy for the Finance Sector
With the growing role of social media, the financial services industry has been transformed. It has opened doors to how banks reach their customers, market their services and enhance customers' online banking experience.
Employee advocacy has entered the space as a powerful way for banks to activate their employees and amplify their brand message through social media.
There is a huge opportunity for financial institutions to equip frontline employees with the knowledge and tools to bring that digital experience directly to their customers.
McKinsey finds that key indicators among the best-in-class financial services firms include:
Empowering the frontline to provide distinctive face-to-face interactions with customers
Increasing marketing sophistication to meet customers' emotional needs
The challenge is sourcing a solution that considers regulatory considerations for compliance policy, record-keeping of business communications and privacy rights.
The right technology can go a long way in helping financial institutions adapt to the modern workforce, give employees an intuitive way to become authentic brand advocates, and provide visibility into what's being shared online.
Better yet, it gives these organizations a way to achieve these components while maintaining compliance and meeting regulatory requirements.
In this guide, you will gain an understanding of:
How to build a comprehensive social media policy
Important considerations from the Financial Industry Regulatory Authority (FINRA)
What to look for when choosing a compliant social media technology
Social Media Compliance Policy Best Practices
Given that there are certain regulations around social media sharing, it's likely that your legal department will ask some important questions surrounding content ownership, intellectual property, and social media policy.
We know from working with our customers that organizations can be held liable for tweets sent from an employee's iPhone, even outside the office and after hours.
The good news is that building out a social media compliance policy, in concert with the right technology, can do wonders to help mitigate risk in these circumstances.
The first step is for your organization to outline how they expect employees to communicate with the world via social media.
The second step, no less important, is to assemble a strategy around how you can empower your employees to authentically communicate with the world on the organization's behalf.
Policies shouldn't be approached with a unilateral mindset. The best social media policies are created cross functionally:
Employees: Offer insight into how they use social media on the front lines
Marketing & Communications: Develops messaging and communications strategy
IT: Vets technologies and solutions in accordance with the organization's security standards
Legal: Ensures guidelines keep the organization compliant and up to regulatory standards

As for the main items that should appear in a comprehensive social media policy, it is in the organization's best interest to include:
Mission & Values
Establish the purpose behind the policy and how you want employees to take an active role in living company values.
Social Channels
Determine the social channels that suit your company best and outline best practices for each (length of posts, content types, hashtags, etc.)
Set Boundaries
You should have very clear guidelines on how not to act on social media. This should include methods for how employees can protect confidential information belonging to the organization and its clients, partners and suppliers.
Contact Information
Designate a point person(s) for employees to go to when in doubt to ask questions.
Social Media Technology Compliance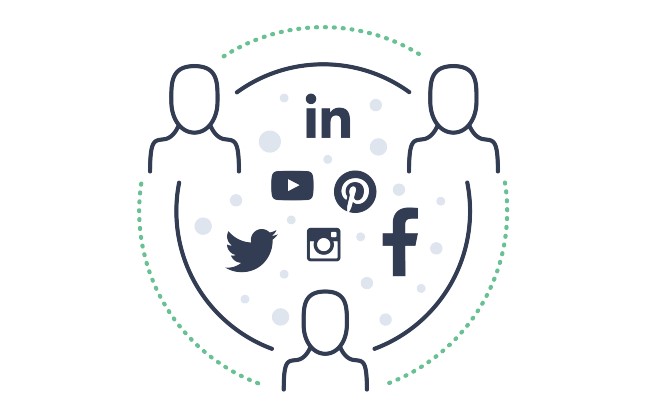 Many financial institutions are realizing an increasing need to adopt technology that satisfies regulatory requirements and copyright laws, protects the privacy of stakeholders and empowers employees to share the brand message authentically.Today, financial institutions not only seek but require visibility into how and what is shared on social media by employees as it relates to the business.
FINRA states: "Firms must have the ability to supervise the business-related content associated persons are communicating on these sites."
Additionally, FINRA defines fair and balanced communications on social media as:
All communications must be fair, balanced and complete and not omit material information
False, misleading, promissory, exaggerated or unwarranted statements or claims are prohibited
Material information in a communication may not be buried in footnotes
Communications must be appropriate for the audience
These rules apply to financial institutions of all shapes and sizes, and if not properly followed, the consequences can be dire.
Technologies are evolving to better suit the needs of the business. Compliant social technologies that enable employee sharing are favored by financial institutions because they provide visibility into what and where employees choose to share.
If it's a matter of needing disclaimers on third party content, this should be made clear to employees before sharing on social media. Most platforms that enable social sharing will have an "edit" function that can be toggled on or off.
In this case, editing can be turned off for that piece, preventing the disclaimer from being removed by the employee. This ensures that when an employee shares the piece of content with their network, the necessary disclaimers will be in place.
Another consideration for financial institutions pertains to the approval process for content before it's distributed to employees for social sharing.
FINRA states that, "Firms must ensure that they are reviewing third-party posts to properly identify and handle in accordance with firm procedures."
Compliant social technologies fill this gap by giving administrators the ability to centralize content in one place and prepare it for employees to share.
Most platforms are programmed to accommodate different levels of users that can be assigned different permissions based on their role.
This functionality has helped several our customers in heavily regulated industries deliver pre-approved content to employees with confidence and accuracy.
These are a few good examples of the built-in safeguards that compliant social technology should offer, and can do wonders for mitigating the risk around improper disclosure.
Saliency in these practices and processes will help employees understand what is appropriate to share on social, and how they can use their own voice to tell your brand story online.
Next Steps
Evaluate Your Current Processes
What is your current social media policy?
How is this policy communicated to your employees?
What does it entail?
How do you detect improper disclosure?
Are employees encouraged to share branded content in any capacity?
What is your current social media tech stack?
How will any new compliant social technology integrate with your toolset?
What to Prepare
ROI Calculations
Employee Social Media Policy
Review copyright guidelines for every region you plan to scale your employee social media program to.
Content Audit outlining how content is shared internally