Social Media Advocacy
Interested in running a social media advocacy program? Here's everything you need to know to get started.
↓
Introduction
Social media advocacy is about getting others to speak for your brand. It's a way of establishing third-party validation about your company, products, and services. And the best part is that you have potential social media advocates already – your employees!
Here are a few stats on why brands must focus on social media advocacy:
With employees active on social media, your company can spur many new opportunities, like:
Amplifying your brand's social media presence
Extending your brand's reach to new audiences
Positioning your employees as thought leaders who merit attention
Elevating your salespeople into problem-solvers who prospects seek out
However, many organizations find that their employees aren't comfortable sharing content on social media. This can be for several reasons, such as:
Being unsure if their employer approves of them posting on social media platforms
Lacking knowledge on how to create effective social media posts
Missing content that they can speak to based on their knowledge and interests
Having incomplete social media accounts (e.g., no professional headshot, banners, etc)
By not having social media guidelines and other resources, brands are leaving a lot of revenue potential on the table. Not only that, but social media advocacy helps employee engagement, and it's a reflection of it. Stronger engagement equates to a more robust ability to retain and attract talent.
Overall, a social media advocacy program centered on your employees will equip you to:
Showcase your culture and employer brand
Improve brand health
Increase lead generation
Find better sources for talent
Improve efficiencies in work and communications
Build an on-going investment in employee knowledge
So, how do you get started?
We'll walk you through to how to create a social media advocacy strategy by showing you:
What to prepare before launching an employee advocacy program
What goals to measure
How to set-up KPIs
How to train employees
How to launch and scale the program
Goal Setting

Why it's Important
Goals and objectives are the starting point to a successful social media advocacy program.
In one sentence, try to articulate the high-level outcome you'd like to achieve. This helps with understanding when your program is successful, and when you're running into roadblocks.
Best Practices
To make it easier to set goals, break up high level objectives into quarterly milestones.
This helps keep everyone on track, especially when you are involving multiple business units.
Align your program goals to organizational goals. This helps with getting buy-in from the company when you're evaluating the performance of the program. Involve an executive or multiple executives from each department so that your strategy is holistic.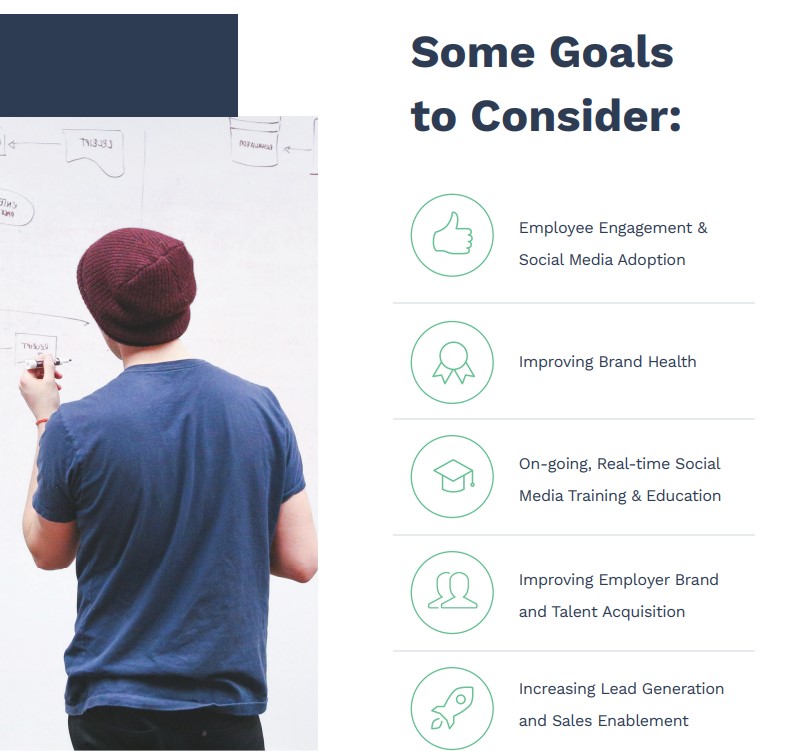 Don't Forget to Include HR, Marketing and Sales Operations (Training)
The focus of your social media advocacy program is on content and social media, but looping in team members who can help train and engage employees will ensure that the program kicks off strong from the start, and that everyone is aligned on goals and objectives.
Program Branding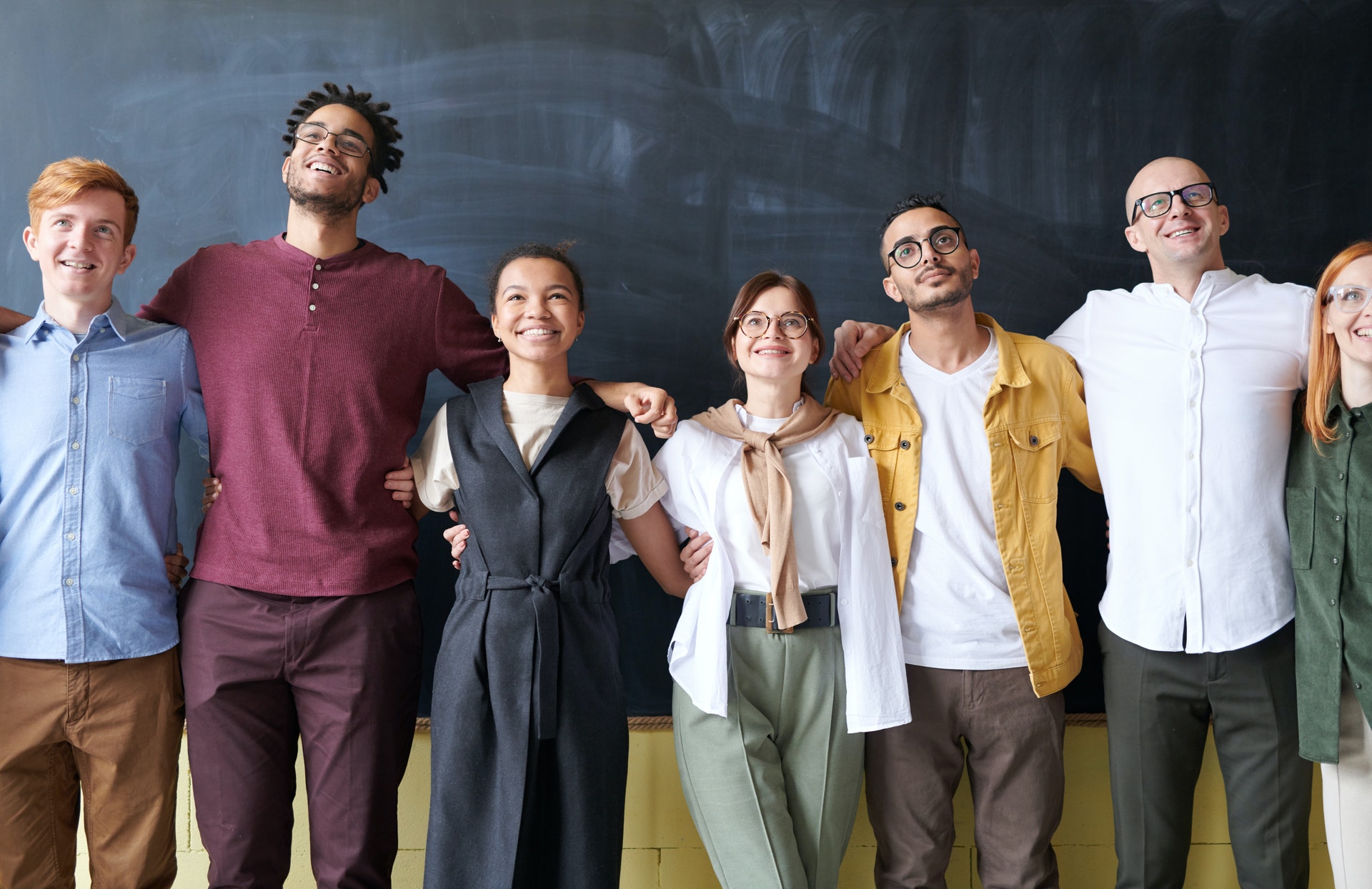 Why it's Important
Successful social media advocacy programs are strategically branded. Branding gives your program personality and makes employees feel like part of a larger team effort.
Best Practices
When you're creating your social media advocacy program, remember to brand it specifically for your people, not your clients. Your employees are the target audience in this case – so make it fun for them to join.

Ask your employees what they prefer! Send out a survey with a few program branding options and see what resonates with the team. The whole point of a social media advocacy program is to start collaborating more across departments.
Including employees from the start will help with user adoption later on. Consider branding the program around an internal company initiative that employees are already familiar with. This will make it easier for employees to adopt and for your existing advocates to spread the word.
*Note: Stay Clear From Any Time-Sensitive Branding
It's tempting when launching a social media advocacy program to want to brand it around the campaign, and not the employer or cultural look and feel of the company. Resist, as if the campaign fails or stops, your program will be associated with the campaign.
Content Strategy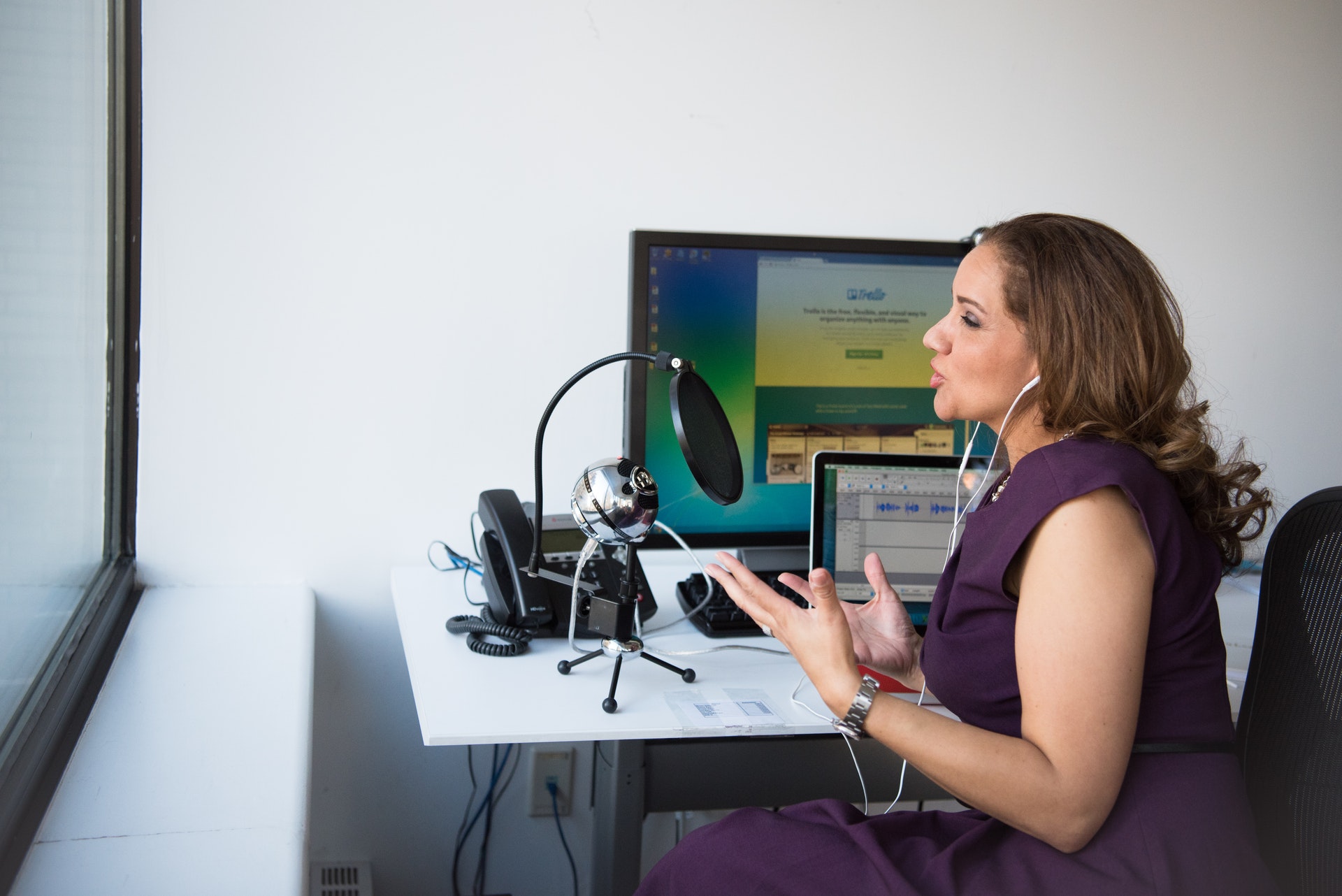 Why it's Important
Content is your marketing currency. Think about what content best supports your advocates, breeds thought leadership, and starts conversations.
Best Practices
When thinking about the content strategy for your social media advocacy program, think about the following questions:
Do you have existing content you can use?
What kind of content will help build the thought leadership of your employees?
What kind of content will make your company stand out?
What are recruits interested in?
What are your customers interested in?
Will you be curating industry content?
Do you have experts internally that can help with content creation?
How much time is required to create new content?
How many people are on your content marketing team?
What's your content marketing budget?
Will you have to create new content specific for your employees' interests?
Analytics/KPIs
Why it's Important
Your social media advocacy program will grow and evolve, but only if you measure your results and improve through analytics.
Best Practices
What are our business objectives?
Increase visibility and brand reputation: Brand mentions, positive brand sentiment
Drive employee engagement: Content shared, suggested content, leaderboard stats, number of brand advocates actively sharing content
Track social media ROI: Earned media, lead conversion
Generate insights to determine content effectiveness: Top shared, top interactions
Recognize the numbers you'll be reporting on from the start so that you can start to identify trends as results come in. This way, when you adjust and optimize the program later on, you'll know which activities impact results that matter most to you.
Engagement of Employees
Why it's Important
Based on your goals and key metrics, you must strategize on how to motivate your employee brand advocates to participate in your social media advocacy program. Leaderboards and email notifications are two key ways to keep them engaged and informed.
Best Practices
When recruiting your advocates, try asking who wants to join the program by sending out a company wide survey.
This generates buzz and excitement, and sets the precedence that everyone has the opportunity. You'll always get the people most excited about the program.
If they're excited and feel empowered, they're more likely to adopt the program long-term.
When setting-up a long-term communication strategy for the program, think about how often you are going to push notifications to your advocates:
Daily or weekly digest to notify employees that fresh content is available
Program update monthly newsletter
Quarterly business review results shared with the team members
Employees will be most engaged with the program if it's accessible at any place, any time. Think about what devices your employees currently use most:
Your social media advocacy platform should be available on web and mobile
Your mobile apps for the program should be designed for quick content consumption and sharing when employees are on the go
Growth Planning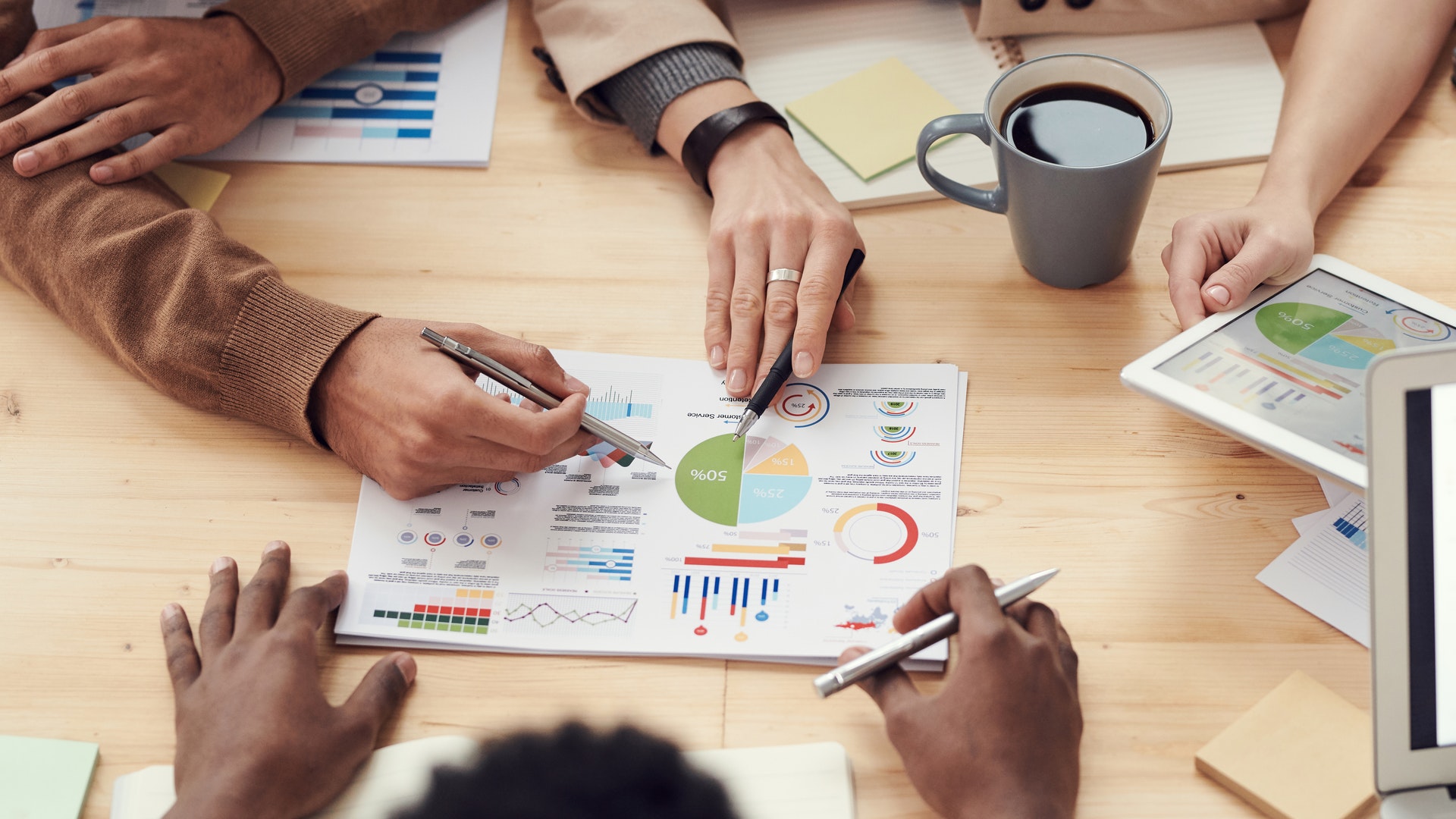 Why it's Important
Your social media advocacy program isn't going to scale to your entire company overnight.
You'll need to start with a core group and expand over time. But it's important that you identify how to scale the program when you first start.
Best Practices
When thinking about on-going recruitment for the program, most larger organizations may already have brand champions identified.
This can also be anyone who speaks on behalf of the company at conferences, anyone who has written a blog for the company.
Try adding employees that are already somewhat comfortable sharing on social media as a starting point. Once others see their success, you'll be able to recruit more people.
When preparing for growth, make sure that you have buy-in from department managers. They have the most influence on their team and can help with project planning, timelines, and what their team really cares about.
When growing the program, it's all about positioning and messaging. How are you going to sell the program internally?
Program Management and Team
Why it's Important
Maintaining your advocacy program takes time and effort.
Make sure you know who is responsible for each key part of your program, and communicate those responsibilities clearly at the outset.
Best Practices
When thinking about who will manage the social media advocacy program, answer the following questions:
Who manages the platform?
Who creates new content?
Who creates program reports?
Will there be managers from multiple departments?
Who makes decisions for the program?
Who communicates the program to employees?
Workflows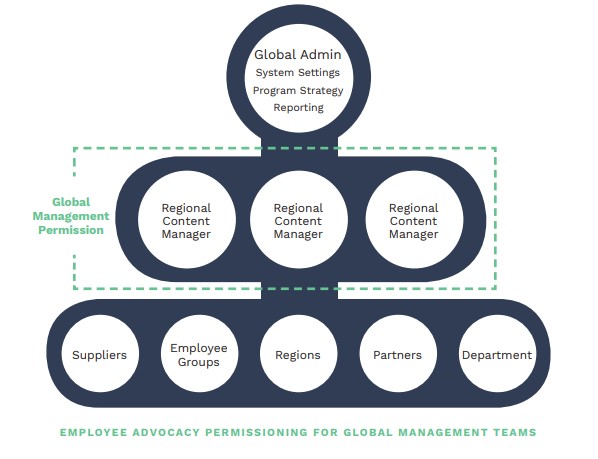 Why it's Important
Documenting key workflows is a great way to help your advocates and managers visualize what they need to be doing to make the program a success.
Best Practices
Understanding there are multiple workflows between employee engagement program managers and employees. Mapping out each workflow is key to success.
Questions to Answer From an Employee's Perspective
What actions do you want your advocates to build into their routine?
Do you want your advocates to suggest content?
What devices are your advocates most likely to share from?
Questions to Answer From an Employee Advocacy Program Manager's Perspective
What are the different tools you use to curate content?
How does content and messaging get approved?
What are some of the analytics tools you currently use that can help track success?
Are you duplicating content efforts?
Who has final approval on content?
Communications and Employee Training
Why it's Important
Once your social media strategies are in place, and your platform and social media advocacy managers are ready to go. Next, you'll need to train your employees on how to use the platform and participate in your advocacy efforts.
At this point, you must create a communication plan that determines when you will initiate the platform to users.
Best Practices
You will want to assess your current workforce, and answer the following questions:
Who manages the platform?
Who creates new content?
Who creates program reports?
Now that you've assessed your workforce, what type of training makes sense? Consider the different learning styles when doing this:

Program Launch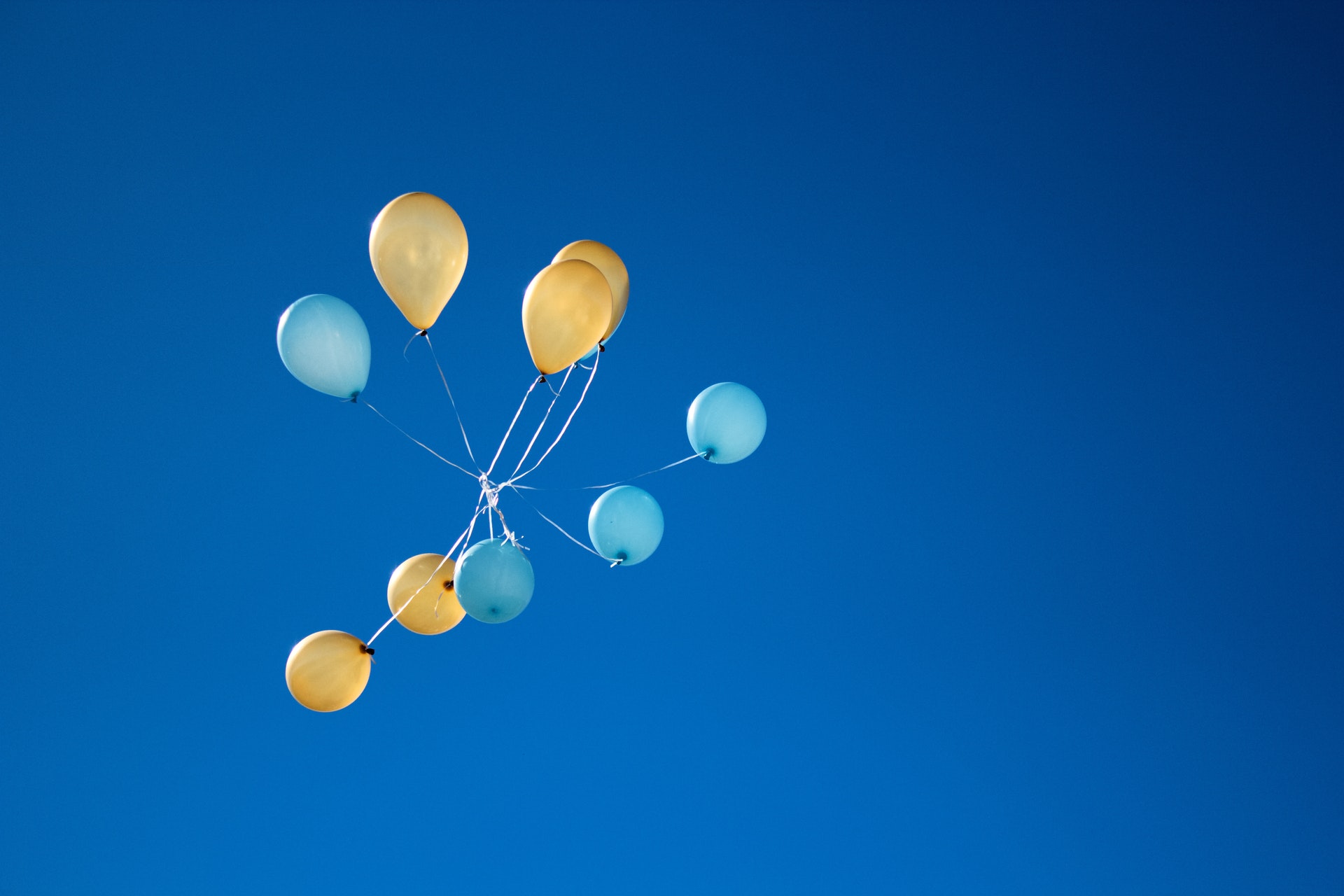 Why it's Important
Build buzz leading up to the launch of your social hub by constantly giving teasers and communicating with your teams. Create a nice invite template, and write a blog post. Send out webinar details. You could even do something special for the first month!
Make sure user resources are ready to go, and super clear.
Best Practices
The first 30 days of your social media advocacy program is all about team adoption! Monitor user adoption analytics very closely at the start to make sure your program kicks off strong.
When the program first launches, you'll need to send our multiple communications and follow-up with users.
Staying close to the team 7 days, 14 days, and 30 days after training will help make sure nobody is confused, and user adoption is high. You'll need to send out resources periodically to help continuously train your employees.
Hold office hours in week one to help users get comfortable
Get feedback about the program as soon as you can.
Sending out a survey, or booking time with various team members to understand if there are any challenges, misunderstanding, or concerns will make sure that your program is off to the right start. You can make quick adjustments as needed right away.
Review, Optimize, and Expand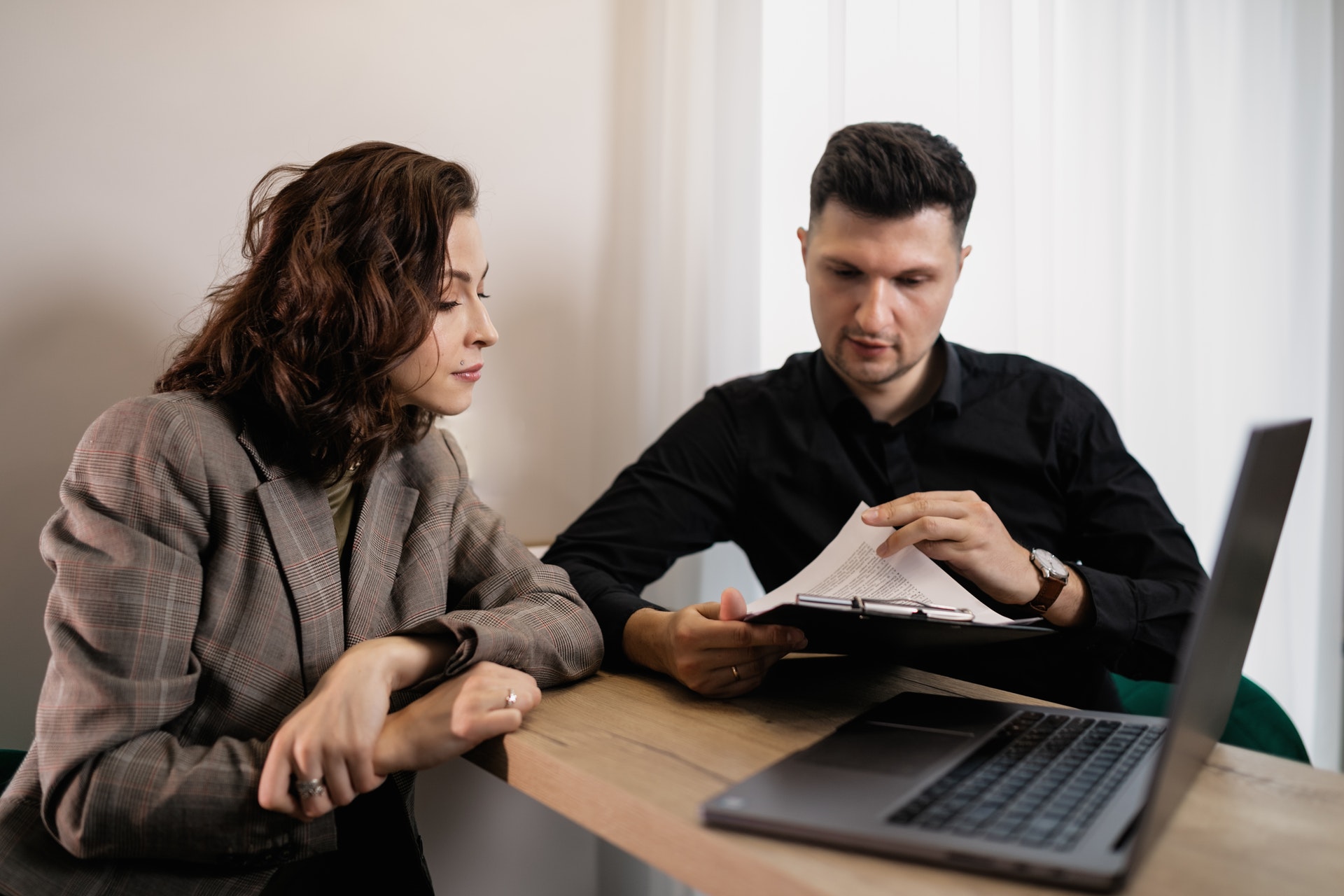 Why it's Important
After launch, it's important to keep in mind that this is an iterative process in which you'll have to constantly re-assess KPIs that are put in place.
There is a huge change management element involved with employee advocacy programs, and employees need to change habits and behaviors to include social media communications in their daily workflow.
Social media and content strategy changes quickly, but it takes time to truly become a social business.
Best Practices
Take a quarterly reporting approach when analyzing the results of your program.
Having a quarterly business review gives you enough data to allow you to take a look at what you should keep doing, start doing, or stop. Once you understand the data, convert that into actionable items.

Use the program performance to recruit new social media advocates that might have been hesitant to join at first. By showing past successes from other employees, new advocates will be more likely to join.
Use analytics from the program to infl uence your overall brand content strategy. Using different analytics and insights from the program can help you develop a stronger global marketing strategy overall.
Scaling Requires Time and Help
Social media and content marketing changes at a very fast rate.
In order to help navigate this change, your employees will need constant education and real-time training, which is really hard to do at scale.
Starting a social media advocacy program and working with a software provider can help you scale your communications globally, and turn your business into a true social enterprise.
Most technology vendors in the social media advocacy space have similar features, so the best thing to evaluate when you're considering a vendor for your own program is how they can help with the implementation.
Do they have a strong team that understands this space that can help you with strategy, implementation, and program growth?
You need to look more for strategic partners than vendors. Scaling a program to thousands of employees is most likely something the content or social managers at your company have never done, and will need help to make it successful.
Your program will only be as successful as user adoption.
If you can't recruit the right employee advocates, or they won't use the platform you selected, it will be very difficult for the program to succeed. So it's imperative that you have a strong implementation plan from the start.

Turn your employees into advocates
Scale Your Social Media Advocacy Program With PostBeyond