There is no shortage of people online claiming to know what's up with the latest trends in social media. But to cut through the digital clutter, you need to hear from successful leaders themselves.
The best way to find verified leaders is to go to where they rally: social media and marketing conferences.
There is something for everyone at social media and marketing conferences, from senior-level marketing executives to practitioners who are executing the latest and greatest tactics. But not all conferences are made equal.
We want to help you get a feel for which conferences are the best fit for you and your company by laying out what type of marketer the conference is designed for and who will be speaking this year.
These are our top 10 social media and marketing conferences to attend in 2020, listed in order by date.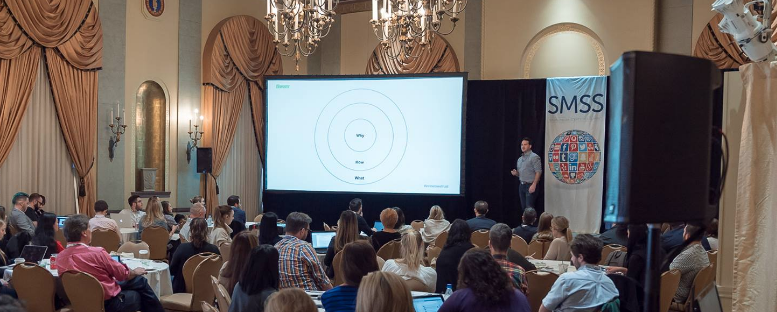 1. Social Media Strategies Summit
February 4-6 | San Francisco, CA
April 28-30 | Chicago, Il
Social Media Strategies Summit is a gathering for social media, content strategy, and brand strategy professionals. Attendees will have the opportunity to evaluate current social media initiatives and take home actionable tips from cross-industry marketers. Social Media Strategies Summit also hosts two separate events — one for first responders and another for influencer marketing.
Leaders who will be speaking at the San Francisco Summit include:
Miri Rodriguez, Head of Global Internship Program, Microsoft
Amanda Chavira, Influencer Marketing Manager, Dollar Shave Club
Marissa Kargas, Senior Manager, Digital Strategy & Brand Engagement, WalMart

2. Social Media Marketing World
March 1-3 | San Diego, CA
Social Media Marketing World is an annual event hosted by Social Media Examiner, a leading online resource for all things social media. This conference is designed for marketers who specifically work in social media, whether they are just getting started or for seasoned social media strategists who want to stay updated on the latest trends.
SMMW2020 speakers include:
Mari Smith, "Queen" of Facebook
Mark Schaefer, Globally recognized author and business consultant
Jay Baer, Founder of Convince & Convert
Michael Stelzner, Founder of Social Media Examiner
Jasmine Star, Photographer and Business Strategist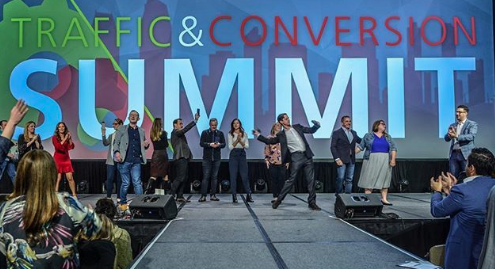 3. Traffic and Conversion Summit
March 31-April 2 | San Diego, CA
The Traffic and Conversion Summit is a large gathering designed for marketing professionals, agency owners, consultants and entrepreneurs. There will be 80 speakers and 108 sessions broken down into 7 different events: Big Ideas (ideal for founders and execs), Agencies Only, Digital Retailers, Digital Advertisers, Content Marketers, Conversational Marketers, and Growth Hackers.
This year's speakers include:
Michelle Barnum Smith, Queen of Amazon Chat Marketing
Josh "Snow" Elizetxe, Founder Snow Laboratories
Perry Belcher, Co-founder & CEO Rival Brands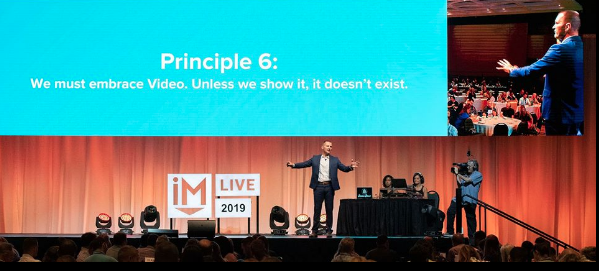 4. Digital Sales and Marketing World
April 5-7 | Hartford, CT
Previously called IMPACT, Digital Sales and Marketing World will bring together leaders who can offer advanced and industry-specific advice. Industry-specific summits include manufacturing, digital agencies, home improvement/construction, retail, martech, and financial/professional services. This inbound-focused conference focuses packs great content into a couple of days.
Keynote speakers include:
Marcus Sheridan, Author of They Ask, You Answer
Ramon Ray, Founder of Smart Hustle Magazine
Liz Moorehead, Director of Web and Interactive Content, IMPACT

5. Midwest Digital Marketing Conference
April 8-10 | St. Louise, MO
The Midwest Digital Marketing Conference is an annual gathering of marketers looking to enrich their digital marketing strategy and skills. Last year, over 2,000 professionals attended to listen to 130 speakers from Buzzfeed, Instagram, Facebook, Pandora and more. If you want to dive into how to create and optimize great content, improve your channel strategy and strengthen your personal branding, this is a great place to be.
This year's speaker lineup includes:
Brent Adams, Director of Content, Fastline Media Group
Mike Allton, Brand Evangelist, Agorapulse
Ashley Aubuchon-Arcand, Lead Digital Activist and Executive Program Manager, IBM

6. ContentTECH Summit
April 20-22 | San Diego, CA
ContentTECH Summit is for enterprise marketers invested in high-quality content, innovative tech and amazing digital experiences. This conference covers advanced tactics, such as data-science driven content, scaled personalization, omnichannel delivery, unified digital experiences and more.
Speakers for the 2020 Summit include:
Meg Walsh, Hilton
Cleve Gibbon, Wunderman Thompson
Wendy Richardson, Mastercard Worldwide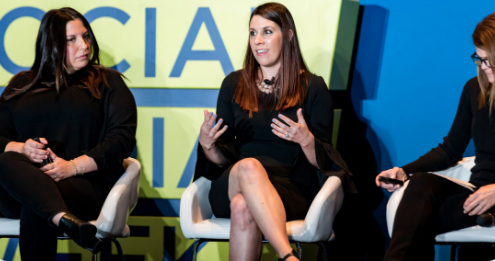 7. Social Media Week
May 5-7 | New York, NY
June 17-18 | Los Angeles, CA
Oct 21-20 | London, Eng
Not limited to the three locations above, Social Media Week takes place across more than 25 global locations. These conferences are best for professionals who work in media, marketing and technology. Most attendees of these conferences are mid-level seniority and above, and 40% of attendees work for companies with more than 500 employees.
Speakers at the upcoming New York conference include:
Joe Marchese, CEO, Attention Capital
Megan Troth, Senior Social Media Lead, NBCUniversal
Nate Skinner, Co-Managing Director, Stink Studios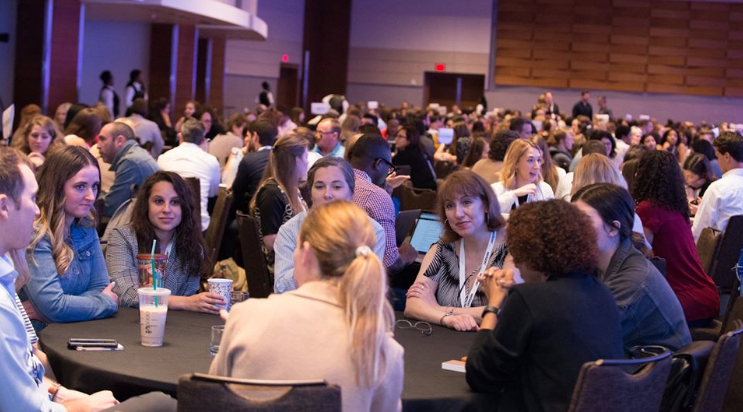 8. The Social Shakeup
May 12-14 | Atlanta, GA
The Social Shakeup is focused on all the latest trends in social media. Attendees will have plenty of networking opportunities and award opportunities. The Social Shakeup gives out awards to companies that have outstanding social media campaigns. These awards serve to honor professionals who have created amazing content and to inspire marketers for future campaigns.
Keynote speakers include
James Gregson, Social Studio
Leah Feygin, Twitter ArtHouse
Amber Mac, Author and TV host
Brian Fanzo, Social Shakeup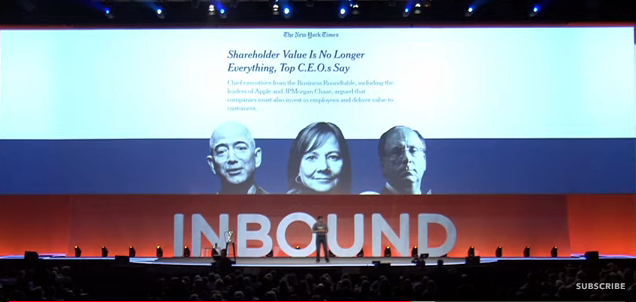 9. INBOUND 2020
August 18-21 | Boston, MA
INBOUND 2020 is more than an annual event for marketing and sales professionals — it's business, it's learning… and it's a party.  You will join more than 26,000 in a high-energy environment that will transform your approach to business.
On top of all the big ideas and actionable education you will glean, you have access to world-class entertainment. Inbound not only brings together top business leaders, but also major performers and speakers, such as Trevor Noah, Ali Wong, and Amy Schumer. Who says marketing conferences need to be all about strategy, tools and results?
2020 speakers have not been announced but 2019 speakers included:
Elizabeth Gilbert, Best-selling author
Brian Halligan & Dharmesh Shah, Co-founders, Hubspot
Jennifer Garner & John Foraker, Co-founders, Once Upon a Farm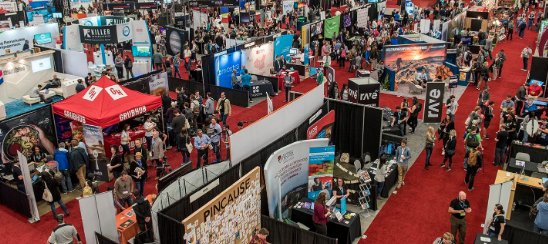 10. DigiMarCon
Various Locations and Dates
Over 20 annual events in the US and abroad
Nov 17-19 | Online
DigiMarCon conferences bring together cross-industry experts who are immersed in all the elements of digital marketing. Attendees will learn about emerging strategies and tech, customer loyalty and engagement, lead generation, mobile marketing and retargeting, SEO, paid search and so much more. This conference is best for innovators, senior marketers and branders, entrepreneurs, strategists and other leaders in the digital community.
Don't have time to travel and attend in person? The live and on-demand DigiMarCon World gathers over 10,000 digital marketers online to learn about digital marketing strategy.
Speakers include:
Meghan Hultquist, President, HQdigital
Robert Rose, Chief Strategy Officer, The Content Advisory
Fernando Angulo, Head of Communications, SEMrush
To help you get the most out of a conference or tradeshow, we've covered the pre, during and post-show social media strategies your organization should be leveraging in this article here.