Your business needs personality to cut through the noise on social media.
Videos on social media — especially those created by executives or employees — can humanize your brand in rich ways. They can highlight your company culture, your products and company news.
According to LinkedIn, video content generates 20 times more shares than other types of content on its platform.
Audiences prefer social media videos — but what video content truly increases your social reach and drives higher engagement?
Here, we break down different types of videos that professionals love to watch on LinkedIn.
Why Posting Video on LinkedIn Can Boost Your Social Efforts
Videos on social media have proven successful time and time again, but posting video on LinkedIn is the way to gain the notice of professional leaders.
CEO's have been using social media for years to evangelize their brand and connect with others. But LinkedIn is the best platform for professionals because it has 8.2 million C-level executives on the network.
On average, LinkedIn users spend roughly 3x more time watching video ads compared to static sponsored content and video ads earn 30% more comments per impression than non-video ads.
But ads aren't your only option when it comes to posting videos on LinkedIn. There are several organic ways to promote your brand, establish your role as a thought leader and share what's going on at your company.
Examining Your Options: Types of Social Media Videos on LinkedIn
With LinkedIn, you have a few ways to use video:
Embedded videos
Sponsored content
Native video
Live streaming
While videos can be posted on company pages, they are not as likely to be seen by LinkedIn members compared to videos posted by real people.
The LinkedIn algorithm is set up so your feeds is mostly:
Videos posted by real people that members are either connected to or follow or
Sponsored content
It is common for CEOs, founders and other company leaders to share videos to their connections and followers. On LinkedIn, they act as the brand's main evangelist.
Employees, often the marketing team, can also be brand ambassadors (see our Guide on Employee Advocacy).
Going Live Is Relatively New, But Popular As Ever
Last year, LinkedIn introduced LinkedIn Live. LinkedIn Live is a great way to create urgency and a sense of authenticity around your brand.
LinkedIn sends notifications to followers and connections when a host goes live, so it can be a great way to increase engagement and real-time interaction with your brand's community.
Viewers can send live comments or questions to the host, creating a conversation and back-and-forth experience. These comments can be moderated in real-time.
LinkedIn Live is popular because the content is not filmed with professional equipment nor does it have a polished aesthetic. It feels authentic and trustworthy.
No matter which type of video format you choose, they all can be incredibly effective. Learn from these 10 popular types of social media videos.
10 Types of Social Media Videos that Professionals Love to Watch
1.  Company updates and news
Company updates and news stories keep your customers in the loop. Successful companies don't focus on short-term transactions — they create meaningful relationships with customers that will return time and time again.
To do this, a relationship needs to be established. Creating regular updates is one way to build brand loyalty and create social communities with customers.
Updates are also a great way to spark interest with potential customers by showcasing awards, milestones or innovations, like this example shared by the Co-founder of Farmshelf.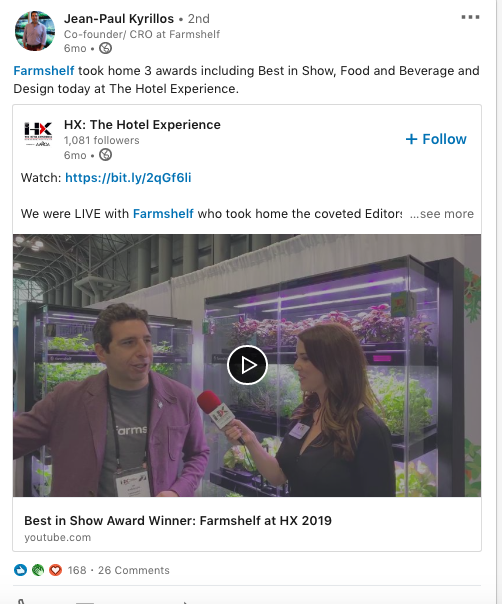 2. Culture
In today's war for talent, videos are the best way to tell stories about your employee's experiences and your company's values. Videos that point back to why your business exits in the first place, what you believe and where you are headed can attract candidates that align with your brand.
Keep in mind that many brands try to oversell their culture — it can feel disingenuous.
Don't be afraid to put down the branded videos and just be real.
3. The company behind the scenes
Videos are one of the clearest ways to communicate what goes on in the background at your company.
This is your chance to show what makes your company stand out from your competitors: Who's the talent that develops your products? What technology are you using? How do you react in times of crisis?
This level of transparency can help you grow in your role as a thought leader, while also attracting new leads.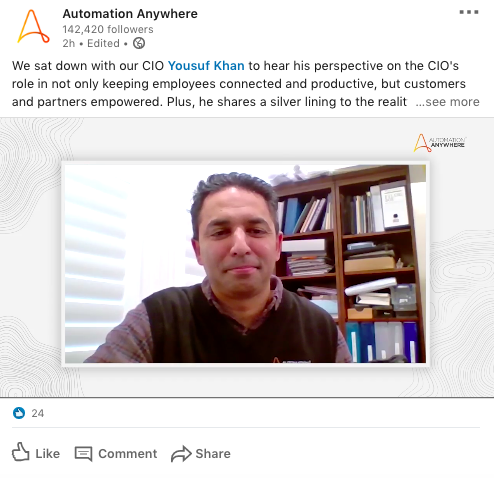 4. Q&A's
Professionals are always looking to expand their skills. Q&A's are another great way to position yourself and your company as thought leaders.
Questions can cover anything covering new advances in your industry, professional development trends and other issues that are affecting businesses worldwide.
Or they can just be fun.
5. Interviews
Similar to Q&As, interviews provide helpful insight into the latest trends. Especially during a time such as COVID, interviews have allowed leaders to share how their companies are navigating uncertainty.
Remember that LinkedIn videos autoplay without audio. When posting a LinkedIn video, it is best to use captions. This helps you capture more interest and meet different audiences' preferences.
6. New product or service launch
When your company releases a new product or service, you want to get the word out to all of your followers. Videos are the most engaging way to put a story to your new product. This is an opportunity to tell where the new idea came from, how it was developed and what it means for your customers or your industry.
7. Introduce experts and thought leaders
Thought leadership doesn't have to rely solely on white papers and lengthy blog posts.
With LinkedIn, you can put together interviews or public live casts with experts in your field. When you partner with respected authorities and LinkedIn 'influencers', you will attract the attention of their audiences.
Sales leaders, Morgan J Ingram and James "Saywhatsales" Buckley, joined forces for a public live cast to teach others how to make prospecting fun. Ingram's rap stands out from other videos — and makes you want to join this conversation.
8. Customer stories
Case studies and customer stories are a great way to highlight how your services are beneficial.
If you already have case studies, consider reworking that content into video format. Case studies are influential in the buyer awareness and evaluation stages, and videos can be a great way to share the same information to a wider audience.
New leads and current customers alike will find the work you are doing inspiring.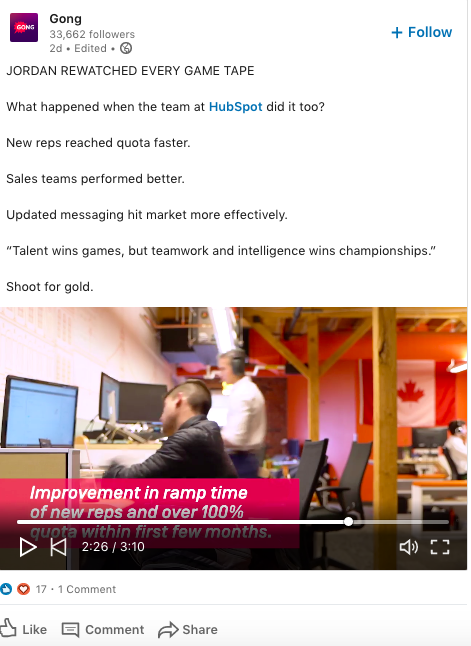 9. Employee stories
When you give your viewers insight into the life of your employees, you have the chance to showcase your team and values in an authentic way.
Most people are not interested if your company offers free snacks and ping pong tables — they want to know what backgrounds your employees come from, what path led them to your company and why they work for you.
Don't force any fake stories. Be real and honest. You will see your engagement grow.
10. Funny videos
And, last but not least, everybody needs a laugh. LinkedIn may be professional, but there is room for humor.
Especially since the coronavirus crisis sent everybody home, LinkedIn has become a platform where your home life and professional life have to be integrated. Most people are stuck at home, working with children, pets or roommates.
It is now completely acceptable for toddlers to join your live stream and WFH music videos are encouraged.
Here's another one just for kicks:

Promote Your Social Media Videos on LinkedIn
Video is crucial for your social marketing plan and now it's time to get started.
If you are new to posting videos on LinkedIn then keep your content short at first such as starting with 1-minute videos. Once you have a following, you can increase the length to see how the changes work with your audience.
Just like other social media platforms, LinkedIn allows users to see standard metrics for promoted videos — plus the top companies, titles and locations of the viewers who watched your video. Use these metrics to see if you are hitting your target goals.
The key thing to remember is to harness the power of your employees. LinkedIn video gets in front of eyes when it is shared by real people. You can significantly increase your engagement on social media by allowing employees to amplify your video content,