The experience your employees and customers have with your brand matters – and it'll only matter more from this point on.
By 2026, Gartner predicts that basic buying and selling experiences will be commoditized. In other words, brands that want to stand out will need to deliver experiences that provide more value. You'll need to connect with both employees and customers at a deeper level.
Gartner expects that by 2024, organizations providing a total experience will outperform their competitors by 25% in satisfaction metrics for both employees and customers.
So, how can brands start building that experience today?
On the second day of the Social Media and Influencers Strategy Summit, our very own Dan Cote, CMO at Influitive, laid out the groundwork for how to do it.
What do the B2B market leaders – e.g., Amazon, Cisco, Gong, Adobe and others – all have in common? Yes, they have massive followings on social media, but there's more to the story.
They each built a foundation for a large social footprint using employee advocacy, customer advocacy, and engaged communities. While it takes time to reach their level, Dan provided a roadmap of how to start on the right foot.
Here's how:
Pillar #1: Customer Advocacy
You can't buy trust, but it's essential if you want customers to resonate with your brand.
When a customer trusts your brand, they will advocate for it in a variety of ways. They could write reviews, offer product feedback, speak at events, send referrals and much more.
With an effective customer advocacy strategy, you can acquire new customers faster and more easily as well as retain the ones you already have for much longer.
Learn more about building a customer advocacy program here.
Pillar #2: Engaged Communities
Today, a customer community is way more than just a support forum.
If anything, it's an actual community where customers can make impactful connections with not only your brand, but also other customers.
It also serves as a learning lab where your customers can access product information, acquire new skills, connect with others, and much more. It's a home where customers can develop their handle of your product as well as grow both professionally and personally.
Learn more about building an engaged customer community here.
Pillar #3: Employee Advocacy
What's employee advocacy? It's when an organization promotes itself and its brand through its employees. It can range from sending a newsletter to employees with links to social posts all the way to a formalized program with goals, key metrics, and specified software.
The more effort you put into the program and strategy, the better the results. With the right level of investment and execution, you can get a lot of organic traction on social.
How to Build an Employee Advocacy Strategy
Step 1. Find Your Champions
It all starts with employees.
The first thing Richard at TE Connectivity did was find his hidden gems. Basically, who are the employees who are already active on social? Leverage the traction and work they're putting in by engaging them at the start of your program.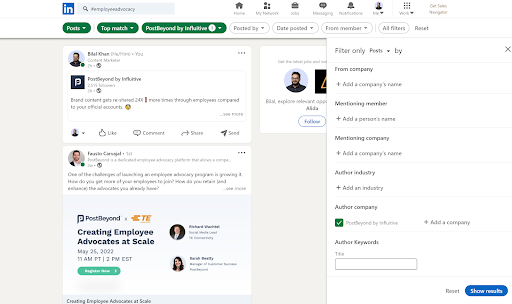 Step 2. Get Others to Join
When asking them to become advocates, employees will want to know, "what's in it for me?"
You can answer that question in a few ways, namely:
Tie Back to Their Goals
Focus on the things that matter to them in their day-to-day job. Show them how employee advocacy can help them meet their departmental KPIs or build their personal brand. When employees feel a personal stake in the project, they're more likely to engage.
Show Successful Examples
You might have people who are nervous about engaging on social media. Try showing them examples of how to post or create content. They can use your work as a template. You could also use a dedicated employee advocacy platform to provide pre-written posts.
Have Guidelines in Place
You can also set up a social media policy to define what your employees can and cannot post. But don't be rigid. The idea behind a policy should be to create a runway for your advocates so that they get more active without veering off course. You don't want to discourage them.
Step 3. Celebrate!
Don't make employee advocacy a one-way street where you only give out content to share. It's also important to engage your advocates on social media.
You can, for example, spotlight and re-share employee posts through your branded accounts. It's a good way to celebrate your employees' achievements and make them feel valued. This also helps with building their personal brand – and their buy-in with your program.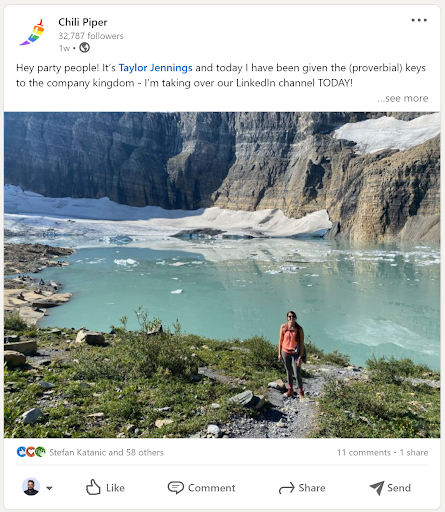 Source: Chili Piper
Step 4: Create and Collect Content
Content is fuel for employee advocacy. You want to make sure you're providing it regularly – and with lots of variety – to sustain your program's momentum.
Build processes that encourage your employees to create content. Basically, user-generated content (UGC) is key because it's from the voice of your employees.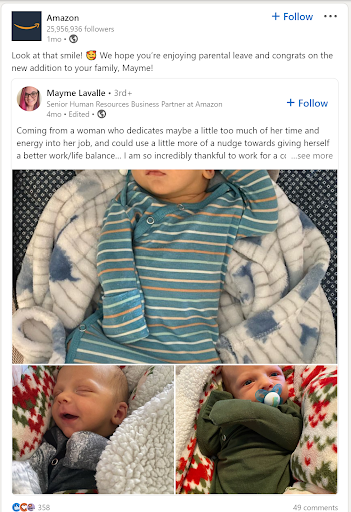 Source: Amazon
It's authentic and helps your advocates build stronger links with their audiences. UGC is also a great way to scale up your content generation efforts in an efficient way.
Next Steps
Congrats! You've laid the groundwork of your own brand advocacy program by leaning on the voices of your customers and employees.
The next step is to organically grow your program so that you extend your brand reach and speak to more audiences than ever before. Learn about growing your employee advocacy on social media here.