Building a clever and memorable travel marketing campaign can be a challenge for most travel marketers. Especially with numerous travel agencies, airlines, and hotels, the competition for brand awareness can really heat up.
A lot of marketing campaigns are a dime a dozen, especially when they attempt to leverage a multichannel approach by bridging both online and offline platforms.
We searched far and wide for some of the most compelling travel marketing campaigns out there. You'll notice a common trait amongst these marketing campaigns, which is they all share is a multichannel approach. Whether it's social media, video content, display, email or direct marketing, using an integrated approach helps travel marketers build a campaign that compels consumers to go on their next travel adventure.
Here's a roundup of five travel and tourism marketing campaigns you should check out.
Westin Hotels & Resorts – You Need Better Vacation Days
Westin Hotels & Resorts is a leading wellness and hospitality organization with over 200 hotels in nearly 40 countries.
What's different about Westin Hotels & Resorts from other organizations is their position on empowering the well-being of their consumers. Most notably, right on their website homepage is the message of "Empowering Your Well-Being." Even when you're looking to book a stay, the message includes "Stay Well at Westin."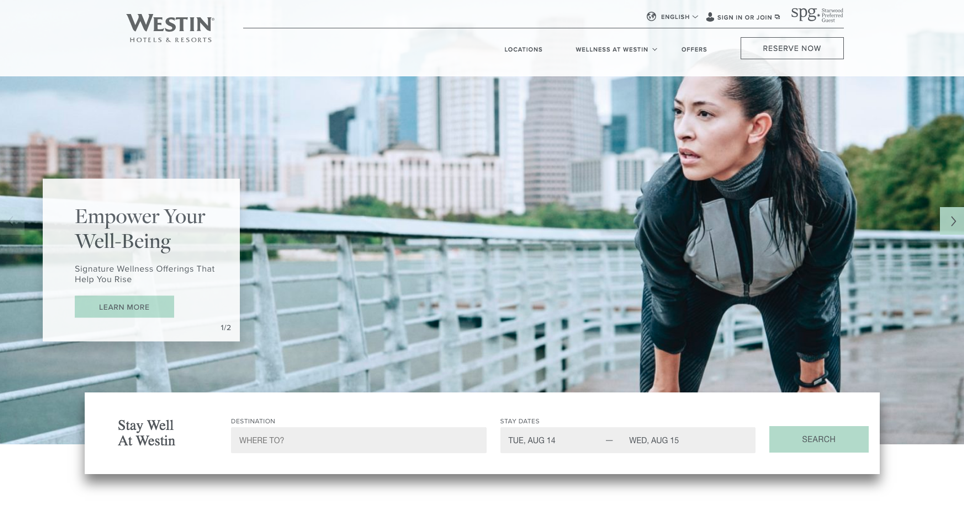 In true Westin fashion, one of their recent travel marketing campaigns aimed to put vacations back on the forefront for busy professionals.
There was a lot of media coverage on how Americans were leaving too many vacation days on the table. According to a study by Oxford Economics, American workers on average used just 16 of their available 21 vacation days. This added up to about 169 million vacation days and $52.4 billion in lost benefits.
To help busy professionals take their vacation days back, Westin launched the You Need Better Vacation Days campaign. They promoted something called the "Out of Officer Generator" which was a digital tool that made a custom, tongue-in-cheek automatic response for your email inbox and social media channels.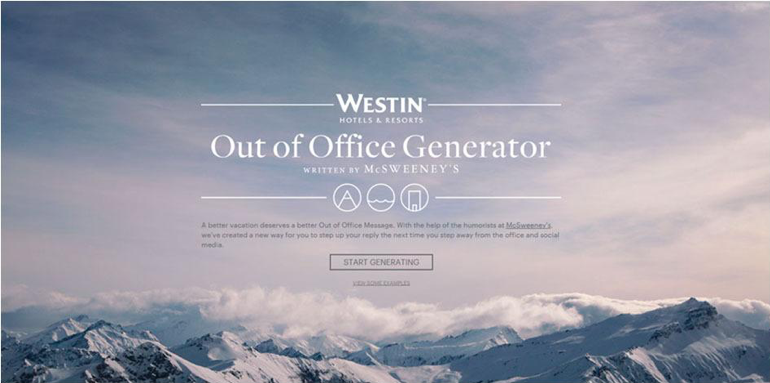 Why make your own out of office reply when you can generate a funny, quirky one?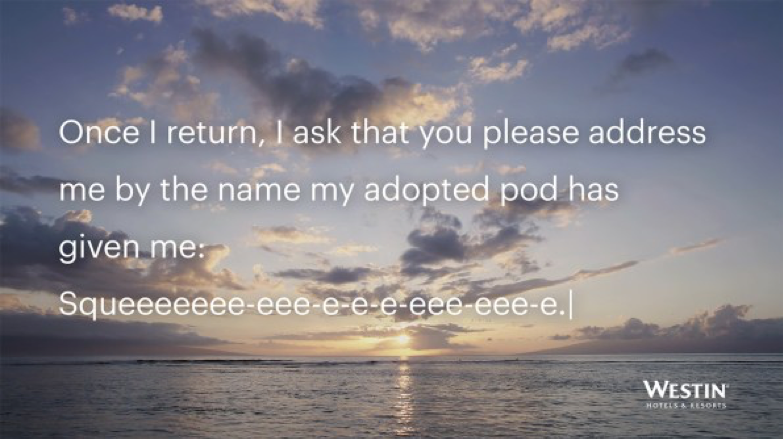 People were able to visit the website and generate their own out of office replies. Similar to the example below, Westin's humor really shined through. In a humorous way, Westin was able to poke fun at a growing challenge for many busy professionals.
Are you going to take time off and travel? Westin thinks so.
Travelocity – Where the Gnomes Roam
Travelocity is an online travel agency most notably known for one of their popular integrated marketing campaign with the Roaming Gnome.
Essentially, the Roaming Gnome is a lawn ornament placed in some of the most beautiful locations across the globe. Travelocity's Roaming Gnome became a social media star and eventually the smiling face of the brand.
With a strong presence on Twitter, Facebook, and his own blog, the Roaming Gnome's travel adventures have been well documented. In one of Travelocity's most recent adventures called Cabin Fever: Finding The Cure, the campaign promoted winter getaway deals on Travelocity including skiing and beach locations.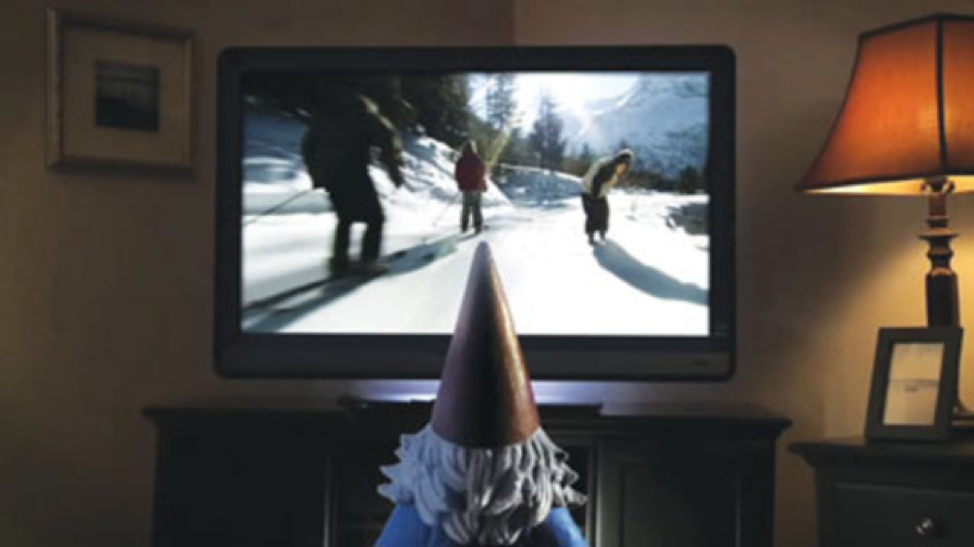 According to Victoria Tryger, CMO of Travelocity North America, "Using the gnome is a fun way to get them inspired and to interact with our brand. It all ties into a big sale; it is all about encouraging consumers to get out and take their ski or beach vacations."
The campaign promoted consumers to interact with the gnome and vote for his three winter trips on Travelocity's social media pages. The website also collected user-generated content of other travelers sharing photos of themselves on their winter trips as well.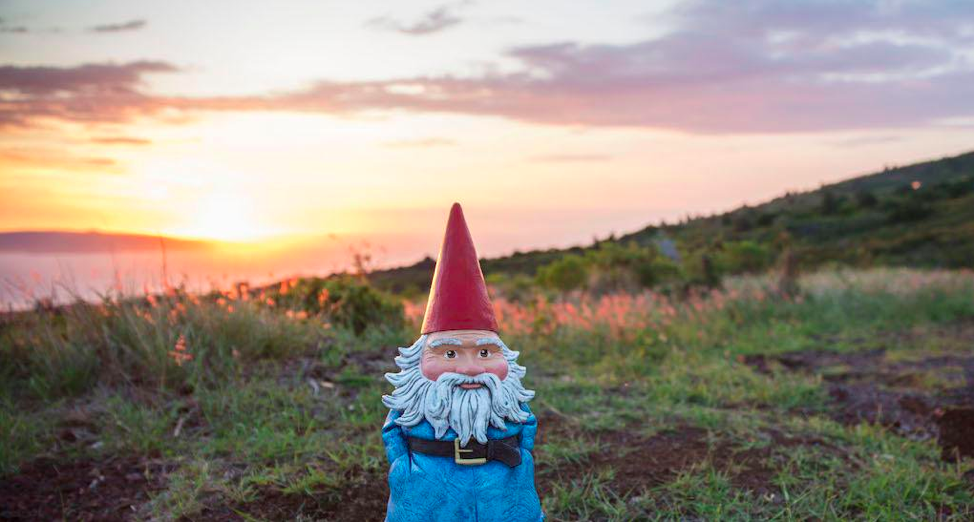 Outside of this specific winter campaign, fans of the Roaming Gnome can follow his ongoing travels on Twitter. Catch him roaming the streets of Austin, Texas or sipping on a Pina Colada on the beaches of Puerto Rico.
Recently, he teamed up with Thrifty Car Rental for a road trip which he documented on social media for followers to tag along.
The documentation of the road trip included photos of landmarks and tips on things to do. His adventures generated nearly 800,000 impressions, 106,000 engagements just on social media alone. In total, the campaign generated 1.5 million impressions through social media, website, email and digital advertisements.
Booking.com – Wing Everything
Drop everything, pack your bags and let's go on an impromptu road trip. Booking.com's campaign called Wing Everything campaign captures the spontaneous impulse to make the most of your summer to go on a holiday adventure.
Sean Condon, Wieden+Kennedy's Creative Director mentioned "It has Booking.com's typical energy, spirit, and boldness. It also has a very distinct point of view on summer, a theme that all too easily dissolves into cliché."
The main component of this marketing campaign is a fast-paced 30-second video with jazzy hitting drums, quick video cuts, moving visuals and a lot of summer vacation fun. Created by the talented folks at Wieden+Kennedy, the video can be seen on Booking.com's digital hub which also includes user-generated content from real travelers. This campaign was run across different locations such as the U.S. and U.K. through different mediums such as print, radio, digital and social media.
Now, we're not saying you should drop everything and hop on a plane, but if this video makes you do so then kudos to Booking.com.
Club Med – Escape a la Club Med
Club Med is one of the largest global travel agencies which has been around since 1950. The Club Med brand has really become a household name lately with their content strategy.
One of Club Med's most notable travel marketing campaigns is Escape a la Club Med which drew on the idea that people today need to slow down and disconnect. This messaging was demonstrated through one of their marketing taglines "swap the computer screen for the sunscreen."
Through a multi-channel approach which included their website, email, social media and direct mail, they delivered a message that helped them stand out. As Alicia Javelin, head of Content and Product Marketing pointed out, "We really wanted to state things in a fun way, to be a bit different in tone, maybe even a little bit quirky."
The video below is just one example of a compelling piece of content that tells the Club Med brand story.
WestJet – Christmas Miracle
WestJet has been leading the path in travel and tourism with content marketing over the past few years. Their Christmas Miracle campaign stood out to deliver a memorable and heartfelt experience for customers and employees.
By leveraging content marketing, WestJet created their 2015 holiday campaign called "WestJet Christmas Miracle." Through the use of video content, the goal of the campaign was to encourage 12,000 WestJetters to perform 12,000 random acts of kindness on December 9th over a 24 hour time period and submit them through social media.
This campaign involved everyone within the WestJet network, 101 bases in total and evolved quickly over the globe. Their own employees were encouraged to participate in the campaign. 12,000 WestJet employees were given Blue Santa hats, instructions to perform miracles, and supported with a budget to activate these little miracles across airports.
Start Your Next Travel Marketing Campaign
We hope these five travel marketing campaigns inspire you to kickstart your next campaign, if not then hopefully it encourages you to disconnect and travel the world. What are your favorite travel marketing campaigns? Share them in a comment or Tweet us @PostBeyond.