How did you first hear about your favorite brand?
Chances are it was through word-of-mouth marketing.
Nearly 75% of consumers say that word-of-mouth plays a key role in their purchasing decisions. From social media to review platforms, today's shoppers have more opportunities than ever to seek out and share recommendations for everything they buy.
It's time to make word-of-mouth a bigger part of your marketing strategy.
You can make 'word-of-mouth' more strategic and specific with brand advocacy.
What is Brand Advocacy?
A brand advocate is anyone who publicly supports or recommends your brand, products, or services.
Brand advocacy can include:
Personal recommendations to friends and family
Social media posts and user-generated content (UGC)
Customer referrals
Reviews
Participating in (or building) customer communities
Your brand advocates are your most enthusiastic, outspoken ambassadors. When you identify and leverage your biggest ambassadors to drive new business, you are using brand advocacy.
Brand advocacy can play a big role in your word-of-mouth marketing strategy, but it works best when done authentically and strategically.
Brand advocates act as representatives of your brand community — and they show others what makes your brand or product valuable. They support your company's growth because they want to, not because you're paying them to do so.
Who Can Be a Brand Advocate?
Your brand advocates are people who proactively promote your company through word-of-mouth, social media, and reviews. They can be employees, executives, partners and customers — anyone who is genuinely happy to support your brand publicly.
Great brand advocates are loyal, have an online reach, and represent your company's values and personality.
If you run a fitness apparel brand, for example, your ideal brand advocate might be a fitness instructor. If your product is targeted at parents, you probably want your brand advocates to have kids.
When your advocates' values line up with your brand's, it makes their support feel more authentic. They're also in a better position to reach your target audience; after all, they probably have a network full of people with similar interests and views.
It's important that your brand advocates are real users of your product or service. That's one of the reasons that brand advocacy works so well: trust. Too often we see influencers promoting products that they don't really use, and those campaigns are easy to spot as product placement.
Brand advocacy should be organic: advocates should be users and endorsers of your product without you paying them to be champions. When your brand advocates aren't affiliated with your company, their support comes across as more genuine and influential to potential customers.
Employees as brand advocates
Employees can also make great brand advocates. If you have a great company culture and employees feel connected to and invested in the brand, employee advocacy can be a key way to spread the word about your company as a brand and as an employer. Happy, engaged employees are more likely to recommend their company's products — after all, they're proud of their work.
Like customer advocacy, authenticity matters in employee advocacy. If you ask unhappy employees to post on social media in support of your brand, you're unlikely to see results. But when an employee is genuinely willing to promote your brand to their friends, family, and network, it speaks volumes about your company culture and the quality of your product.
5 Benefits of Brand Advocacy
Here are 5 benefits of making brand advocacy part of your marketing strategy.
1. Build trust
Like it or not, people don't trust brands:
Between 2016 and 2018, the number of consumers who said they trusted brands dropped 12% (Gartner)
As long ago as 2012, 92% of consumers were more likely to trust personal recommendations than ads (Nielsen)
Only one-third of participants in a 2019 Edelman Trust Barometer Special Report said that they trust most of the brands they buy and use. (Edelman)
Brand advocates make your brand more credible. People trust other people — including employees — more than they trust companies. When customers share positive experiences and product reviews, people tend to believe them.
2. Humanize your brand
We're living in a world of AI and chatbots — but people still want human connection. When 42% of people distrust messages coming directly from brands, putting a face (or several) to the name is vital. When customers and employees act as brand advocates on social media, you add personality to something otherwise seen as corporate and cold.
Learn more about how employee advocacy can help humanize your brand.
3. Reach a wider audience
When you post on social media from your brand account, your reach is limited mainly to people already familiar with your brand. When brand advocates post about your product on social media, that reach can grow exponentially — especially if you don't have a huge following on company pages. Brand advocacy helps you increase brand awareness organically.
Employees have an average combined total of 10X more followers than brands' social channels. Our research also shows that when an employee shares a piece of branded content, it will (on average) reach 561% further than it would on your branded channels.
4. Create more content
User-generated content (UGC) is any content created by customers or employees to highlight your brand or product. UGC can include testimonials, photos, videos, reviews, and case studies. There's also employee-generated content (ECG) which encourages employees to create and share relevant information.
When you encourage customers to create and share content:
You get authentic, third-party content that resonates with your target audience
Resharing that content makes your customers feel appreciated and involved
In one survey, 75% of respondents said that UGC makes content more authentic. Sharing UGC on your brand pages can increase engagement too: 45% of marketers agree that user-generated content helps improve social media campaigns.
5. Save time and money on marketing
When customers and employees proactively recommend and share your brand, it takes some of the marketing work (and cost) off of your company's plate. This gives you valuable time back to focus on other parts of your business.
Brand advocacy is a free (or almost free, depending on incentives) organic marketing channel that can grow brand awareness and boost sales.
5 Brand Advocacy Examples
Take a look at these 5 examples of brand advocacy in action.
1. IKEA
In 2015, IKEA UK ran a contest on Facebook to celebrate the "joy of storage." They invited Facebook fans to share photos of their IKEA products with the hashtag #JoyOfStorage for the chance to win "an amazing personalized wardrobe."
IKEA fans posted user-generated content showing off IKEA products in their homes, and the UGC became a mini advertising campaign for the company — and the "joy of storage" tagline. The more people who posted, the wider the reach, and the more other customers were inspired to take part.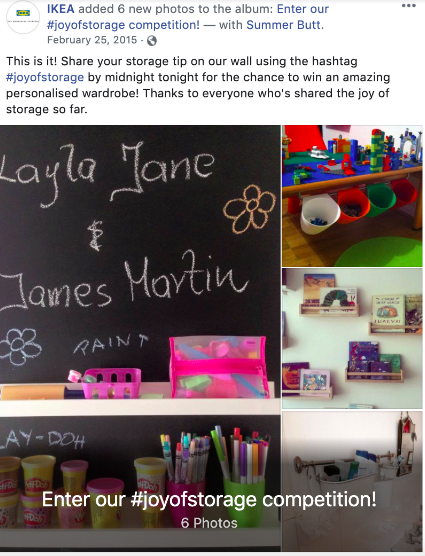 2. Starry Internet
Good customer service turns customers into advocates. Washington Post writer Dave Jorgenson had a great experience with Starry Internet — so he tweeted about it: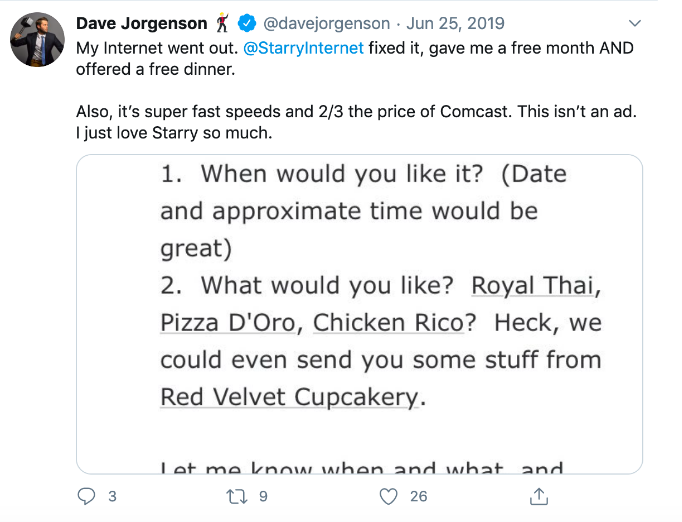 In a world where internet and cable providers are notorious for bad customer service, Dave's experience with Starry Internet stands out. He even clarifies that his tweet isn't an ad — he's just a huge fan of his internet company and wants the world to know it.
3. #TeamPixel by Google
When Google launched the Pixel phone, they were known for search, not phones or photography.
Google launched the #TeamPixel campaign to showcase the quality of the Pixel 3's camera using social proof. They encouraged Pixel users to show off their phone photography with the hashtag #TeamPixel, creating a community of Pixel users — and a huge library of UGC for Google.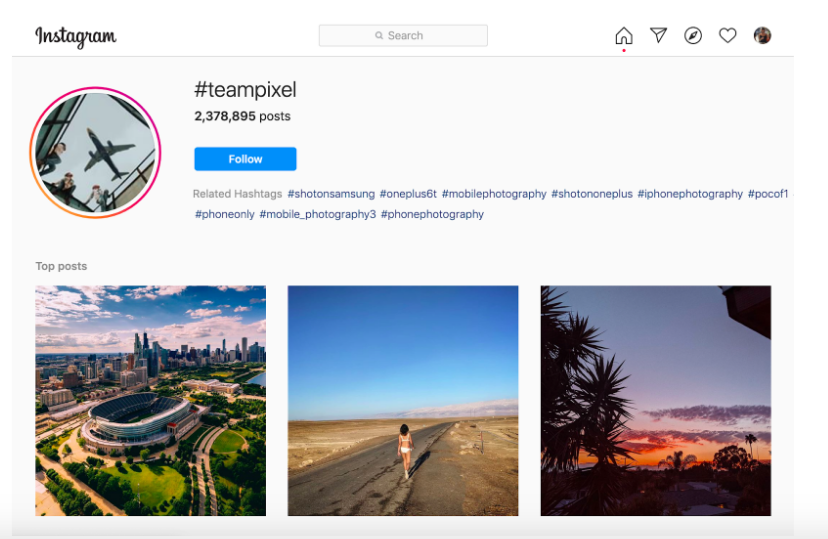 The results? Over 105 million impressions and 5 million engagements — all without paying a single influencer.
4. Starbucks
Starbucks is a brand that consistently ranks near the top of the Forbes' 50 Most Engaged Companies list and it is for good reason. They are a great example of putting brand advocacy in practice. Their focus is on empowering their employees to build a community based on values and meaning with the brand.
Their brand advocates are most notable for using the #ToBeAPartner hashtag. The term "partner" is officially given to employees who promote Starbucks on social media. This helps foster a sense of community and belonging amongst employees and it focuses on the people behind the brand.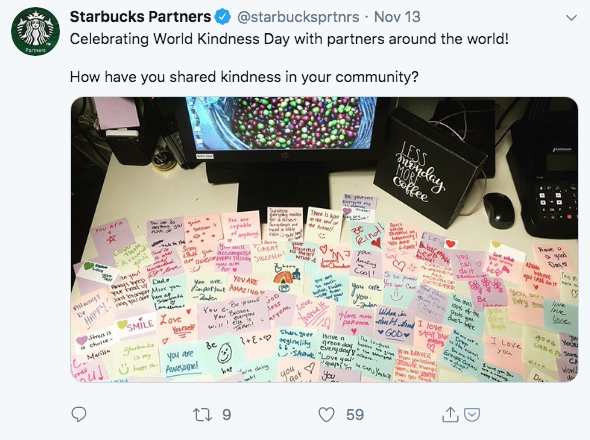 Former Starbucks CEO, Howards Shutlzs has said, "Employees are the true ambassadors of our brand, the real merchants of romance, and as such the primary catalysts for delighting customers. Employees elevate the experience for each customer – something you can hardly accomplish with a billboard or a 30-second spot."
5. GoCardless
PostBeyond customer GoCardless was scaling quickly — and wanted to amplify that growth and grow brand awareness through employee advocacy. They launched an employee advocacy program through PostBeyond that encouraged employees to share company content on social media.
One year after launching the program, GoCardless had become a more socially-connected company — and had the results to prove it:
67% of active employees sharing content
1,000,000+ in potential reach on social media
7,500+ likes, comments, and reshares per month
17,000+ click-throughs
139% more website traffic compared to organic social media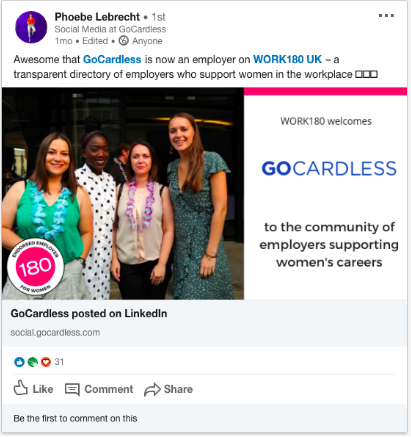 Learn more about GoCardless's employee advocacy strategy here.
How to Get Started With Brand Advocacy
Now that you know the benefits of brand advocacy, how can you integrate it into your marketing strategy? Here are 6 steps to getting started with brand advocacy.
1. Start with your culture and customer experience
You can't force unhappy customers and employees to become brand advocates. Happy employees create a better customer experience — and brand advocates promote your brand because they love your product and the customer experience you've created.
Ask your customers and employees for feedback. With social media, you can ask customers what they think of your product and how well it fits their needs. When you ask customers for feedback (and prove that you listen to it), you show them that you care about them. Make your decisions with customers' and employees' needs in mind. This will make them feel valued, which inspires loyalty and advocacy.
2. Identify your brand advocates
To figure out who your biggest advocates are, look for people who:
Regularly like, share, and reply to your posts
Leave good reviews
Already post about your brand (you can use social listening tools for this)
Answer other people's questions about your brand on social media or forums
If you use NPS surveys, look for customers who give you a 9 or a 10 — they're already telling you that they'd recommend you to their friends and family.
3. Reach out to brand advocates
Once you know who your potential brand advocates are, you can reach out to them to begin a partnership. This works best if you have a UGC campaign or case study requests in mind; otherwise, it can sometimes be best to just keep engaging with your customer's content on social media rather than asking for something specific.
The best time to reach out to brand advocates (both customers and employees! is when they're already feeling awesome about your business. This could be right after they leave a positive review, give you a high NPS score, renew their subscription, post something positive on social media, or have a great interaction with your customer service team.
4. Set goals for your brand advocacy program
To set your brand advocacy program up for success, set goals and KPIs. Choose metrics that will help you measure the impact of your program. These metrics might include:
Brand awareness
Lead generation
Employee engagement
Website traffic
Conversions
Brand mentions
Post engagement
Make sure that your brand advocacy goals are SMART: Specific, measurable, attainable, relevant, and time-bound. The metrics you set will depend on your goals. If you want to use brand advocacy to drive more sales, you should measure conversions and lead generation. If your goal is to boost brand awareness, it makes more sense to track brand mentions, post engagement, and impressions.
5. Reward advocacy and referrals
Brand advocates are happy to promote your brand without asking anything in return — but incentivizing and rewarding them can build a stronger relationship and attract more advocates. It's important to show appreciation for your brand's biggest fans, even (or especially) if they aren't expecting it.
Rewards for advocacy and referrals can be as small as reposting their content on your company page or sharing a discount code, and as big as sending out free products or even cash incentives. You can also set up a referral program that incentivizes customers to recommend your product or service in exchange for prizes — the more people they refer, the better the reward.
Make sure that if you incentivize reviews, you incentivize all reviews — not just the positive ones. Make it clear to your customers that you want and care about their honest opinion. Providing small incentives has been proven to lead to more accurate reviews because customers who don't feel strongly one way or the other are more likely to share their feedback.
For employee advocacy, make sure that you know your employees' motivations and willingness to share. Show them the benefits of creating and sharing content, and let them know what resources are available to help them do so. It might make sense to get execs involved first — executive participation in the advocacy program can drive a "trickle-down" effect. Exec buy-in can also help establish and spread a consistent brand voice. Learn more about how to launch an employee advocacy program.
6. Measure success – and iterate
Last but not least, you need to make sure that your brand advocacy plan is working. Look back at the KPIs you set in step 4 and compare your results with your goals. If you're not meeting your goals, why? What can you test or change to make your advocacy program work better for your brand and your customers? Do you need to alter your incentives? Your expectations?
When you regularly measure your brand advocacy metrics, you can continue to iterate on your program and find the best setup for your company, your employees, and your customers.
Harnessing the Power of Brand Advocacy
Brand advocacy is all about letting your product speak for itself and counting on others to spread the word. In the end, a quality product and service leads to quality advocates⁠—customers and employees who support who you are, what you do and want to share that with others.