When was the last time you went to a new restaurant without hearing about it from a friend or looking up a review first?
If you don't remember, it's because you are a savvy buyer, just like your customers.
Today's customers have access to endless information on product quality, competition and your brand's values. B2B buyers are taking a page out of B2C, both make highly informed, rational decisions — and to gather information on potential purchases, they collaborate with peers.
This peer collaboration — or rather, word-of-mouth marketing — has been effective time and time again.
With the rise of review sites and social media, marketers have endless opportunities to encourage word-of-mouth marketing that draw more engagement than past methods. (Good-bye referral cards, hello in-app sharing!)
Complete buy-in from executives and employees is necessary to make a word-of-mouth marketing strategy work. To get that buy-in, you have to have a solid grasp of why word-of-mouth marketing is so effective and how companies can harness its power with online marketing.
Today's Buyers are Highly Influenced by Word-of-Mouth
The 2019 Global Linkedin Report on Tech Buyers describes today's tech buyers as "enlightened" buyers that use their communities to make informed buying decisions. Though specifically referring to tech buyers, the same could be said of B2C buyers.
Consumers say that word-of-mouth is a big influence on their purchases
Study after study show that consumers trust personal recommendations above all other sources of information in the buying process. Real opinions from like-minded people trump influencers, brand-generated content, and all crafty sales pitches.
Statistics show that word-of-mouth works
Almost 75% of consumers say that word-of-mouth sharing plays a key part in their purchasing decisions (American Marketing Association)
83% of Americans say that they are more likely to make a purchase after receiving a recommendation from a friend or family member (Chatter Matters Report from Convince&Convert)
About two-thirds of audio and video streaming users said personal recommendations influenced what they streamed (Nielsen MediaTech Trender Report)
Recommendations can play a part in every stage of the customer journey — from awareness to decision making. But why is word-of-mouth marketing so effective?
Trust is Why Word of Mouth So Effective
It all boils down to trust.
We inherently trust people who are like us and who are not trying to sell us anything. We understand the motives of businesses and of our friends. It doesn't take much to trust our friends' personal stories and experiences. It does require a lot to trust a brand, even on a good day.
Between 2016 and 2018, the number of consumers who said they trusted big brands dropped 12%. And according to Gallup, American perception of advertisers is not favorable in the slightest.
At the end of the day, consumers still consume. How do they bridge the gap between their lack of confidence in brands and their desire for certain products or services?
They go to trustworthy sources for their information — friends, family, colleagues and industry peers.
Consumers are twice as likely to trust family members and friends than any other influence giving recommendations, according to an Oracle report. Colleagues are next in line.
When friends rave about a product or service, consumers are likely to want a similar experience. Their recommendation is seen as authentic and their friend's story will stand out in their memories among all the advertisements they see daily.
Marketers are missing out on a solid trust network if they do not approach word-of-mouth marketing with a clear strategy. Social media, loyalty programs, apps and review platforms make it easier than ever for marketers to tap into customer and employee social connections.
How the internet and social media have changed word-of-mouth marketing
Buyers are collaborative — they use peer input to research, assess and purchase new products and services. They often find this peer input via online communities.
New ways to encourage word-of-mouth marketing include:
In-app referral programs (Especially for companies with a loyalty program app)
Encouraging reviews on relevant and trustworthy review platforms such as G2 or TrustRadius
Offering incentives for social media shares/reviews
Social media posts by employees
No matter your industry, size, or product, your brand can benefit from personal and online chatter. Not sure where to start? Here are two examples of companies doing online word-of-mouth marketing right.
Word of Mouth in Practice
SWEAT
One great example of an in-app referral program is the fitness app, SWEAT. After every completed training session, users are encouraged to invite friends to train with them. When a user shares the invitation, their friend receives a free 7-day trial.
Users are also encouraged to share a "Sweaty Selfie" or a "Trophy." With one click, users can share their experience across their preferred channels.
Oracle
Oracle values word-of-mouth marketing and has made reviews an integral part of their marketing strategy. An enterprise-level adoption of a review strategy required complete buy-in from critical departments ranging from product marketing, development, sales, analyst relations to customer programs.
With an intentional review strategy, Oracle gained 25,000 reviews across three review platforms. These reviews have led to 69,000 views (more than half were executives) and Oracle has identified over 800 customer advocates.
Don't Forget Your Social Media Posts by Employees
Though happy customers are a huge asset for your word-of-mouth strategy, don't underestimate your own people. Employees can be a highly influential advocate for your product.
They know your company best and if they have something positive to say about you, their friends and family will trust their perspective.
Turbonomic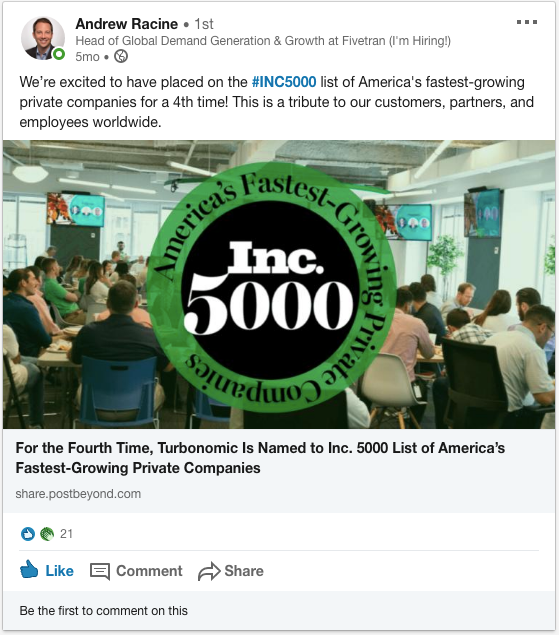 Turbonomic has grown their reach exponentially with employee advocacy on social media. As an Inc. 1000 company, they were rapidly scaling and trying to ramp up their social media efforts.
For Turbonomic's employee advocacy program, they enabled over 500 employees to amplify their branded content through social media. With the collective effort of their employees, this led to 5x more engagement on social media and numerous meetings with decision-makers sourced through employee-shared content.
If you want to improve your brand's reach, web traffic, or online engagement, don't overlook the power of social media posts by employees.