Centralized Communication Examples
The importance of centralized communication can easily be described and shown through our favourite paper distribution regional manager, Michael Scott. The Office coming to Netflix is a wonderful thing. A few of us here at PostBeyond are making their way through the series (and no, I'm totally not averaging 5 episodes a night, what are you talking about?!), and we're finding it's a pretty good reminder that some businesses operate with a severe lack of communication on all fronts.
Actually, just last night I watched an episode where Michael asks the team to come up with critiques of how their branch of Dunder-Mifflin is run.
Oscar: Well, I'd say communication could be improved. People stopped reading memos, so everyone marks them urgent.
Michael's response?
I mark memos Urgent A, Urgent B, Urgent C, Urgent D. Urgent A is the most important. Urgent D you don't even really have to worry about.

— Michael Scott (@carellquotes) April 17, 2015
Realistically, though, this raises a good point. Employees are expected to read every single piece of content that comes their way – without any consideration for how it's relevant to them, or how they're expected to respond.
But this isn't just regarding memos. Think of all of the internal communications vehicles your organization uses:
• Email
• Newsletter
• Intranet
• Town Halls
• Social networks
Or maybe there's a heavyweight internal comms tool that you use that integrates all of these mediums. These platforms have their purpose, of course, but the problem still remains: radio silence on the other end. You put content out there, and have no idea whether your employees are responding well. They could be reading it line by line, or they could be immediately dragging and dropping it into their trash folder.
There's an overwhelming amount of content for employees to absorb, all being communicated on different mediums, with the hope that they'll not only read the content, but engage with it in some way.
And when we add in the idea that your employees all want content for different reasons, it becomes even more fragmented.
But we think that a more streamlined solution shouldn't just be easier for employees to navigate – it should help them do their jobs.
Streamlining Internal Communications
When we consider all of the content an enterprise creates, it's easy to see how this can become overwhelming to an employee. Memos, newsletters, job postings, product updates, company updates, events, industry news…yeah, it's a lot. And where are all of these pieces of content being delivered?
In Dunder-Mifflin's case, ignoring memos makes complete sense. They're all marked "URGENT" when some of them are more "FYI." But even though all of this information should be made available to employees, that doesn't mean an email blast with URGENT or MUST READ is going to resonate well. The trick is making it easy to consume.
Mark Jordan, Director Digital Projects, Brand Strategy & Communications at SickKids Foundation (one of our awesome customers) detailed this quite nicely. When asked what role communications plays in the evolution of the workplace, Mark told us:
I think the notion of people being able to get the information they want and filter it based on their needs, not what they're told is important. It's about empowering them with communications tools where they can determine what's important to them within the communication flow, versus an email blast to "all" where the reaction is "I'm not interested – turn that off.
In PostBeyond, content can be made available to employees with a variety of settings. Team photos might be available in the dashboard for everyone to see, (and yes probably get a good chuckle), but can be listed as strictly internal without an option to share on social.
Or let's say you're using the platform for a large group of over 1000 users. Certain content can be made available to groups of employees based on relevancy to them. That way, their dashboard is populated with content that matters to them and they can choose what action they take with it.
This centralized library is where your employees will go to receive any internal content that you want (yes, including selfies) that can stay within the company, and they can receive meaningful content that's externally shareable. It becomes a dashboard for any and all content that's relevant to the company.
Enabling Your Sales Team
But how does this help employees do their jobs? How does a modernized internal communications hub actually enable your team to perform better?
Well, one of my favourite examples is one that quite a few of our customers have implemented. Sales enablement is perhaps one of the strongest examples of how content can empower your team to invest in their own personal development with measurable results for the company.
It's no secret that the pressuring salesperson is totally and unequivocally ineffective. Will they close some deals? Probably. Will that customer be happy about their experience? Probably not. The mindset of "don't hang up until they buy or DIE" is, in so many ways, wrong. Now we're seeing a shift towards education. As Sales Enablement Expert Jill Rowley told the crowd back at Social Tools Summit: helping is the new selling.
"No one wants to be sold, but we all want to be helped. Helping is the new selling." – @jill_rowley #socialselling #SocialTools15

— Neal Schaffer (@NealSchaffer) October 27, 2015
So, how can your sales team help and educate prospects? More importantly: how can you help educate your sales team?
It starts with – you guessed it – easily accessible content.
Think about it this way: if you make it easier for your sales team to learn about their industry, you're by extension helping them speak with prospective clients better. They're knowledgeable and informed, but most of all, they're trustworthy.
Hinge Research Institute's most recent report on Employee Advocacy details the reviews the effect that a formal program has on sales representatives: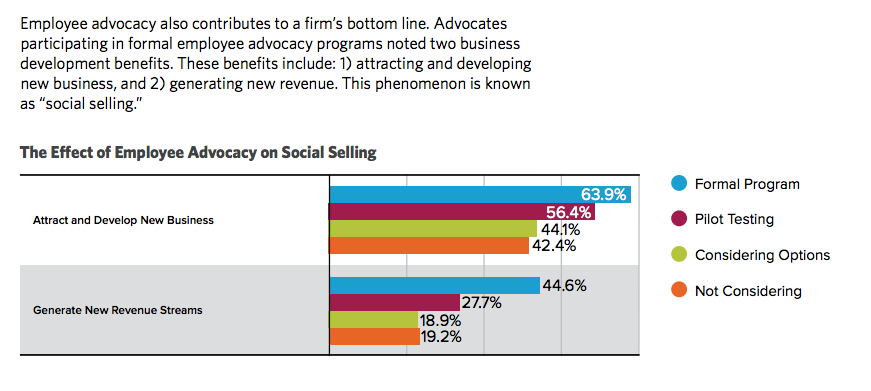 With a centralized content library, your sales team won't have to sift through email blasts or the public company blog to stay in the loop. Instead, all of the right content will be readily available for them to read and share as they please, in turn helping them attract new business.
Internal Communications & Sales Enablement Done Right
We have customers that have come up with some seriously creative ways to get their sales team on board (usually involving a leaderboard), and we always love to hear their results.
One customer of ours had a unique challenge. Their sales agents were always on-the-go (even more than a typical sales team), and their industry is changing by the day.
If you guessed TheRedPin Brokerage, you are…scarily accurate with our customers. You're also 100% correct on that guess!
We asked Hugo, a Sales Rep at TheRedPin what some of his biggest challenges were when he was speaking to potential home buyers and doing his own marketing. He told us:
I didn't know what people were interested in. I didn't know what was relevant, I didn't know what was true, and I wanted to help dispel myths.
This is a challenge many sales agents face. They see how the right content can help them build their credibility, but they don't know where to source this content. If they want to find compelling content about their company or industry, they'd need to manually sort through various sources to find it.
Since implementing PostBeyond, their agents now spend 1-2 hours a week managing their personal brand online. The content is there for them in a centralized library, and the agents can consume or share this content with their networks. This has the added bonus of keeping all agents on the same page with the Toronto & Vancouver real estate markets, and gives the marketing team deeper insight as to what content performs best.
Another customer of ours, Molson-Coors, uses the platform to mobilize their sales team. Having the right information at their fingertips (literally – the mobile app is invaluable for salespeople) resulted in Molson-Coor's team becoming confident that the information they were sharing with their networks and potential customers was accurate and engaging.
Where Do You Stand?
If, like Molson-Coors or TheRedPin, you want to position your sales team as industry leaders, it's important to empower them with content that's easily accessible. Searching through an email inbox or trying to find a relevant article in a trade publication is simply not time efficient. Accessible and relevant content is invaluable to a sales team that's embracing the educational or social selling approach.
Even if they're not part of an outward-facing team like sales, your employees will undoubtedly find the centralized hub valuable for discovering company or industry information.
Fragmented internal communications can sometimes feel like screaming into a void. Ask yourself: are my employees really engaging with the company content? Or are they disinterested because it isn't accessible and relevant to them?
More importantly: what's the cost of not streamlining this process?