We'd like to tip our hats to the LinkedIn Elevate team for creating a solid employee advocacy solution. Throughout the years, LinkedIn has helped many companies enable their employees to be active on social media.
They've played a big role in shaping the employee advocacy space and for that, we are grateful for it.
LinkedIn announced the discontinuation and for many customers, they're now looking for LinkedIn Elevate alternatives. If this is you, you're doing the right thing by finding a new platform.
If you're unsure what to look for, what questions to ask or how to transition then this guide will help you answer everything you need to know.
This past year, LinkedIn Elevate customers have trusted PostBeyond to seamlessly transition their employee advocacy program. Through countless conversations, we've uncovered some common questions that Elevate customers ask. By partnering with them, we've also gathered several best practices for a transition plan.
We decided to compile all of the top questions asked by LinkedIn Elevate customers to provide our best answers. This article covers the common questions and provides best practices for an easy and smooth transition.
Q: What should we have ready when we transition to a new platform?
Great question. Before switching over to a new employee advocacy platform, make sure you have all your program details checked off.
We're advising all LinkedIn Elevate customers to answer two critical questions to continue to scale their momentum.
1. Have you exported historical data from Elevate yet?
Data is critical to understanding the performance of your employee advocacy program. When you have historical data, you can provide a year-over-year comparison or look at your program's linear growth.
You want to ensure you can benchmark and provide context to your ongoing performance. To access this data, please reach out to your support rep at LinkedIn to get access to this data.
2. What content will you need for each employee group?
Luckily you're not building your content library from scratch since you already have a robust library of content. You'll want to be able to export your content when you're making the switch.
You can ask your LinkedIn support rep to help with this process, or you can manually export through a CSV file. This will ensure you don't have to find and curate new content all over again, which can be a time-consuming process. We have seen customers start with new and fresh content since Elevate did not have an expiry feature. This is something you'll have to consider during your content audit as well.
Make sure you tag what content belongs to which employee group. As an example, if there are posts for specific departments such as marketing, engineering or sales. Or if you've segmented your content by geographies such as APAC, EMEA and Americas. This way, you're organized when it's time to populate your new platform.
Q: What does the onboarding process look like when we transition off of LinkedIn Elevate?
The most important step is to plan for offboarding and onboarding onto a new platform. Your program only has one chance to make a first impression, so it's valuable to ensure your onboarding experience is smooth and simple.
What content do you have? Who is going to be a part of the program? How are you training your employees? These and many other questions arise from onboarding.
Your onboarding plan should ensure your employees have everything they need to start. They should get familiar with the platform, especially because if it's not they've grown accustomed to.
Determine the necessary tasks you need to accomplish and design a comprehensive onboarding plan to ensure your employees are ready to be advocates. This should include content curation, data collection and platform training for program admins as well as users.
If your employee advocacy program spans multiple geographies and time zones, then plan your training accordingly.
Q: How should we group employees and content topics?
Similar to Netflix, you want every employee to receive a personalized content experience.
A one-size-fits-all content experience can overwhelm employees because there are too many posts for them to scroll through. Personalize your content based on their geography, department, or even role. Your employees will know exactly what content they can share and it helps deepen their social media engagement.
Through employee grouping and hierarchy, program admins can broadcast specific content to employees based on their region, business line, and role. Employees should then take it a step further and choose which content topics or categories they'd like to follow.
For most LinkedIn Elevate customers, we've seen them make separate groups for geographies and departments.
For example "APAC – Japan – Sales Team" or "North America – USA – Business Development. Now, imagine doing that for every single combination of geography and department. This can be time-consuming and unproductive. So, we're educating LinkedIn Elevate customers on the value of program hierarchies. Here's an example below: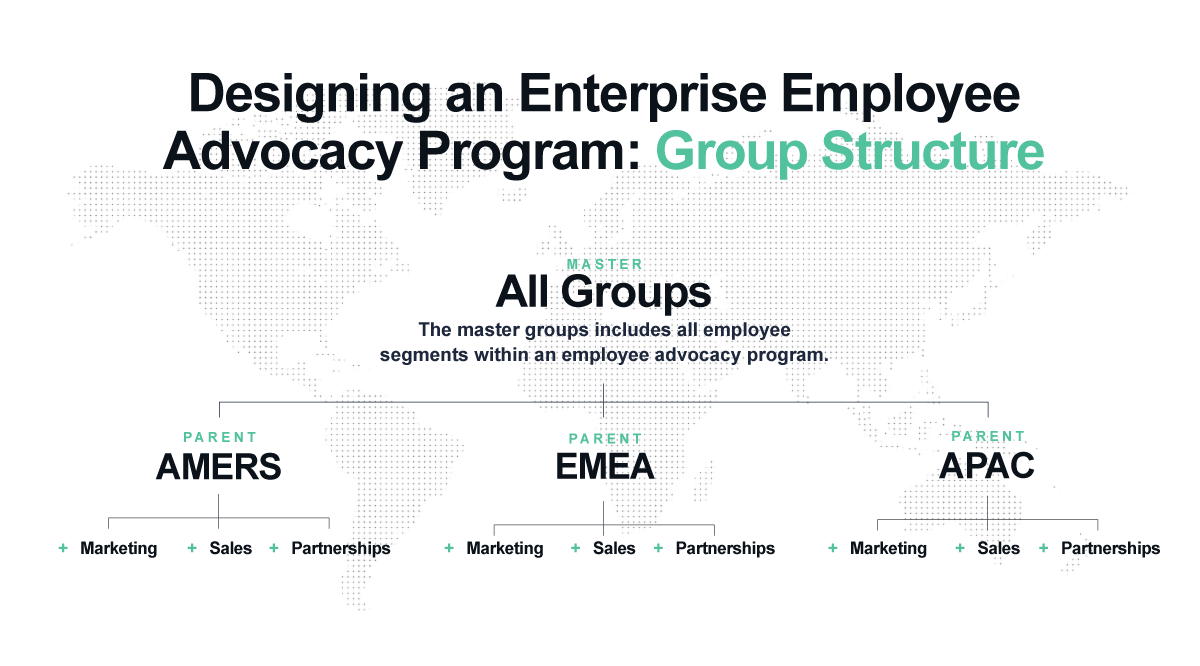 By segmenting employee, you will reduce the number of different groups needed and simplify user management.
Q: How will we train global employees on a new platform?
Ensure you have an internal communication plan in place when you've decided that you'll be migrating off of LinkedIn Elevate. Inform your users about the transition plan to ensure you don't experience a decline in employee adoption.
Once you've selected a new platform, work with your solution provider to help segment users into relevant groups. Ensure that employees are available in their time zones for training if your program is global.
If employees cannot attend specific sessions, ensure training is either recorded or consistent weekly or monthly training sessions.
Social readiness may vary as well. The likely scenario is that your employees range in social savviness from beginner to advanced. To address this, ensure your training tackles basic social media etiquette to provide everyone with a base layer of understanding.
For example, if your use case is social selling then your training will be more focused on sales best practices. Using the platform for social selling or engaging prospects requires a different set of skills. It involves building the ideal LinkedIn profile, engagement strategies and using content to start conversations. Ensure these are all addressed in your training.
7 Best Practices for a Smooth LinkedIn Elevate Transition
One of the most important steps is thinking about offboarding from LinkedIn Elevate and onboarding onto a new platform. Your program only has one chance to make a first impression, so it's valuable to ensure your employees have a smooth and seamless experience.
What content do you have? Who is going to be a part of the program? How are you training your employees? These and many other questions arise from onboarding.
Your onboarding plan should enable your employees with everything they need to get familiar with your new platform as quickly as possible.
This section covers best practices to successfully transition from LinkedIn elevate onto a new employee advocacy platform.
Get Executive Buy-In
Set Program Goals
Use Customized Training Methods
Design The Right Content Strategy
Promote and Communicate Internally
Gather Success Stories
Bonus: Export Current Program Data
1. Get Executive Buy-In
Is your leadership involved in your current employee advocacy program? If so, are they setting the right example for employees to follow? And if not, this will be your best opportunity to reset and get executives involved.
Employee advocacy programs perform better when executives support the initiative. Employees are more likely to participate in social media when they see their executives set an example.
For executives, social media is a powerful channel to be active. Based on our customer data, we've found that executives:
Have strong social networks and are 31% larger than the average employee.
Share 36% more than the rest of the organization.
Generate 65% more interactions than the rest of the organization.
Generate 206% more interactions per share on LinkedIn.
From our experience, we've seen employee advocacy programs increase their adoption by roughly 25% when an executive actively engages and promotes the program. To gain your executive's support, you'll need to speak their language by communicating how the program impacts corporate goals.
2. Set Program Goals
Create SMART (Specific, Measurable, Attainable, Realistic and Timely) goals for your employee advocacy program. Ensure they were clearly defined and can be measured. Since you're coming off LinkedIn Elevate, you're likely to have established goals already which is a great start. As you transition off, this is a good time to reevaluate your goals and your key use case.
For example, employee advocacy programs fall into three distinct use cases:
Thought Leadership
Social Selling
Employer Branding
Each use case has specific goals with metrics about each. Ensure you have goals for each metric that is critical to your program's success. This includes (but not limited to):
Adoption Rate
Users Sharing
Potential Reach
Earned Media Value
Engagement Rate
Number of Content Pieces Created
Email Updates Sent
New Website Visitors
The Most Important Metric: Adoption Rate
The most critical metric to watch for is the adoption rate because your employees are already familiar with LinkedIn Elevate's user experience. It's important to communicate internally to employees about the transition before it happens. Provide ample enough lead time so they can get familiar with the new platform of your choice as well.
Capture your metrics so you can benchmark your program goals with previous results and with similar companies by industry, company size, or use case. By aligning metrics with benchmarks, you'll have a better context for how your program is performing.
Depending on your use case, as examples, you can highlight the following:
Increase engagement on social media and generate qualified website traffic.
Calculate the importance of branded marketing content through earned media value.
Generate new leads and influence future customers on social media.
Align your goals with key initiatives in the organization and present them to your leadership to align on your objectives. Executives are busy and often on-the-go from one meeting to the next.
Measure the time it'll take to transition to a new platform as well. Strike a balance between speed and proficiency by ensuring you can quickly transition and capture your employee's attention while it's hot. At the same time, you don't want to transition so quickly that you forget to follow all the right steps.
3. Use Customized Training Methods
Training will help your employees understand how to use a new platform. Your company is different, and so is each employee.
A one-size-fits-all approach for training doesn't cater to your company's specific needs, nor does it personalize the experience for your employees.
Consider everyone's different ways of absorbing knowledge since everyone learns in different ways. Your employees will be fully engaged when there are different methods of training provided to them.
Ensure that your new solution provides your employees with thorough platform training. This includes training for the program admin, content creators, and employees. Training should educate employees on what they need to know to be successful on the platform. It should cover everything from set-up, onboarding, personal settings, finding content, and social media sharing.
For program admins and content creators, you should look for training on accessing different analytics dashboards, creating posts, managing users, reporting, and more.
4. Design The Right Content Strategy
For most LinkedIn Elevate customers, this is an opportunity to refresh the content library. Since the Elevate platform did not have the option to expire content, some social posts might be outdated.
In our experience, this is the best time to perform a full content audit to see what content should stay and what needs to go.
Re-align your content strategy to reflect your new program goals.
For example, if your main use case is thought leadership, you'll likely want to have a 30/70 or 40/60 model where most of your content is from third-party publications. Identify all of your third-party publications that you'd like to pull content from also. This can be RSS feed links, Twitter accounts, or your company blog. Get this ready for when you kickstart your new program.
Create specific content topics and categories for employees to follow. In Elevate, you likely had dozens and dozens of content topics. Well, this is a good time to refresh your content topics. Look at your metrics to determine which content categories get the most shares and engagement. Identify what categories don't get much love and attention from employees. From what we've seen, there's a high likelihood that you'll need to remove some content topics.
5. Promote and Communicate Internally
One of the most important yet overlooked steps for launching is program promotion, marketing your own marketing.
To ensure a strong start and continuous employee adoption, consider your promotion plan in two components: pre-launch and post-launch.
For LinkedIn Elevate customers, it is necessary to think about an internal communications plan for employees. Be transparent about the changes that will happen with their current platform and what steps to onboard onto a new platform.
Your goal is to create as little disruption as possible within their day-to-day workflows. Communication is key. It is important to promote the program and its benefits before employees actually get on the platform or even begin training. This will help increase usage and adoption as you begin to implement the program.
Here's a pre-launch promotion checklist:
Get executives involved.
Prepare questions and answers.
Make a list of all communication channels for employees.
Pre-draft your promotion strategy.
Your promotion strategy can span across different channels such as your employee communication tool, email newsletter, or even platform notifications.
Once your program is launched, you want to keep up the momentum. This can be done by sending regular weekly email updates, recommend tips, encourage employees to sign-in regularly and recognize top performers.
Executive support can play an important role in promoting the program. Ask your executives to remind their teams to use the platform and ensure they set expectations for their team on how often they use it. Encourage executives to recognize and reward active team members.
Visibility into the success of the program can go a long way. Ensure you share your program results with executives to demonstrate the impact for the company
6. Gather Success Stories
There are going to be social media champions who will be proactive and seeing initial success. Continuously gather success stories and allow your employees to speak about them with their peers.
First, you need to identify your social media champions. Here are a few ways:
Look at Elevate data to see which employees are the most engaged with your employee advocacy program.
Survey your team to see who is interested in being active in a program like this and who would actually want to share on their social networks.
Ask managers to identify top-performing employees.
Watch your social channels to see which employees are already re-sharing the content from your brand.
Do a social media audit of your staff to identify who currently has a firm social media profile and following because these are the people who will likely see the benefit of employee advocacy.
Make it is easy for those who are already active on social and are excited about it.
Hear from PostBeyond's customers who have voted us the #1 employee advocacy solution on G2 and have rated us highly in ease-of-use compared to LinkedIn Elevate.
7. Export Current Program Data
There are key considerations you'll need to be aware of and the biggest one is data.
First, export all of the necessary data you need from your current existing platform. This can include historical performance data, a repository of content- or employee headcount.
When onboarding onto a new platform, you'll need a list of content to populate your new platform and ensure the right people are on-boarded as well. This process will really speed up your launch timeline and provide a performance baseline.
Don't Transition Alone!
As you onboard, you should have a dedicated partner by your side along the process. Each company is unique and dedicated support can provide best practices to match your program's desires.
1. Account Management
A dedicated Customer Success Manager (CSM) can provide strategic direction throughout the program. Together, you and your CSM can move through key milestones, including implementation and ongoing growth planning.
2. Program Reporting
Conduct quarterly business reviews with your Customer Success Manager and executive leadership to ensure your program is trending against key performance indicators.
3. Ongoing Support
Ensures that program admins and end-users can easily source answers to their questions whenever and wherever. Get access to on-demand resources that are constantly being updated.
Final Thoughts
We hope you found this guide helpful. We realize that transitioning off of LinkedIn Elevate to an alternative solution may seem like a daunting task. However, this is also your window of opportunity to audit your employee advocacy program and find areas for improvement.
A successful transition will deliver consistent levels of employee adoption. The benefit is that executives and employees understand the impact of employee advocacy on your brand and recruiting efforts. Ensure a seamless transition by providing an ample amount of time to move your content and employees to a new platform.
Remember, you only get one chance at a first impression!
Ready to explore an easy-to-use alternative for LinkedIn Elevate? Simply click here or below to request a demo and see PostBeyond in action.
Editor's Note: This post was originally published on July 23 and has been completely updated for accuracy and comprehensiveness.