Employee advocacy programs involving one thousand active participants can generate the equivalent of $1.9M in advertising value. Nearly a third of companies report employee advocacy as a key driver in shortening their sales cycle. Greater brand awareness, increased inbound leads, and decreased recruiting costs are all samples of the numerous benefits an employee advocacy program can achieve.
Modern marketers have certainly taken notice of employee advocacy programs. In fact, 49% of organizations currently have an employee advocacy program in place and the vast majority (76%) are now backing it with resources. This comes as no surprise. Research indicates that 84% of consumers trust recommendations from people they know compared to 15% who believe company messages. This might explain why company branded messages reach 561% further when shared by employees versus branded channels. The numbers that support the business case for employee advocacy are impressive, but what makes employee advocacy programs successful in the first place?
Leadership Participation is Critical for Employee Advocacy Success
Over the years, we've helped hundreds of marketing professionals (mainly CMOs, VPs of Marketing, Marketing Directors, and Social Media Managers) roll out employee advocacy programs. During this time, we've discovered a single, undeniable truth that reveals why some organizations achieve a level of success far superior to others. This truth – or employee advocacy best practice – is to involve leadership. Plain and simple. Employee advocacy programs that are fully supported by executive leadership (most notably CEOs and presidents) are far more successful than those where leadership is not fully onboard. Leaders who embrace this opportunity provide their organization with a way to come out ahead and secure a real, sustainable, competitive advantage.
While it seems simple enough, marketing professionals know all too well the many demands placed on leadership. So how do you get the CEO to not just give the executive stamp of approval, but to also fully participate in the process and champion the cause of leadership promoting brand advocacy through social media?
Employee Advocacy Elevates the Profile of Leadership
It certainly helps to know there are personal benefits to be gained. Even though leadership might initially be focused on the business value employee advocacy can bring to their organization, top leadership is also likely to report elevated levels of personal brand promotion through social media channels.
Back in 2015, CEO.com reported that 61% of FORTUNE 500 CEOs had no social presence whatsoever, this has already changed. With more than 2 billion people now on social media, CEOs need to be where their customers are. Indeed, forward-thinking leaders are shaking things up. Today, some CEOs actually have more Twitter followers than their company's branded accounts. The CEOs of Microsoft, Google, Apple, and Southwest are just some of the leaders who have embraced social. In fact, 9 in 10 CEOs of FORTUNE's most admired companies are socially engaged, according to Inc.
Increased Employee Adoption
Leadership using social media also sends an encouraging message to all employees. When CEOs and presidents enthusiastically participate, employee advocacy program adoption rates greatly improve. When more and more employees participate, the positive effects are magnified throughout the organization. When executed this way, employee participation does not come across as a top-down command, but more of a charismatic "lead by example" approach. This approach also embodies the new social contract being forged across social networks that promote brand authenticity. If an organization's social media voice is seen as authentic, it will have a greater, more long-lasting impact.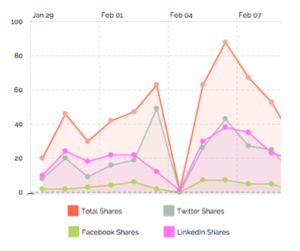 PostBeyond recently experienced a reinvigoration of shares and platform use directly attributed to leadership promotion. Our CEO, David Llyod sent out an email encouraging PostBeyond staff to continue to suggest and share new content. The result was a spike in platform performance as employees were following the example set by leadership.
Backed with the support of leadership, equipped with the right tools and resources, and guided by a formal employee advocacy program, the stage is set for success. Great leaders who step up to the challenge will soon realize the powerful and positive impact social media can have on their business. Indeed, many are already experiencing the new added dimension of employee advocacy, resulting in a more agile and responsive organization in the process. Will 2018 be the year of social advocacy in your workplace?
Download the Whitepaper: