What to Look for When Looking at Employee Advocacy Technology
Employee advocacy without the right tools is an uphill battle. Getting employees to open an email and copy and paste the link into their own social media profile is a time-consuming task – especially if you want your employees to do this on a regular basis. Many marketers and their employees will be bought in and excited, but as time goes on emails outlining how to share content tend to get unopened or not followed through with as this process is a complete disruption to an employee's workflow.
If your organization recognizes the value of employee advocacy then it's time to look for a better process for you and your employees. Most often, this is done through implementing Employee Advocacy Software, but what exactly should you be looking for?
Here are the three key things to consider when comparing Employee Advocacy Platforms:
Easy Social Sharing
In most cases, your employees want to share content but they just don't know-how. Providing them with an easy social sharing experience will often lead to higher output. This is often the main benefit of implementing new technology into your employee advocacy strategy.
Increasing social sharing is what will increase your brand's collective reach and engagement on your content. So, an easy sharing experience is one of the best ways to drive employee participation.
In order to make sharing easy, look for platforms with solid user experience (UX) and user interface (UI) and training on social media and new technology.
UX/UI Design
A great UX/UI is one of those aspects that can dramatically impact everything from content consumption to employee sharing. The user experience must be one that provides an intuitive and easy-to-use process that's available across all devices including desktop and mobile.
There's no shortcut to great user experience.
If the platform isn't convenient or easy-to-use then you are no better off than you were with emails and Excel spreadsheets. Strong design guides the employee through the sharing process and ensures they don't dread sharing content.
Program Admin and End User Training
The second piece is training for both the program admin and the end-user. Not everyone is going to fully grasp new technology or understand how to use social media. Comprehensive training removes many of those barriers and provides your employees with an opportunity to learn new skills in the workplace.
Having a partner work with your employees to ensure they have the necessary training and resources will simply lead to more engaged employees.
Questions to Ask:
Will training be provided to both program admins and end-users?
How comprehensive is the training for different levels of social savviness?
Will my organization be trained on social selling?
How are training sessions conducted? I.e. online, in-person, live, recorded and on-demand, etc?
Are there online resources like user guides, training documents, videos and help center?
Will be provided with a dedicated Customer Success Manager?
This is a great benefit because you will get the extra attention to detail and specific knowledge of your specific goals, campaigns, and challenges.
Simplify Content Sourcing
One of the most important pieces of an employee advocacy program is having a continuous flow of relevant content. Employee participation will only continue if there is a steady stream of fresh content ready to be shared.
Look for technology that engages employees in the content creation process. Employees will feel more involved in a program's success once they're given the opportunity to suggest content that they like. Additionally, this gives the program admins additional eyes and hands to help source content.
"PostBeyond really helps with content generation and informs our content strategy. With the 'Suggestions' feature, I have 180 other eyes to help me find content, articles to share, infographics, videos, etc. A lot of the content that our advocates find, I wouldn't have been able to find myself." – Brandy Wilson, Global Marketing & Communications Manager, BCD Travel 
Solutions that include browser extensions and integrations such as Slack make it that much more accessible. A mobile app is also key. Employees who are reading on their morning commute or while waiting for a meeting are most likely to use their mobile device. From our customer data, on average employees share three pieces of content for every one piece of content through mobile.
Mitigate Risk & Ambiguity
Last but certainly not least is removing the worry from sharing. We often hear that one reason for low adoption is employee fear – they worry if they say the wrong thing or share the wrong thing, their company or job could take a hit. Organizations also worry as their reputation could also take a hit or worse they could break a law or regulation such as HIPAA, FINRA, SEC, etc.
Implementing a social media policy is the first step to ensuring compliance. Clearly laying out all the guidelines for proper use gives employees the resources they need to educate themselves and remove the ambiguity on what is and isn't compliant. Technology can help to remove the worry and potential for mishaps three ways: solid approval processes, compliance features, and content segmentation.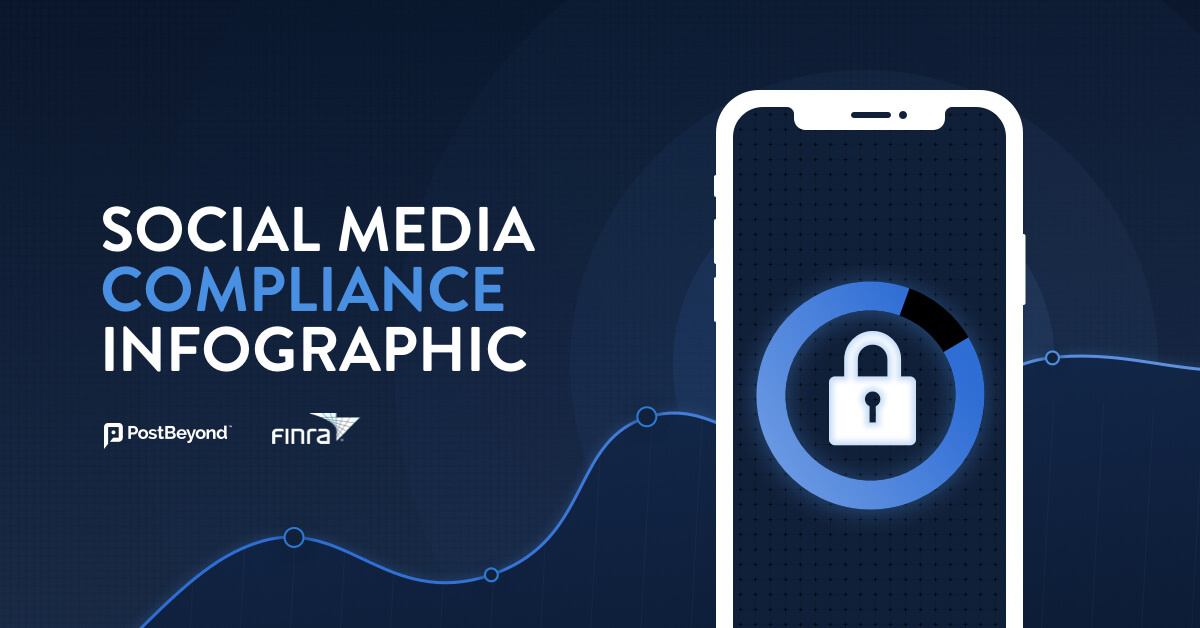 Approval Process Flow
Having an approval process for content is crucial to ensure your advocacy platform is only filled with value-add resources. Employees will also feel secure knowing anything shared from the platform will help to build their thought leadership.
In addition to having an approval process, it needs to flow for program admins to be able to handle the review and continuous addition of content effectively. Look for solutions that showcase the suggestion to the approval process. Make sure it is not only designed to keep bad content out but also allow good content to be quickly approved and added.
Brand and Regulatory Compliance
This is essential for those with stringent brand guidance or in regulated industries. Oversight and attempt to mitigate risks are part of most compliance regulations – look for technology that helps mitigate honest sharing mistakes.
Employee Advocacy Platforms should allow administrations to create a list of keywords that are deemed a warning or unacceptable. Below is an example of PostBeyond's compliance feature, which can highlight caution words or highlight flagged terms and barre a post from being shared.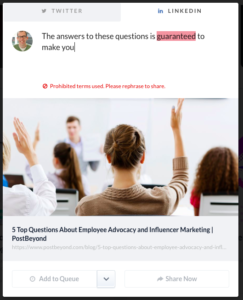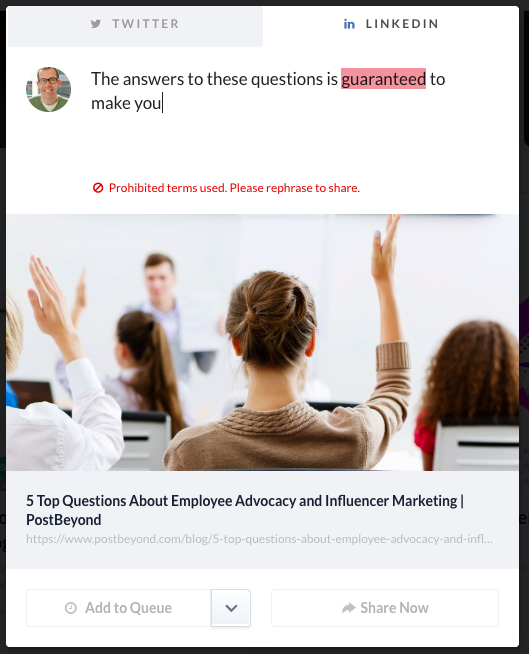 Enterprise Content Segmentation
Managing different groups of employees can be growingly difficult for large organizations with complex structures. Each department should have access to content that's relevant to them.
Depending on job title, department, location or business line, employees will need different content. Barring company-wide content and announcements, content relevant to a Business Development Rep in Texas would not be the same as a Senior Vice President in Luxemburg. The ability to give different groups specific content views helps ensure users that login sees something they find interesting and relevant to share with their networks.
Different employee advocacy platforms will offer slightly different solutions. The key to choosing the right one is finding a strong platform and partner that can work with you to help implement and run a successful program. This a lot to remember so below we have provided you with an easy checklist: