Employee Advocacy Best Practices
Social technology is constantly changing the way people and companies interact with the world around them. Steady streams of information and content dominate our digital and social feeds. Raising brand awareness and promoting content in this 24-hour media cycle is a challenge. So here are some employee advocacy best practices to consider.
Employee advocacy helps to solve this problem by leveraging the social networks of employees to help organically amplify branded messages. When done correctly, employee advocacy produces a steady stream of branded and thought leadership content. Below is the survey from the 2018: The Year of Social Advocacy Report highlighting the benefits marketing teams experienced from a structured employee advocacy program.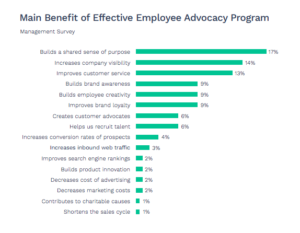 While the benefits are numerous and these programs appear straightforward, implementing an effective employee advocacy program can be a challenge. There is no "one-size-fits-all" approach to employee advocacy, but there are strategic best practices to ensure higher adoption rates.
For most companies, the success of an employee advocacy program starts with employee engagement and adoption. There are common questions; how do I encourage employees to get involved on social media? What content should my employees share? What's needed for a successful employee advocacy program?
These common questions are ones that need to be addressed strategically in order to ensure a successful program. On average, 30% of employees have the immediate potential for acting as an employee advocate. However, social media advocacy must be easy and accessible for these individuals to fully participate. When starting off with employee advocacy, it is wise to create a pilot program with this group of advocates. Working with these individuals can help to define and refine the program as they are already enthusiastic and engaged.
The other 70% who are not natural employee advocates will require more specific adoption strategies. With these employees, it is Important not to rush a program and internally communicate both the business and individual employee benefits an employee advocacy program can produce.
Social media training is also essential to mitigate possible snafus. Employees need to know what they can and cannot share, expected metrics and reward programs.
Missed our webinar? On March 27th, PostBeyond discussed proven methods to improve adoption rates and the five pillars of a successful employee advocacy program. Sarah Beatty – PostBeyond Customer Success Manager – shared insights, best practices, customer stories and keys for success. Watch the webinar recording now.