A highly effective employee advocacy program often means that your employees are actively sharing the content that marketing has created.
Sometimes, that's not the case.
For those times that employees aren't sharing content, the challenge may be just how sticky a program is. There are a handful of ways companies go about solving this issue, but the general consensus is, specialized employee advocacy software does the best job at mitigating risks while encouraging and streamlining the sharing process.
When looking at different platforms, there are several features to consider. And while all the bells and whistles are great, are they truly necessary? What are the 'must-have' deal breaker features that are necessary for success?
Based on our customer feedback, here are the top five features of an employee advocacy platform to ensure your employees are sharing content and driving an ROI.
1. Gamification
Ensuring employee adoption rates are high is crucial for success. Often times employees are excited when an advocacy program launches but then that excitement slowly fizzles out when competing priorities, tight deadlines, other mission-critical initiatives take precedence. Without the right tools, keeping employees bought-in and engaged with the program can feel like an uphill battle. Besides educating employees on the WIIFM factor (What's In It For Me), employees need a reason to keep coming back.
Using game-based motivation rises engagement by 48% and 95% of employee enjoy using gamified systems. The ability to run contests and employees being able to see how they stack up on their company leaderboard encourages healthy competition and provides a more compelling time-sensitive reason to log in and share.
One PostBeyond customer used gamification to help further increase the ROI of their SuperBowl ads. After heavily investing in a SuperBowl ad, this brand leveraged employee advocacy, and gamification to further increase the reach of this content. With the help of a PostBeyond CSM, they created a team vs team competition. All Super Bowl related content was added to their advocacy platform for teams to easily access and share. The contest was a tremendous success: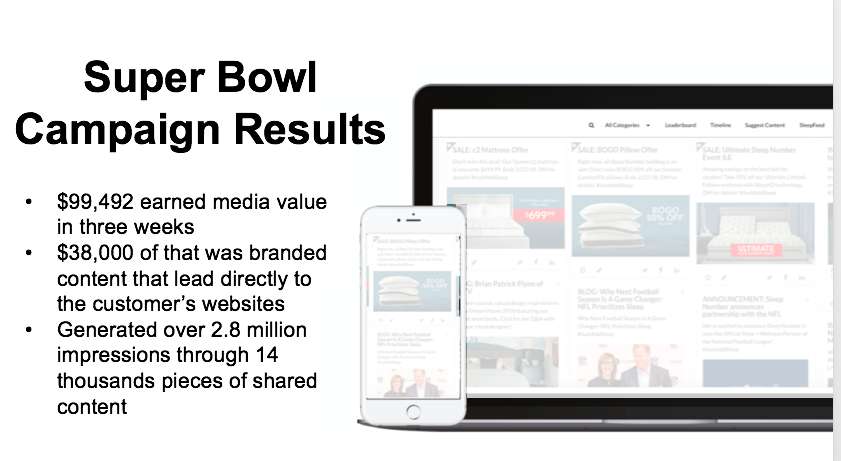 2. Personalized Content Categories
Your employees are now motivated and able to access your employee advocacy program from anywhere, but if they are getting overwhelmed by content or bogged down by content topics that aren't of interest they will lose focus.
Having one repository of content is ideal for ease of use, and making sure employees are accessing the most updated versions, but having it all dumped into one scrolling feed can be overwhelming. The ability to categorize content based on geography, department or content topic that is relevant to that user will greatly increase ease of sharing and platform preference. Every company is unique and every employee is unique as well. An effective employee advocacy platform should provide the opportunity to customize their own content categories.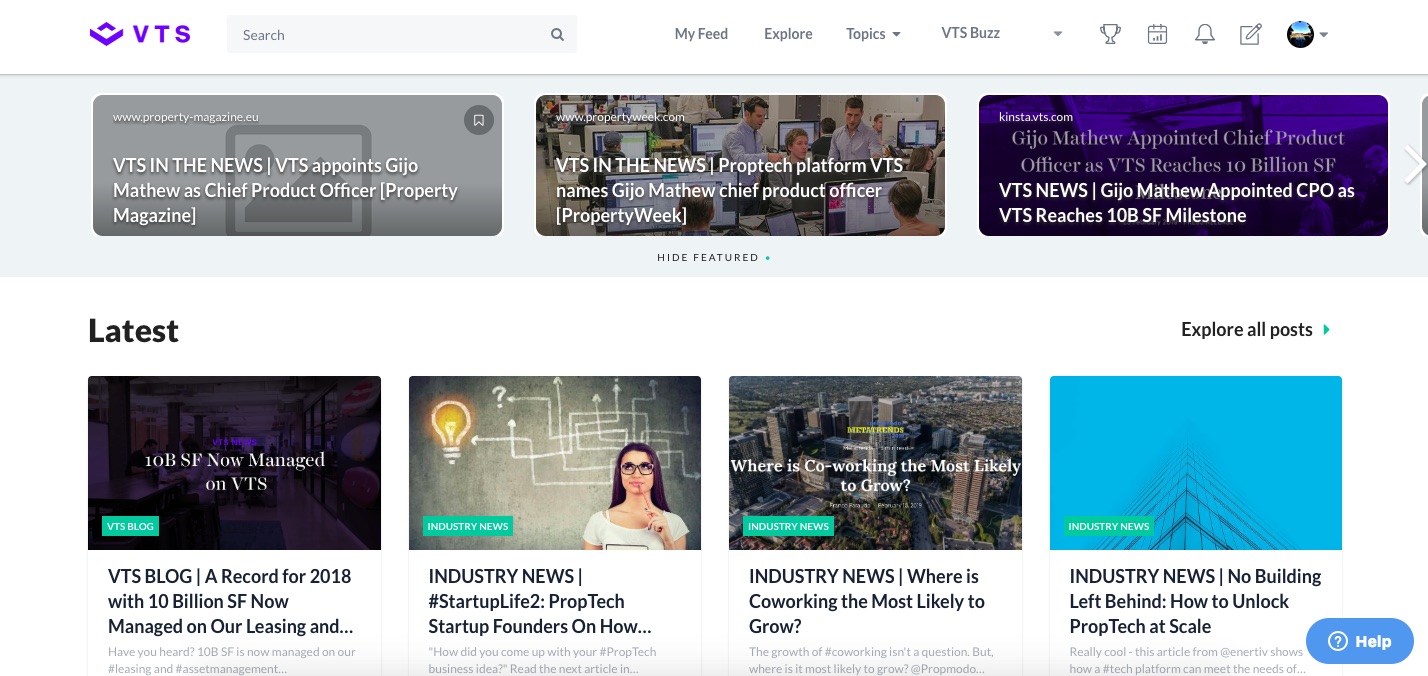 3. Email Newsletters
There will always be users who will not log into the platform but will check email. Having the ability to push tailored content into their inbox with easy click to share icons will dramatically improve overall performance. Just like mobile access, employee advocacy platforms should provide users and admins with a variety of ways to access, engage and share content.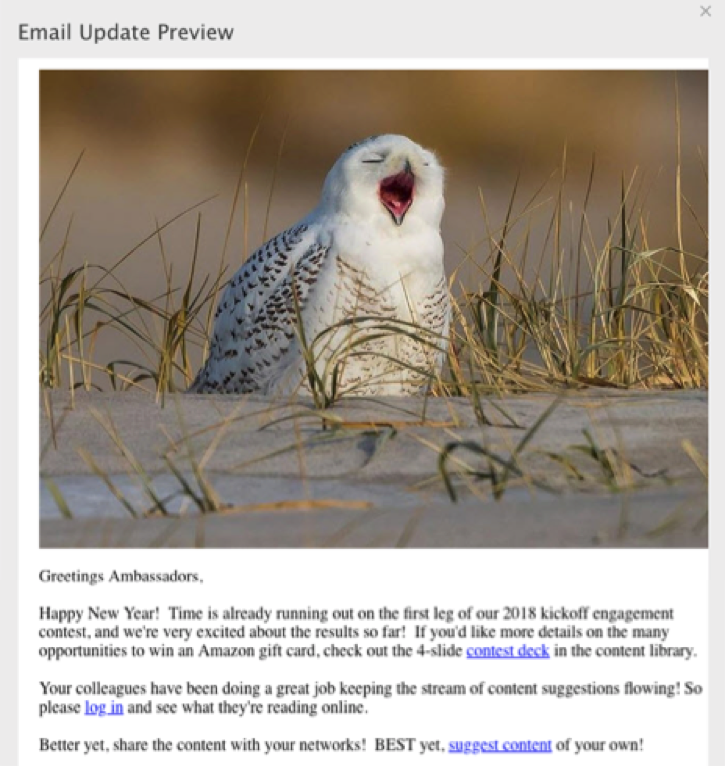 4. Analytics
Without insights how do you know what is working? Are users still sharing? What types of content performs well for what teams? Without adequate insights, it will be impossible to improve your employee advocacy program or more important showcase ROI. Actionable insights can make or break a program.
The ability to see power users, power departments, high performing content can help drive smart decisions and lead to smarter investment in terms of content creation. Same goes for allocating budgets to contests and showcasing the ROI of the platform itself.

5. Mobile Application
Employee Advocacy Software should:
Give admins powerful and secure tools for managing content and users
Track the program performance and display it in clear reports
Allow your employees to easily find and share the content that is relevant to them
Social Media and Mobile
Social media is inherently mobile. When people are checking their Facebook feed or seeing what is trending on Twitter, more often than not they are doing this on their mobile device. A recent ComScore report found that 69% of digital media time is spent on mobile. For that reason alone, you will want to make sure that whatever Employee Advocacy software platform you implement will provide your employees with the ability to find, view and share content on a mobile device. When you launch an Employee Advocacy program, your employees are most likely expecting a mobile experience, in which they'll ask– "is there an app for that?"
In my role as Director of Product, I am constantly speaking to our users about PostBeyond. Many of our power users rave about the ability to share content from our mobile app. They love that they can make use of those short moments in the day (morning commute between meetings, etc.). They find it is an easy and convenient way to build and maintain their social presence.
The Need for Instantaneous Content
Having a mobile app for Employee Advocacy is also important for those on your team creating content. Some of the most important content in your content library will be posts and pictures from live events. It is vital to get this time-sensitive content into the hands of your users so they can share it right away.
Earlier in 2018, we added the ability for content creators and admins to create new posts within the mobile app. No longer do users have to wait to get back to the office to get content from an event into the hands of your employee advocates. A first-hand example of this is when my colleagues attended the EyeforTravel Digital Summit Conference earlier this year. You can read about their use of the PostBeyond mobile app here.
Tying into Mobile Apps
Our phones have a lot of apps and give us multiple ways to communicate with each other. For your Employee Advocacy program, this is another avenue to expand the reach of your message. The PostBeyond mobile app includes a native sharing option which allows users to share content via the apps on their phone. This can open up a range of possibilities – one user might share a thought leadership piece with a group on WhatsApp while another user might send your latest blog post to a contact via text.
As you move forward with your Employee Advocacy program there will be many questions you will need to answer and plans you will need to put in place. By ensuring that you think about why mobile matters at the beginning you can make sure that you have checked one important item off your list.
Learn more about the PostBeyond software platform and see a demo of our mobile capabilities.
Bonus: Customer Success and Support
Features are the foundation but customer success is the foundational piece that ties everything together. If you don't know how to make the most out these features then you're not maximizing your employee advocacy program.
Having a dedicated Customer Success Manager (CSM) can change the trajectory of a program. Customer Success and Support teams eat, breath and sleep employee advocacy. They have the experience of implementing hundreds of programs and have invaluable knowledge about program adoption, launching contests, curating content and interpreting your data into actionable results.
With a dedicated CSM, you'll be able to build a strong relationship with someone who knows your program inside and out. They will be constantly working with you to continually build and improve your employee advocacy program.
Edit: This article was updated on March 18, 2021 to include additional information on employee advocacy mobile applications and updated product screenshots.