Last week, the PostBeyond team traveled to San Francisco for the EyeForTravel Digital Summit. The schedule was two full days of presentations and case studies from travel industry leaders. From this conference, there were three key industry trends that stood out for us:
1) Adding Value in the Self-Service Age
In a world where the traveler has unlimited access to reviews, recommendations, and pricing comparison websites, one key question kept coming up: how can travel agents stay relevant and add value?
This is a common question that we see across many industries. Today's buyers are in complete control, and the onus is on salespeople to evolve their approach.
The solution? Travel agents and sales teams need to position themselves as trusted advisors.
One great quote on this topic came from Susan Black, Chief Commercial Officer at CIE Tours, "if consumers could find travel agents that could truly make their lives easier, they would go there in a heartbeat."
So what does the travel agent of the future look like? They need to:
Showcase expertise through advocacy
Share helpful first-hand insights
Build strong customer relationships
Agencies that are digitally savvy and prioritize delivering an omnichannel customer experience are well-positioned to succeed.
2) Navigating the "Digital Jungle" Buyer Journey
The next challenge, that kept coming up, was how brands can stay top of mind during the many touchpoints of the travel buyer's journey. There were a number of stages identified by different speakers, but generally, these are the five core stages that travelers move through:
Dream
Plan
Book
Experience
Share
There were three presentations that spoke to the challenges of this buyer's journey — Will Farnan from Facebook, Ayse Yazici and Ubeyd Güngör from Turkish Airlines, and Joe Slattery from Holland America Line.
Will showcased Facebook's and Instagram's technology for personalization and targeting travelers during the Dreaming and Planning stages. Ubeyd and Ayse shared how they are working to simplify their personalization scenarios and align their promotions to the buying tendencies of six core personas. Joe's challenge focused on the challenge of personalizing and localizing content at scale since Holland America Line has over 400 ports and a huge variety of cruise options (500+). He emphasized the importance of storytelling through content marketing to capture the traveler's imagination and help them select the experience that suits their needs.
The "Digital Jungle" buyers journey is extensive; research shared at the conference suggested that the average traveler has between 50 and 419 digital touchpoints before making a purchase.
3) The Struggle for Organic Reach
Amongst all of these touchpoints in the "Digital Jungle", travel recommendations from trusted personal connections hold the most weight in the minds of buyers.
But how do you get travelers, influencers, and employees to recommend your brand?
This question was raised by Dan Christian from The Travel Corporation (TTC), and Valerie Windsor from Air Canada Vacations (ACV).
In the opening keynote and his presentation on Day Two, Dan shared how and why TTC focuses empowering employees as micro-marketers and social brand advocates. TTC's partnership with PostBeyond has helped them amplify the organic reach and trust of their brands.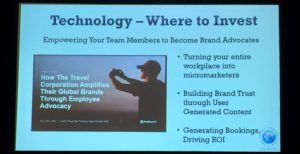 Valerie Windsor has recently led a social media transformation at Air Canada Vacations in an effort to improve their organic reach. ACV's past strategy was very conversion-focused with many posts going for the "hard sell."
Valerie shared how she refreshed the ACV brand voice with three key pillars: being approachable, adventurous, and 'in the know.' She aligned her messaging to three newly created three personas: the Speedy Urbanite, the Inspired Mamma, and the Eager Beaver. Her quote below sums up her approach to create content that gains organic social reach:
"Your customers' attention on social media is limited — if the content isn't relevant or inspiring, you'll lose their engagement and ultimately fall off the map."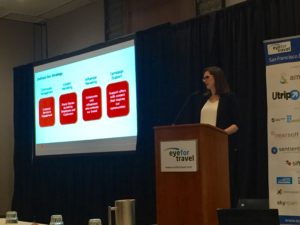 How We Used PostBeyond at the Conference
As a social media software company, PostBeyond has a slight upper hand when we attend a conference like EyeForTravel. We use our own product to enable our team to share content and connect with prospects on social media. Here is a quick snapshot of how we used PostBeyond during EyeForTravel.
Pre-Conference:
Our marketing team set up a custom PostBeyond instance for the EyeForTravel conference with curated posts and categories specifically for travel. We did demos of the platform at our booth and scheduled posts with the conference hashtag to make sure we stayed present on social while we were busy.
During the Event:
Our marketing team kept up with new content through the PostBeyond Inbox and pulled interesting new posts into the platform for us to share. We communicated in a Slack channel and were consistently adding new feeds to pull in throughout the event.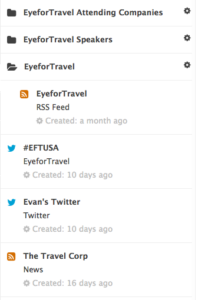 Finally, we took advantage of a new (soon to be released) feature in PostBeyond to save time and effort. Our mobile app will now allow administrators to create posts and push them to the PostBeyond library in real-time.
All in all, the conference was a big success — we met many bright marketers and had engaging conversations about how employee advocacy can drive results in travel.
Have questions about the conference? Curious to learn more about PostBeyond? Send me a note on Twitter or request a demo!