Great company culture is best represented through passionate employees who feel empowered to do their best work. Companies who understand great culture know how to inspire employees to share their experiences with peers, friends, and family.
After working with dozens of customers to help embrace employee advocacy, I've found that strong company culture often affects employee advocacy adoption.
There are many examples of great company culture but there's one that comes to mind: G Adventures.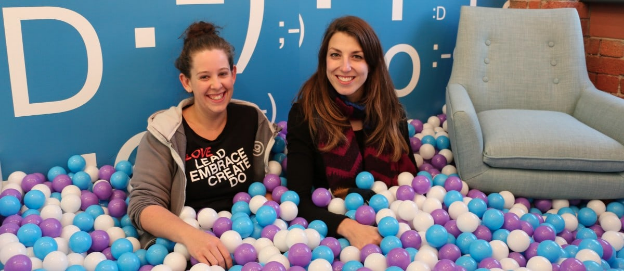 Courtesy of G Adventures
The travel adventure company encourages employees to live their company mantra. They have the opportunity to go on trips and the office is highly collaborative. Their work is a good reflection of all the effort they put into their culture.
What is company culture?
One definition of a company culture that captures the concept well is from William Craig who said, "something that is pre-existing in your company's genetic code; it's not something that employees bring with them." To build on that, it's the company's personality. The daily habits and values of the individuals and organization as a whole.
From my perspective, great company culture ignites a fire in employees. It inspires employees to share excitement beyond the walls of their office.
Why is it important?
Company culture is the brand's personality and it determines how a company functions. It comprises everything – decision-making, employee behavior and how customers or candidates perceive the brand.
Company culture has far-reaching effects for your employer brand such as recruitment efforts, turnover rate, efficiency, and innovation are all affected.
The old adage, "like attracts like" rings especially true with culture. Companies that promote growth and innovation are more likely to attract talent that aligns with the same values. And with more people focused on this, the company has a greater chance of actually being innovative. And who doesn't want to be innovative in this rapidly changing market?
What is employee advocacy?
When a company embraces employee advocacy, they recognize how important it is for employees to be brand champions. Organizations want their employees to spread their message with their social connections. Empowering employees and connecting them to the brand can compel them to share these great things.
Employee advocacy is defined as an organization promoting itself and its brand through its employees on social media. Organizations that have embraced employee advocacy experience results in extending the brand reach, more meaningful engagement and impacting the bottom line. Content shared by employees receives 8x more engagement than the same content shared by brand channels.
Companies want employees to spread positive sentiments about their work with the world. Employees who embrace advocacy feel a sense of inspiration and connectivity with their company as well.
How company culture affects employee advocacy
One obstacle holding companies back from a  healthy culture is a lack of transparency. When people are in the dark about the vision of the company, they aren't aware of expectations or even how they should interact with their colleagues. This can be a recipe for disaster.
Employee advocacy can also ensure that employees are aware of what is happening. They only read and share great news about their company with their social networks.
Increasing transparency can help to align siloed teams and bring more awareness to company initiatives and "wins." Employees that are more aware of what their company is accomplishing are more engaged to be a brand champion.
One great example is VTS, which has one of the highest adoption rates I've seen for an employee advocacy program. The company's ability to embrace employee advocacy stems from their culture which always strives for excellence. Their employees strive to achieve all their goals which have affected employee engagement. Employees understand the value and believe in the impact on the company as well. This motivated their employees to share content and adopt employee advocacy.
When your employees get to this place then it's a sign of success because they will only stand behind the company once they are aligned.
Types of culture that work well with employee advocacy:
Innovative
Social-savvy
Engaged workforce
If your organization isn't social-savvy just yet but has big aspirations then I recommend building a social media foundation. Companies that introduce an employee advocacy program without a social media foundation can negatively impact adoption.
Start by introducing social media training to companies. Train your employees on the etiquettes of social media, how to set up accounts and how to build their networks.
Signs that show your culture is ready:
You encourage the use of social media at work and support your team investing in their personal brand online which is often the case for customer-facing teams. Here are three signs that your culture is ready for employee advocacy:
Your team is already resharing and engaging with your brand's social channels.
You have high talent retention and people love where they work.
Your sales team's success involves word-of-mouth and referrals from employees.
How to get your culture ready for employee advocacy:
1. Speak with your execs about your current social media policies.
If they are uninterested or there is a culture of social-media aversion, this is your opportunity to educate them on the value of employee advocacy and the power of social media.
2. Revise your social media policy.
Ensure executive buy-in and work to revise any old social media policies to be more friendly for use of social media at work.

3. Provide social media training.
The best way to build a more social-media friendly culture is to educate your team. Provide best practices to get started by helping them understand how to use social media professionally.
4. Encourage your team to get active on social media.
Perhaps at your next sales kick-off, you could encourage your team to take selfies and use a hashtag you'll promote on the day. It's a fantastic way to show your employees that it's safe to use social media at work and demonstrate the type of behavior you want to encourage.
Align Company Culture with Employee Advocacy
Company culture is a competitive advantage for talent acquisition. Employee advocacy only helps to strengthen the employer brand. If employees share content about the employer brand then it comes from a trusted source rather than just a career page or a job post.
The benefits are clear for why having a compelling employer brand is important for your organization. According to CultureIQ, building an employer brand and company culture helps companies hire the right people (55%), get a greater number of qualified candidates (49%), increase employee referrals (41%), and have more diverse candidates (32%).
Candidates are curious about what it's like to work there, who the people are and what the experience is. By providing employees with an opportunity to share their personal experience, this is authenticity at its truest.
We've compiled proven best practices on how to encourage your employees to actively share content on social media. Download this eBook, How to Drive Adoption For Employee Advocacy to learn about topics like social media training, gamification and an employee-first content strategy.