COMPANY: VTS
LOCATION: NEW YORK, NY
INDUSTRY: COMPUTER SOFTWARE
VTS is the industry's leading leasing and asset management platform on a mission to revolutionize commercial real estate through innovation. VTS enables modern landlords to transform their leasing and asset management processes and unlock real-time insights – helping them convert leads to leases faster than ever before, and build data-led strategies.
In the highly-networked commercial real estate industry, relationships are essential, and VTS needed a way to engage their audience with content on social media while promoting the VTS message across multiple channels.
An Industry Built on Relationships
Social media is a significant platform in the commercial real estate industry. Since the industry is highly-networked, relationships are critical to VTS' success. In particular, their audience was predominantly on LinkedIn, so the company felt they were missing a massive opportunity.
The Missing Layer of Social Media "Surround Sound"
Katie Higgins, Senior Manager, Content & Communications at VTS, generated media and produced a lot of content and used the company's branded channels to get their message out.
Although she was producing content on consistently for their branded channels, she recognized their employees were an untapped resource to get their message out. "We like to think of it as surround sound. Our employees have incredibly robust personal networks but couldn't easily share VTS content or press mentions. We were missing an additional opportunity to build awareness about VTS in an unobtrusive, more personal way." Katie said.
Every time a new piece of content was produced or press was generated, Katie would put the content into their own branded channels, share the link with employees and ask them to re-share it to their social networks.
It was tedious for both her and VTS employees. Employees would rarely share content, while Katie had no real way to track engagement and performance or highlight top-performing employees.
Core Business Challenges
A highly-networked industry where relationships matter.
Potential clients and customers are active on social media.
A tedious and ineffective process to get employees sharing on social.
The "Aha Moment" With PostBeyond
Through Katie's search for an employee advocacy platform, she evaluated multiple solutions and one of them was PostBeyond's Employee Advocacy solution. From reading customer reviews and testimonials to having demos of the user experience, Katie was very thorough in making sure she chose the right solution for her and her employees.
Her "aha moment" was when she read customer reviews about different solutions, eventually leading her to PostBeyond. She was expected to report on the success of their employee advocacy program, so having a dedicated Customer Success Manager to provide benchmarks was a key factor in her decision-making process.
As VTS began the onboarding process, a number of resources were passed along to help Katie and her team get started. It was important for her to get visibility into the metrics and report on the success to her executives.
Business Results
Within three to six months from the launch of the employee advocacy program, named VTS Buzz, Katie saw the number of people using the platform increase.
Creating Healthy Competition With The Leaderboard and Gamification
This was around the time that Julia Woodward started as their Content Marketing Associate and took on managing the program on a day-to-day basis. Julia spends a lot of her time with gamification and incentivization programs to get employees engaged, excited and rewarded for their participation.
Katie and Julia run competitions where employees see how they rank amongst each other using PostBeyond's leaderboard function. Katie said this played well within their culture because, "We have a highly competitive sales culture, so any way we can showcase who's winning and reward them for doing so helps us build adoption and make VTS Buzz more of a habit."
Since then, their earned media value significantly increased, as well as the number of employees sharing. "We really placed value in surrounding our clients with the VTS message at all angles in a way that's not obtrusive," Katie said. The VTS success story is a testament of Katie and Julia's dedication and effort toward running an employee advocacy program.
They were diligent in training everyone, holding kickoff meetings with key customer-facing groups and ensuring everyone involved understood the value of employee advocacy.
Key Performance Metrics
Here's a summary of the results VTS has achieved in only eight months:
More than 4,000 pieces of content shared by employees
Increased their potential reach to over 1.7M people
Generated $48,000+ in earned media value
Generated 25,000+ interactions and engagements on their content
VTS Maturing into a Social-Savvy Company
In the last year, VTS has matured on social media as a company. What was once a tedious, time-consuming exercise is now a strategic process lead by Katie and Julia. From managing content for their branded social channels and repurposing content for their employees to authentically share, there is now a consistent process in place — and employees are fully aware of when new content is available through the email capability.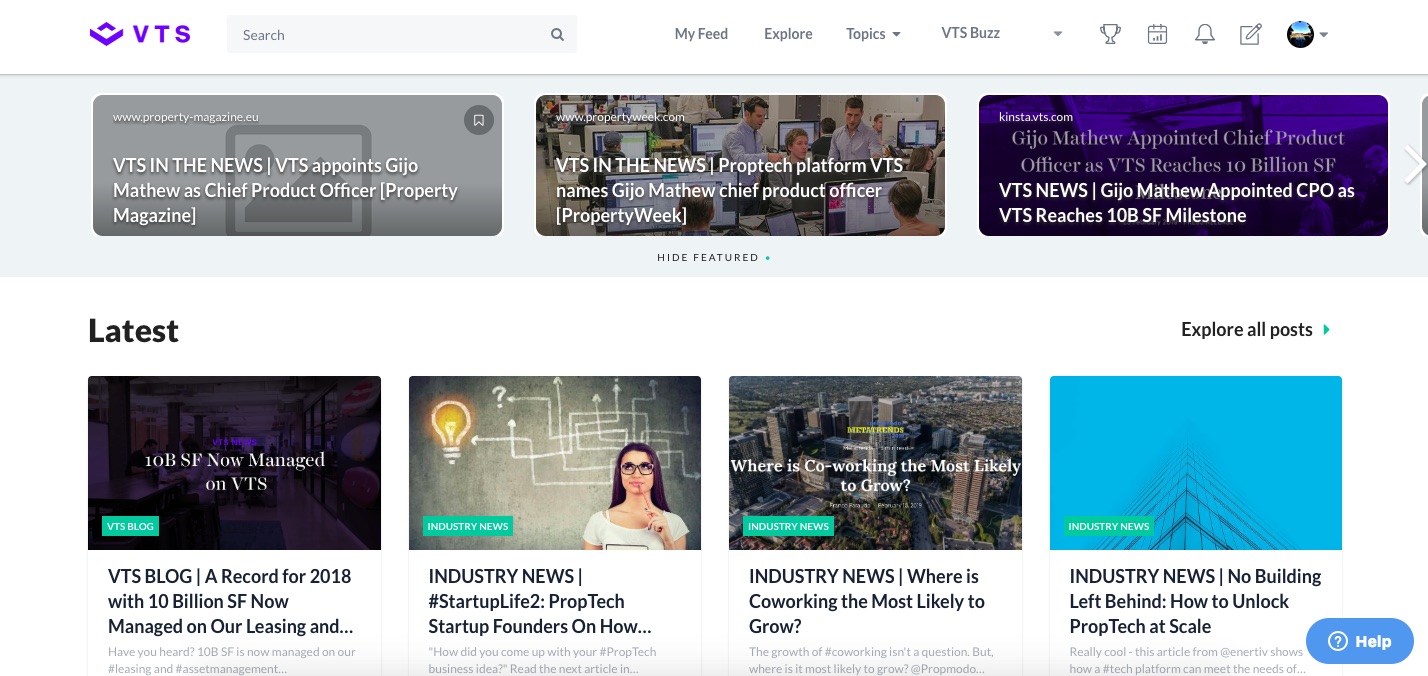 Using Email Updates Effectively
Employees know new content will be available on Monday mornings. They now expect those updates so they can promptly log in, read the content and schedule it for the week.
Additionally, if there is new content or recent press during the week, the content is updated in their VTS Buzz instance. Julia then sends an additional email later in the week with those additional content pieces.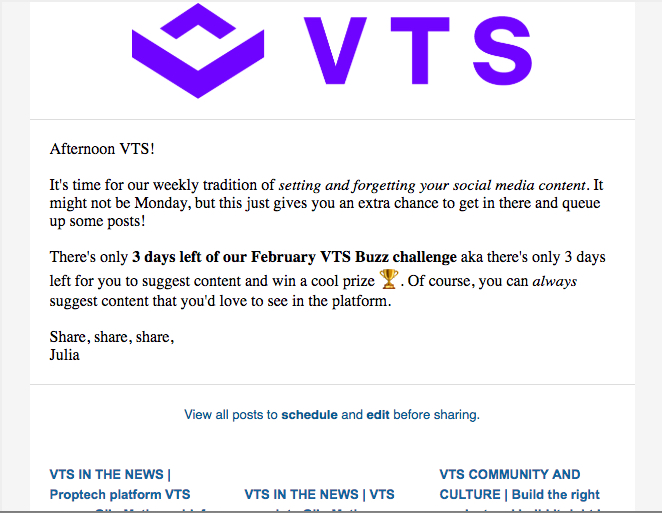 When asked about the value of email updates, Julia said, "We definitely see a spike in employees sharing and queueing content when an email goes out." The email feature has made it easy for Katie and Julia to notify employees when new content is available and helps drive better adoption.