Treasure Data is on a mission to shatter the barrier between humans and data and empower organizations to unleash their full potential. With a bold mission, Treasure Data sought out to be the leader for Customer Data. Their Customer Data Platform (CDP) equips enterprises with superior, actionable insights that drive effective customer experiences with a wide array of industries – from retail to financial services – to unify customer data across silos at scale.
The Backstory
Like any fast-growing company, Treasure Data's marketing goals focused on building brand awareness while simultaneously creating the category for CDP. They needed to educate their audience through relevant content and distribute it to channels where their target audience is: social media.
Standing Out In a Competitive Market
Within a crowded industry, brand awareness is a challenge for any marketing team and Treasure Data is no different. Although CDP is still in its infancy stage, Treasure Data competes in a highly competitive industry. To stand out from the competition, Treasure Data is helping to create the category by educating its audience on the value of connecting customer data.
Time-Consuming Process for Employee Advocacy
Like many companies new to employee advocacy, Treasure Data initially enabled their employees to share through Slack. However, Treasure Data's CMO, Tom Treanor, mentioned that the process was tedious and time-consuming for both employees and the marketing team.
They needed a frictionless approach that wasn't manual for both the marketing team and employees. Treasure Data required an easy-to-use, easy-to-implement, and, more importantly, engaging platform for their employees to want to log in and share content. It couldn't just be another thing for employees to log into. In short, they needed a solution that would amplify their brand while providing immense value to their employees.
Sub-Optimized Social Media Strategy
Tom realized they were sub-optimizing their social media strategy in alignment with their content marketing.
Before implementing a dedicated employee advocacy solution, the challenges were:
Build brand awareness across a broad set of marketing channels.
Distribute educational content to their target audience.
Generate employee advocacy in a manual and time-consuming way.
The Solution: A Smooth and Seamless Employee Advocacy Platform
With the introduction of any new employee technology, there's a concern with adoption.
Tom knew there were concerns about any new software that was going to require employees to log in. The team discussed how whichever employee advocacy solution they chose, needed to provide training, services and help with implementation. Metrics were also essential to gain visibility of how employees were using the platform. Secondly, leaderboards would help recognize their top advocates.
Treasure Data implemented PostBeyond's employee advocacy platform, enabling a more seamless approach for employees to amplify their content.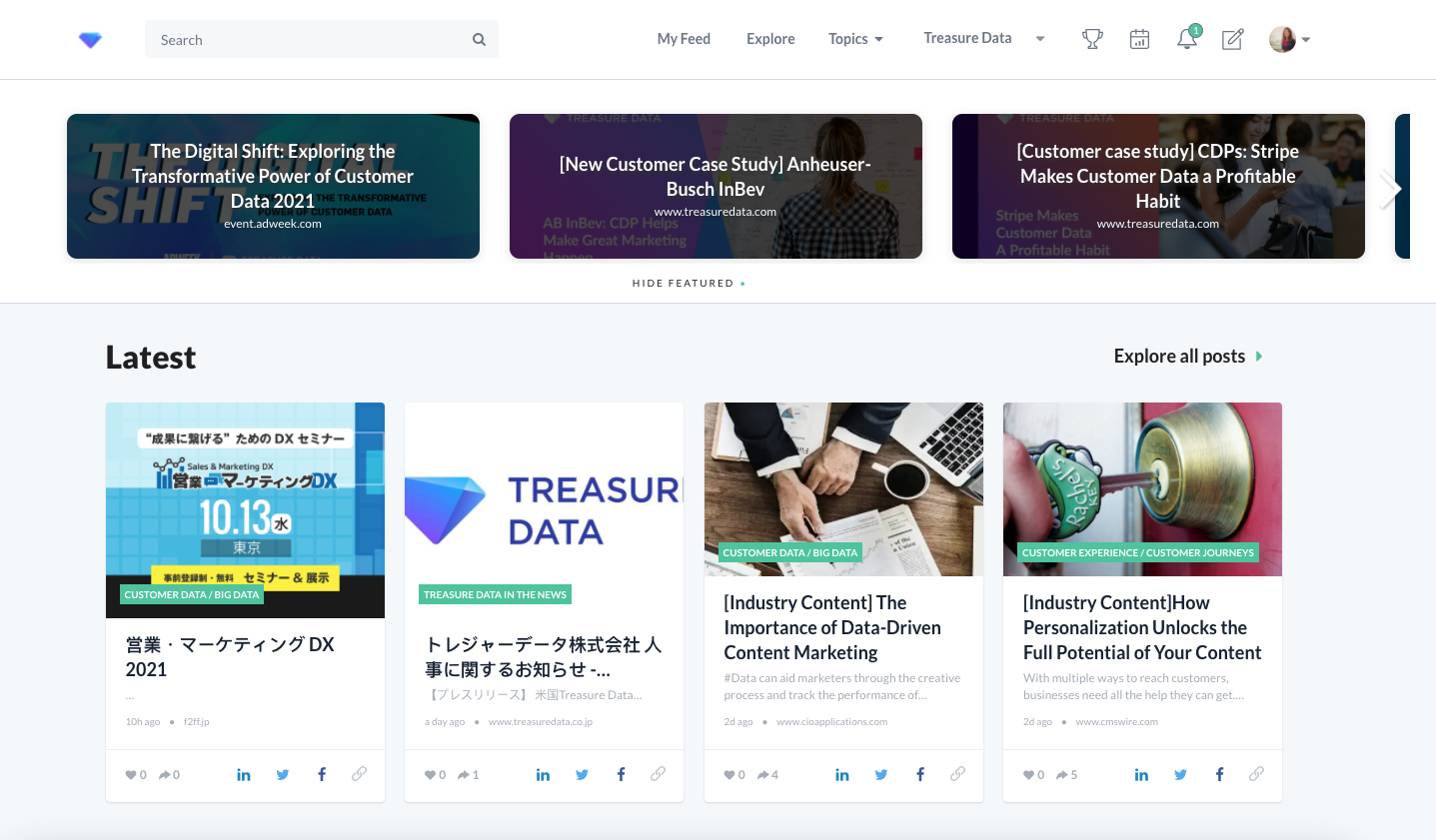 Training Employees To Build Their Social Presence
PostBeyond helped Treasure Data provide visibility of their content to employees while simultaneously removing the friction to share on social. Tom also points out that the social media training was beneficial for helping employees use the platform and provide guidance on the importance of social media.
"PostBeyond has allowed people to shine that probably wouldn't have done a lot on social media. We have a lot of people who are huge social advocates now that I think we helped nurture. It's great to see them out there and be comfortable with it."
Tom treanor
chief marketing officeR
Treasure Data was able to amplify its branded content and industry publications which positively boosted its brand awareness. It also empowered employees to increase their social media presence and elevate the customer-facing team's social profiles.
Visibility into Employee Usage and Performance
PostBeyond's analytics suite equipped Treasure Data to uncover its top performing employees and content on social. In turn, the marketing team is able to successfully scale its employee advocacy by building on the most successful content ideas and advocates.
"The ability for us to see who's sharing and which groups are sharing more – or less, so we can encourage them – has been key. We could also see which posts were being shared more and which posts were having more success. All of these things bundled together allow us to have social sharing happen at scale."
Tom treanor
chief marketing officeR
Optimizing the Social Sharing Workflow
Time-saving was also a significant benefit. Tom pointed out that It helped marketing save time as well, improved their process and for employees, they didn't have to craft social media posts from scratch. He highlighted how PostBeyond's live training sessions also gave employees lots of guidance on how to use social media.
"As a business, we see our content shared a lot more. We have received a lot of comments on our great content, so it has helped with our brand awareness."
Tom treanor
chief marketing officeR
Leveraging Gamification, Contests and Leaderboards
Tom said that gamification helped them recognize employees that were standout advocates on social media. The contests helped because they provided different challenges and highlighted employees such as the most improved, best on a particular channel or first-time sharers. The variety engaged various team members, which ultimately helped improve usage and adoption.
Results: Building Brand Awareness, Category Creation and Becoming Relevant to Their Target Audience
PostBeyond helps Treasure Data's employees shine on social media. It helps them build their social process on LinkedIn while simultaneously building brand awareness. And it helps start more relevant conversations with their target audience on social media.
"PostBeyond helped us increase our brand presence and awareness by supporting our content, social media and employee advocacy strategies." says Tom.
Within 1 year of using PostBeyond, Treasure Data generated:
EMV: $207,389
Total Shares: 7,734
Interactions: 74,487
Potential Reach: 4.8M
Accelerate Social Media and Content Strategy
PostBeyond was an accelerator for their social media and content strategy because it built brand awareness and educated their market. It was the ideal accelerator to their current organic social media and content efforts. Especially since they're in a competitive market, employee advocacy played a critical role in helping Treasure Data build the CDP category and stand out.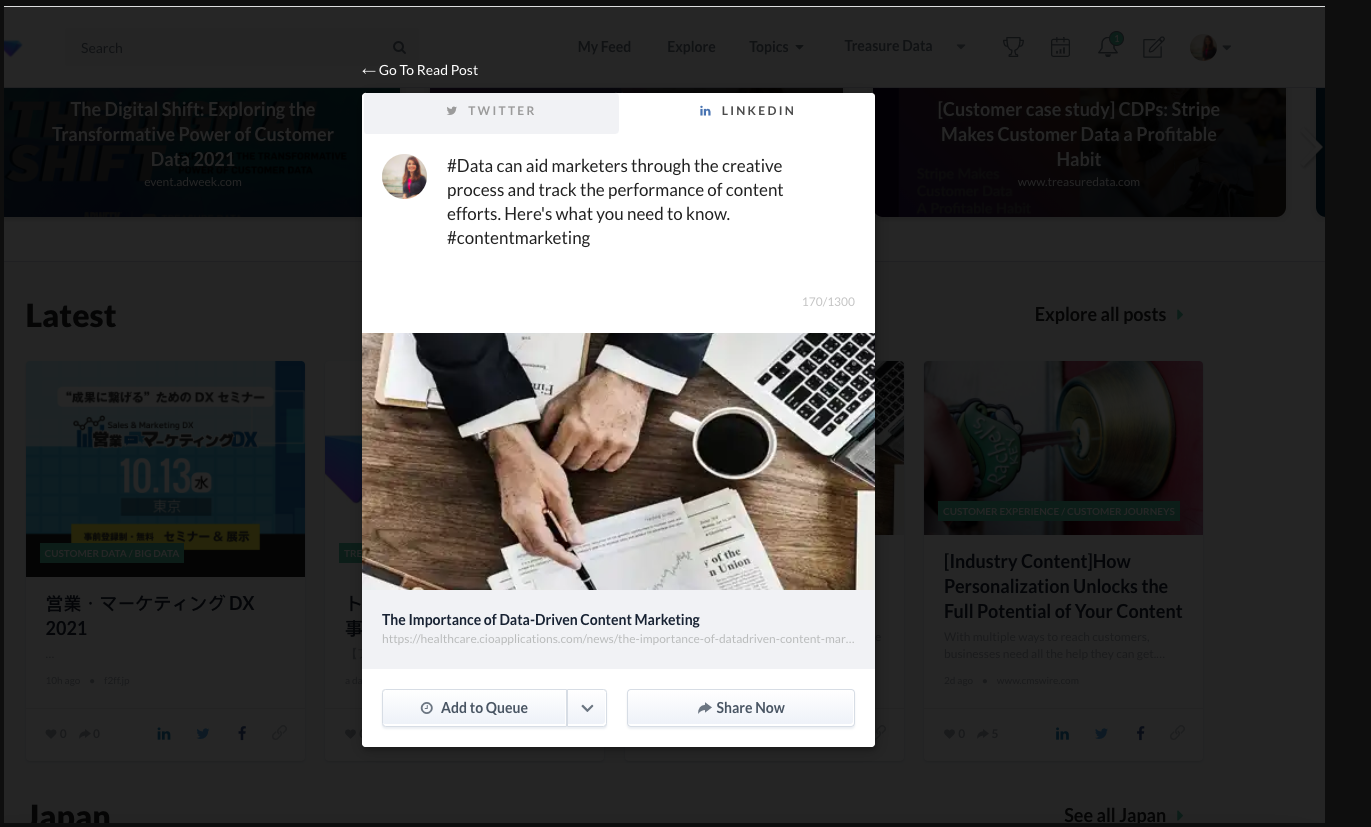 Elevate Employees Social Profiles
PostBeyond allowed people to shine, with some employees becoming huge social media advocates. Not only did it help Treasure Data raise brand awareness, but it was a win-win scenario for both the company and its employees.
Convert Social Engagement into Sales Conversations
Tom mentioned that he'd bump into people at industry events, and they'll start discussions with him about his posts on LinkedIn. And that same sentiment was shared by members of his sales team. They'd get InMails from potential customers wanting to learn more about Treasure Data's solutions based on their shared content. Tom attributes the initial success of employee advocacy to how easy the platform is to use.
"I see us continuing to grow our content, social media and employee advocacy programs hand-in-hand. As we have bigger news to share, we'll be using PostBeyond to amplify those messages. We'll continue to grow our use and adoption of the tool." says Tom.
Next Steps: Growing Employee Usage
Tom believes that PostBeyond fits into Treasure Data's three-legged stool of content, social and employee advocacy. The company plans to grow their usage and continue to reap the benefits of employee advocacy.
Tom's advice for anyone launching a program is to understand the value of social media first and why you're doing employee advocacy. Get your plan in place before you have the platform and align everything around getting employees on board, engaged and enthusiastic.