ConnectWise is an IT software company that seeks to transform how Technology Solution Providers (TSPs) deliver managed IT services through intelligent software, expert services, an immersive IT community, and a vast ecosystem of integrations. Their mission is to empower TSPs to realize their vision of success.
In today's online world, the benefits for companies active on social media are obvious.
ConnectWise understands the importance of social media since its brand presence spans across multiple social communities such as Reddit, Slack, and other forums. Throughout the years, they've built a strong presence on social media in their industry, and a large piece of it is their community: The IT Nation. Their customers, who are Technology Solution Providers (TSPs), are in-the-know B2B professionals that love technology, and they use social communities to engage with and learn from one another.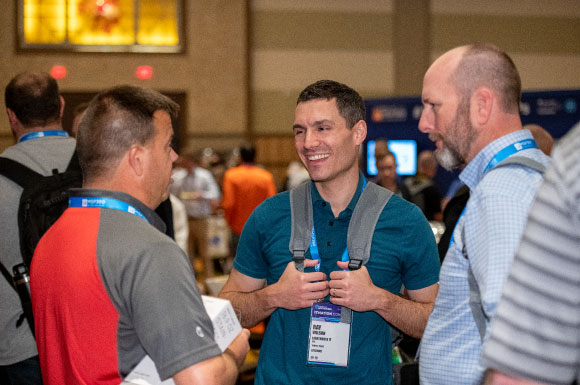 Although ConnectWise was relying on organic social channels, they recognized it wasn't enough. To build thought leadership and engage with their audience authentically, they needed to enable their employees to create a social media presence on behalf of the brand.
Obsessed with Partner Success
One of ConnectWise's company values is Obsessed with Partner Success, which fuels how they form authentic connections with their partners. "Engaging with our customers on LinkedIn has been successful. They see the ConnectWise culture and ConnectWise colleagues as human beings that are really in it for their success," said Callie Hawley, Sr. Manager, Content & Social
"I think social media plays a big role because we're fostering in-person peer groups, events, communities, and we also want to reflect that sense of community through an online platform," said Lily Teplow, Social Media Content Specialist.
Lily and Isabella Lord, Senior Social Media Specialist, are both members of the Content and Social Media Team at ConnectWise, led by Callie (also affectionately self-described as proud mama bear). The team's responsibilities include managing the brand's organic social media channels, employee advocacy program, blog, and podcast.
They wanted to take their social media marketing to new heights with employee advocacy, but there were several roadblocks.
Challenge: A Time-Intensive Approach for Employee Social Sharing
Isabella and the social team realized that ConnectWise could extend its social media presence through its employees. They wanted to enable their employees socially to build thought leadership within their industry. But to do so, they needed to get fresh content in the hands of their employees.
Previously, different teams tried to get their employees and executives to participate in social media. They even sent bi-weekly emails to everyone with suggested content to share.
Isabella said that the process had too many steps, such as writing the copy and emailing employees. Employees would then have to copy and paste the message, personalize it, and copy and paste it to LinkedIn. And even if employees did share, there was zero visibility into who did it and what results came from it.
While taking a look under the hood, Isabella realized that most employees wouldn't share. They were inundated with hundreds of emails, and it was just too tedious. "The adoption of this was really low. A handful of employees might do it with a focus on sales, but most of them wouldn't share content."
Isabella could continue with the approach they had, but she was confident knowing there had to be a better way. And she was right.
Core Challenges for ConnectWise
They were getting content out to their potential customers without relying on organic social media.
Enabling employees to build their social media presence and thought leadership.
It was a tedious and time-consuming approach for activating employees on social media.
The Search for an Easy to Use and Measurable Solution
Isabella would often attend social media conferences, and she would always hear one constant topic: employee advocacy. Regardless of the session, employee advocacy came up time and time again. She did research and saw her peers succeed with employee advocacy; she knew this was what was missing for ConnectWise's social media presence.
One of ConnectWise's company values is Your Voice; Your Company. Callie mentioned that Isabella had the confidence in knowing her voice was heard. So when Callie asked Isabella, what would help make her successful? She answered with employee advocacy.
As Isabella began her search for a solution, she and Callie knew there were specific criteria that would be mission-critical for their employees.
The most significant deciding factor was ease-of-use. If the platform were too clunky, then employees wouldn't respond well to it. "It had to be the fewest clicks and easiest to use from a visual standpoint," Callie said. The team knew that if there were any friction in the user experience, then it would deter employees from sharing content. Isabella stressed the importance of having a clean user interface because training every employee would be a long process.
Secondly, analytics was essential. As a data-driven marketer, Callie is responsible for reporting, so she needed the ability to understand performance metrics. Reporting was required to paint a full story about each piece of content and each employee advocate.
Solution: Creating a Frictionless Employee Advocacy Approach
When Isabella engaged with PostBeyond, she realized that their employee advocacy platform checked every box on her need-to-have list. Specifically, it checked off the two big boxes: ease-of-use and analytics.
As Isabella presented her findings to different teams to get buy-in, they all responded positively to employee advocacy. Specifically, the sales team wanted their rep to be social selling and they believed PostBeyond could make it easier.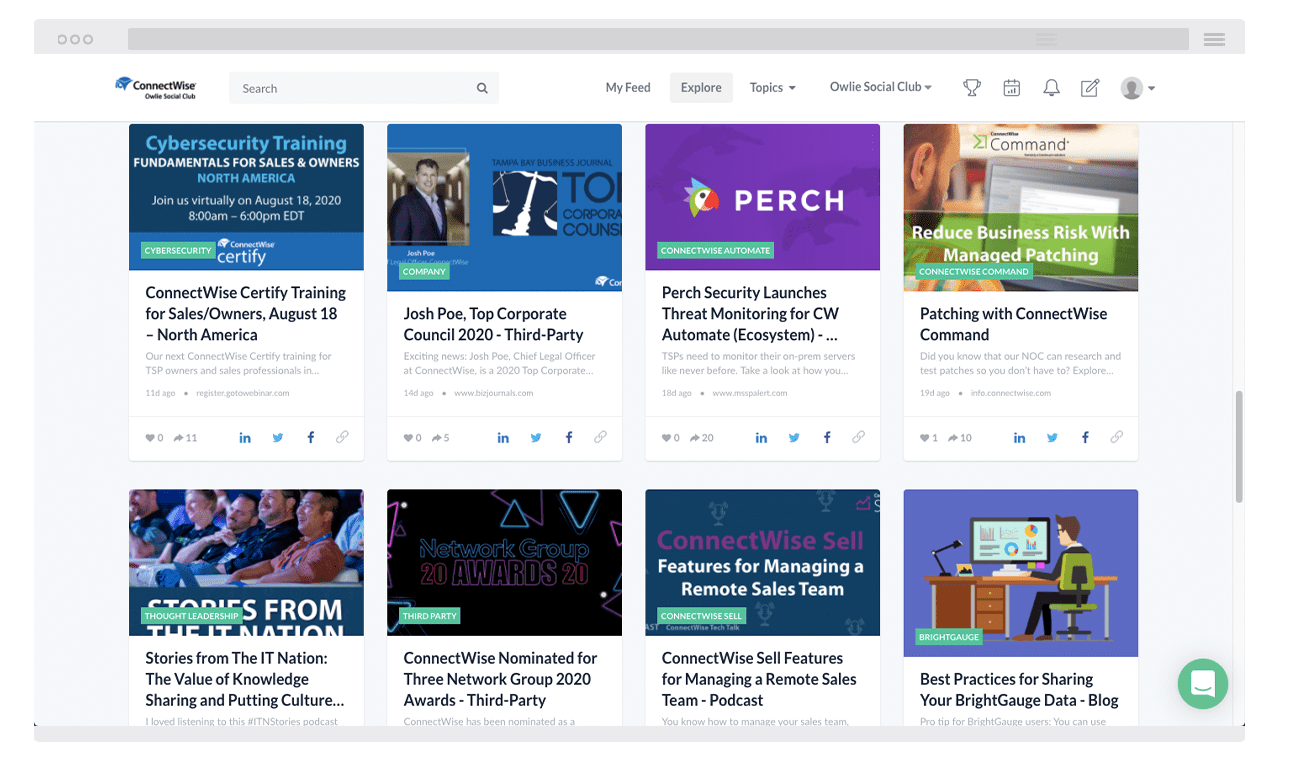 Isabella and the social team used PostBeyond to replace the tedious and time-consuming process they once had. By providing employees with an easy-to-use platform, every employee now could become a social advocate in just two clicks. ConnectWise went from spreadsheets with content links, suggested messaging and unread emails, to having a frictionless social sharing experience.
Say goodbye to spreadsheets, unopened emails, and manual processes.
"Employee advocacy has helped our colleagues have a voice on social media too. They've always had the option to post, but they don't always think about it and don't always have the content readily available in one place where they can see it. PostBeyond has given them a stronger voice to say, 'I'm proud of my company, I'm proud of the things that we're doing.'"
Isabella Lord
Senior Social Media Specialist
After implementing PostBeyond, they found adding and curating content was very easy. There was one feature that was surprisingly helpful for Isabella. "Suggesting content was something that we never had before, and now it has been huge for us. People now suggest articles every day." There are even some employees that suggest content in the middle of the night.
Before, the social team had zero visibility into who shared content, when someone shared, or how much engagement they received. With PostBeyond, they have greater visibility into a performance, which was vital for Callie.
"I wanted to be able to see how it was being used, who was using it, and then digging down into the date, timeframes, and PostBeyond's reporting was by far above the best one we saw."
Callie Hawley
Sr. Manager, Content and Social Media
Lily found that one of the best features within PostBeyond was queueing content. When she's training employees on the platform, she suggests to her colleagues that they can log-in once or twice a week to quickly adopt the behavior.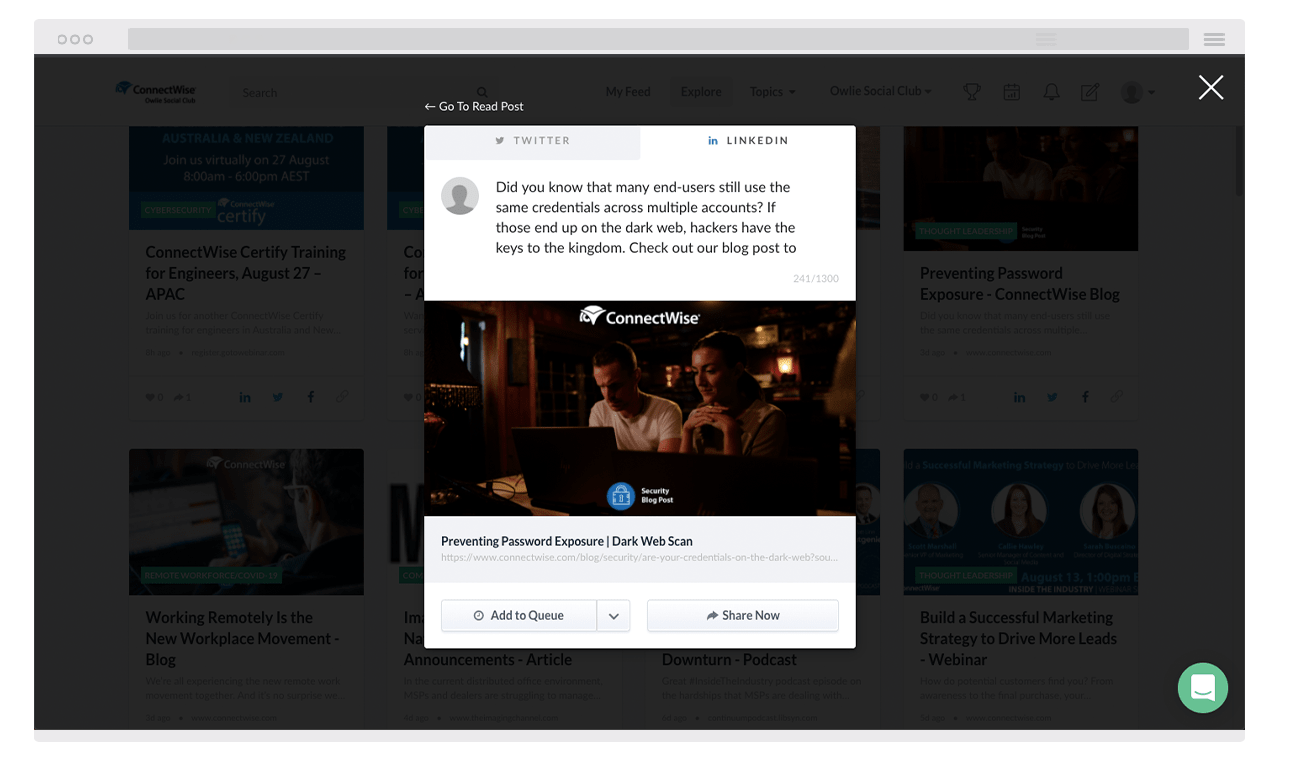 She has received a lot of positive feedback from employees, such as how easy it is and how much they love the gamification aspect. She also likes how employees can personalize their social posts.
"We want our social content to be seen as genuine, and we want it to be organically coming from the employee, so to have the opportunity to customize the post copy before it goes out is a benefit."
Lily Teplow
Social Media Content Specialist
Now, PostBeyond is ingrained in their overall content strategy. Every time there's a new piece of content, adding it to PostBeyond is now just a part of the process.
Results: ConnectWise Engages Employees, Amplifies Social Sharing and Generates New Leads
Within eight months since the program launch, they've generated 153 leads. As a company that supports its customers virtually, they released several COVID-19 related initiatives on how they can help their customers. During this time, they experienced a boost of 102 leads due to their focus on relevant content. "People were looking to us for advice on how to manage their business in a time like this, and that was the advice we were working to give," said Callie.
Within one year of using PostBeyond, ConnectWise has generated:
70.1% employee adoption rate
50.6% of employees shared and 5,319 total shares
4.2M+ in Potential Reach
25,766 content click-throughs
10,997 total Interactions
$113,260 in Earned Media Value (EMV)
153 new leads generated
Beyond the numbers, both Isabella and Lily gained one unexpected outcome: the growing expertise of the social media team.
Growing Influence as Social Media Experts
Callie mentioned that Isabella and Lily both gained valuable exposure with the rest of the company. Before, the company wasn't aware of who was on the social and content team nor what their strategy or key initiatives were. Now they've become the company's social media experts, which was one unexpected but positive outcome.
"Since then, I've seen their influence grow within the company. Our executive team knows who each of these ladies is; they know the hard work that they do and the reasons behind what they do on social media. That was a huge result that was unexpected but super important for what I wanted for the team." said Callie.
Isabella highlighted how marketing and sales alignment improved during her training sessions. Most importantly, whether it's members of the executive or sales team, both her and Lily have faces to the name on social media. "If they have a social media question, even if it's just about a best practice on social selling, people will just reach out to us, whereas before they wouldn't know who to even talk to."
Next Steps: Building On Top of Their Success
Since launching PostBeyond, Isabella and the team said there's no question they'll be continuing the success for the years to come. Employees are aware of the program, so now the focus is on ensuring they can grow on top of their success.
The social team's goal is to continue to grow the program, to add more users, and to ensure PostBeyond is ingrained within every department. ConnectWise continues to grow at a rapid pace. And as they continue to grow, they recognize the importance PostBeyond will play by streamlining their communications and getting new employee advocates set-up.