One way to get employees to share more is to blatantly tell them to. Yah, no kidding, right?!
Your organization should have a clear social media policy or guideline in place that's designed for employees to share and interact on social. If you make it a part of the company, employees will know that you're encouraging social media communications.
But a lot of enterprises don't know where to start. We created this guide to help you determine what you should consider when creating a social media policy. It even comes with a checklist at the end!
Learn about the different parts you need in a social media policy:
Provide an introduction your enterprise's policy
Explain the purpose of social media usage at work
Define what social media means for your enterprise
Protect your company and customer information
Best practices on how to represent the company
Reminder of copyrights and fair use
The company's ethical standards
Examples of what to say and what not to say
General guidelines on social media etiquette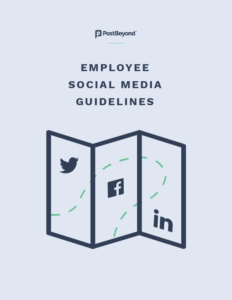 This resource was created as a guideline of what to think about for your enterprise social media policy, and is as no means a template or legal advice.
One thing to remember with social media policies – make sure you're empowering employees. You don't want the policy to be so strict and full of lawyer jargon that it will discourage them to participate.
A social media policy is meant to protect your company, your employees, and your customers.
So go ahead, download now, and take a look! Don't forget to go through the checklist, and let us know what you think!
Do you have a social media policy established for your enterprise? Do you have guidelines for employees to use social media at work? Please leave a comment below and share with your colleagues!