Gary Vee might have his work cut out for him: more CEOs and company leaders are leveraging social media for branding, demand gen, partnerships and audience education.
These leaders—particularly from tech companies—create a personal following, showing the humans behind their products. Through it all, they're building trust with their audience and loyalty with their customers.
But while some leaders take naturally to the online stage, others don't know where to begin. How do they best share their knowledge with followers? And why does it even matter if they take time out of their busy day to do so?
This blog discusses why it's important that executives become thought leaders, how to do so, and who already does it well.
Why getting your executive leadership active on social media is important
Having thought leaders within your company is an important way to improve your perceived usefulness, trustworthiness, and expertise within your industry and niche. When this thought leader is an executive, these benefits can spread to audiences' perceptions of the whole company and amplify marketing efforts.
Getting into the minds of a company's executive leadership helps to lift the curtain, so to speak, and allows followers to see the reasoning and understanding that goes into big decisions about products or services that they need.
This is why it's so important for executives to be active online. They aren't just leading your company, but also your current and future client base (and sometimes an entire category).
What are the benefits of an executive leadership team being active on LinkedIn?
When your C-suite is active on LinkedIn, they are taking part in a professional community. It's on LinkedIn that your executive leadership can connect with other industry thought leaders, attract the attention of key potential partners and employees, and make themselves stand out in a sea of industry competitors.
While other social media platforms are catered towards a more general audience, LinkedIn is strictly professional. This makes it the ideal space in which to prove that your executives really know their stuff, and it can be an important place to share and learn more from other big names in the industry. Forming professional relationships can be just as impactful as forming relationships with consumers, because it's within these relationships that you'll learn more about your industry and how to improve your product or service.
Why your executive leadership team should care more about employee advocacy
Employee advocacy is important for many of the same reasons that it's important that your executive team is advocating for you on social media—but odds are, you have a much larger employee base than you do a C-suite.
Your executive leadership team should care about employee advocacy because they are often the most respected drivers of change within your company. If they are committed to encouraging and rewarding employee advocacy, it's more likely that employees will engage. If they are flippant and skeptical of the concept, employees likely will be, too.
That said, onboarding your executive team to any employee advocacy plan is vital. If you can convince them of the value, then you can convince employees of the value, and that is how you can grow your employee advocacy and amplify your marketing efforts.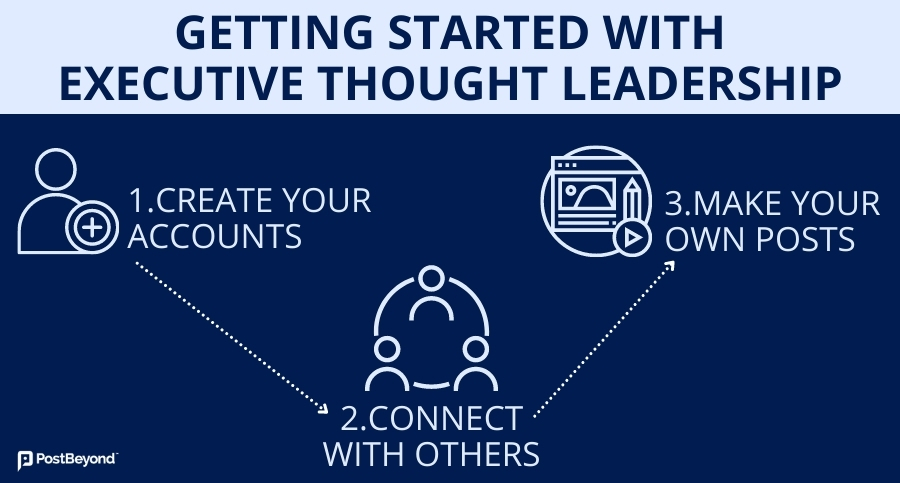 Crawl, Walk, Run: Getting your executive leadership team started
Many executive leaders put off creating social media accounts because they think it's too much work or too time-consuming. But becoming thought leaders isn't as hard as they may think, and they can get started in three simple steps.
1. Crawl. Create your accounts.
The first step is simple: make accounts on the social media platforms best suited to your industry. LinkedIn is often most important, but Facebook, Twitter, and even Instagram and TikTok are becoming more and more important in the social media scene. Use the name you go by and a recent picture, and make sure that your profile mentions your position and company name.
2. Walk. Connect with others.
The next step of creating a presence on social media is making sure you're connecting with the right audience. Develop a list of friends or connections based on who you know in real life and who you know fits into your target audience.
But don't stop at inviting them to connect! Get started by commenting on posts that interest you, sharing quality content by others, and reacting to posts that piqued your interest. This helps you start establishing your interests, but in most cases, it also feeds the platforms' algorithms to further tailor the types of content that you'll see first or most often.
3. Run. Make your own posts.
Last of all, you should start to bring your own expertise to the table. Have a bright idea or an insightful piece of wisdom? Share it with your followers. Want input on something? Ask them. Social media is about forming relationships, and you can encourage and contribute to these relationships by providing your own insights, conversation starters, and comments. Doing this consistently is what keeps you in the game and allows you to attract high-quality connections.
Leaders already leveraging social media well
One of the best ways to know how best to engage on social media is to watch others do it well. Below are some of our favorite social media accounts to keep up with (that also happen to be run by C-suite leaders of the respective companies).
Mona Kiblari Charif is the chief marketing officer for NTT DATA Services. She's also a huge advocate for employee advocacy, and a great example of a leader who leads by doing. She posts consistently across multiple platforms and has encouraged many NTT employees to do the same.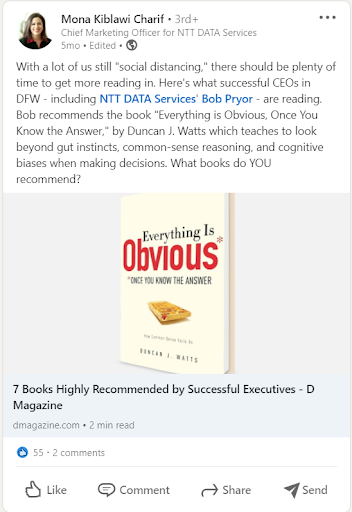 Mary Barra, Chief Executive at General Motors, is another exec consistently serving up social media content that elevates her company's voice across multiple platforms. She serves as a great example of leaders joining forces with other leaders to learn together and provide strong content.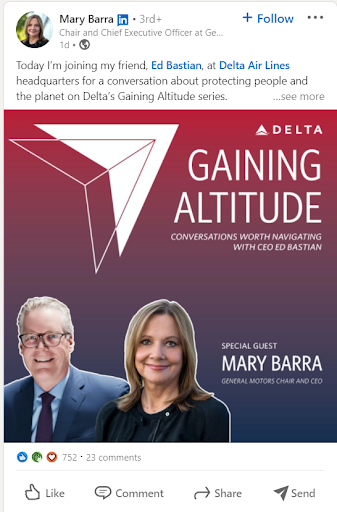 Ramon Laguarta, CEO of PepsiCO., has made a space for himself to be an expert on his company while sharing a bit of himself and what he stands for. His support for social media marketing measures greatly increases his brand's reach, and his inclusion of his own opinions helps build trust and a sense of camaraderie.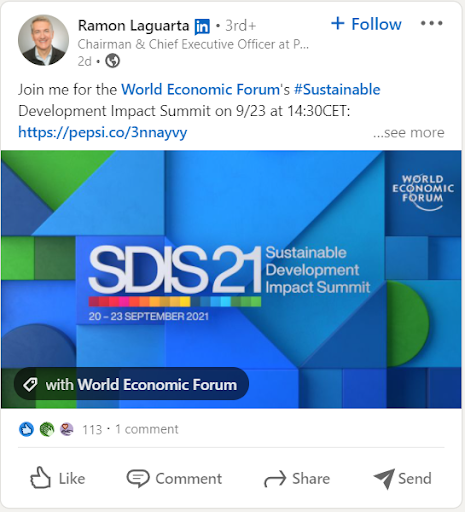 Final Thoughts
Your executives are your company leaders for a reason. They're already leaders in the industry, and social media can help amass a greater following for their insights and for the company itself. What's more, executives who are already thought leaders on social media are better equipped and more likely to encourage employees to do the same, allowing for a successful employee advocacy program and amplified marketing efforts.