Retail banks and physical branches are facing an unprecedented time of uncertainty. Changing consumer behaviors and technological advancement continues to alter the market landscape of banking at an increasing pace. While physical branches continue to serve as a primary channel for building customer relationships and for marketing and cross-sell, they are nonetheless losing reach over time.
Overall consumer visits to branches are expected to drop an additional 36% between 2017 and 2022, with younger millennials expected to visit branches an average of twice per year by 2022. While these trends suggest the end of days for physical branches, most experts agree that the physical branch is here to stay, but will evolve to serve as an important part of the overall customer experience.
In their 2016 study of North American retail banks, Accenture found that the branch experience is still critical to client retention, but a focus on creating holistic physical and digital experiences is what will set banks apart. They've named this the agile bank.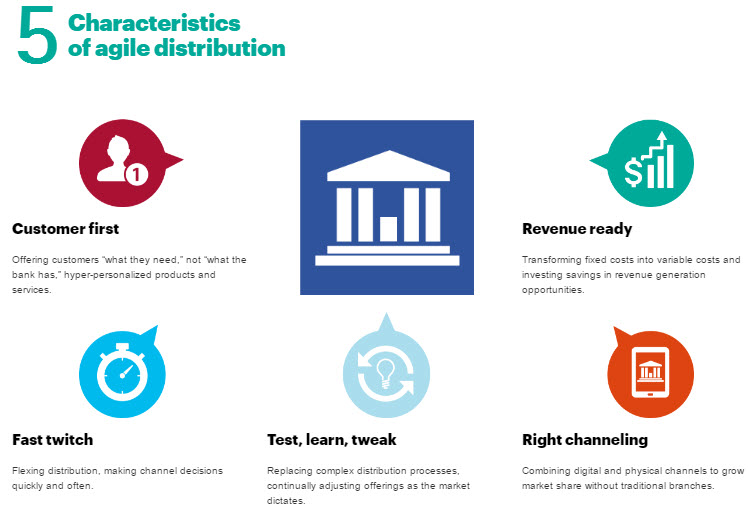 The key is for banks to…
Continue to find new ways to drive foot traffic through their branches
Leverage new channels for engaging current and potential clients
How can retail banks achieve these two goals? For this post, we're going to focus on the new avenues banks should explore to reach clients, and how this will improve the overall experience for their existing clients.
1) Rethink social media as a strategic channel
Online, social, and mobile technologies have seen unprecedented adoption over the past decade. All of this has led to drastic changes in consumer behavior and expectations that span customer experience, products & services, and marketing & sales, resulting in the great digital transformation movement and rise of fin-techs and digital banks.
Banks, old and new, are starting to recognize the need to adapt to these new expectations. Millennials are much more likely to engage via social media or chat vs phone or in-person communications. They are also consuming more information from social media networks than any other medium today, according to Deloitte.
By embracing social media, banks open up the opportunity to reach younger customers on their preferred communications platforms and build a digital relationship that can improve loyalty and awareness around the bank's products and services.
2) Leverage frontline and back-office staff
Even with a strong brand presence on social media, your reach is limited to the connections that your brand can foster and build. According to Brandwatch, 96% of people that discuss brands online do not follow those brands' official channels. The size of your employee's combined social network audience is orders of magnitudes larger than the typical corporate brand channel.
By running formal social media programs for your employees to participate in, you are tapping into their personal networks and communities. More importantly, audiences are much more likely to trust the opinion and information shared by their friends and families than official corporate channels.
There is an organic synergy between having your staff advocating on behalf of your brand and the element of trust and authenticity that comes about when it is said by your staff.
When you engage your frontline branch staff in these employee advocacy programs, you are also increasing the direct visibility of your community branches. As an example, we've seen individual branches from large banks take a grassroots approach by rallying the entire staff together to promote in-branch events on social media, driving both awareness of that branch and generating increased foot traffic.
---
Social media is an immensely powerful platform for businesses, and coupled with your employees and the right tools, can be a strategic differentiator. At PostBeyond, we are showing our banking clients how easy it can be to setup and run employee advocacy programs at scale, while remaining compliant.
What do you think the biggest barriers are for banks on social media? Have you seen any banks who have a memorable presence on social media?