PostBeyond allows your employee advocates to easily share the content you want to their social networks. But we recognize that employees are busy and sometimes sharing content on social media isn't top of mind.
That is why we recommend using our Newsletters feature. This allows you to communicate directly with your employees using PostBeyond, by sending emails directly to their inboxes.
Newsletters allows you to easily manage your email communications to your employees and partners within the PostBeyond platform. You can use your pre-existing groups to deliver specific users with posts you would like them to be aware of or send communications to all users prompting them to return back into the platform.
Time and time again, our customers have used Newsletters in four main use cases.
1. Promote The Most Relevant Content
Employee and partner advocacy programs don't necessarily come naturally to people. For many people, sharing to social media is not something they have typically associated with being part of their job.
Steady promotion of your employee advocacy program and the content within it helps enable the right habits for sharing. It also encourages users to log back in and share content, as well as give people a level of comfort that they are supposed to be doing this.
You can use Newsletters to highlight particular posts that you want to draw attention to and promote the sharing of, and include tips and tricks for how to best use PostBeyond.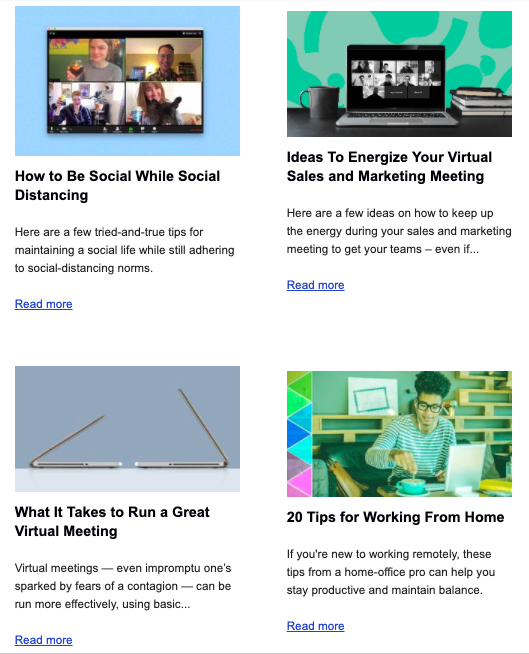 Promotion is especially important in the early stages of a program to ensure high early adoption. You can schedule a series of emails to users with some ideas around how to best use PostBeyond, with some of the key posts you want them to share.
We have seen great success come from a regular cadence of Newsletters. For example, Julia Woodward and Katie Higgins from VTS send Newsletters twice a week. They've found that active email updates are a key component in helping employees build the habit of sharing.
If you have a template that you would generally like to use in your Newsletters, you can save it as a draft and make duplicates of that template to help save time when crafting your emails.
2. Communicate to Employees
PostBeyond isn't just great for external communication, but also to communicate important information with your employees and partners. From company news and daily standups to guidelines and employee handbooks, PostBeyond allows you to share information through internal-only posts, without worrying about it being shared externally.
The Newsletters tool is another channel that allows you to convey all of this important information to users in your program. Don't want to create a post to convey that message? No problem, you can just email the information in the Newsletter itself and send it without any posts attached!
In recent weeks, our customers have shifted to use Newsletters as a way to inform employees on COVID-19 related topics such as safety protocols, FAQs, business updates, and more. We've taken a page out of their playbook on how they've transitioned their use of Newsletter.
3. Celebrate the Success of Gamification
Some of our most successful programs take full advantage of our gamification tools. Team Leaderboards, which allows you to create targeted leaderboards for specific groups, is a fantastic tool for motivating your employees and partners.
One of the best ways to promote and celebrate the success of gamification in your platform is through Newsletters.
With Newsletters, you can target the specific groups that are in your leaderboard, or send Newsletters to everyone in your program to update them on company-wide contests. Our customers find that regular promotion leading up to a contest and rewarding during one, are the best ways to increase your usage. With Newsletters, you don't have to switch between multiple software to ensure your contest goes well.
4. Recognize Top Users
Like with anything else, employees and partners who are sharing company content to social, for some perhaps for the very first time in their careers, want to know that they are doing the right thing.
Our customers have found that acknowledging users who used the platform for the first time and recognizing those who have had major success using the platform, tends to reinforce the behavior with all users.
A Proven Way To Activate with Employees
The Newsletters feature is a tried and true way to get the word out within your users about how PostBeyond can serve them. It allows for consistent and regular messaging around the goals of the program, as well as encouraging all users, whether they are mostly logging in or whether they are power users to continue building their thought leadership on social media.
To learn more about Newsletters and other core features within PostBeyond's Employee Advocacy Platform, click below to request a demo.